Location Decor: Paris
Posted at Aug. 26, 2013 at 3:13 PM

It's time for our next stop on the location decor tour. We've already traveled to the sizzling Southwest and created a Moroccan "glamping" adventure, but this time we're headed somewhere classic. What better place to find some decor inspiration than in Paris, the city of light and love? After all, who doesn't want a home filled with both? As Audrey Hepburn stated, "Paris is always a good idea."
"Whoever doesn't visit Paris regularly will never really be elegant." Honore de Blazac
To me, Paris is the definition of elegance. I could definitely get used to the incredible art, street-side cafes, and awe-inspiring monuments around every corner. But as much as I'd love to mark Paris on my calendar each year, it's really not quite in the budget. In the meantime, I'll bring the magic home with a few Parisian-inspired pieces. Take this tufted bench; distressed oak and cabriolet legs are very classically French and I can see it sitting pretty in my entryway -- tres chic!
"There are only two places in the world where we can live happy: at home and in Paris." Ernest Hemingway
For me, home is where the heart (and family) is, but after traveling to Paris, it's easy to wonder why people choose to live anywhere else. There's something magical about Parisian streets; everything seems so alive with culture, history, and, of course, fashion. And in Paris, you can never be overdressed. Drape your favorite outfit on this dress form and your fashion sense can double as a stylish piece of home decor.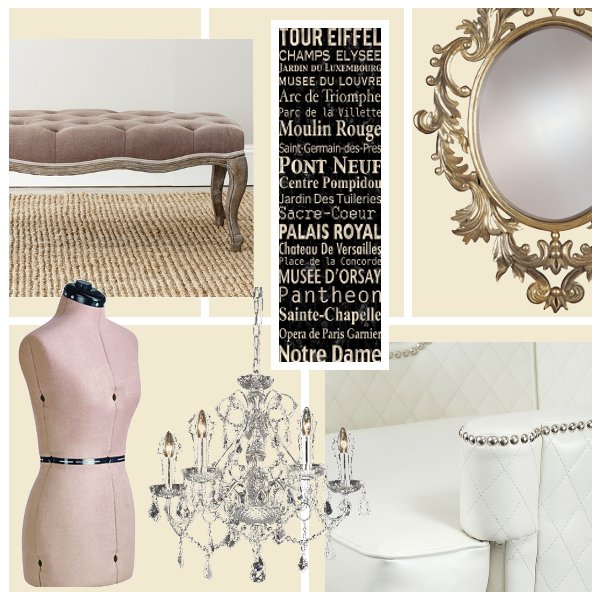 "I mean come on, there's nothing happening on Jupiter or Neptune, but from way out in space you can see these lights, the cafes, people drinking and singing. For all we know, Paris is the hottest spot in the universe." Owen Wilson as Gil in Woody Allen's "Midnight in Paris"
When I think of Paris, I think of a city glistening with lights, antique street lamps, and the Louvre lit up against the night sky. This crystal chandelier would add a Parisian glow to any room in your home; place it over your dining room table or hang it in your bedroom to create a glamorous space worthy of a spot in popular French decor hub Maison & Deco.
"Though I often looked for one, I finally had to admit that there could be no cure for Paris." Hadley Hemingway
Every person I've known to travel to Paris is in a constant state of planning their next trip. This 'Paris' art print will showcase your love of the iconic city while reminding you of all the places you need to see again on your next trip. I can see myself feeling downright Parisian in a room with this studded white faux leather arm chair and gold scrollwork mirror.
Have you been to Paris? Did your trip inspire your home decor? What are your favorite elements of Parisian style?
Posted by Jen Gustavson