Lindsey Olson Anderson: My Journey to Beijing
Posted at Jul. 30, 2012 at 8:57 AM

Lindsey Olson Anderson is a graduate of Morgan High in Morgan, Utah, and works as an assistant coach for the Weber State University Track and Field team. Here's her story.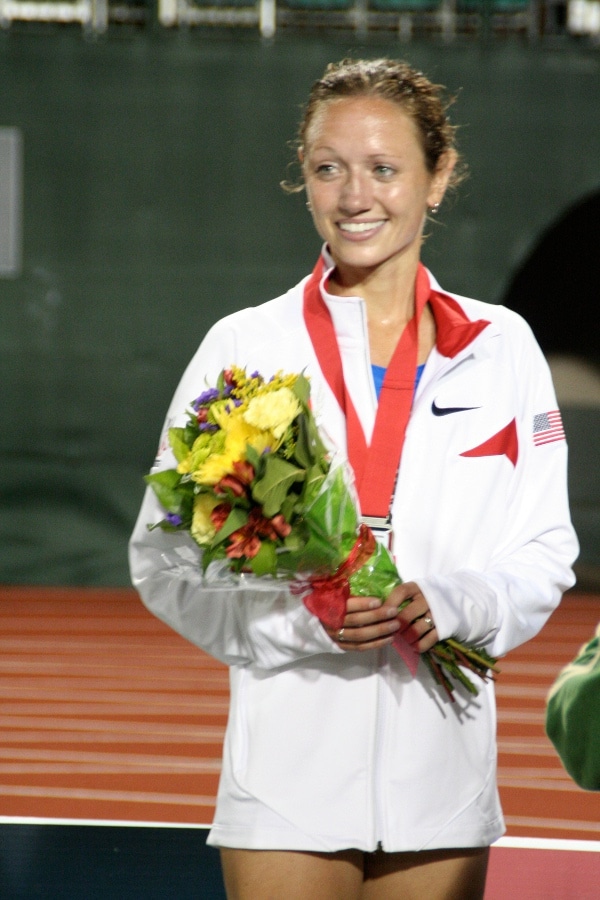 Lindsey Olson Anderson stands on the podium at the 2008 Olympic Trials in Eugene, Oregon.
It's hard to believe it's been four years since I competed for the United States as an Olympian. As the games approach this year, I catch myself reflecting on my own experience and can't help but feel the excitement of what it means to be an Olympian all over again. The dream to be an Olympian wasn't a reality for me until about a year before the trials. At the end of my collegiate career for Weber State University in 2007, I was one of the top steeplechasers in the nation and quickly became a favorite to make the 2008 team. When I graduated from WSU, I had the opportunity to sign with Nike as a professional athlete; later that summer, I qualified for the 2007 World Track and Field Championships in Osaka, Japan. It was my first opportunity to represent the United States of America and I was honored to make the team.
The following year, as I prepared for the 2008 trials, I was nervous, but confident. My training was going well and I was physically and mentally stronger than ever. Heading into the trials, I was ranked third but placed second with a time of 9:30.75, a personal record by nine seconds. It was truly an amazing experience for me! I always have a difficult time putting into words how I felt coming down that final 100 meters, knowing I was going to make the team. But when I crossed the line, it hit me! I did it! I was an Olympian! I will never forget how that felt, and I hope I'll soon have that opportunity again.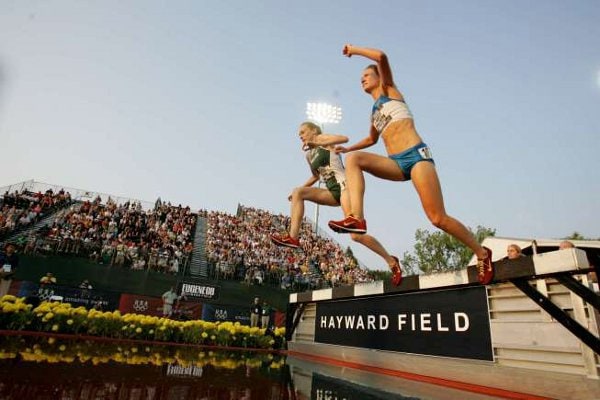 Anderson competes in the 3,000-meter steeplechase at the 2008 Olympic Trails in Eugene, Oregon.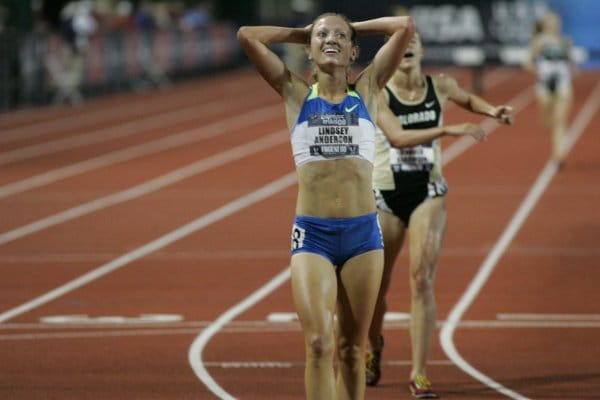 Anderson reacts after crossing the finish line in second place in the 3,000-meter steeplechase at the 2008 Olympic Trials in Eugene, Oregon.
I loved every second of my time in China: walking into the opening ceremony, being with the other athlete's in the Olympic Village, racing in the Bird's Nest -- all of it. I loved my roommates, other girls on the track team, and had such a fun time with them. However, as great as the accommodations were, the pillows left something to be desired. I would have given anything for my pillow from home. It's amazing what a difference a good pillow can make in getting a good night's rest. In that regard, it would have been awesome to have some noise-cancelling headphones. As much as other athletes respect your need for rest, everyone goes to bed at different times, so it would have been nice to completely block out any outside noise.
Despite those issues, I was able to get the rest I needed and put forth the best race I could. Unfortunately, it wasn't quite what I had in mind. I went into my race with the goal of making it to the finals and ended up missing it by a couple places. To say I was sad is an understatement. I was devastated. It was so hard for me that I had wanted something so badly and had come up short. But my coach, Paul Pilkington, gave me some great advice after the race. He said: "It's OK to be upset, because you didn't come into the race just excited to be there, you came in with a goal which wasn't accomplished. But, you only have 24 hours to be upset and then it's time to get back to work."
So that's what I did. I let myself be upset for a day and then I got back into my training routine. The following day I did a tempo run around the Olympic Village. Nothing was marked for distances, so I just ran based on time. It would have been awesome to have a GPS watch for those workouts I couldn't do on a track. Once I returned home, I re-grouped and was able to race well throughout the fall.
A lot has changed since my experience in Beijing. The biggest change has come in the arrival of our beautiful little girl on October 20, 2011. She has completely changed our lives for the better, and we absolutely love her and can't get enough of her. These past nine months have been the best of our life so far. Now, I hope and plan to qualify for the 2013 World Championship team next summer and get another shot at being an Olympian in 2016! I can picture it now: my daughter watching me race, timing my splits on her little hand with her own stopwatch as she stands next to daddy.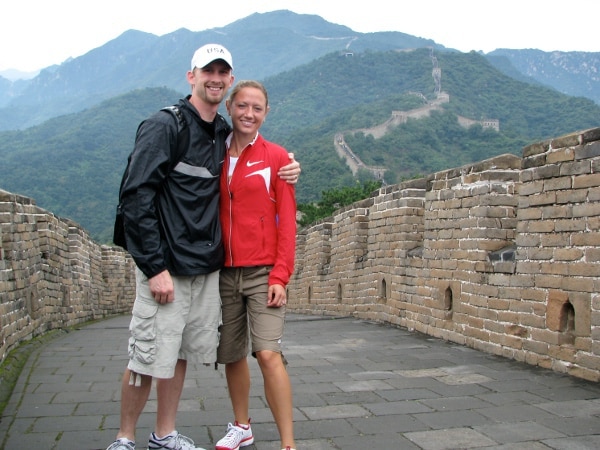 Anderson and her husband, Mark, stand on the Great Wall of China in Beijing, China.
Posted by Lindsey Olson Anderson
This blog is a personal blog that does not accept any form of cash advertising, sponsorship, or paid topic insertions. However, the blogger may accept nominal compensation, such as a gift card, but doing so will never influence the content or posts. The blog represents the author's honest opinions and experiences. Any product claim or representation should be verified with the manufacturer or provider.