Himalayan Glow Bamboo Basket Lamp 5-7 lbs
Similar Items in Salt Lamps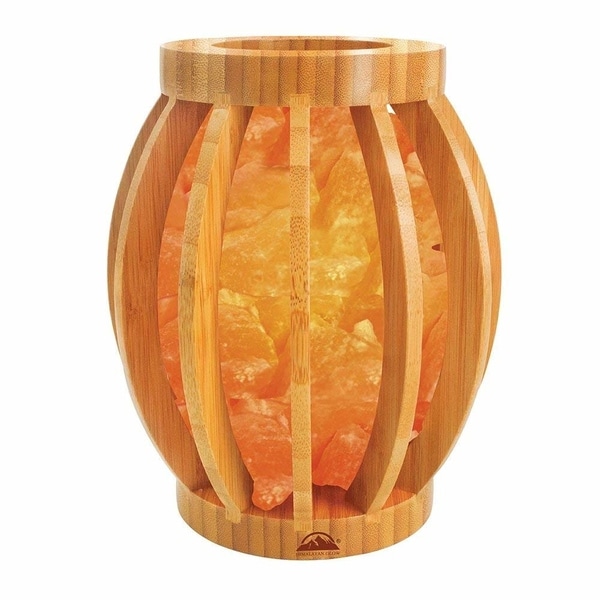 Product Information
Details
*Salt chunks are mined and hand chipped in the Himalayan Mountains. *The salt is chosen for its translucent pink color. *When lit, the salt chunks glow like coals from a fire. Warm and comforting. *The soft light is the antidote to the white impersonal light that surrounds us through the. It is the closest thing to candlelight there is. *Safe, dimmer switch adjusts to fit your mood, or turn down for sleeping. *Quality assurance. CE UL Approved. *Like the proverbial Candle in the window that beckons in the night, the glow of the pillar crystal lamp says Welcome home. *People who have one lamp often have two or three. They fit in anywhere, the living room, kitchen, bathroom or bedroom *People have been known to take one with them on trips, or keep one on their desk at work. Natural lamp for Natural life. The salt chunks are mined by hand in the Himalayan Mountains. The crystalline salt is pink, natural and pure. It comes from a 250 million year old salt bed, from the time when the earth was covered with water, and it was in that original ocean, it is believed, that life began and that salt had something to do with it. And it is that salt, which comes to you in the form of a crystal lamp and which, when lit, gives off what can only be called a primordial glow---one part molten lava, one part sunset---to create a light source that has captivated everyone who sees it. People love the lamp.
Himalayan Pink salt basket lamp - wbm's Pink salt basket night lamp is unique - the Bamboo basket is made from beautiful Bamboo vase - filled with 100% pure Himalayan rock salt crystals
Better quality - wbm makes the best quality of the Himalayan salt lamps - salt crystals are hand mined in the Himalayan mountains, specially Handcrafted for uniqueness
Dimmable salt Lighting: salt lamp is adjustable with the built-in dimmer to match the ambiance. With a 6Ft power cord, dimmable rotary switch and 15 watts bulb. Lamp and cord assembly are ETL approved
Home decor - to accent the natural beauty of the Pink salt crystals, we've housed them in a decorative neem wooden base, perfect for the design-conscious home
Holistic health: Pink salt night lamp works to enhance the ionic balance of your living spaces. When heated salt Crystal lamp emits negative ions that fight against electromagnetic radiation
Country of Origin: Pakistan
Specifications
Dimensions
7.0 In. X 7.0 In. X 8.0 In.
Warranty
1 year Manufacturer