Lazy Day Supplies
Posted at Aug. 10, 2012 at 3:05 PM

Summer is winding down. Students are counting the days until school starts again, summer vacationers are planning their final journeys, and the heat has slowed us all down to a molasses dribble. That's probably why today, August 10, is Lazy Day. According to Slate.com, it's "a dubious holiday of uncertain origin," but it makes so much sense that, on this particular date, we can all collectively surrender to the summer lazies and just relaaaaaax.
Lazy Day is your excuse to live an unscheduled day and just be. If you're hot and you're "so over" summer that you can't imagine doing very much, then this is the day for you. Start with these supplies and see what happens.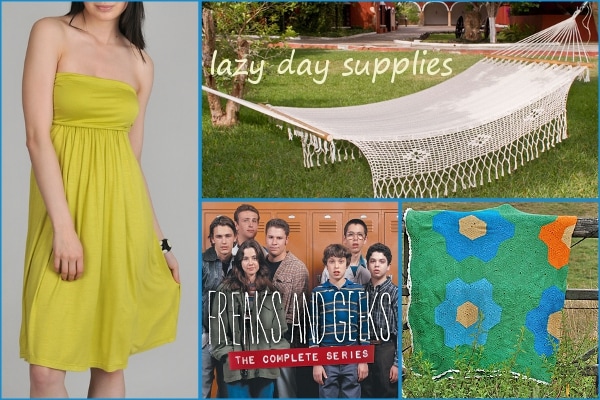 Hammock
The ultimate symbol of relaxation, a hammock is one thing in this world that lives up to the hype. Last year, a group of neuroscientists at the University of Geneva concluded that we nap better in a hammock than in a motionless bed. Something about the rocking motion gets your sleepy brainwaves moving right. And on top of that science, a hammock puts you in the best position for debates on whether you're looking at a satellite or a plane, which is the most controversial debate allowed on Lazy Day, I just decided.
Throw Blanket
It's hot, yes, but if you're inside on the couch and the AC is on, or if you're outside on your hammock after dark, a throw blanket will help you really settle in. It's cozy and soft, like kittens, who know a thing or two about lazy. My 18-month-old son recently decided that he needs not one but two fleece blankets whenever he is lying down, even if it means his head is going to get all sweaty, and I think he is onto something. They just feel so nice.
Entertainment
How will you while away the hours on this special day? A few books on the topics that let your mind take off on its own adventures would be a good place to start. When I'm feeling really lazy, I re-read Confessions of a Shopaholic. It's hilarious and takes place in London, my two requirements for escapist literature. Probably the ultimate lazy entertainment is a marathon, whether it's of a TV show or a series of movies. The opportunities are endless, but I think I would go with watching as many of the 18 episodes of Freaks and Geeks as I could get through, partly to acknowledge that school is starting soon and partly because James Franco.
Drinks
Sure, you'll need to eat throughout the day, but drinks are what take you from "subsisting" to "luxuriating." I've been drinking watermelon juice all summer, and I'm kind of excited to share this recipe because it's so good and so easy to make. You can eyeball all the ingredients and adjust it for how much watermelon you have.
Watermelon Juice (serves 4)
40 ounces of cubed watermelon (splurge on the pre-cut stuff)
The juice of 1 Meyer lemon (a regular lemon will do, but it won't be as amazing)
The leaves of 4 to 5 sprigs of spearmint
About 4 teaspoons of light agave syrup (white corn syrup would also work)
8 ounces of ice

Combine all ingredients in a blender. Puree and divide between four highball glasses.
The Perfect Outfit
This is open to interpretation because one person's comfort is another person's nightmare. A quick Pinterest.com search reveals that many women just want to wear tank tops, hoodies, and cut-offs when they get lazy. There may be some light accessorizing, like some turquoise jewelry or aviator sunglasses (so you can skip eye makeup when you make a latte/Slurpee run). I totally get this, but let me just put this thought into your head: With a dress, there is no matching, no coordinating, no asking "does this go?" in front of a full-length mirror, all tasks and thoughts that have no place on a day like today. And a strapless jersey dress is almost like wearing your after-shower towel all day, but if you run into someone you know at the coffee shop/7-Eleven, they'll think you're fancy. Just consider it.
Did I leave anything out? What do you need for your perfect lazy day?
Posted by Stephanie Petersen