Last Call for 2012 Christmas Gifts
Posted at Dec. 17, 2012 at 12:53 PM

If you still need to put a few more gifts under the tree, then it's time to start power shopping. Tomorrow at noon eastern time, the "GET IT BY CHRISTMAS" icons will stop appearing on items available only for ground shipping, and the free shipping on those select items will be gone, too. But until then, you can easily cross off everyone who may still be on your list -- and save some money, too.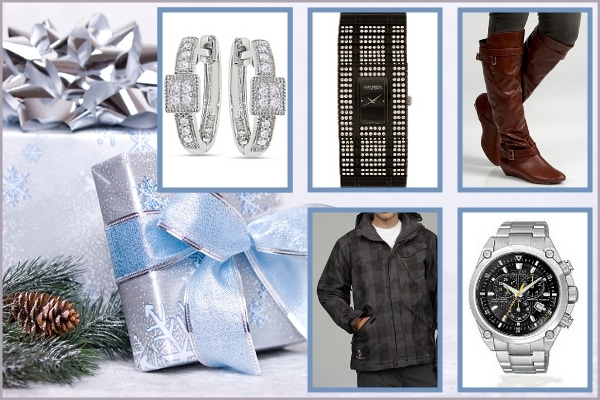 Last-Minute Gifts for Women
If you need a gift for your wife, girlfriend, mother, or daughter, you can't go wrong with something that sparkles. We still have jewelry that will get to you in time for Christmas, including a pair of diamond cuff earrings that will make her swoon. For a woman who likes to be on the cutting edge, how about this glam crystal-covered polycarbonate watch? If those are more of a splurge than you planned for, then consider giving her a gemstone piece, like this playful blue agate necklace. Perfume is a classic holiday gift because it's a bit of a luxury, and she'll love that it's something that makes her feel beautiful. If she loves fashion, sneak into her closet to find out her shoe size, so you can pick up a pair of Madden Girl riding boots, a classic style that she will wear often.
Down-to-the-Wire Gifts for Men
Shopping for men -- be it a husband, father, boyfriend, or son -- can be tricky. Dads are especially notorious for not wanting anything. If you've had a hard time shopping for the men on your list, look for gifts that are both stylish and masculine. A good example is the American Crew Military Edition shaving cream: Every man needs to shave, and a brand like this is a little more stylish than he may be used to. Another elegant-yet-manly gift is a men's watch, especially if you look for a clean, modern model like the Citizen Eco-Drive chronograph watch. And if the man you're shopping for is into winter sports, upgrade his snow gear with this Scott men's ski jacket, a very cool item to wear on the slopes. For an outdoorsman, upgrade his next camping trip with a new portable grill. Or you can just get him what you know he really wants: 5 pounds of Mrs. Fields cookies.
Eleventh-Hour Stocking Stuffers
With stocking stuffers, there isn't as much pressure to get the perfect thing. Just look for inexpensive gifts that will make their day a little brighter. I love the idea of giving a handcrafted photo album, pre-filled with photos from this past year. The gift of having those digital pictures actually printed out will be huge, and the pretty album will make it a keepsake. A pair of sunglasses fits nicely into a stocking, and so do many other accessories. If the stocking your stuffing is for your furry friend, you can still get gifts for him, too. How about some organic ginger doggie cookies? They sound good enough, I almost want one.
If you've searched through all of the products with free guaranteed Christmas delivery and still can't find anything, you still have a few options. Expedited shipping is still available for a small fee on many items on site (click here for details). And don't forget that gift cards give the gift of shopping; picky people on your list will love to be able to curate their Christmas haul, and you can order a gift card through Wednesday, December 19 to get it by Christmas, or purchase an e-gift card as late as Christmas Eve and still have time to print it and put it under the tree. Not celebrating with everyone in person? No problem. E-gift cards can also be emailed to the recipient and delivered to their inbox.
Is there anyone you're having trouble crossing off your shopping list?
Posted by Stephanie Petersen