Keeping Up with Wimbledon
Posted at Jul. 6, 2012 at 2:11 PM

We are coming upon the end of Wimbledon 2012, and whether you follow the game every year or you only know Wimbledon from the movie of the same name, you should plan to watch this year's finals on July 7th and July 8th. Marked by stunning upsets, namely Venus Williams being ousted in the first round and Spaniard Rafael Nadal in the second, this year has proven to be exciting for both hard-core tennis fans and the casual follower. Right now, the game is down to Agnieszka Radwanska and Serena Williams in the ladies' tournament and Novak Djokovic and Roger Federer, and Andy Murray and Jo-Wilfried Tsonga, for the men. No matter what, the finals this year are promising to be an awesome display of athleticism and captivating gameplay.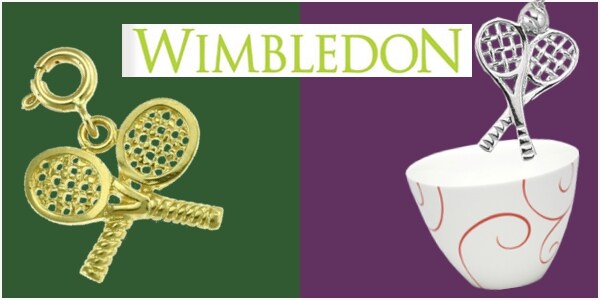 Wimbledon is one of the four Grand Slam tournaments and considered to be the most prestigious. It is the oldest tennis tournament in the world; since 1877, the Wimbledon Championship has been held at the All England Club in Wimbledon, London. It is currently the only major tournament still played on grass, something those at the All England Club take very seriously. The grass is 100 percent rye, and the courts are relined and mowed each day to keep the grass at precisely 8 mm tall.
Wimbledon traditions include a strict dress code for competitors, the eating of strawberries and cream by the spectators, and Royal patronage. This year, Wimbledon has welcomed Prince Charles (his first visit since 1970) and Pippa Middleton.
So this weekend, I will be found eating the traditional strawberries and cream (most likely from these delightful bowls) during each final. Perhaps I will liven up my outfit with one or two tennis charms. I love this gold charm, and this silver charm would look beautiful on any charm bracelet. One thing is sure: I won't be missing any of the finals action.
Who do you think will end up taking the title this year?
Posted by Emily Harrison