July's Birthstone: Rubies
Posted at Jul. 5, 2013 at 11:01 AM

Beautiful, sparkly, and red -- really red -- there's a reason Dorothy's ruby slippers became a beloved cultural icon. The intense fire of rubies is hard to resist, and when you want to be noticed, ruby is the queen of gemstones.
Anyone who has a July birthday, whether a Cancer or a Leo, already knows the allure of their special birthstone. Yet, of course, ruby jewelry isn't just for those with a summer birthday. Since rubies shine in both yellow gold and the white metals, and even small stones make a big impact, almost anyone can wear them. This jewelry tends to be upscale and classic rather than trendy, which, when you think about it, is perfect for a birthstone present. It's a gift a July baby can wear for a lifetime.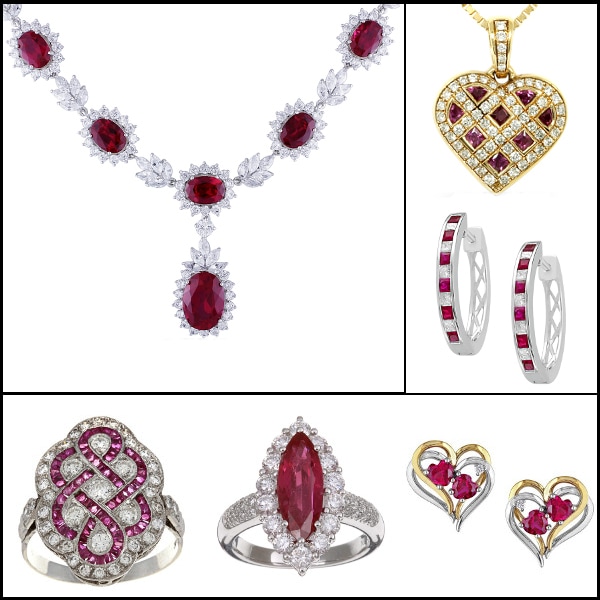 Let's start with the spectacular. Gemstone colors are at their most brilliant when set in contrast with diamonds or cubic zirconias. This vintage Art Deco ring, with its elegant pattern of square rubies and round diamonds, instantly adds a touch of bygone glamour to a smart cocktail dress. If you really love your red carpet looks, this created ruby and CZ necklace, set in sterling silver, will make you feel like you need a tiara, but it won't cost you the kingdom.
Red is a color that provokes strong emotions, and while diamonds now dominate wedding jewelry, rubies are the traditional stones associated with love and passion. A bride with a July birthday, especially if she is a Leo who loves a bit of drama, could wear a ruby-and-diamond engagement ring with flair. Choose a large red stone surrounded by diamonds; they're also a good choice for an anniversary ring or a cocktail ring.
Continuing the love theme, you could offer a piece of heart jewelry to your beloved as a July birthday present. Hearts are popular in birthstone jewelry, and this diamond-and-ruby necklace is special enough to wear for years and pass on to the next generation. If your gift is for the next generation, look for pretty heart-shaped earrings. Dainty birthstone earrings make a wonderful gift for a young girl.
Some ruby jewelry does have a contemporary look. If you like tailored fashion, gemstone hoops are great accessories for you. They place a little warm, flattering color near your face and allow you to wear your birthstone even when you need to maintain a professional appearance. You'll get a similar look in a stackable ring.
Now is a great time to add some fiery red rubies to your jewelry collection. But did you know that the ruby has a cool blue counterpart? Rubies and sapphires are both made of the mineral corundum; in fact, all corundum color variations apart from red are called sapphire. Which do you prefer?
Posted by Shawna Edwards