Jonas Persson: The Story of an Olympian
Posted at Jul. 26, 2012 at 4:48 PM

Jonas Persson is an assistant coach for the University of Utah swim team and competed as an Olympian for his homeland of Sweden in Beijing. Here's his story.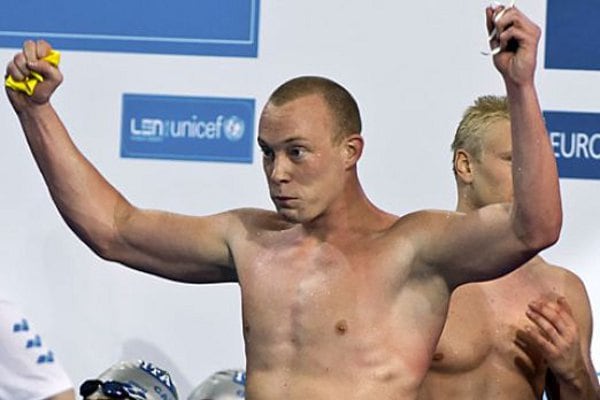 Jonas Persson celebrates after his 4x100 freestyle relay team's win at the 2008 European Championships in Eindhoven, Netherlands.
My journey to become an Olympian started very early in my life. When I was five years old, my mother and father showed me a newspaper article that said "Jonas made it to the Olympics." Obviously, the article referred to another Jonas, but the idea of becoming an Olympian was planted in my head.
I started swimming at the age of 6, the same year that I started first grade. The Swedish school system required that kids learn how to swim when they are in school, so the sport was somewhat pushed on me. It didn't take long until I found the passion for the sport and I exceled quickly compared to my peers. The talent and passion was there; the hard work, however, took a little longer to figure out.
From my youth up until high school, my swimming progress went up and down, as most things do. As I started to grow in high school, I figured out how to work hard, as well as how to focus in on the sport. My former coach, Magnus, believed I could be an Olympian in 2004, but the chances were low. Unfortunately, I missed making the team in the 4x100 freestyle relay by a second. My move to the University of Arizona allowed me to train and compete with former medalists and national record holders. However, it was my transfer to the University of Tennessee and former head coach John Trembley that made me believe in my chances for the 2008 games. John taught me how to believe in myself and that the only path for me was to become a successful Olympian. Two years later, I won my first international medal, a gold in the 4x100 freestyle relay at the European Championships, which earned me a ticket to Beijing. I also placed 13th in the 100 freestyle, which was the third fastest time in Swedish history.
Now began the real journey.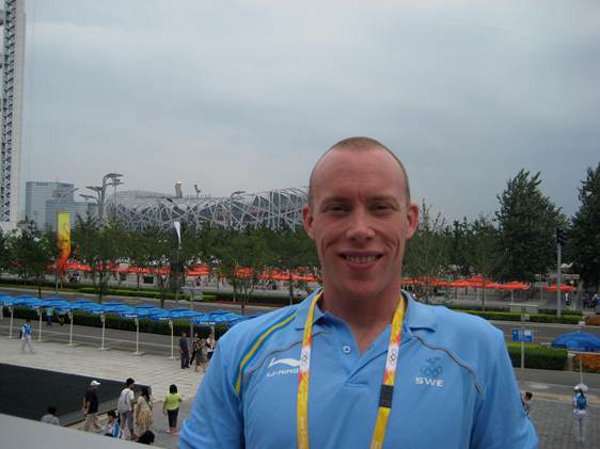 Persson poses outside the Omega shop next to the athlete's village in Beijing in 2008. The 'Bird's Nest' stadium stands in the background.
The one thing that I'm most proud of when calling myself an Olympian is not only that I competed, but that I had great success! However, that success did not come without some obstacles.
In Beijing, the hardest thing was not to get overwhelmed by the festivities or the stardom that exists in the athlete's village. You have to stay in the zone, avoid gaping at all the celebrity, and be proud that you have the same right as LeBron James to be there.
Many ask what things are like leading up to the competition. About a month before competition, we abandon "normal" life and truly devote ourselves to maximizing our potential. You live in a bubble; people take care of you and plan every hour of your day. We were babied by those working with the sport federations, so we did not have to think about anything else than our performance. And, yes, it is definitely needed!
I lived in Stockholm during the first week of the one-month preparation for team building and various media activities. The next two weeks were spent in Fukuoka, Japan, for a training camp. We stayed at a 5-star hotel, ate well, trained, and tried to adjust to the eight-hour time difference. The fourth week, we moved to Beijing and started to adjust to life in the city in which we would compete. We trained about two to three hours a day and spent the rest of the time recovering and trying to get as much rest as possible.
So, what do athletes do in between training sessions? Well, we watch movies, listen to music, explore cities and take pictures, read books, and play games. This requires a lot of preparation in the sense that we have to bring things with us to the training camps and for the competition in order to kill time. It would have been nice to have a laptop computer, MP3 player, and plenty of books and movies to help stave off boredom. Another highly necessary thing is a durable luggage set that will withstand the extensive travel of an athlete. In addition, as a swimmer you do need a good body lotion to nurture chlorine-dried skin; it's also not a bad idea to have a pair of quality sunglasses to shade your eyes from sunny summer climates.
One other important thing for an Olympian is a good night's sleep. Athletes are in general very muscular, have sensitive bodies, and they can in some ways be compared to very fast and expensive sports cars. Therefore, it is also important that we sleep right and not sleep in a position that can hurt the body. Many of us actually brought our own mattress and memory foam pillows with us to the village, so our bodies would not have to adjust to anything new.
The physical and mental maintenance required of an Olympian is also very extensive. We take pride in what we do and enjoy the process of maximizing our body and mind for the sport event. Many non-athletes do the same thing when they aim for success with their academics, their job, or family life.
I hope that you've enjoyed reading this blog post. I encourage you to follow me on Twitter starting July 27th. Please tweet any questions or remarks to @Overstock throughout the weeks of competition.
Thank you and enjoy watching your favorite athletes in London this summer!
Posted by Jonas Persson
This blog is a personal blog that does not accept any form of cash advertising, sponsorship, or paid topic insertions. However, the blogger may accept nominal compensation, such as a gift card, but doing so will never influence the content or posts. The blog represents the author's honest opinions and experiences. Any product claim or representation should be verified with the manufacturer or provider.