Join Patricia Arquette and GiveLove to Haiti
Posted at Dec. 22, 2011 at 10:28 PM

On December 6th, Patricia Arquette, actress and co-founder of GiveLove, traveled to Haiti with sheets and bath towels donated by Overstock.com. Arquette gave the bedding and bath products to the girls living in Don Busco orphanage, where GiveLove built housing. About the donation, she tweeted "The girls are over the moon. U can't imagine how thankful they were!" We love being able to support the humanitarian efforts of organizations like GiveLove.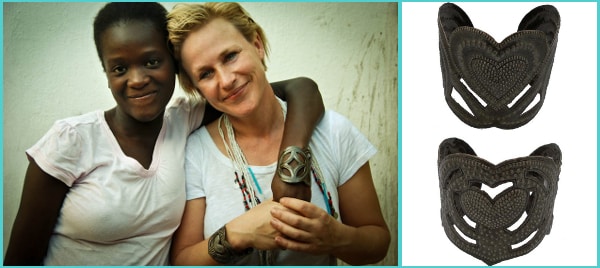 Arquette -- star of the long-running TV series "Medium" -- travels to Haiti regularly as part of her work for GiveLove, a non-profit organization that she and Rosetta Getty founded to bring safe and sustainable housing, sanitation solutions and water filtration devices there. GiveLove's programs focus on helping the people of Haiti in ecologically sound ways. According to their website, "Eco-sanitation can improve public health, clean the environment, create new jobs, and ensure dignity and safety for women and children by providing people with clean toilets."
While on the trip, Arquette was photographed by her friend Rachel Tanzer wearing bracelets made by artisans who are a part of our Worldstock Fair Trade program. The Recycled Steel Oil Drum Heart and Stars Cuff and the Recycled Steel Oil Drum Heart Cuff really were made from recycled steel drums, a material which lends an earthy, distinctive patina to the pieces. You can get Arquette's look with these bracelets, and when you make a purchase from the Worldstock store, 100 percent of the profits go to charity.
If you are looking for a last-minute gift with heart, why not make a donation to GiveLove in your loved one's name, and help improve sanitation and health conditions for the people of Haiti. This is the perfect time of year to make a tax deductible donation, and it's the kind of gift that will make you and the recipient feel good.
If there is another cause that is close to your heart, don't forget about them during this busy holiday season.
Are you planning any year-end donations? Give your favorite charity a shout-out in our comments!
Posted by Stephanie Petersen