Jewelry: Top Five Under $50
Posted at May. 12, 2011 at 12:03 PM

Fashion moves fast. If you blink, you might miss the new European take on jeans or the hottest campus-inspired way to wear thrift store finds. It's great to have the option of mixing and matching old favorites with new fashions, but sometimes it leaves me a bit dizzied. I want to keep up, but I also don't want to part with my oldest pairs of jeans or see my money flying out the window. The best way to stay trendy is with fun, stylish fashion jewelry. With so much selection in jewelry this season, you can easily afford to update your collection by focusing on the top five pieces to have right now.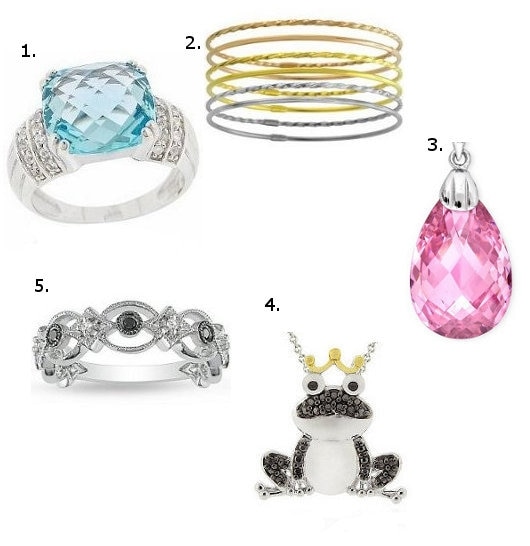 1. Cocktail ring: Wearing a flashy ring is my way of expressing myself and staying trendy. This beautiful ring features genuine blue topaz and accent cubic zirconias.
2. Stacking bracelets: I love to layer everything. This set of six bangles gives you three colors to work with.
3. Oversized pendant: I fully appreciate the slimming effect of an oversized pendant on a long chain. This beautiful teardrop pendant features an affordable pink cubic zirconia.
4. Critter-inspired: Critters are in and I can't stop buying owl rings and piglet pendants. This frog pendant is adorable.
5. Vintage: If an outfit feels too futuristic, I like to add vintage jewelry to keep it grounded. This vintage-inspired ring from the Miadora line is a budget-friendly piece that will go with anything.

Which of these top five pieces is your favorite?
Posted by Maegan Crandall