It's Time to Celebrate Flag Day
Posted at Jun. 12, 2012 at 5:03 PM

Summertime means the beginning of many things: campouts, water parks, warm evenings, and, of course, celebrations of America, our history, and our flag. This week is National Flag Week, Thursday being National Flag Day. This is the time of year every American flies the American Flag high and proud.
National Flag Day commemorates the adoption of the United States flag, which happened on June 14th, 1777. In 1916, President Woodrow Wilson officially established June 14th as Flag Day, and then in 1949, National Flag Day was established by an act of Congress. Flag Day is not a federal holiday, but it is an observed holiday. All government buildings display an American Flag, and, in some states, parades and events are held in celebration of the flag and its history.
There are plenty of ways to celebrate Flag Day, but perhaps one of the most fitting is an all-American barbeque with friends and family and, of course, apple pie.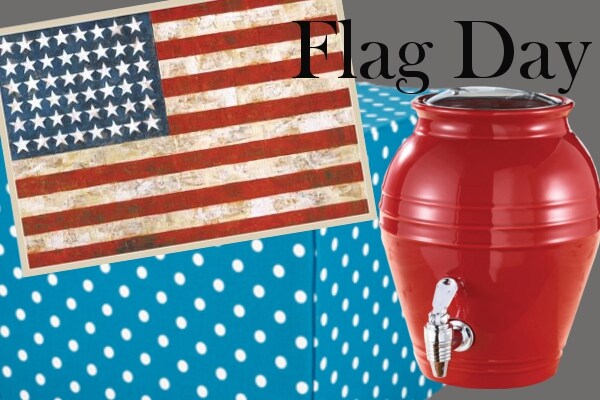 As far as I'm concerned, there is nothing better in summer than getting together with friends and enjoying some good food and fun. This Flag Day, invite your friends over for a barbeque and gather together under the stars and stripes for a night of celebrating the flag and all that it represents.
This folding chair has the perfect look for the holiday (and it's also a great go to for the up and coming Fourth of July fireworks show). Get one or a few of these and your patio will be the most patriotic on the block!
If you're looking for something a little more subtle, I would recommend this red beverage dispenser. Combine it with this blue-striped tablecloth and you've got your Flag Day table started. Then hang this print of 'Flag, 1954-55' by Jasper Johns up for a lovely accent. I also love pairing these red-and-white pillows with this blue-and-white polka dotted ottoman. Together they create the perfect red, white, and blue look that you can enjoy year round.
Flag Day is coming up fast; how are you planning to celebrate?
Posted by Emily Harrison