Into the Wilderness: Celebrating a Boy Scout Birthday
Posted at Feb. 8, 2012 at 2:13 PM

Are you prepared? Today is Boy Scout Day, which celebrates the founding of Boy Scouts of America on February 8, 1902. For over a century, boys have been camping, hiking, swimming and earning merit badges under the organization's guidance. So, how should we celebrate this birthday? A good place to start is the Boy Scout motto: Be Prepared.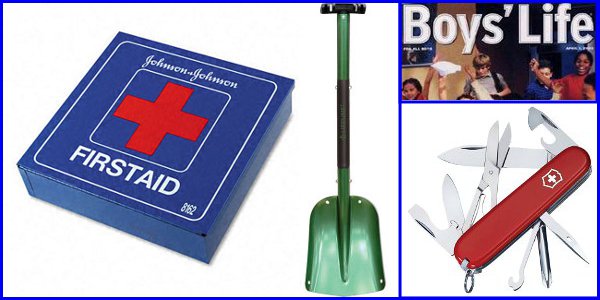 A good scout, or former scout, is always prepared and probably can head out on a camping trip with little notice. While wilderness survival skills are useful, those of us who haven't figured out how to use a compass yet might take this occasion to update our plans for surviving everyday life and the occasional power outage.
This update can be as simple as remembering to keep your cell phone charged and your car full of gas, or as elaborate as creating a natural-disaster plan for your home and family. If you're ready to tackle the latter strategy, check out our emergency preparedness store.
At the very least, every home needs a first-aid kit, some flashlights, a weather radio, fresh batteries and enough food and water to last a few days. A car-safety kit should also have a first-aid kit and a flashlight, plus jumper cables and, if you live where there are harsh winters, a small shovel, a warm blanket and some high-energy snack food. A multi-tool pocket knife still comes in handy once in a while, especially if it has a bottle opener and small screwdriver.
There are many ways to be prepared for life's little (and gigantic) disasters. If you always have a plan, do you have any tips for the rest of us? What are your essential items for weathering any situation? And if you're a former Boy Scout, share with us a favorite memory.
Posted by Shawna Edwards