I Want to Bonnaroo
Posted at Jun. 7, 2011 at 4:34 PM

Bonnaroo is an annual music festival that takes place in the rolling hills of Tennessee. It's a magical time when electronic mix-masters, like Girl Talk, take the stage after country legends, like Loretta Lynn, and everything exists in perfect musical harmony. Knowing that such an epic event begins this Thursday makes it hard to spend my days in an office, but, luckily, I have the Internet to help me dream up fantasy concert outfits and make-believe survival guides.
From festival experience, the time to wear your fanciest festival outfit is the first day. You're still feeling coherent and clean, are not yet dehydrated and haven't experienced the luxurious feeling of using a porta-potty that has been puked in all day. Yes, this is the day you must bust out your accessory-heavy concert finery. If I were attending this year, I would make it a point to see Brooklyn bands Sleigh Bells and RATATAT while dressed in something that channels an edgy New York vibe.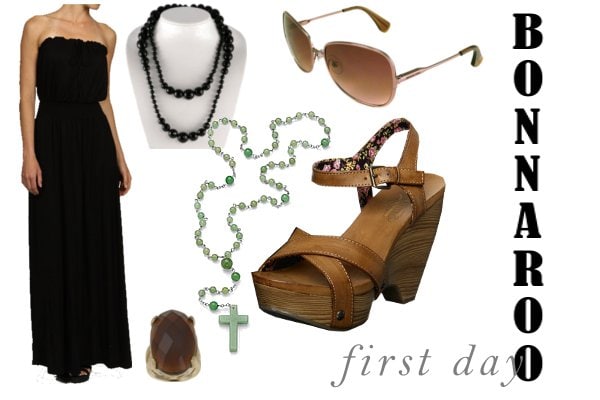 Get the look: Maxi dress, black agate necklace, sunglasses, platform wedges, jade rosary necklace, brown cocktail ring
The next few days get slightly ridiculous, so as you start to lose your grip on reality, I suggest wearing something more cool and comfortable. A bikini top is a favorite among concert-goers, but one-piece swimsuits look perfect under frayed denim shorts. Throw a floppy straw hat on and wear this outfit to check out Smith Westerns or The Black Keys.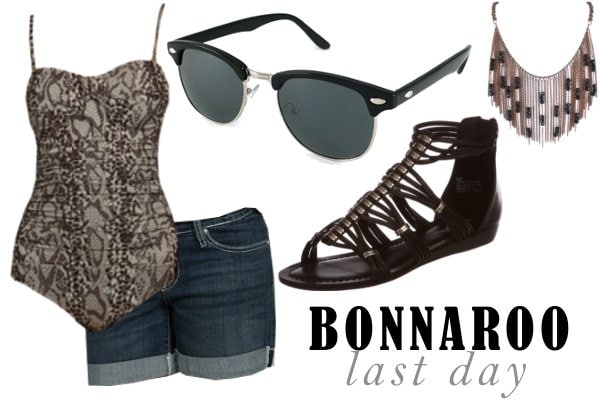 Get the look: Swimsuit, sunglasses, chain necklace, gladiator sandals, denim cutoff shorts
Besides awesome clothes, you're going to want to make sure you're well-stocked on supplies. There are plenty of guides online that outline the basics: Make sure you have plenty of food, bring ear plugs for obnoxious drum circles and whatever else you do, and do not forget the pad to sleep on. Those are all really good ideas. However, to maximize your chill time, I would also suggest bringing camp chairs, your own supply of water and a portable shower. Nothing feels better than washing off the grime of dreadlock sweat from your body. A bright umbrella also helps provide shade and makes your campsite easy to spot from afar.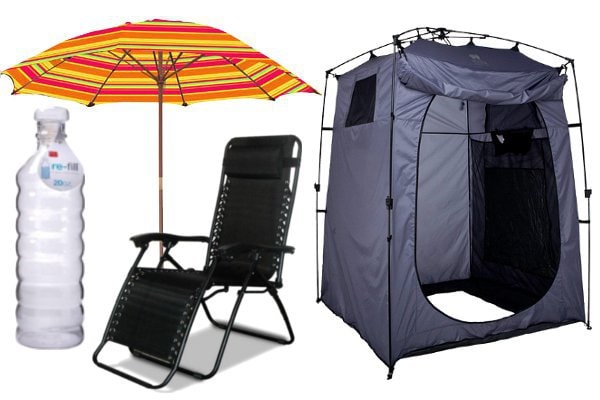 Get the Gear: Water bottle, umbrella, camp chair, shower canopy
Are there any Bonnaroo veterans out there who have more tips? Is anyone planning on going to Bonnaroo or various other outdoor concerts this year?
Posted by Amanda Mears