I Sea You
Posted at Jan. 7, 2011 at 11:42 AM

The week after Christmas, I automatically start thinking about planning a beach vacation. It's as if I am programmed to crave salty sea air as soon as the gifts are unwrapped. At first, I start scheming to pack up everything I own and drive south, never to return, but then I discover my practical side again and quickly find ways to surround myself with the luxury of a beachside resort without making any rash relocation decisions. Employing beauty and fashion finds made specifically to make any woman feel like a land-dwelling mermaid helps me cope with bitterly cold mornings and grey afternoons.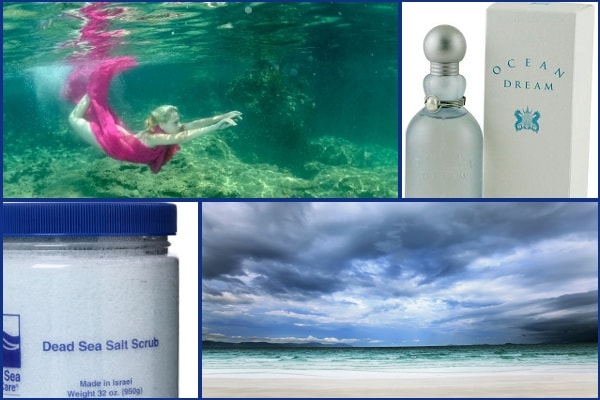 Beauty selections with a beach theme are the perfect place to start. I personally can't have enough ocean-scented perfume. Even though I have several different types, I still spend a fair amount of time coveting formulations like this Ocean Dream Eau de Toilette. A salt scrub like this Dead Sea Salt Scrub with a sharp sea scent gives me the sensation of a fresh ocean bath and sand-scrubbed skin.
A resort-style wardrobe also does wonders for lifting a dark, wintry mood. Stripes are always fun and can bring a nautical theme to any outfit, any day of the week. Try this blue-and-white striped Michael Kors tunic with a pair of white trousers or jeans for a style that is fresh and new. Beach-themed jewelry is also a must for my sea-siren style. Selections like this iridescent shell necklace are reminiscent of the jewelry you make from shells you find on vacation or purchase at shops on the pier.
Smelling like ocean breezes and looking like I just got back from vacation helps me feel sexy until spring's candy-colored sandals and trouser shorts come along. Though next year, I swear I'm packing up and heading for the Southern Border.
Where are you hastily heading this winter? How do you infuse the beach into your wardrobe?
Posted by Maegan Crandall