I Love the Way Your Sparkling Earrings Lie
Posted at Jun. 6, 2011 at 11:28 AM

Summer weekends, I live in cutoffs, but come Monday morning, you'll find me rolled up in a ball on my closet floor. Dressing for work in the summer is terrifying. As soon as I lose the ability the wear a fall clothes, I feel completely confused. Jeans and sneakers? Does that feel right? It can with bold splashes of jewelry.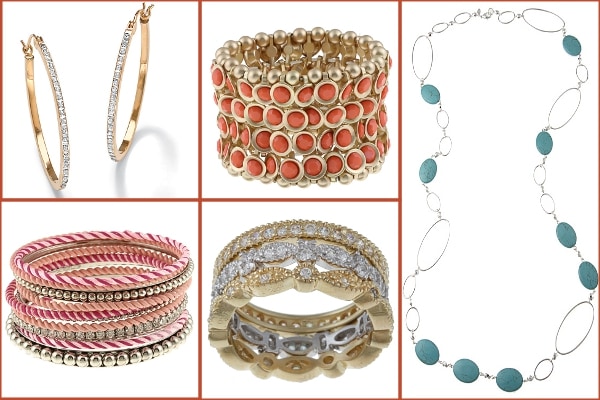 Turquoise necklace, coral bracelet, rainbow bracelet, pink stackable bracelets, gold hoops, gold stackable rings
An explosion of color can define an outfit that feels too stripped down. This vibrant rainbow bangle looks good enough to eat and instantly brightens an all-black workday outfit. Rainbows not your thing? Try a coral-colored stretch bracelet or stackable striped pink bangles with an airy turquoise necklace.
Gold seems custom-made for summer. I love to bring out the gold chains and stackable rings on bright, sunny days. Sleek gold hoops and chunky chains are luxurious and textural with jeans and T-shirts.
Will you join me in layering on the chunky jewels and gems this summer, or do you prefer fewer accessories during the warmest months?
Posted by Maegan Crandall