How to Start Your Home Art Gallery
Posted at Jan. 6, 2012 at 11:46 AM

I have art on every wall in my house, and while I only created a few of the pieces myself, just putting together the collection makes me feel creative. If you'd like to create a collection of art in your home without lifting a paintbrush, take advantage of this: Through Thursday, January 12th, you can take an extra 10 percent off select art gallery items*.
If you're not sure where to start your collection, think about your favorite artists. Don't have a favorite? Consider a few famous artists and some of the pieces that define their style. Maybe I can help inspire you. Here are three of my favorite artists and their pieces that I would start with.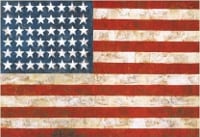 Like other American pop artists in the 1950s and '60s, Jasper Johns claimed he didn't want to paint images that would elicit emotions. He painted everyday objects and let the technique be the art. However, he walked a fine line with his many paintings of the American flag, including "Flag, 1954-55". Although it's nothing new for you to see, the object itself causes people around the world to have a wide variety of feelings: pride, fascination, anger. Did Johns paint this knowing he was contrasting pop art detachment with nationalism? I would hang this print in a place where I can debate his subject matter with my friends.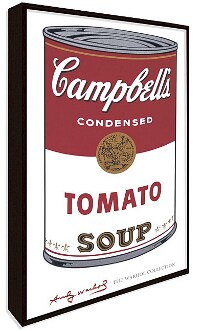 Andy Warhol started out in commercial illustration, and when he started painting fine art, he maintained his appreciation of product design. Like Johns, Warhol was an important part of the pop art movement, and he also wanted the process to be the art instead of the subject matter. He started painting Campbell's soup cans in the 1960s, including "Campbell's Soup I: Tomato, 1968", after a friend told him to paint what he loved, and Warhol figured he must love tomato soup because he ate it for lunch almost every day. The thought of a white wig-wearing, Studio 54-going, glamorous member of the New York art scene eating a humble can of soup daily makes this a cheeky autobiographical painting. I would hang it in my front hallway, where I run in and out often, and could use a quick glimpse of something that makes me laugh.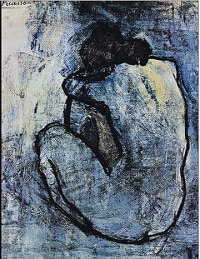 In sharp contrast to the pop artists' lack of emotion, Pablo Picasso could tell the story of large-scale tragedy, like he did in his famous painting "Guernica", as well as quiet sadness, as he did with the paintings in his blue period. "Blue Nude" is a simple study of a woman, but between her posture and the muted blue and grey tones that lend the painting its somber mood, it becomes much more. I have a similar subdued and thoughtful portrait of a woman in my bedroom, where I can think about the artist's point of view in quiet moments.
Does this help you narrow down who your favorite artist is? Do you share any of the same favorites with me? What kind of art do you like to have in your home?
Posted by Stephanie Petersen
*10% off Select Art Gallery offer applies to items in the "Sales & Promotions > Sale > Sale > 10% Off" subcategory. This offer applies to U.S. orders only. Offer ends January 13, 2012 @ 1:59 AM EST.