Hostess Gifts for the Holidays
Posted at Nov. 10, 2011 at 12:14 PM

I think most of us will agree that visiting good friends is one of the best holiday traditions. An invitation to someone's home also gives us another gift-giving opportunity because we want to thank our hosts' for their generosity (and good etiquette keeps you on the invite list). It's always appropriate to bring a small gift to the host, whether for a party or long weekend stay, but the winter holidays seem to require a little extra effort. Plan ahead and use these ideas to find a delightful hostess gift.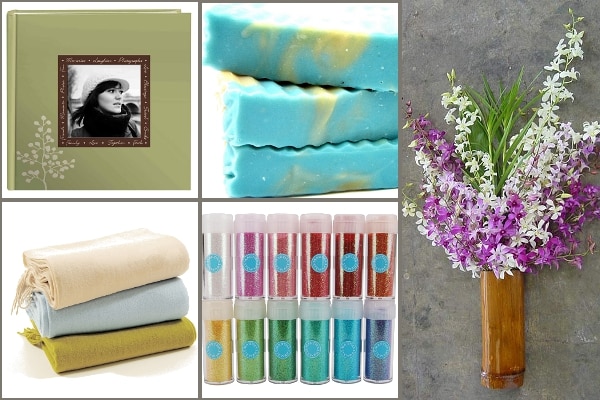 Traditional gifts stay popular because they are loved by almost everyone and are often easy to use. Chances are that your host will happily receive food, wine and spirits, or fresh flowers. Make the occasion more festive by upgrading the presentation. These organza wine bags turn bottles of wine into lovely gifts. Give friends who love to cook and entertain a bundle of gourmet treats and condiments packed in a pretty serving dish, such as this blue ceramic bowl from Tunisia.
As with any other gift, you'll want to take the recipient's lifestyle into account. If your friend enjoys spending winter evenings settled in with a good book, a cashmere blanket and some beeswax candles will set a relaxing mood. A set of golf balls will please the avid golfer, and a dedicated crafter will use every speck of this Martha Stewart glitter set.
Families tend to have an abundance (even an overabundance) of photographs, so consider giving the parents an elegant picture frame or keepsake album. If you have pictures from a previous visit, put them in the album, but leave some blank pages for the family to decorate. Of course, a gift basket of yummy sweets probably won't disappoint this crowd.
Community becomes even more important to people during this time of year. Friends and family members who strive to "shop local" will appreciate treats from their hometown or yours. Our Main Street Revolution store has locally made goods sorted by state to make your shopping easier. These handmade soaps from North Carolina would complement a gift basket of soothing bath salts and lotions. I know some of my friends would love this jalapeno jelly set from Utah's Cache Valley.
The holidays are hectic, so we'll take any great ideas we can get. Do you have a tried-and-true hostess gift you're known for? Maybe you're the hostess. What gift do you wait for every year?
Posted by Shawna Edwards