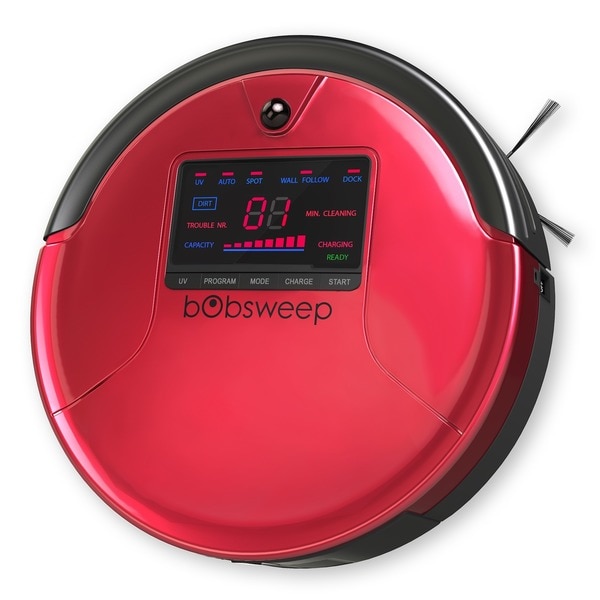 Anyone who has pets needs to get this. It does a nice job keeping up with the hair and my floors are cleaner. I run it everyday. It is a bit noisy, so I just run it in other rooms or if I am outside. Life is better with Bob. Have recommended it to others.
...
This user earned $2.00 in rewards for writing this review.Learn More
bObsweep PetHair Robotic Vacuum Cleaner and Mop
by bObsweep
Details
ITEM#: 17354575
Effortlessly keep your floors clean with the bObsweep PetHair Robotic Vacuum Cleaner and Mop. This robotic vacuum autonomously removes pet hair, dander, and allergens while mopping and UV sterilizing your floors. The bObsweep is especially designed to work with homes that have more than one pet, working tirelessly and returning automatically to its charging station when it needs more power.
Features:
Sweeps, vacuums, mops, UV sterilizes, and HEPA filtrates
Large 1-liter dustbin
Extra-long main brush
Mop wipes away paw prints and polishes floors
HEPA filtration removes allergens and dust mites
UV light eliminates bacteria and sterilizes floors
Cleans wood, tile and carpet
Avoids falling down stairs or damaging furniture
Automatically returns to charging station
Remote gives you full control
Measures 15 inches in diameter x 4.3 inches high
Specs
Features
Type
Robotic
Lifestyle
For Allergy Sufferers, For Pet Owners, HEPA
Assembly
Assembled
Accessories
Cleaning Supplies, Tools
Application
Carpet
Condition
New
Product Features
Eco-Friendly
| | |
| --- | --- |
| Dimensions | 15 inches in diameter x 4.3 inches high |
| Warranty | 1 year Limited Manufacturer |
| Model Number | PetHair |
| Country of Origin | Canada |

Most Recent

Saves me time and my house is cleaner

Anyone who has pets needs to get this. It does a nice job keeping up with the hair and my floors are cleaner. I run it everyday. It is a bit noisy, so I just run it in other rooms or if I am outside. Life is better with Bob. Have recommended it to others.

Read More

This robotic vacuum is great for picking up pet hair. I use it at least once a day in some room in between my weekly regular vacuuming. Programing it takes a little time.

Read More

Great little robotic vacuum

This is a lot taller than I was expecting, so it won't fit into tiny low places like my iRobot Roomba does. Regardless, it works very well. Not as quiet as a Roomba

Read More

Husband says best investment I ever made. Our floors have never been this clean. I am having some difficulty programming.....but not sure if it's my fault yet or the product. Does a fantastic job at picking up pet hair, and strewed cat litter.

Read More

I searched for one of these vacuume robots and came across this one at the best price offered any where . I am happy with it and it even mops but I haven't attempted to use it to mop yet . It's great to just turn on if you have a little spill and it's super easy to set up I would recommend to others

Read More
Most Helpful

Every Mama's Must Have? bObsweep

I'm the sahm of two messy little boys. We live in the country near Portland Oregon. Our lives are wet, messy, stinky and very hairy. (We also have two dogs, a Great Dane and Labrador Retriever). Our house is 4,500 square feet and frankly this mama needs help, but on a budget (I can't afford a cleaning service). I purchased the bObsweep to help me keep (my sanity) things under control. Let me start off by saying it was love at first sight!!! The bObsweep's champagne sparkly finish is stunning and blends in well with our home. I was also impressed with the packaging, easy startup and instruction manual. I've never owned anything like this and was easily able to navigate the instructions. Bobs performance so far has been great! I will say he takes some getting used to. You might have to make a few minor adjustments but everything is laid out perfectly in the manual. I have very plush carpeting on my third floor and had to remove Bob's main brush (The tool was included). He doesn't vacuum quite as well without it, but I'd rather not have him getting stuck. He performs amazingly on our wood flooring and rugs (our rugs don't have tassels). The fist time I let him run on my second floor he FILLED his bin! Talk about embarrassing. My three favorite features are hands down the programmable cleaning schedule, back-to-back cleaning modes & the fact that he also has a mop!!! #winning I'm SO glad Bob is part of our family. Now I just need two more. Overall I am thrilled and would highly suggest adopting a Bob. In my humble opinion every mama EVER needs a bObsweep!!! Xoxo, Lenna Hulings

Read More

Well worth the money spent on this product, does a very good job at cleaning up after my two dogs, leaving me more time to play with them and peace of mind.

Read More

So Far the is a little workhorse...vacum is a little loud but it soes what it is suposed to do...clean!....only problem i have so far is that it would not clean carpet, after adding included eye covers it worked just great....does take a bit for it to find its docking station...but other than that....it is great so far

Read More

Bob was easy to have set up and running. Placed on charger and in a couple hours I set him to work. My house is 2900 square feet (only clean around 1800 of that). After about 45 minutes, was finished with the areas I wanted cleaned. I emptied dust bin - I was shocked at how much had been picked up.

Read More

This was a wasteful experiment. It got stuck on furniture or counter edges constantly and had to be re-routed. The container for debris is quite small, needing frequent emptying. I think this would only be useful for very light cleanup in a perfectly square or rectangular area without furniture.

Read More
Q:

"how well is the mop? how much area does the mop cover?"

A:

I don't know, I returned mine because it kept getting stuck under furniture and it wasn't able to free itself. The whole purpose of me buying it was so that it would clean without me having to stand watch over it. I only tried mine a couple of times then gave up on it.

A:

I love mine but there is a trick to keeping you and bob happy, you must keep the road clear of any kind of trash or hazard and keep him very clean after each go round. Use him in a well lit space so he doesn't get lost and take up small rugs you can shake out side. The mop head is about the same size as a swifter sheet and will work best after bob has swept up a bit before use. It comes with 2 mop heads, I get mine wet with water and wring out and spray lightly with cleanser then attach and start, when it looks dry rinse and repeat.

A:

I really enjoy bob. He works very well for me. He does get stuck under furniture and he isn't smart enough to get himself out. But I think that can be solved with something to bring the furniture up just enough for bob to go under. I did try the mop but I really wasn't impressed. I feel like I can mop or polish faster than bob.

A:

The mop is a glorified wet rag he just drags along the floor and it dries out quickly! So doesnt hardly mop at all. Seriously makes me think it was just a quick idea to say itrs got a mop because the wet rag velcrod to the bottom is not a mop! Dont get me wrong bob vacuums like a champ but he cleans up so well that his tiny little bin fills up quicly and you can keep chganging it every 5 minutes but thats pretty much defeating the purpose! So there you go! And thats no bob, i mean bull!

A:

The mop pad is about 4 inches by 7 inches its a washable pad! I use a spray bottle and spray my hardwood floors so bob keeps going with the pad. It works great that way. The pad would only clean a small area if its wet really well. I mostly use the vacuum for my 2 dogs hair. It does a good job picking up. He gets stuck on cords or other objects on the floor so clear them out of the way. Mine hasn't found his charging station. I just put him on it.

A:

the mop is about like a Swiffer I just use my Bob to sweep with it does a good job

A:

It's not really a mop, it's more for spot cleaning. Even with that, I am very happy with it.

Read more Read less

Q:

"So I'm still mixed and now bob seems to be having problems getting onto carpet he never had a problem and he's always getting stuck somewhere! He also seems to get stuck in one room and can't find his way out! I love how much he picks up bin fills quickly! Too quickly! I think after about 15 he's not doing anything cuz he's so full! The mop is a glorified wet rag he just drags and it dries out quickly! Is there any fix to him losing traction ? "

A:

At first I really love to the bobsweep. But basically you do have to babysit it because it does get stuck. Even though they say that it finds its way out it gets stuck on sliding glass door tracks and will pick up a rug raveling and get stuck there. I have to vacuum out my vacuum because the dog hair gets hung up inside and then it quits cleaning. I have two big dogs. I like the concept but not sure that the machine does what it is supposed to do. I still run it everyday but I usually still broom sweep even before I run it and then use a Swiffer after I run it

A:

I anticipated bObsweep getting stuck on these items like any vac would. I remove throw rugs and obstacles and let him work on our large floor area. I cover areas where I think he might get stuck. He is able to navigate the wood trim over the carpet. He got stuck behind the door in the powder room, so I make sure that door is completely pushed open. I close the door when I want him to get behind it, then open it completely when he has covered that. While bOb vacuums, I get my dusting done. I keep an eye out for him, (he's pretty entertaining), and I am amazed how much debris he collects. The troubleshooting page is dog eared in our direction book. 02 is the one I have used most. It's an easy fix. I dread the day bOb completely breaks. Not sure where to get him repaired.

Read more Read less

Q:

"We have a dog rescue and sweep several times a day how much hair will it hold before it needs emptied."

A:

I really wasn't very impressed with this vacuum. I used it a couple of times and first of all, it made my pets nuts, and secondly, it has a pretty small tray for the dirt it collects. I do have 2 dogs and a cat and I would have to say that I had to empty it after 10 minutes and I vacuum every day so it's not like my house is a mess. That's how small the tray is. Also, I thought it would be nice to basically "set it and forget it", but no, it gets stuck under everything, it's actually more exhausting playing with the remote than getting out your manual vacuum cleaner. My opinion is don't even bother getting it.

A:

Not sure how many or what size of rescue pups you might have, but we have three big dogs. I thought the Bob did an excellent job cleaning up the loads of hair and fur that seem to materialize each day. I think you should expect to empty it after each use -- it really picks up a lot! (Emptying it is fast and easy.) Sadly, I had to return my Bob, in spite of my love affair with him, because he couldn't manage to get over the edge of my deeper rugs. If you have dogs and no (or short) rugs, I think it's really worth the investment.

A:

I have 2 shih tzu miniature dogs, I empty after ever 40 min sweep session. I'm shocked at how much it picks up that I never saw!

A:

The Bobsweep will actually hold quite a bit of hair before needing to be changed as I have a Bobsweep & although my Bobsweep is not as great a robovac as my Neato robovac is, my Bobsweep's bin capacity holds more than my Neato does so I have to empty my Neato's bin more often than I have to empty my Bobsweeps bin.

A:

I have a husky mix a chichuahua mix a Boston terrier and a cat. I do have to empty the vacuum after each cleaning and also reach up inside to get the husky fluff that gets stuck, I love my bobsweep! It does get stuck once in a while but you just have to go pick him up and move him. Does a great job on hardwood floors a fair job on short nap carpet but doesn't do to well on tile with grout lines, it tends to leave a lot behind on this area, perhaps because of the uneven texture of this type of flooring. I bought two bobsweeps, one for my downstairs and one for my upstairs, I wish I had gotten three for the third area of my house. If you don't expect perfection you will be quite happy with the job bobsweep does. If you expect spotless cleaning I doubt you will be happy. I am just thrilled that I don't have pet fur in every edge of my house anymore!

Read more Read less

Q:

"I bought this vacuum. I have problems with it staying charged. It will not work unless I plug it directly into the outlet"

A:

Have not had this problem myself - it recharges quickly (within about 1 hr.) and is always ready to go when I want it to -.

A:

I have not had that problem. Sorry that you are. Do you unplug when fully charged? And are you turning the vacuum off while charging? Or perhaps its just a problem machine. I would contact the Seller or manufacturer for an answer. Maybe one of them will replace it. Good Luck!

A:

Had same problem and now the brush inside is not rotating. Sorry I bought this but it was so much cheaper than the Roomba.

A:

I haven't had any issues with mine. I love it and would buy another one tomorrow. I did set up my warranty as soon as I purchased it.

Read more Read less

Q:

"clean ceramic tile floors"

A:

"The microfiber mop cloths included with bObi may be used dry or damp - with water or your favorite cleaning product - to remove stains from tile, laminate, concrete, wood, and any other hard flooring." manual

Q:

"Doe Bob work well on cat litter? And if there should be a wet hairball or wet upchuck ...will it ruin the vacuum...especially if it is wet?"

A:

We do not have pets. But it does do a good job cleaning.

A:

No problems.. I love mine

Read more Read less

Q:

"Does this clean in a random pattern or a pattern"

A:

Both I found the suction was a bit much as it created my carpet to tug up creating trip hazards Will need to stretch carpet back Would be great on hardwoods

A:

Don't Know got it for a gift.

Read more Read less

Q:

"If I do not use it for 6 months each year when I go to another residence will that cause the battery to wear out quicker than if used regularly, If so does it help if I remove the battery while I am gone?"

A:

It would be a good idea to leave the battery off charge while you are not home for the 6 months of the year.

Q:

"Will this work on Pergo? You are not supposed to get Pergo wet so can I turn the mopping function off?"

A:

"bob" has an attachment that is similar to a thick towel, and you can dampen the towel or not. Bob does not hold water, so there's no threat of too much water on the floors. You can use it dry and get the result you'd get by dust mopping with a dry dust mop. We've really enjoyed Bob for keeping up the pet hair and dust; its good for maintaining throughout the week. I still vacuum and mop once per week with heavier equipment, and Bob picks up the rest of the week. Hope this is helpful.

A:

It is up to you if you want to "mop"--it doesn't do it automatically. As another response said, you need to put the "mop" attachment on "Bob". I use it on our laminated floors with diluted Murphys Oil Soap on the pad. You can also spray your favorite cleaner on very soiled spots (just don't do too wide a path since Bob's wheels need traction), The mop function can streak. The streaks don't bother me since I can't mop due to a disability. You can wash the velcro attached mop pad in the washer.

A:

You do not have to use the mopping function. I use mine just as a vacuum. It is awesome. I have 3 dogs with lots of pet hair. Like Sandra H, I vacuum and mop once a week and use Bob to maintain the rest of the week.

A:

Sorry, We only have carpet where we use Bob. I bought for my husband for Christmas. He had an other brand, and had to empty it several times during its sweep, so I bought Bob because of the pet hair issue. I hope someday to have hardwood floors, so I would also be interested in the mopping function. I wonder about how well it would actually do considering that, I would imagine, most of the Bob families bought it because of their pets. He does love his Bob Sweep by the way. ET

Read more Read less

Q:

"How does bOB do with rugs, i.e kitchen , bathroom type scatter rugs ? Do they get hung up in the suction like a regular vacuum ?"

A:

We have a heavier rug at the front door that "Bob" can vacuum without problems. Our lighter rugs, like in the bathroom are harder for Bob to vacuum effectively.

A:

It can depending on the rug's thickness. The thinner the more it gets hung up but there can also be problems with thicker throw rung. I use the "spot" function on throw rugs and monitor it.

Read more Read less

Q:

"If you purchase the extended warranty; when does it kick in? The unit comes with 1 year...."

A:

The product protection plan starts at the date of purchase. You can find more information on the extended protection plan by following the below link. http://www.overstock.com/warrantyPage?pro_id=3419237

Q:

"Is this the BObi model? I'm not interested in just the BObsweep model. "

A:

This is the bObsweep robotic vacuum and mop.

A:

Here is the link for the Bobi http://www.overstock.com/Home-Garden/bObi-by-bObsweep-Robotic-Vacuum-Cleaner-and-Mop/10277839/product.html?recset=b1c0da3b-af2e-437f-8312-f6d9452607dc&refccid=O5B4SBV4AK7Z6RSMTZGUHB5T2Y&searchidx=1&recalg=63&recidx=1

Read more Read less

Q:

"How often do you have to clean the brush "

A:

Unfortunately, this item is currently out of stock. We do not have inventory to check. Please enter your email address on the product page and we will notify you if it comes back in stock.

A:

Depends on how much your animals shed and if you have messy family members. I run mine almost every other day.

Read more Read less

Q:

"What does the 2 and 3 year warranty from overstock include?"

A:

Unfortunately, this item is currently out of stock. Please enter your email address on the product page and we will notify you if it comes back in stock.

Q:

"What is the standard warranty?"

A:

You may need buy extend warrenty. My vacuum already send back to factory two times. First time battery problem and second time bobo can not back charging station.

Read more Read less

Q:

"Could you please tell me specific accessories that come w/this model?"

A:

This one has a couple of mopping cloths, an extra filter, an extra brush head, an extra side sweeper brush (that you see sticking out in the picture), a brush to clean wheels, bumper pads, & screw driver.

Read more Read less

Q:

"My remote doesn't alter the direction at all- it would help because the bump and turn isn't very efficient."

A:

Hello ksvaughan2, please contact Customer Care at 1-800-The-BIG-O (843-2446). Thank you for shopping with us.

A:

You'll want to make sure you are pointing the remote at the vacuum when trying to change directions

Read more Read less

Q:

"My question is I received it but remote does nothing but turn on a and no matter how I try it will only do circles"

A:

Hello lyndadol, you will be contacted by Customer Care about the remote. Have a great day!

Q:

"I have a rather unique floor in my basement that is basically small river rocks in cement. Its a bit bumpy, and I have a large rug over it. Would Bob be able to clean this type of surface?"

A:

Hello kyla, this item should work well, it is able to automatically adjust to all types of floors. Please feel free to contact us again with any further questions. Thank you for shopping with us!

Q:

"How does this work on shag carpet?"

A:

Hello Tsoles, it is recommended on a shag carpet or rug take out the main brush and allow Bob to vacuum, or replace the main brush with Bob's soft-bristled Blö brush. Please feel free to contact us again with any further questions. Thank you for shopping with us!
Shopping Tips & Inspiration
Shipping & Returns
Contact Information
Shipping:
Usually leaves our warehouse in 1-2 business days. *
Shipping Information:
Our standard shipping method is ground shipping. We also offer expedited shipping for most items. Your final shipping cost and estimated delivery timeframe will be available at checkout.
Standard shipping details
Expedited shipping details
Standard Return Policy:
Items must be returned in new or unused condition and contain all original materials included with the shipment. More Details
FINAL SALE EXCLUSION: Items marked as FINAL SALE are not returnable unless the problem you experience is the result of our error.
For your protection, all orders are screened for security purposes. If your order is selected for review, our Loss Prevention Team may contact you by phone or email. There may be a two business day delay to process your order.
** Most Oversize orders are delivered within 1-4 weeks. Some orders may take 6 weeks to be delivered.