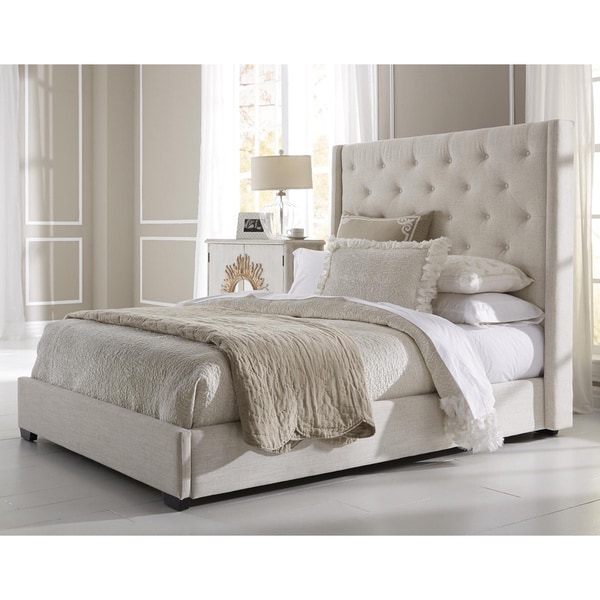 It's gorgeous! Thank you Overstock. :)
...
Wingback Button Tufted Cream Queen Size Upholstered Bed
Details
ITEM#: 16557335
Transitional button tufted wingback cream queen size upholstered bed is handcrafted for the ultimate in comfort and style. This plush upholstered bed is generously padded and includes a matching low profile footboard and side rails


Materials: Fabric, wood, foam
Upholstery materials: Fabric
Upholstery color: Cream
Upholstery fill: Foam, dacron
Headboard is detailed with a wingback design
Features espresso stained wood legs
Elegant button tufted detail
The durable fabric is easy to clean and maintain
Dimensions: 59.25 inches high x 69.75 inches wide x 89 inches deep
Specs
Features

Style
Shabby Chic, Traditional
Material
Upholstered
Color
Cream
Product Features
Tufted
Set Includes
1 Piece
Slats Included
Yes
Upholstery Material
Fabric
| | |
| --- | --- |
| Dimensions | 59.25 inches high x 69.75 inches wide x 89 inches deep |
| Warranty | 1 year Limited Distributor |
| Model Number | 20603123 |
| Country of Origin | China |
Gorgeous But Major Problems

The fabric and construction of this bed is fantastic. Its gorgeous and super sturdy. There are two issues that are mentioned in all of the reviews. There is a gap between the wing and the mattress that is about 2 inches wide. In this gap you can see the BLACK fabric that covers the bottom of the headboard. I think the mattress is pushed all the way to the side in the photo so you can't see it. Also, the measurement from the top of the side boards to the top of the inner rail is about 5.5 inches. When you add the 1 inch slats you are left with about a 4.5 inch difference...Meaning the only way to get the mattress-flush-to-side boards look in the photo is to have a 4.5 inch box spring. Regardless...this bed is so beautiful...everyone who sees it loves it. I don't think they even notice it's flaws...but you will.

Read More

Absolutely gorgeous!

I'd looked and looked and looked for a tufted bed that worked for my space. I found this one during a late night "I can't sleep" Overstock shopping spree. This is my second bed purchase from Overstock in the last ten years and as happy as I was with the first (and still am!), I am overjoyed with this one. First and foremost, it arrived before promised. Score one for Overstock and FedEx. This bed is solid. Even the FedEx guy said, "Ma'am, these boxes are really heavy." Perfect for what I expected for a bed. Two strong chicks were able to move it and I recommend even if you're super strong that you use two people to put this bed together. The instructions are pretty basic and could maaaaybe be a little better for people who aren't naturally inclined for putting together furniture. But if you take your time and sort out all the hardware first, it goes pretty smoothly and is fairly self-explanatory. The color is true to the pictures and it is the perfect neutral. I can't imagine a color that this bed wouldn't work with. The quality of the material is what I expected --fantastic. The headboard is tall and it has a connecting piece on the bottom of it which makes the headboard go all the way down to the bottom of the box spring. This means no pillows sneaking down through the crack between the bed and headboard. Have I mentioned yet that I love it? :) I bought this bed in the wee hours of the morning and it only had one review. I worried a little as I waited for it to get here. But as soon as I saw it I knew it was a good choice. Once it was put together? Love! Just love. If you're worried about buying a bed from Overstock, as I said this is my second. The first one is 10 years old and is still solid and as beautiful as the day it arrived. I rarely write reviews but this bed is worth it. If you're hesitating, don't. I'm sure you'll love it.

Read More

Excellent!

I was SO nervous buying a bed online without seeing the fabric! I had looked at Restoration Hardware and Room & Board's bed but just did not feel like spending $ 5000.00 ( needed 2 queen for a guest room). I took a gamble and bought these. I am SOOOO happy! The fabric is so nice and it looks really modern and elegant at the same time. I can't believe the price I paid for these beds! My husband and I put together the first one without fighting, in 1.5 hour. The instruction where..well ok not great put it was pretty easy and everything fitted perfect. So happy with my purchase !

Read More

Sturdy; not perfect

I honestly love this bed but I see what other reviewer are talking about; However, mine and my husband's MAIN priority was an extremely sturdy bed that have a headboard that went pretty much all the way to the floor. That is the biggest reason went with this bed. It isn't a true trufted headboard but it still looks like. It's a cream color on the yellow side NOT tan side of the spectrum which we like since we want a really neutral color scheme for our master bedroom. Also, like many others have mentioned, the bottom of the headboard isn't covered with the cream tuft fabric but rather a solid brown. For us, it's not a big deal but we plan on buying a huge fluffy comforter/duvet. Bottomline; I did a lot of research on tuft beds (hours upon hours upon days) because I was looking for a specific type of look for our bed. I wanted a tuft bed that was ivory/cream/neutral in color, had short legs (for sturdiness and aesthetics), and a headboard that was solid throughout and didn't have a big, gaping hole in the middle with two tiny sticks attached to the footboards (dramatic, I know). THIS bed checked off all those things on my list and everything was secondary (e.g. the brown fabric and the not-so-tufted fabric). I would highly recommend this bed to anyone looking for the things I was looking for. And, I used a coupon code! Gotta love those!!

Read More

Nightmare to put together

Let me start of by saying that I love the look of this bed once completed. It is gorgeous! The headboard is not excessively tall (at least not with my mattress and box spring) but it is taller that most of the headboards I have seen on upholstered beds and you can definitely see it even it the bed is covered in pillows. Remember that with the wingback style, this bed is going to be wider than the average queen which meant that I had to adjust my search on nightstands that could fit next to it. The wingback style has been great for keeping pillows on the bed instead of sliding off throughout the night. I also adore that the side rails are flush with the box spring so there is no odd gap between the two! Be sure that you have a box spring and a mattress that is thick, otherwise you will be able to see the black fabric of the lower part of the headboard. Luckily, I have a 5 in box spring and a 14 in mattress which more than comes up high enough to cover the black material. However, the instructions are so insufficient that it took us two nights to assemble and had to re-do many steps to fix earlier mistakes due to poor instructions. The wood is VERY rough, so rough it looks like someone came at it with a fire ax. Don't wear long sleeves unless you want rips in your shirt! The pieces are mislabeled compared to the instructions. The washers (24) are labeled in the instructions as one size but come in three different sizes and if you aren't cognizant of big/small holes later, then you will most likely use the wrong ones in the beginning. The holes drilled for the screws are so close to the sides of the parts that it means when you use the allen wrench, you can only do quarter turns to tighten something then remove the allen wrench, re place back in the original position and quarter turn again. There is no room on any of the pieces to do a full turn to screw anything down. Considering the number of screws, this process alone takes a far greater time than is expected. The slats will seem too short at first, push the side rails in to fit into the pre-drilled holes. Again, the bed missed the mark with simplicity of design. The slats could easily have been placed into notches on the side rails vice having to be screwed on with yet more screws that can only be tightened a quarter of an inch at a time. The headboard itself could have came preassembled. I don't understand why I had to assemble a headboard with that many tedious parts when it could have easily been shipped as one piece. I would have never purchased the bed had I known how heinous the installation would be. Even WITH two people! All that being said, if you suffer through the installation and devote an afternoon and patience to it (including re-doing many steps), you will love the look of the bed. But...I do not like that the bed legs are so close the carpet when the slats are so raised because this means that there is storage under the bed, you just can't slide anything under the side rails. I placed items under the slats and laid the box spring over it. Which would be a huge hassle if I need to quickly access any of those items. Again, a simple design flaw that was overlooked. Another downfall is the thought of moving in the future; this bed will take easily an hour or more to disassemble and the parts will have to be gathered together and bagged to ensure that you can put it together again. The bed could have easily been designed more simply so that installation would be a breeze and moving would be easy. Oh! One more tip. don't be fooled by thinking that the inner holes on the lower headboard are where the side rails should go. You will discover that it is too small for a queen box spring by about one inch. I am not sure why there are two sets of holes but definitely stick to the outer ones.

Read More

Full proof review

I searched for an upholstered bed for about two months before I bought one. I was looking for three things: white (or cream), tufted headboard and sturdy. I'm happy to say this bed is all three. The bed is true to the color in the picture, if not just a tad lighter with more of a warm grey undertone than beige. It's super heavy and each individual piece is bolted (not screwed) into each other. It feels really, really sturdy. Four (probably four inch) slats come with it for support along with legs for the slats that are hidden below the bed. The only reason it got 4 instead of 5 stars from me are the gaps... No gaps between the headboard but we have a rather noticeable gap at the bottom where the mattress doesn't come all the way out to the footboard, and two gaps on each side of the bed near the wings which allows you to see the black headboard support in the back. I also think it could be a little more padded in the tufting. It's more of just a diamond pattern than a deep tufting which is shown in the picture but more noticeable in person. Also, the headboard support had a gaping hole from shipping but I'm hoping customer service will take care of that. All in all, it's a good purchase for the money!

Read More

Bizzare

The bed is beautiful... however the sizing is completely off. Between the headboard & my queen size bed there is a 5 inch difference. So all my pillows fall between it. Also- the holes for the screws did not match up & had to be redrilled. Not easy!

Read More

Absolutely Beautiful

I love this bed. It is beautiful and elegant and exactly what I wanted. It is more beautiful in person. I have been looking for a bed for a long time. I knew I wanted an upholstered headboard. I wasn't sure about the side wings when I saw them on the website but they actually add to the beauty of the bed. The headboard is the perfect size for my bedroom. The bed arrived 2 days after I placed the order. It looks even better in person. The pieces are heavy and good quality. The instructions are straight forward. I strongly suggest you separate all the bolts, washers, etc., label them and put them in their own separate space; it made putting the bed together easier.

Read More

Just as beautiful in person!

I waited to give a review on the bed as I needed to see how the finished product would look once the low profile boxspring I ordered came in. As I expected upon reading the reviews, the bed is stunning but needed some sort of low profile boxspring to hide the black wrapping on the lower headboard. I ordered a $79 5 inch low profile boxspring (queen size) from Walmart and that really did it! The black barely shows at all and only if you are looking at the bed from the front. I'm so excited, the mattress sits perfectly now. It took my husband and I about an hour to put together. The only minor critiques I would give: 1. The black wrapping at the back of the lower head board could be an eye sore, I would have gladly paid a reasonable mark up on price to have this covered with the upholstered fabric 2. The hardware on the feet were slightly longer than the padded parts of the feet, so when the bed moved the hardware scratched the floor. This of course could be easily fixed with some furniture foot pads and a few dollars. Overall, I would purchase this over and over again, I highly recommend it, it's gorgeous! Packing was great, shipping came in earlier than expected. 5 stars all the way.

Read More

Great bed!

This headboard is great! I have received so many compliments on my bed. It is VERY heavy. Recommend a 6 inch box spring, 9 inch will show.

Read More

Overall, I love this bed. The height of the headboard makes my room feel luxurious, and I love the ivory color. The only things I dislike are the less-than-clear instructions and the black that shows behind the mattress. Also, we have a low profile that just barely shows above the bed frame, but if you have a higher profile box spring you might want to add an extra fitted sheet or a dust ruffle to hide it.

Read More

It feels a little cheap and you have to hide the parts that aren't finished, but overall achieved the look I was going for for the price. I used it in a guest bedroom that is rarely used, but I wouldn't trust the quality for my main bed.

Read More

This bed is gorgeous in person. I assembled it by hand so it took me two hours to put it together. If you do buy it I suggest using power tools. Overall I'm happy with this person and highly recommend it.

Read More

I just received my bed today and had it put together the bed they sent me is nothing like the picture, only the color maybe the bed I have the headboard is much shorter and is made out of cheap material.... I'm super disappointed!. I will never order furniture off of the internet ever again

Read More

Love it! Beautiful and elegant, exactly what I wanted. Not the easiest to put together but everything was there.

Read More

Loving my new bed! It looks beautiful. It took about 1.5 hours for my sisters and I to put together. I bought a 16" Lucid mattress and placed it on top of some IKEA rails and it fit perfectly. I am not experiencing the gap issue that I saw on other reviews.

Read More

I love this bed but did have issues with getting the fabric professionally cleaned. I'm assuming rust from the interior mechanics seeped through when they were exposed to the cleaning agents, so the headboard has sever orange, rust stains now. Otherwise, I'd recommend it! Just be careful with cleaning it!

Read More

Wingback bed

I purchased this bed and I think its gorgeous. It's a cream linen queen size bed. It came quickly and I was able to out it together in a few hours. There were a few missing pieces, I contacted Overstock and they were sent to me within 4 days. It took two people to fix and it looks great. The only issue and why I gave it three stars and may return it is the smell. I believe it's the glue that I'm smelling and it makes me nauseous. I called and informed Overstock of the issue. I'm trying to wait a few days in hopes that the smell will go away. I wonder what type of glue is used and if it's non- toxic?

Read More

Beautiful bed. I put together myself - I probably could have used some help. A little tricky. The headboard once complete leaned forward a bit so my husband some shins and now sits perfectly. I would recommend this bed. Works well with the two Wyeth cream accent tables I also bought from Overstock!

Read More

However hard to build Also weird area where there isn't cushion so you can see black

Read More

This user was entered into a sweepstakes after submitting their honest review.

Stunning bed but without the hefty price. The instructions leave much to be desired - make sure you are using the correct instructions for the type of bed you need (with or without box spring). Overall, very good quality bed for the price.

Read More

These beds are all the rage and this was the first one I have purchased. It is in a spare bedroom, I gave it 4 stars because the fabric is good, not great but the quality for the price makes it a worthwhile purchase. If I were putting it in the master bedroom I might be slightly disappointed but for a child/teen room or a spare room, great purchase. The color and feel is linen with slight tan colored hints in the bias. Love the height of it. Haven't had any issues with durability. The assembly was relatively easy. The sides are low and you don't have to have a bed skirt if you choose not to.

Read More

It is a wonderful bed. Easy to put together and great quality.

Read More

This user was entered into a sweepstakes after submitting their honest review.

I absolutely love this bed, It is so elegant looking and very nicely made. It sits at the perfect level for nightstands and comfort getting in and out of bed. I am so happy I made this purchase!

Read More

I bought this bed and assembled it myself. Reading the instructions a few times first and laying out the tools/screws/bolts is best so you can grab for what you need when you need it. Having a friend to assist is a good idea too for some of the more awkward movements in aligning the sides and back. That said, I was successful. I did not rush and was very careful. I bought a low profile boxspring which is the best for this type of bed. The quality is good but I would not use this or any bed to jump up and down on so it's probably best to avoid this bed for a child's room. Because the headboard is a light color, I was very careful when assembling and ensured all parts were wiped with a paper towel first to avoid any staining. Overall I love this bed and feel it adds an elegant presence to my bedroom.

Read More

I read reviews beforehand saying there was a little gap on the sides of the bed between the mattress and the frame but i didn't mind. When I actually built mine though there's actually a gap at the end of the bed as well that's half a foot! I got a queen mattress and a queen bed but the bed must have been built too big because it just doesn't fit. I love everything else about the bed but now I don't know how to hide this huge ugly gap at the end.

Read More
Q:

"Will this bed/frame work a sleep number bed?"

A:

That would depend in the dimensions and construction of the sleep number bed you have.

Q:

"Where can we buy the bedding shown on this bed? There really needs to be a shopping option to click on the accents & purchase."

A:

Unfortunately this bedding is not currently available.

Q:

"Do you make this bed in a king? "

Q:

"Will this bed be easy to take apart and put back together in the event of a move?"

A:

Yes, this would be very easy.

Q:

"Can this bed be used with and adjustable bed?"

Q:

"A review stated there's a gap between the wing and mattress that's about 2 inches wide. The only way to get the mattress flush to side boards is to have a 4.5 inch box spring. Can you confirm? Any suggestions on the best box spring and mattress for this bed and where to purchase them?"

A:

This depends on how high you want your mattress to be and it as matter of personal preference.

Q:

"How many pieces are included that are needing assembly?"

A:

I'm not sure because I had it put together. It is large and needs assembly. I think it came in a couple of big boxes.
Shopping Tips & Inspiration
Shipping & Returns
Contact Information
Shipping:
Usually leaves our warehouse in 1-2 business days. *
Shipping Information:
Our standard shipping method is ground shipping. We also offer expedited shipping for most items. Your final shipping cost and estimated delivery timeframe will be available at checkout.
Standard shipping details
Expedited shipping details
Standard Return Policy:
Items must be returned in new or unused condition and contain all original materials included with the shipment. For the return policy on a Marketplace item, please refer to the Seller's individual policy, located on the product page by clicking on the Seller name. More Details
FINAL SALE EXCLUSION: Items marked as FINAL SALE are not returnable unless the problem you experience is the result of our error.
NOTE:
This item cannot be shipped to Alaska or Hawaii. More details
For your protection, all orders are screened for security purposes. If your order is selected for review, our Loss Prevention Team may contact you by phone or email. There may be a two business day delay to process your order.
** Most Oversize orders are delivered within 1-4 weeks. Some orders may take 6 weeks to be delivered.