Tim Hortons French Vanilla Cappuccino With Sweet and Creamy Coffee Flavors, Single Serve Cups for Keurig Brewers 8 Count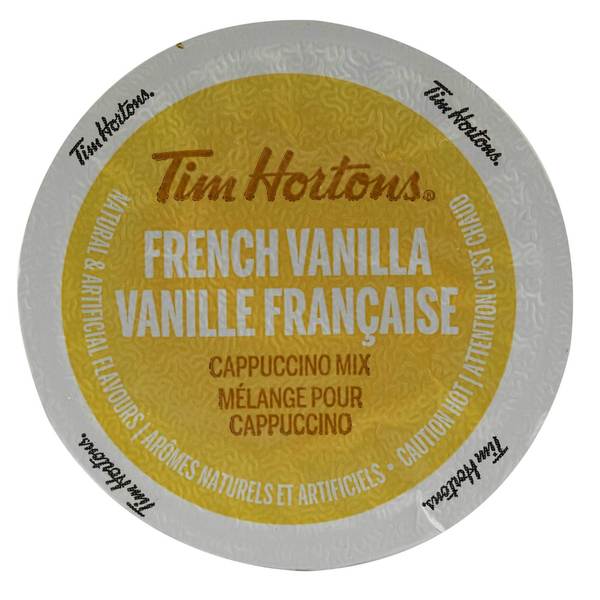 Pricing and Options
Tim Hortons French Vanilla Cappuccino With Sweet and Creamy Coffee Flavors, Single Serve Cups for Keurig Brewers 8 Count
Product Information
Details
Tim Hortons French Vanilla Cappuccino With Sweet and Creamy Coffee Flavors, Single Serve Cups for Keurig Brewers
With Tim Hortons Single Serve French Vanilla you can enjoy the delicious taste of this Tim Hortons classic at home. Sweet and creamy French Vanilla and coffee flavours combine for the ultimate comfort in a cup. The Tim Hortons taste you love, one delicious cup at a time. Tim Hortons French vanilla cappuccino captures the right amount of ingredients to produce that perfect blend of coffee in each cup for your enjoyment.
Made from high-quality ingredients, this flavorful masterpiece emanates a sweet and pleasing aroma that is sure to tickle your senses. Brew and drink one in the afternoon, and complete the day with renewed vigour. The signature flavour in every cup of Tim Hortons Premium Blend Coffee is created using our own unique blend of 100% Arabica beans.
Kosher Certified
Natural and artifical flavors
Mix with hot water or milk.
A perfect way to relax and indulge.
Tim Hortons French Vanilla Cappuccino is a rich and delicious treat you can enjoy any time of the day.
Light Roast
Experience a cup of pure delight right in the comforts of your domain with this Tim Hortons French vanilla cappuccino Single Serve cups. Each sip brings forth a burst of energy to your body thanks to its sumptuous, creamy flavour.
Cups Per Brew: Single Cup
Type: K-Cup
Coffee Format: K-Cups
Color: White
Country of Origin: United States
Item #: 25741058
Specifications
Dimensions
4 inch X 6 inch X 4inch