Similar Items in Planters, Hangers & Stands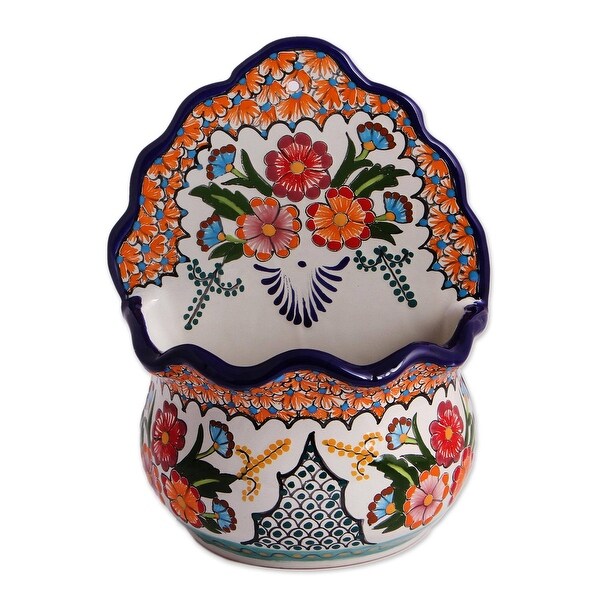 Terracotta flower pot, 'Cheerful Brown Turtle'
Out of Stock: This item is currently unavailable.
Description
Details:
This handmade creation is offered in partnership with NOVICA, The Impact marketplace.
A cheerful brown turtle comes to life in terracotta. Handcrafted by ceramists from the House of El Salvador Artisans, this versatile design is perfect to hold a potted plant. Geometric patterns in white adorn the ornate shell.
Product Features :-
Off-WhiteBrown

CeramicCeramic

Planter PotPlanter Pot

3.476 Pounds

Story Behind the Art:-
Desde los 15 años emprendí mi propio taller, gracias a los consejos de mi padre, quien me enseñó todos los secretos del oficio, pues su familia se ha dedicado a esto toda la vida. Comencé a familiarizarme con el oficio a temprana edad, ayudando a mi papá en su taller e involucrándome en todos los procesos, desde trabajar las piezas de barro, hasta decorarlas y empacarlas. Fue un reto mantenerme enfocado en lograr mi sueño, tuve que aprender a dividir mi tiempo para aprender el oficio y seguir cumpliendo mis obligaciones de estudiante; mientras mis compañeros descansaban o salían a divertirse, yo estaba enfocado en trabajar en cuanto salía de la escuela. Poco a poco fui aprendiendo las técnicas, ayudado de la asesoría y el entusiasmo de mi familia. De mi padre, aprendí la responsabilidad y dedicación que el trabajo requiere; de mi madre, la perseverancia, disciplina y el ahorro; y de mi tía más querida, Lupe, fue de quien aprendí el amor que se debe de poner a cada pieza y la constancia en todo lo que haga. Me encanta el folklore de cada pieza y trabajar los materiales. Siempre procuramos mantener la tradición y la calidad en nuestro trabajo, utilizando sólo barro de Puebla y esmaltes cerámicos libres de plomo, que pasan por pruebas de laboratorio para asegurar el nivel de nuestro producto. Es necesario conocer a fondo la técnica y los procesos, se requiere mucho control y disciplina; toda la preparación se hace y supervisa en el taller, procurando mantener, no sólo los estándares que nuestros clientes esperan, sino también un ambiente entusiasta y agradable. Nuestro esquema de trabajo es muy distinto al que se emplea en los talleres tradicionales de Puebla y creo que eso marca la diferencia. Al principio fue difícil salir a mostrar mi trabajo, era complicado que los clientes depositaran su confianza en mí, pero con el paso de los años y la experiencia adquirida, día a día me fui ganando su respeto y reconocimiento. He aprendido de mis errores, y ahora tengo la oportunidad de tener un espacio para dar rienda suelta a mi imaginación, así como de ayudar a preservar la tradición familiar y, de alguna manera, trascender. Me emociona que la gente admire nuestro trabajo y, cuando se lleva una pieza firmada por mi taller, me imagino qué destino tendrá… pienso que podrán pasar cientos de años y, en algún lugar del planeta, mis piezas serán encontradas y, al ver la firma, la gente sabrá mi nombre. Ésta motivación me hace seguir adelante, por más que en éste sector el común denominador sea escuchar que la situación es difícil y que no hay futuro, yo me he propuesto mantener mi entusiasmo, creer en mi capacidad de crear mi propio futuro, apostarle a la innovación y siempre tener en mente que hay un mundo entero por conquistar.
Please allow 10 business days for the product to leave our warehouse and to receive tracking information. You should expect to receive this item within 15 business days.
Country of Origin: El Salvador
Specifications
Style
Modern & Contemporary