Table to Go 150-Pack Bento Lunch Boxes with Lids (3 Compartment/ 36 oz)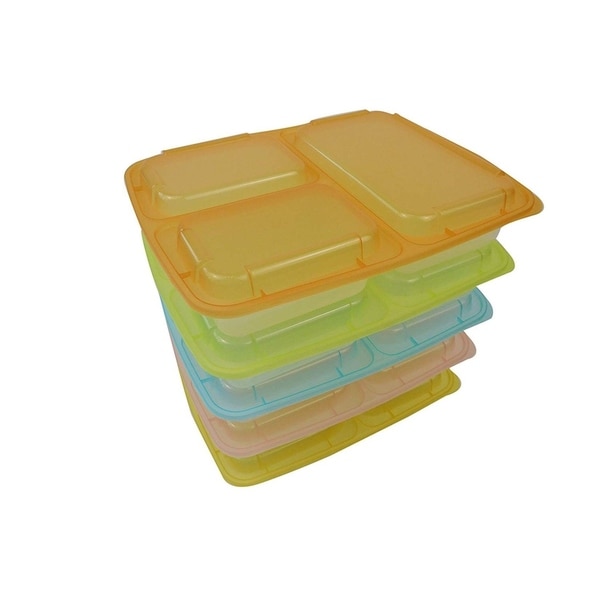 Pricing and Options
Table to Go 150-Pack Bento Lunch Boxes with Lids (3 Compartment/ 36 oz)
Product Information
Description
Details:
Bento Lunch Boxes Designed With You in Mind Keep food fresher, make meal prepping easier, and keep messy spills at bay with BPA-free bento lunch boxes designed to perfectly contain your meals. Whether you re looking for food containers to prep your meals in advance, help you with weight loss through portion control, or make you save some change by carrying lunch to work, these food containers ensure you do so with impressive ease. - Come with airtight and leak-proof lids. - fDA-approved BPA-free construction. - Sturdy holds up to multiple use. - Dishwasher, freezer, and microwave-safe. freshness Preserving Lids Keep your salads crisp, your meats tasty, and your starches delish with the airtight lids on our lunch bento boxes. Designed to create an extra-tight seal, the lids freshly preserve the taste and texture of your dishes and also keep spills at bay as you carry your lunch to work. Ensure your prepped meals stay tasty with food storage containers crafted with freshness in mind. Reusable Convenience Tone down on waste and save some change with reusable meal prep containers that hold up to multiple use. Unlike others that squish, bend, and crush out of shape, Table To Go bento lunch boxes are made using sturdy for extra durability and can be safely cleaned in the dishwasher. Our meal prep bento box set is also eco-consciously recyclable. 100% Toxin free Safeguard your health and that of your family with food prepping containers that are fDA-approved. These frozen meal prep containers are 100% BPA-free and are made from food-grade plastic. So whether you re prepping meals for the week ahead or handing out food to your guests after that barbecue, you ll never have to worry about nasty chemicals. Thoughtfully Designed We ve carefully crafted our food storage containers to strike a hard-to-find balance between convenience and functionality. The bento boxes are a healthy size, microwave and oven-safe, stackable for easy storage, available in multiple compartment options, and are optimally-shaped to save space in the freezer. About Table To Go We produce and sell disposable dinnerware that is both heavyweight and incredibly sophisticated. We believe you never have to compromise quality for convenience. That s why we use the highest quality to craft our dining ware, ensure that all materials used are safely toxin-free, and beautifully style our products to make grabbing some food a truly pleasant affair.
Country of Origin: China
Specifications
Dimensions
9.5 In. X 7.1 In. X 8.9 In.