TOTO Legato 1-Piece Elongated 1.28 GPF WASHLET+ & Auto Flush Ready Toilet w/ CEFIONTECT, Cotton White (CST624CEFGAT40#01)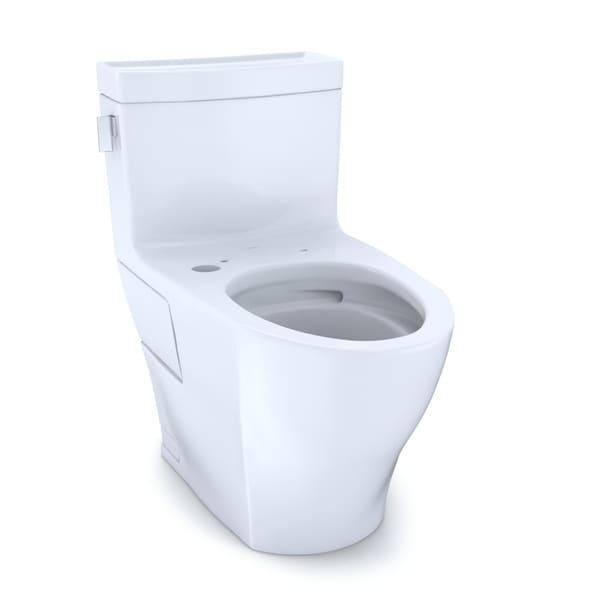 Product Information
Description
Details:
The TOTO T40 Legato WASHLET+ Ready One-Piece Elongated 1.28 GPF Universal Height Toilet with Skirted Design and Auto Flush Compatibility has a bold and modern high-profile design, projecting TOTO's mark of excellence: "People Planet Water." The TOTO Legato features a sleek, one-piece design that will immediately beautify the appearance of your bathroom. The one-piece design is not only aesthetically pleasing, but also offers the benefit of being easier to clean versus a two-piece toilet. By removing the gap between the tank and bowl, we eliminate the hiding place for dirt and debris. An additional benefit of the one-piece toilet is that there is no threat of leaks from bolts or gaskets that can occur in two-piece toilets. The Skirted Design of the TOTO Legato conceals the trapway, which enhances the elegant look of the toilet and adds an additional level of sophistication. Skirted Design toilets also eliminate the need to reach behind the bowl to clean the nooks and crannies of the exterior trapway. The TOTO Legato features TOTO's TORNADO FLUSH®, a hole-free rim design with dual-nozzles that creates a centrifugal washing action that assists in rinsing the bowl more efficiently. This version of the TOTO Legato includes CEFIONTECT, a layer of exceptionally smooth glaze that prevents particles from adhering to the ceramic. This feature, coupled with TORNADO FLUSH®, assists to reduce the frequency of toilet cleanings, minimizing the usage of water, harsh chemicals, and time required for cleaning. The TOTO Legato is designed in TOTO's Universal Height, which allows for a more comfortable seat position across a wide range of users. This version of the Legato offers TOTO T40 WASHLET+ and Auto Flush compatibility for when you are ready to upgrade. WASHLET+ toilets feature a channel on the bowl surface to help conceal your WASHLET+ supply line and power cord for seamless integration. The Legato comes ready for install into a 12" rough-in, but may be adapted for a 10" or 14" rough-in with the purchase of a separately sold adapter. The Legato is ADA compliant and meets the standards for EPA WaterSense®, and California's CEC and CALGreen requirements. The TOTO Legato has a left-hand chrome trip lever. T40 WASHLET+ or seat designed for WASHLET+ needs to be purchased separately.
Features:
Elongated one-piece Skirted Design toilet, easier to maintain versus a two-piece toilet
1.28 gallons per flush TORNADO FLUSH® system with a powerful centrifugal rinse
CEFIONTECT™ glaze gives the bowl a lubricious quality that prevents particles from adhering
TOTO WASHLET+ upgrade compatibility: designed to work exclusively with a T40 WASHLET+ bidet seat for seamless integration
Auto Flush compataible
Left-hand chrome trip lever
ADA, WaterSense®, CALGreen, and CEC compliant
12" rough-in
May be adapted for 10" or 14" rough-in with optional TOTO parts: TSU03W.10R or TSU03W.14R (sold separately)
Included parts: tank to bowl gasket, tank to bowl hardware, and toilet bolt caps
Purchase Separately: Wax ring, toilet mounting bolts, water supply lines, T40 WASHLET+ bidet seat or compatible toilet seat SS124 or SS234, and optional Auto Flush kit
Manufacturer One Year Limited
Please note: Product dimensions may vary slightly from installation dimensions.
Assembly Required
Country of Origin: United States
Specifications
Assembly
Assembly Required
Product Features
CAL Green
Warranty
1 year Limited Manufacturer
Model Number
CST624CEFGAT40#01