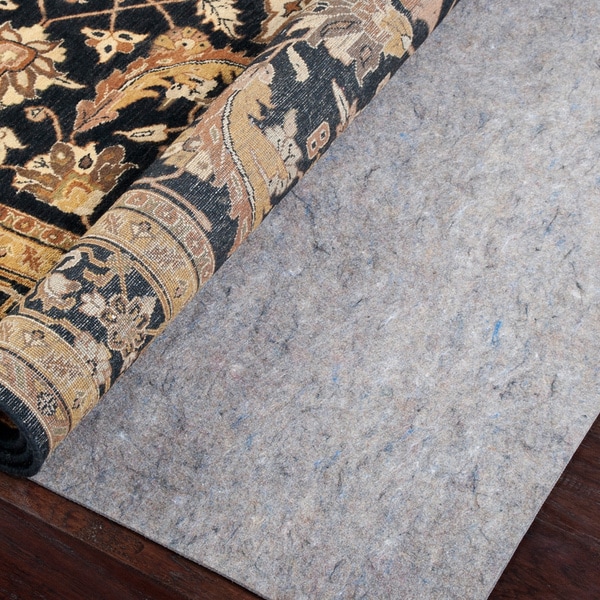 Very nice pad for the money!
...
Superior Dual-sided Reversible Felt Rug Pad (7'10 x 9'10)
Details
ITEM#: 14202508
Keep your rug from bunching up and sliding around with the help of this dual-sided felt rug pad. The top surface is made of pure felt for increased airflow, while the reverse side is made of latex for non-slipping action that reduces slips and falls. The thin height allows this felt pad to fit unobtrusively underneath your rug while adding the perfect touch of comfort for those passing by.

Features:

Single rectangular rug pad
Top surface made of 100-percent felt
Non-slip latex bottom surface
Approximately 0.185 inches thick
Durable for everyday use
Prevents bunching and slipping during everyday use for safety
Measures 7 feet 10 inches wide x 9 feet 10 inches long
All rug sizes are approximate and may vary from listed dimensions.
Specs
Features
Material
Felt, Synthetic
Feature
Contains Latex
Product Features
Non Skid Backing
Shape
Rectangle
| | |
| --- | --- |
| Dimensions | 7ft.10in. x 9ft.10in. |
| Warranty | 1 year Manufacturer |
| Model Number | SDPAD-710910 |
| Country of Origin | United States |



Most Recent

Although the quality of this felt rug pad is good, I wish the pad was thicker.

Read More

I have this padding under all my floor rugs and it holds up well and feels great on bare feet

Read More

Provides an additional level of padding that other rug pads do not.

Read More

This is an excellent rug pad. My rag rug doesn't slide at all, it makes the rug cushier. It was easy to cut down to the exact dimensions I needed. Very happy with this purchase!

Read More
Most Helpful

A "Must Have" For Every Rug - Great Price

I'm a professional interior designer. So I know what I'm talking about when I say that you should always have a proper rug pad under every rug you own. They make the rug feel cozier under your feet, and keep the rug from wearing down. I really love these pads. They're a really good quality for a great price - especially with free shipping. They cut the size so they fit nicely under a standard area rug, which is nice. It means you don't have to jockey them around so the pad isn't peeking out. Plus, these are actually a better quality than those I've seen at Pottery Barn and Restoration Hardware. They're similar to local rug merchants'.

Read More

We purchased this felt/rubber backed rug liner for our dining room where it gets a lot of traffic. We needed it for our new 8 x 10 area rug. It works great. It is thick enough to be substantial, but thin enough so it works with the thickness of our rug, so you do not trip walking from the tiled kitchen into the dining room. We placed it on the floor, rolled out our rug and slid a very heavy chia closet and table over the new rug and pad. Nothing moved but the china cabinet and table. It was delivered folded up in quarters and then folded, so it did not take up much room till we needed it. Very good price, and the fact that it is a few inches smaller than our rug was a plus, so we did not have to trim any excess. Another Overstock quality item. I am very happy!

Read More

Gummy When Seeking Smooth

I read in DETAIL all postings of Overstock items, and this said 'dual - felt' with NO gummy or adhesive side. When I receive these - they are gummy! With adhesive! WHAT a hassle to have these. I just ate the costs instead of deal with the nightmare of sending them back.

Read More

I always order these rug pads when I have a rug that is a little thin or one that needs to stay in place. It doesn't leave in sticky residue on the floor, adds a nice cushion to my rugs (which makes the rugs "feel" a little more plush and high end) and if you have that stiff backing to rugs that "breaks down" and leaves those white flaky things every where -the felt side grabs the rug and the white stuff stays put and doesn't seen to break down and get everywhere. Great rug pad-wouldn't waste my money on anything less.

Read More

Good rug pad for the price

Pad was folded, rolled and wrapped in plastic. It arrived within days of ordering. Super easy to lay on the floor. The rubbery grip backing is nice because it keeps the pad in place when you put the carpet on top. It's a thin pad but much better than those other gripper pads that tend to buckle up when you are trying to position the rug on top.

Read More
Q:

"what is the thickness? I am looking at another that is $** less and I believe 1/4" thick."

A:

The one we got was about 1/4 inch also and is excellent under our 8X10 rug on hardwood.

A:

Same as David's answer above.

A:

Mine is 1/8", but feels good underfoot. Quite satisfactory.

A:

The one we received is not quite 1/4", somewhere in between 1/8" to 1/4". It was thinner than I expected but we have it on tile and it provides enough cushion.

A:

I agree with Dave. 1/4 approx and a great pad

Read more Read less

Q:

"Will These work with rugs on carpet?"

A:

I'm not sure but if you have thick carpet you do not need a pad for comfort. Rugs move on carpet without strong rubber mats. Just have to give it a try. Sorry I'm not much help.

A:

Yes. It is dual purpose. You can place it on rug and on carpet. If you read the description it states it's use. Very high quality and thick. I used mine over wood floors, rubber side down. For carpets you place smooth side down and rubber side up to grip onto the area rug. Hope this helps.

A:

I agree with Susan P. 's answer.

A:

It's felt on the underside so I don't believe it would be a good idea.

A:

Yes. The purpose is to stop an area rug from slipping & sliding.

A:

Yes, they work just as well on carpet as they do bare floors. We use one under a rug on carpet since the condition of our rental's carpet is disgusting and I don't want to look at it. It provides for a nice plush area.

Read more Read less

Q:

"Would this rug pad help protect my hardwood floors from spills? I'd like to put it under the kitchen rug, and am hoping that the rubber backing would prevent any spilled water from reaching through the rug, pad and onto the floor."

A:

Yes, it should prevent water from your hardwood floors

A:

I just tested pouring a small amount of water directly on the pad and the water did NOT come through on the floor. It also took a while to soak up the water. I think tha would be good too. It would give you some extra seconds to try to dry up the spill.

A:

I've only dealt with some minor pet stains on the rug. Nothing seeped through - even when I cleaned the rug. So yes, I think it does offer protection for hardwood floors.

A:

Yes I've had no spillage seep thru

A:

We researched several rug pads and found that this one states it protects and resists ALL penetration to your rugs and floor. That is why we purchased it. Have not had the experience yet, but it appears that it will protect your floor from spills.

A:

The description states that it can be used outdoors, so it would most likely help with spills on your floor.

A:

Yes, I think so. The bottom (facing floor) is rubber. The top part is fabric-like. If water went through your rug, you would probably still want to air dry the top side of the rug pad.

Read more Read less

Q:

"I have a 8' round rug. Should I buy 8' pad or go down to 7'4""

A:

I would buy 8' - you can trim if necessary

A:

If you use an 8' pad, you'll be able to see it under the rug, so I would go a little smaller with the pad. 7'4" pad should be fine.

A:

If you buy exact size of rug you will have to trim it down to prevent the pad showing. 7'4" is leaving a whole 8" of unpadded rug. i'd go with closer fit and trim it off. Very easy to cut down with scissors. Tanya G.

A:

I'd get an 8 foot pad and trim it. 4 inches without padding around the circumference will show a lump as the carpet relaxes into place.

A:

I would get the 8' and trim it if you need to (may not need to) I bought one 3 or 4 inches smaller on each side and after a few weeks you can see the slight lump in the rug where the padding starts/stops.

A:

I agree with Kay L. - felt should be relatively easy to trim.

A:

If you buy a pad that is the same size ,you should trim it a bit. You don't want the pad to shoe and fitting it perfectly would DRIVE ME CRAZY !

A:

Order the 8'. The measurement is true. You can always trim a bit if you need to. But mine was the same as the rug, no trimming need.

A:

I would also suggest buying the 8" because they are easy to trim. I cut an inch or 2 off of mine with scissors no problem. If your pad is everal inches smaller than your rug you'll be able to see it hang over, like the rug won't lay flat.

A:

My pad was ordered as 8 x 10 but the manufacturer made the necessary adjustments for a perfect fit. I would assume they do it for all sizes. By the way, it is a great pad just What I wanted.

Read more Read less

Q:

"What size rug pad is best for a 9 X 12 rug?"

A:

Buy one that is at least the size of your tug. They vary a lot in size . Then trim 1" off all around.

Q:

"How thick is this pad ?"

A:

The pad is awesome!!! It is a little more than 1/4 but less than a 1/2 inch thick and lays down without any rough seams bulging up. Use a sharp scissor to cut it though because it is thick to go through. I love the pad until my silk rug. You barely know it's there and provide great protection for your rug and floor. I hope this helps. I am completely satisfied:D Be Well

A:

Without a caliper, and using a trusty metal pull-out tape measure, it is about 1/2 centimeter thick, which is a little less than 1/4 of an inch, which is pretty thick for a rug pad. Great quality. I am very pleased with it. A good buy!

A:

I too love this pad. We bought it a while ago and due to a remodel project, we had not laid it down under our **** rug yet. Just last week we rearranged the room and put this carpet pad down under the area rug. It is an awesome improvement over an already good situation. You won't be disappointed!

A:

I was not impressed, it's about 1/4 inch thick, plastic on the bottom side, it works ok I guess, I didn't like the idea of put plastic on my antique wood floors. We had problems getting it to lay out flat where it had been folded.

A:

I'd say it's about 1/4 inch thick but it really makes the rug feel great. I am going to buy another for another rug I have. Gives the rug cushion without making it feel like your feet are sinking into like they do with carpet. Great product for the price.

Read more Read less

Q:

"I have a chumky, relatively loose weave jute rug on hardwood floor. Would this be the best pad to keep the slipping to a minimum?"

A:

We have this under a rug that is also under some heavy furniture. It never moves. When we laid it down it seemed like one that would be difficult to move.

Read more Read less

Q:

"We have recently installed luxury vinyl plank flooring --- concerned about putting the rubber side down, and the felt side feels so scratchy. The rug will be going under the bed so not concerned with slipping, but not sure the rubber side is compatible with the vinyl."

A:

The rubber side is meant to be in contact with hard surfaces, so I can't imagine that it would hurt high quality vinyl. I have it on my hardwood floors and there is no problem with discoloration or sticking. You would only want the felt side down if you were placing an area rug on top of another rug.

A:

I have "engineered wood" (laminate?) floors and have several of these pads, rubber side down. Not a problem. I think you're safe to use them on your vinyl.

A:

I purchased two of these pads to go under my wool area rugs last year (also purchased from Overstock.com). I just had manufactured wood floors installed and a year later the pad is doing its job. It keeps the rugs in place and the rubber pad against my floors have no effect whatsoever. A,pad should always be used under area rugs to keep them lasting longer and just adds more warmth to the floors. Very, very satisfied with these pads and they can be cut to fit!

A:

Place the pad under your area rug with the rubber side down, in contact with the floor. The pad should not harm your luxury vinyl plank (I have vinyl plank as well) as long as the rug and pad are dry and clean. If certain cleaners (solvent), hot water, or rug shampoos are used then a problem could arise where the rubber breaks down and sticks to the floor. Do not use any of these items on your rug/under pad.

Read more Read less

Q:

"We just received the Superior Dual Felt Rug Pad. We are letting it "air out" with the rubberized side up. I'm a bit confused as to whether I'm jeopardizing the finish on our oak hardwood floors under the pad. We had bad experiences with our previous rug without a rug pad under it. We had mistakes by pets! This time we bought this rug pad and just want to make sure the correct side is facing up toward the rug."

A:

I believe the rubber side should be facing the floor, if that is what your asking- that is how it prevents slipping. I can not imagine that a pad would hurt an oak floor, so don't worry about that. Most damage is caused by human beings and pets, just as you experienced. Good luck !

A:

The felt side faces the rug, rubber side to the floor. Anita

A:

The rubber side faces the floor. I have the same pad and it has been down since October. I have checked the floor occasionally and it is working fine plus the rug will last longer by using the pad?

Read more Read less

Q:

"The label says to put the rubber side on the hardwood and felt towards the rug, but a previous answer by customer care says the opposite. Which is correct? I have brand new hardwood and do not want to damage it."

A:

we followed the label instructions and i regret it. there was one area where it left some residue on our hardwoods; they need redone, so I'm not too worried, but if I had brand new floors, I'd got felt side down.

A:

I put the rubber side down and the felt side up. I haven't had any issues with any residue from the rubber side rubbing off onto my hardwood floors at the other person did. Just note that once you lay your rug on top of the mat, it's not skidding anywhere.

A:

I also put rubber side down, haven't had any issues.

A:

if you put the felt side down it might slide. we put the rubber side down on our laminate flooring and it works great.

A:

I'm not sure they are talking about the same pad. I purchased one, and the rubber side is not at all sticky. It feels sturdy and stable, and helps the rug to not slip. My felt side is up, which supports the rug where heavy furniture is placed on it, and the pad helps reduce pressure. I'm entirely pleased with it.

A:

I had new floors put down and ordered the mat to put under my area rug. I followed the instructions and put the felt side down and the rubber side up. I'm happy to say the floor looks great underneath.

A:

Hi Rachael, I had new floors installed and purchased the mat to put under the area rug. I followed instructions and had the felt side downward sitting on the hardwood and the Rubber side facing upward. So far so good. I recommend the felt side down. Good luck. Susan

A:

I followed the label instructions on a newly refinished hardwood floor. It's been five months since I put it down but it doesn't seem to leave any residue so far.

A:

Rubber side down, felt side up. That's what keeps the rug from moving. I have never had a problem with the rubber leaving any residue on my finished oak floors. Maybe the person who did had a problem with moisture. It is a great rug pad, so much better than the cheap rubber mesh pads I have had in the past.

A:

I have hardwoods. I put rubber side down. So far, no problem.

A:

If you don't want your rug sliding around, put the rubber side down. If you aren't so worried about that, I supposed it would be ok to put he rubber toward the carpet. Mine is rubber side down, and I have had no problems, but it's in a office where moisture isn't an issue.

Read more Read less

Q:

"I would like to use this rug pad on hardwood floor and want to ensure the contact w/hardwood is non slip (ie that it stays securely on the wood floor)."

A:

I think it's great. I've been using it only for a month thus far in my living room, but have had zero issues of anything sliding.

A:

I bought this pad for my area rug that I put on top of carpeting. Felt side to rug, rubber size to carpet.

A:

We had the same concern since in our last home, the rubber bottom of a carpet actually melted into our hardwood floors. We had to have the entire first floor reds fed and stained. When we moved, we kept the carpet but bought this rug and put the felt side down. Works great. It doesn't slip but we have a large carpet. I'm not sure if it would slip on a small rug... But if it isn't insanely hot, I wouldn't worry.

Read more Read less

Q:

"Is this product "compatible with urethane finishes"? The manufacturer of our wood flooring recommends we use a product that makes that claim."

A:

I have these under my rugs and my floors are a urethane finish. They have been great!

A:

we put this pad on top of pre-finished hard wood floors and it is fine under a silk oriental rug which is under our king bed No gummy sticky finish

Read more Read less

Q:

"Not interested in getting a plush feel as the rug is substantial. Is the pad fairly thin?"

A:

Hello evelyn, the rug pad is approximately .185 inches thick. Thank you for shopping with us!

Q:

"will it prevent slipping under the Paris faux sheep rug on this sight?"

A:

Hello LauraN, yes, this should prevent sliding. Have a great day!

Q:

"What is the thickness of this pad?"

A:

Hello Nana 4, the rug pad is approximately .185 inches thick. Thank you for shopping with us!

Q:

"Is this the same rug pad as the superior reversible felt pad except for the size? The other is 7.10 x 10.10. Those are the measurements (says the tag)) of my new rug. This one costs more yet is smaller and the photo is the same. I don't want it too small but I want the best quality. Help."

A:

Hello Lee-Anne, they are the same pad, the size is a bit different. You can expect the same wonderful quality from both. Thanks for shopping with us!

Q:

"does it arrived rolled or folded? if folded is it easy to get creases out"

A:

Hello gina, the rug pad arrives in a roll and should be easy to place underneath your rug. Thanks for shopping with us!

Q:

"Is it waterproof? Will liquid penetrate through to the floor?"

A:

Hello Allison. No, this rug pad isn't waterproof. It does help liquids from reaching to the floor. Have a great day!

Q:

"Hi, is this a 2-sided pad, rubber on one side and felt on the other? Thanks!"

A:

Hello Carlee, the felt pad has a latex backing. Thank you for shopping with us.

Q:

"I am looking for a pad to put on top of my wall to wall carpet to keep my decorative area rug from slipping and bunching. I purchased pads from you that are of a rubber material but they still slip and bunch. The area rug on top is a large rug. Will this pad prevent this?"

A:

Hello Charlotte, the pad is decided to do just that. Thank you for shopping with us.
Shopping Tips & Inspiration
Shipping & Returns
Contact Information
Shipping:
Usually leaves our warehouse in 1-2 business days. *
Shipping Information:
Our standard shipping method is ground shipping. We also offer expedited shipping for most items. Your final shipping cost and estimated delivery timeframe will be available at checkout.
Standard shipping details
Expedited shipping details
Standard Return Policy:
Items must be returned in new or unused condition and contain all original materials included with the shipment. More Details
FINAL SALE EXCLUSION: Items marked as FINAL SALE are not returnable unless the problem you experience is the result of our error.
For your protection, all orders are screened for security purposes. If your order is selected for review, our Loss Prevention Team may contact you by phone or email. There may be a two business day delay to process your order.
** Most Oversize orders are delivered within 1-4 weeks. Some orders may take 6 weeks to be delivered.