Shower Linear Drain 24 Inch Square Checker Pattern Grate Stainless Steel - w/Threaded Adaptor and Adjustable Leveling Feet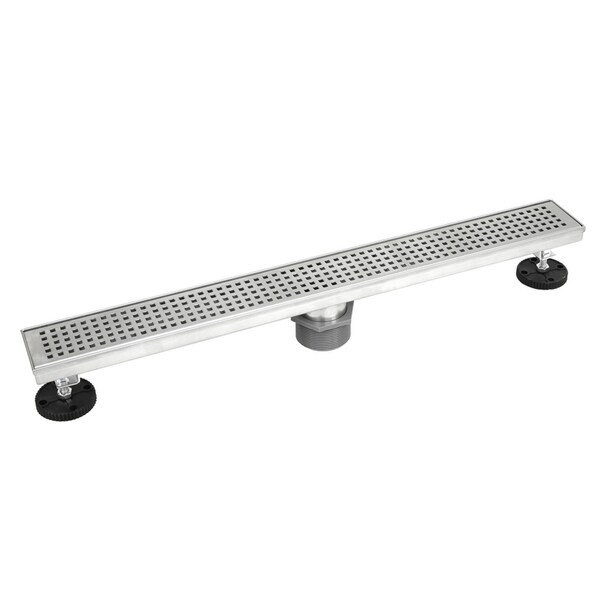 Pricing and Options
Shower Linear Drain 24 Inch Square Checker Pattern Grate Stainless Steel - w/Threaded Adaptor and Adjustable Leveling Feet
Product Information
Details
Looking for a totally beautiful, modern and sleek bathroom concept or something to accentuate your shower? A Linear Drain is the trending element and preferred choice! Not all linear drains are the same, and we will explain why the our Linear Shower Drain with Square Checker Pattern Grate makes an outstanding choice: Enhanced Deep Slope Design - the drain channel is pushed deeper than conventional linear drains, to ensure water flows effortlessly to the drain outlet, leaving less water in drain channel
Equipped with 2 adjustable feet on both ends of linear drain - during installation, installer can precisely adjust the height of the two ends to level with the ground, before pouring concrete to the shower base; avoid buying linear drain without adjustable feet or you may run into tilted installation Comes with a high quality threaded adaptor with rubber O-ring that also help in adjusting the height of the drain; the adaptor is compatible with most 2" PVC, ABS, and Cast Iron Flanges
Other Bonuses - A lifting hook is included to remove the grate from the linear drain; a hair and debris lift-out strainer is also included to capture unwanted object to flow through the outlet and avoid clogging the pipe Concerned about materials? The Linear Drain is constructed with series 304 stainless steel, to ensure it is as corrosive and rust resistant as possible Easy with Plumbing - fits US-standard 2" opening No-Hub Drain Base or Regular Drain Base with our included Adaptor.
Dimensions Length: 24" Width: 2.75" Water Outlet: 2" Diameter Flow Rate: 18.5 Gallon/Minute DEEP SLOPE DESIGN - 'X' pressed enhanced design ensures water flow effortlessly from the side to the drain outlet, eliminates water staying in drain channel EASY ADJUSTMENT - Linear drain equipped with adjustable feet on both sides, making the linear drain can easily be adjusted precisely to level to the ground. Threaded Adaptor with rubber O-ring aids adjusting the height of linear drain and securing the linear drain to the flange, leak-proof and compatible with most 2" PVC, ABS, and Cast Iron Drain Base Flanges Comes with Square Checker Pattern Grate and removable for easy cleaning SIZE & MATERIAL - Constructed with 304 stainless steel, brushed stainless steel finish, corrosion and rust resistant.
Dimension: 24" Length x 2.75" Width | 2" Water Outlet | 18.5 Gallon/Minute Flow Rate. CUPC Listed Works with US-standard No Hub Drain Base, compatible 2" PVC Shower Drain
Country of Origin: China
Item #: 26537764
Specifications
Dimensions
24.0 In. X 2.75 In. X 2.75 In.
Warranty
1 year Limited Manufacturer