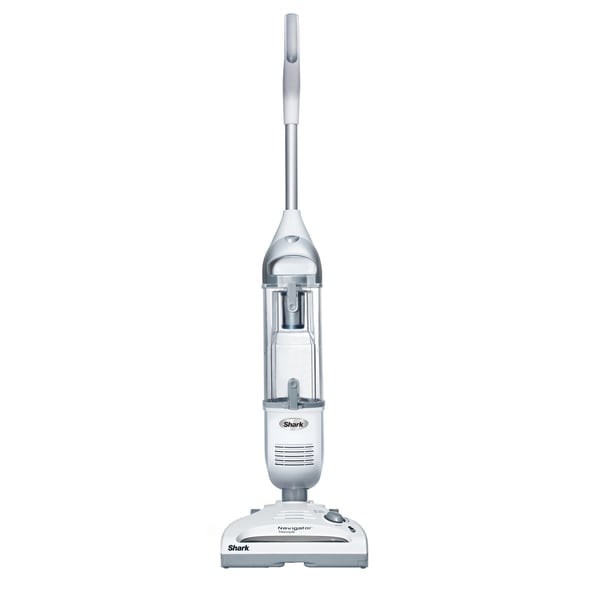 This works very well very simple to use and clean
...
Shark SV1106 Navigator Cordless Bagless Upright Vacuum
by Shark
Details
ITEM#: 15179757
Get clean with the Shark SV1106 Navigator cordless bagless upright vacuum. Whether you've got pets, kids, or basic cleaning needs, this vacuum is the perfect fit. The Shark Navigator is a fantastic solution for homes with a variety of surfaces as it comes with individual settings for bare floors and carpet areas that maximize cleaning power no matter what the floor type. This vacuum comes with a deep recline angle that is handy for reaching under furniture and other difficult spaces. Easily maneuver around corners with the lightweight swivel design. After your floors and carpets are cleaned up, simply wash the filter, no need to worry about those pesky disposables.
Features

Made from plastic, metal, electronic components
Extended run time ensures spaces to clean will run out before the power does
Charges in just 4 hrs
Washable filter allows for easy maintenance without disposables
Highly efficient dust cup for maximum efficiency
Powerful suction removes dirt, dust, debris from every crack and crevice
Comes with a deep-recline angle, handy for reaching hard-to-access areas
Weighs 7.5 lbs.
2 speeds
Cordless
Includes filter
120-volt motor
Model SV1106
Dimensions: 9.6 inches thick x 10.8 inches wide x 24.3 inches tall
Specs
Features
Type
Bagless, Cordless, Lightweight, Portable, Upright
Lifestyle
For Pet Owners
Assembly
Assembly Required
Application
Carpet
Color
White
Product Features
Cordless, Lightweight
| | |
| --- | --- |
| Dimensions | 9.6 inches thick x 10.8 inches wide x 24.3 inches tall |
| Model Number | SV1106 |
| Country of Origin | United States |



Most Recent

This works very well very simple to use and clean

Read More

I love the fact that it's cordless and I don't have to constantly stop to plug it in to another outlet. It has a long charge and is super easy to use. Excellent pick up and easy bagless disposal of dirt. The handle is very flexible making easy accessibility for cleaning under furniture.

Read More

This is my second one now I have one on each end of the house I have 2 dogs and 2 cats love love it

Read More

I bought this for my son. He is in his first apt. He says it keeps it's charge, and does a great job. And I'm happy knowing it doesn't take up a lot of space and that he is keeping his apt. clean!

Read More

Needed a lightweight and easy to move around vacuum after 2 back surgeries to use in between house keeping visits. Exactly as described. Easy to assemble and move around. Moves from surface to surface with ease. Exactly what I was looking for. Will probably purchase one for parents for Christmas. Recommend!

Read More
Most Helpful

I have animals in the house. I have tile floors and hard woods. Carpet in 2 bedrooms.. I orginally purchased to use in the kitchen and living room.. I have found that the suction is great on carpets too. So convenient to grab and go.. no struggle with electric cords. The battery life is great too . I can use all over with single charge .. 1800 Sq foot.. great suction!!! Works better than my old big vacuum! !

Read More

I PURCHASED THIS VACUUM AS IT WAS ADVERTISED AS SHARK SV1106. I WAS SHIPPED A SHARK SV1106N WHICH IS A DIFFERENT MODEL. HAVING OWNED A SV1106 I LIKED IT AND NEEDED ANOTHER ONE. OVERSTOCK EVEN ANSWERED A QUESTION ABOUT THE MODEL NUMBER AND SAID THEY HAD NO SV1106N MACHINES IN STOCK. NO WHERE DOES IT MENTION THIS IS A DIFFERENT MACHINE WITH A SMALLER BATTERY AND LESS POWER. I A VERY VERY DISAPPOINTED IN OVERSTOCK FOR THE FALSE ADVERTISEMENT. I CAN SAY THAT THIS MACHINE DOES NOT PICK UP AS WELL AS MY SHARK SV1106 BUT ONLY TIME WILL TELL ABOUT THE DURABILITY.

Read More

Finally-a light weight Vac

I bought this vacuum after seeing my sister in Florida using hers. We both hate bulky heavy vacuums and this one only weighs 7 lbs. and does floors and rugs. I will admit it doesn't have the lifting and strong power of my large vacuum (which I ofcorse still have) but this is just the thing for my more often cleaning. It also travels up and down the stairs easy. I like the weight, design and overall everything about it. I got a great deal but have noticed there was only one at the price I paid. Too bad. Still a great buy.

Read More

I have been searching for a nice cordless vacuum for a long time. This one exceeds my expectations so far. I have all tile, laminate and some area rugs and this works awesome on all. It can clean my whole house twice on one charge, but I do only have 800 square feet. It is light weight, has a swivel head and holds a lot before it needs to be dumped. Also so so easy to dumb the trap out. Just push a button on the bottom of the pull out tank and it falls out into the trash. I really can't say anything bad about this and the price is awesome too!! Also I have a dog and 2 cats and it picks up their hair out of the area rugs really well.

Read More

I purchased this vacuum for my upstairs bedrooms so my children could use it. I allowed it to charge overnight before using it for the first time, I was disappointed with the quality, based on the reviews I read I expected more. I have a Dyson downstairs so I may be spoiled. The charge didn't hold long, I was able to vacuum 2 of the 3 bedrooms and had to recharge. I am returning this product. My canister Dyson is 10 years old and 100% better than this vacuum, if I kept this I would have to replace it in a year than again and again, I'd rather spend the extra $250 once on a quality product I will be happy with for 10+ years.

Read More
Q:

"does it come with a battery and charger"

A:

Yes it does. It is easy to charge as well.

A:

Yes, it is recharged with your house electricity

A:

It comes with a wall plug in and a small base that charges the vacuum

A:

I immediately hated this cheap dust buster. I gave it to Goodwill. Not worth the money.

A:

Shark Navigator SV1106 N comes with a plug in wall charger. The AC/DC adaptor plugs into your home electrical socket. How the vacuum is charged: the small AC/DC adaptor has about 6 feet of cord. The end of the the cord/adaptor plugs into a small base unit that lays flat on the floor. One of the back wheels kinda clicks into a tiny charging unit and it charges. It is very simple and light weight. Not heavy or cumbersome at all. The base unit is smaller then one of those power strips you buy. I saw another review calling this a DustBuster BUT in no way shape or form is it a dust buster. It's a handled stand up unit... lightweight and perfect for light cleaning. The cannister fills fast for us BUT we have three bedrooms and animals. You can hose out and wash the canister and both filters after use.

Read more Read less

Q:

"does it have to be assembled? Sending to Mom. She doesn't assemble things"

A:

You just clip the top handle in and put the screw in to avoid coming out and that's about it.

A:

There is some very very easy and basic assembly involved. Nothing that requires a tool of any kind, mostly just snapping parts together. It took me like 5 minutes.

A:

IT 'S VERY EASY TO ASSEMBLE AND VERY WIEGHTLIGHT. EASY IN USE.

A:

Hello, I know this might be a little too late. But no you don't have to assemble the vacuum.

Read more Read less

Q:

"Is this vaccums battery a 14.4 volt unit"

Q:

"Is Overstock willing to guarantee that if I purchase this vacuum, I will not open the package to find that it's actually the "SV1106N" model?"

A:

Ok Overstock, I'm throwing this one back to you. When I opened my box, I received the SV1106 Model. Funny question, though.

A:

Before I purchased this vacuum, I had read a review somewhere that when the package was opened they discovered the model was a SV1160N and for whatever reason they were very disappointed. It is indeed a SV1106N. Now that said and done, when I purchased this cordless vacuum it was not to replace any big boy vacuum, it was purchased for pickups when I did not want to do heavy cleaning. It is a really nice cordless vac. It picks up and delivers. I have vacuumed not thoroughly, but in open areas of over 1300 square feet and have not ran out of power or the vacuum has let me down. It does exactly what I bought it for.

Read more Read less

Q:

"what is the useable run time after charging?"

A:

I get at least 15 minutes which is enough to do my 2300 sq foot home. More if I "press again" on the button which sets to low - bare floor. Often have enough to do the stairs to the basement

A:

I love it bought 3 of them for me and my kids!! I rated it a 5 it runs at least 3 hours then I recharge and just leave on charger over night!

A:

If is let charging overnight. You could get 1-2 hours of usable run time.

A:

I have never had it run out of batteries before finishing the job. I love this vacuum. It's super convenient, easy to clean and it does a thorough job!

A:

it is not working , since i i received the box....unfortunately i put the box in the garbege

Read more Read less

Q:

"Does this have a wall bracket to hang it on?"

A:

No, the stand is the charger...

A:

No it sits in a recharging base on the floor. This is the best vacuum ever. I'm older with arthritis and this little dynamo could not be easier. It is so light weight and it cleans so well. I can go from my carpets to my wood floors by clicking a pedal on the front. It is so simple to empty and clean. I love this little guy. I had a kirby and compare to this vacuum apples and oranges. I'm so glad not to have that bulky Kirby..

A:

I think it did come with one but I'm really not sure...but I love it.

Read more Read less

Q:

"Amazon has this for $*** Will you match their price? Thank you."

A:

You will be contacted by Customer Care who can further assist you.

Q:

"Is this a SHARK SV1106 or a SHARK SV1106N model?"

A:

On the one I purchasedwhere the serial number is it says SV1106 N

A:

Sorry, but OS is wrong. It is an SV1106N.

Read more Read less

Q:

"Do you match price. X has this cordless vac for $*. Pretty good difference. Thank you."

A:

We always try to have the lowest prices, but sometimes we are beat. We're open to price matching and are more than happy to review your request.

Q:

"Hello, is this Model: SV1106N or Model: SV1106? in the title it is Model: SV1106 and in the details it is Model: SV1106N. Thank you"

A:

Not sure which model I have - but I would NOT recommend purchasing this. I used it sparingly for about 2 months and it stopped working altogether. While it worked, it was very good for what I needed. But now I am stuck with something that doesn't work, and have to purchase something else. This is the second Shark vacuum I have purchased that did this, but the first was many years ago and I was willing to give it another try, hoping their track record had improved.

A:

My unit says SV1106N 40. I believe this N model has a smaller battery but not sure. The unit has plenty of power. I use it on high most of the time a get about 15 minutes. I use to have a Dyson and found that this does a comparable job.

A:

Received SV1106N.....I would not recommend it. Doesn't hold charge for very long. I had a credit to use so decided to give it a try. Dyson cordless is what I'd recommend.

A:

Mine says SV1106 then a space, then N.. another space then 40. I love this vac.. I live in a large home so it's nice to not constantly unplug and plug. Not quite as strong as my Dyson canister.. but that needs to be plugged .. unplugged several times turning a short chore into a long chore! This model cannot be overcharged. It stops charging when it's "full". Someone told me it will only last a year. It's in it's 14th month. If I had to buy one a year I would.. but it's fine.

Read more Read less

Q:

"I see that this is cordless, and it runs on a battery, but is the battery rechargeable? Or do I have to replace it?"

A:

The battery is rechargeable.

A:

The vacuum has a docking station that charges the battery, I have used mine as long as 45 minutes before needing a recharge.

Read more Read less

Q:

"Does it have a rotating brush? I am looking for one W/OUT a rotating brush as itsnt good for our hard floors."

A:

Hello TM, this item does feature a rotating brush. Please feel free to contact us again with any further questions. Thank you for shopping with us!

A:

The vacuum has 2 speeds. If you set it to floors (low) the brush does not rotate. It only rotates when you set it to carpet (high). Works well. I love that its cordless.

Read more Read less

Q:

"Where does it explain the warranty? I only see the option to buy it."

A:

There is a 1 year limited manufacturer warranty

Q:

"Does this have a belt to make brush run?"

A:

Hello boomer, this item does require a belt to operate the brush. Please feel free to contact us again with any further questions. Thank you for shopping with us!

Q:

"How long is estimated battery life and can it be replaced?"

A:

Hello camelback, the rechargeable battery lasts approximately 45 minutes. Thanks for shopping with us!

Q:

"If it SV 1106 and not the SV 1106N, why does the ad have SV1106N and what is the difference? sv"

A:

While this is the SV1106N-- it is virtually identical to the SV1106

A:

Hello wakullasunrise. The battery size is the only difference. Please let us know if you have any further questions.

Read more Read less

Q:

"Will I receive the SV 1106 and not the SV 1106N?"

A:

Hello victoria p., the item being offered is the SV1106. Please let us know if you have additional questions. Thanks for shopping with us.

Q:

"Does this vacuum have a beater bar that can be turned off for hard surfaces?"

A:

Hello KLJ, this does not have a turn off feature for the beater. Thanks for shopping with us!

A:

Yes, it does. I own both the 1106 and 1106N. The bar can be turned off on both.

Read more Read less

Q:

"How do I return this....the suction is not great and I have owned an 1106 and it worked great, so I went back and looked at box and then in manual....and I was sent the SV1106N model....which is not what this site describes nor what I ordered."

A:

Hello zacheus11, please contact our customer service team for further assistance at 1 (800) 843-2446. Have a great day!

Q:

"Can you clean under the bed with this stick vac ? in other words is the canister narrow enough to get under a bed?"

A:

Hello mo, yes this has a deep recline angle and allows you to remove dirt and debris from hard-to-reach areas, such as under furniture. Please let us know if you have any further questions.
Shopping Tips & Inspiration
Shipping & Returns
Contact Information
Shipping:
Usually leaves our warehouse in 1-2 business days. *
Shipping Information:
Our standard shipping method is ground shipping. We also offer expedited shipping for most items. Your final shipping cost and estimated delivery timeframe will be available at checkout.
Standard shipping details
Expedited shipping details
Standard Return Policy:
Items must be returned in new or unused condition and contain all original materials included with the shipment. More Details
FINAL SALE EXCLUSION: Items marked as FINAL SALE are not returnable unless the problem you experience is the result of our error.
For your protection, all orders are screened for security purposes. If your order is selected for review, our Loss Prevention Team may contact you by phone or email. There may be a two business day delay to process your order.
** Most Oversize orders are delivered within 1-4 weeks. Some orders may take 6 weeks to be delivered.