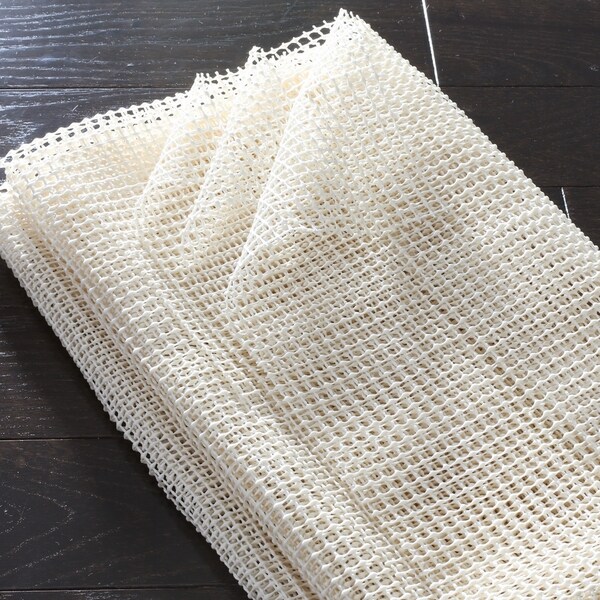 great addition to the area rug.
...
Safavieh Ultra Non-slip Rug Pad (8' x 10')
by Safavieh
Details
ITEM#: 11996894
Put safety first by adding security and comfort to your area rug with Safavieh's 8' x 10' Ultra Non-Slip rug pad. Conveniently trim this pad to fit non-standard rug shapes to create a sleek, polished look. Its high-density quality construction protects your hardwood or tile floor and stabilizes your investment for years to come. This essential rug pad forms a protective barrier between the textured back of your rug and your floor to prevent damage.

Prevents Slipping and Bunching
Position this Safavieh rug pad beneath your area rug to keep it in place on your floor, preventing accidental falls. The pad grips the rug and the floor, eliminating bunching, shifting, and slipping of the rug. Use it to keep rugs in place on hardwood, tile, laminate and other flooring types. This rug pad is also easy to cut with scissors to create the desired size and shape that you need. Its ventilated grid allows for circulation while the rubber construction adds cushioning to your area rug and keeps the edges from flipping up. Designed in a tasteful geometric pattern, it is designed to keep your family and guests safe from tripping over creased or bunched-up rugs.

Protects Your Floors from Damage
Install this nonslip rug pad underneath rough or hard-backed rugs to prevent them from scratching, scuffing and damaging your expensive flooring. The rug pad's synthetic rubber construction provides a cushioned layer of protection between the floor and the rug, keeping your floor free from damage. In high-traffic areas, alleviate any safety concerns when your family, friends, and loved ones walk over your favorite area rug comfortably and securely.

Easy Maintenance
This rug pad can be easily cleaned by hand-washing in a mild detergent, rinsed, and laid flat to dry. It is anti-microbial to inhibit the growth of odor-causing bacteria, mold, and mildew, and is also fire-retardant and moth-proofed to ensure added safety.

Features:
Measures 8' x 10'
Pattern is Geometric
Thickness: 0.15 inches
Handcrafted
Primarily crafted of Synthetic rubber
Functional and crucial to add cushioning and stability to your rug
High-density quality construction will hinder your rug from shifting
Specs
Features

Material
Rubber
Feature
Latex Free
Color
Off-White
Product Features
Non Skid Backing
Rug Pad Type
Cushion, Non-Slip
Shape
Rectangle
| | |
| --- | --- |
| Dimensions | 8 feet wide x 10 feet long |
| Model Number | PAD110-8 |
| Country of Origin | United States |

Most Recent

I'd purchased one before and so once I'd purchased another area rug, it was no doubt that I'd purchase another one.

Read More

Love these things. Can cut and size to your own carpet or new carpet you purchase and work great to keep carpet from sliding.

Read More
Most Helpful

FANTASTIC--the best!!

We have a small Persian rug business & carry these rug pads for our customers. We also use them for all of the rugs in our home. They allow for a little air flow, won't damage floors--absolutely no marking on wood floors, keep even small rugs from slipping, & provide a bit of padding. We don't recommend thick rug pads--when you put a heavy narrow table or bed leg on a rug with a thick pad, the pad compresses easily & leaves a dent in the rug itself that is difficult, if not impossible, to remove. Most rugs don't need any extra padding, & the Ultra Non-slip Rug Pads are the best we've found. The Overstock.com price is fantastic!! It's important that the pad be cut a bit smaller than the actual size of the rug--at least 1-2" less on each side.

Read More

Great product

This rug pad was perfect - not too bulky, but stops the rug from sliding around on my hardwoods and adds a little bit of cushion. It was also slightly larger than the actual measurements, so when I cut off the edges, I had more padding I used for the legs of my armchair.

Read More

Not good for larger rugs

I've used this type of rug pad for smaller rugs and thought I could save some money by using it for an 8x10 rug I purchased from Overstock. It was a big mistake. Even after enlisting help from others, there was no way I could successfully position the rug without scrunching up this flimsy pad. Then it stretched out of shape. Then I tried to cut the edges. It was still not smooth. I ended up buying another pad from Overstock so I didn't save any money at all and, in fact, spent more than I would have had I just gotten the better "felt" like pad to start with. Learned a lesson that these kinds of pads aren't good for larger rugs. Maybe I'll use it in the future by cutting it up for smaller throw rugs around the house. Or, maybe it was just a total loss.

Read More

Did not like how this laid out on my floor

I would not recomment this product because on a larger rug laying this out by myself was taxing. It would not lay out flat enough for me to layout my rug. Will change this out to something else or just lay rug by it self.

Read More
A:

Yes it is. It works really good.

A:

It is actually not made of rubber but a poly foam composit. It works fairly well on hardwood floors but there is still some rug slippage.

A:

It's a strong fiber mesh covered in rubber, so it keeps its shape and is quite strong.

A:

I don't think it is and you don't want rubber. Rubber deteriorates and becomes a sand type material.

A:

Yes, this is a fabulous pad for under your area carpets. It's extremely easy to cut & has worked well for us. Wish I had purchased this for other area rugs. I strongly suggest..that you make sure you clean under the pad every 6 months.

A:

Primary material is synthetic rubber. Mold and mildew resistant. No other material information. Quality product.

Read more

Read less

Q:

"T through this pad was for wall to wall carpets also or is is just for hard surface floors"

A:

I bought the rug pad to use under a smaller area rug. The problem with using it for wall-to-wall, it might be very tricky to get the pad down and then to get the rug positioned over it - it might drive you toss this pad. I believe a much thicker rug pad would work better for a wall-to-wall carpet.

A:

I would not use for wall to wall. It isn't cushioned enough for that purpose. it is great for no slip on floors. I alleviate the problem of laying the rug on top by using double sided tape to attach rug to pad. That way you don't have to move the rug off the pad.

A:

My understanding is that this pad is for area rugs on hard surface floors only.

A:

I'm using it on a hard wood floor. Working very well, the carpet (an 8x10) Safavieh hasn't shifted.

A:

I think you'll find that this type of rug "pad" is for area carpets and not for wall-to-wall carpeting. Linda C 7-3-2017

A:

I am using it for my 8 x 10 rug, which is in the middle of my room on hardwood floors. Working great to keep the rug I ordered in place. The rug I have has a hard backing, so this is also keeping my floors safe!

A:

The pad is useful under all rugs and all surfaces. The way it is made, we found it easy to cut to fit under our rug. With the left over pad, we put under a non-skid bath mat and it now stays in place. This is an excellent buy.

A:

It may be helpful to think of this item as an "anti-skid device" rather than a "pad.". It's purpose is to prevent rugs on hard floors (such as wood or ceramic tile) from slipping and sliding and repositioning themselves. It would be fairly useless under a rug placed on top of carpet. And there's no reason whatsoever to place it under wall-to-wall carpet since that type of carpet is anchored along edges, so it won't be slipping. For carpet or rugs requiring a pad for cushioning & to help prevent excessive wear, get a real pad made of foam or wool or other fibers intended for that purpose.

A:

I used the pad on my wood floor surface to keep the rug from slipping.

A:

This is not a pad " as such" it is a way of protecting hardwood floors and holding area rugs in place. DLL

Read more

Read less

Q:

"Can,i,use this outside? Under an outdoor rug over tile?"

A:

Yes you can. You might need to trim the pad to fit your rug. Since outdoor rugs can be plastic- this might be slick against the rug. Something to look out for- but it's usable.

A:

Yes, as you mentioned as long as it has tile to adhere to, you can use it anywhere.

A:

The directions say, "Hand wash in mild soap, air dry". I don't know if I would leave it down, I would let it air dry in between it getting wet so your rug and the pad don't get moldy. Just my suggestion. lilsista :-)

A:

you could but I think it would get very dirty - it's cream/white for almost half of the rug

A:

Yes. In fact, this rubber-based pad is perfect for outdoor carpeting. I use it for both indoor and outdoor.

Read more

Read less

Q:

"Can this pad be patched to fit underneath a 9x9 rug "

A:

These pads are very easy to trim if you order the wrong size.

A:

I think you could trim it just fine - it would be six inches short on either side, but I prefer to undercut mine by a few inches anyway. I wouldn't try to use it in two pieces - that could be difficult to position well. As for the reviewer who said it bunched up on a larger rug - I duct taped mine in place on the back side of the rug while I was positioning it and that seemed to work well.

A:

It cuts easily and you can follow a grid pattern. It has stuck well to my area rug.

A:

The pad is easy to cut, and it's an open grid, so I suppose you could hand-stitch two sections together. That seems time-consuming, though. It might be easier to buy a pad that is too large, cut it to size, and be done with it.

A:

I suppose you could cut it

A:

Im sure it can be i haven;t had any reason to patch mine!

A:

not really, I would go with a larger rug pad that you can trim down, pieces of it cut would be moving about

A:

Yes, very easy with a pair of sharp scissors. lilsista :-)

Read more

Read less

Q:

"Will this stick on carpet also to keep my area rugs from bunching up?"

A:

It did not stick to my carpet and my carpet is still bunching up. However, my area rug is pretty thin, so if you have a heavy area rug it may work better with it. Hope that helps. :)

A:

It works perfectly on wood and tile floors. I have used it on carpeting and it still moves.

A:

It works wonderful on my tile but I don't know about on another rug.

A:

I bought this padding for my granddaughters new rug. It doesn't stick to carpet but it helps to keep the rug from sliding. I always use some sort of rug pad for my carpets.

A:

I laid the pad down and put my rug on top of it. It doesn't stick to the rug but if your is a tiny bit smaller, its easy to trim the pad. It had helped my rug from bunching and moving.

A:

Meant for solid surface floor, no in between carpeting and area rug

A:

It would best with a thicker rug than a thin rug. But that is true with any of these rug pads. I bought mine to go under an outdoor patio rug, and it keeps the rug from moving around, but it still bunches up a bit. Not much, but enough that I notice.

A:

These pads do not have tape or any sticky substantce on the back. They merely "grip" the carpet and our laminate flooring, holding the carpet in place. We have used them with various sized rugs and even the 3x4's stay in place. Our rugs are oriental type. I suppose if your area rug is very light material any pad might allow for some slipping or bunching, but that is not an issue for us. It does help to keep dirt and dust from accumulating under the pad. They are availlable in many sizes but are easy to trim if you need a size not available. Hope you enjoy!

A:

Not sure this is an answer as much as clarifying question. Does this pad work between wall to wall and the Safavieh 8 x 10 area rug? That is the Yes or No question. Seems some answers were neither and some were vague as in 'Maybe'???

A:

I personally thought the pad was relatively thin, which is not a problem if you have a heavy area rug. If you have a thin or flat area rug I have found that a thicker rug pad works best.

Read more

Read less

Q:

"I plan to use this under an outdoor carpet on my deck. Will it work?"

A:

It should be fine. I can't imagine why it would be a problem. Anyone else have feedback to share?

A:

I have it on hardwood indoors and it works fine. Non skid. Depending on rug will probably give a nice squish for bare feet.

A:

I think it would be fine. Of course you don't want either rug to get wet. My husband and I put the pad down with our rug and had no problem at all. I didn't buy the a pad for the other rug I bought and I wish I had.

A:

It should work. It's made of rubber, so the elements shouldn't destroy it too quickly. It will prevent slipping, but it doesn't add and cushioning, if that's what you're after.

A:

I think this is inappropriate for outdoor use. It is lightweight and would fall apart quickly with weather and rough outdoor surfaces. A great product for indoor use.

A:

It should. It's pretty rubbery, but I'm not sure how it will do in the elements. I use it indoors on my wood floor and it works like a dream even with two playful dogs and a cat.

A:

Yes it will work. No slippage at all.

A:

The only caution I could see would be too much heat and direct sun. It could melt slightly getting sticky and hard to get off your deck. One of the felted non skid pads might work better for outdoor use.

A:

I see Overstock does carry non skid pads very similar to this that are labeled specifically for outdoor use.

A:

We have it under a rug on a wood floor and it works really well. I would think it would work outside on a wood deck, but I can't say for sure.

A:

hardwood, vinyl...yes? Outdoors? I'm not sure...

A:

I bought this pad couple years ago and it has worked fine on my patio but it is covered and does not get wet I don't think you would want the moisture that builds up after being exposed to rain over and over.

A:

It is great, It was easy to lay flat and gives my rug extra comfort to walk on. I love mine.

A:

I wish I could be more helpful, but I have only used mine indoors. Like the previous response, I'd also "think" it would be fine, just cannot say for sure. It works well for my needs indoors, for what it is worth.

A:

I would not use outside. If it is in the sun it might melt and stick to carpet and flooring

Read more

Read less

Q:

"Do all rug pads end up sticking to wooden floors? I don't want to go thru the hassle of cleaning stuck rubber on my wooden floor. My floors don't have that shellac shine to them but if and when I move I don't want to go thru that kind of trouble."

A:

I have had this carpet pad on a hardwood floor for quite some time. I does not stick and does not leave a residue. It is a great buy and a good product. Would highly recommend.

A:

I never had any problems with the pad sticking to the floors. My floors were newly refinished when I put these down. If you pick it up to wash the floor, make sure it's dry before you put it back down.

A:

No, this carpet pad doesn't stick to my hardwood floors at all. Great product.

A:

I have not experienced that issue. I have used pads under my rugs for years.

A:

I have the pad under my rug on a wooden floor for about 6 months on a highly traveled area in the house, and was able to pick it up without a problem--it did not stick to the wooden floor. However do I not know what would happen over the years.

A:

it docent seem to stick to the hardwoods. I just put mine a couple days ago.

A:

I have not had that problem on our wood floors. Our floors have a shellac shine This product works fine. I would recommend it.

A:

I have hardwood floors, and the non-slip pad I purchased from Overstock like a charm. Even with the polyurethane coat.

A:

I haven't had that problem.

Read more

Read less

Q:

"Will this keep my area rug which is on top of my wall to wall carpeting from moving and bunching up?"

A:

Probably, but I have personally never put a rug on top of carpeting.

A:

I used the pad on vinyl plank flooring to keep it from slipping. I'm it will work well on carpets too.

Read more

Read less

Q:

"I ordered one rug pad but 3 came up after I OK the order. Please change to one order # 187867447"

A:

For assistance with this issue please contact Customer Care at the number below. U.S. and Canada Toll free: 1-800-The-BIG-O (843-2446)

Q:

"WILL THIS KEEP A RUG THAT IS LAYING ON TOP OF CARPET FROM MOVING"

A:

Yes. that's exactly what it's for. I have it under 3 runners (I cut it into pieces), and they all stay in plac3.

A:

Yes, but a small rug that gets brushed by a door ... it moves a little each door opening and I have to pick it up and re-position the rug about once a week. As far as a person moving it by standing, shifting, walking on it ... works great for that.

A:

Yes, it work very well I keeping the rug in place.

A:

Yes, it works for me. The carpet on the bottom is not super thick, however. Cut the pad so that there is an inch of the top carpet overlapping. That way, if it moves a little bit you won't see the pad.

A:

We use this item on ceramic tile floor. Presumably, it should work on carpeting just fine since there is more friction when using this runner on carpeting.

A:

yes! we had the area rug for about a year then added the pad. stabilizes and adds a nice layer of cushion

A:

Sorry, I don't know--I actually haven't opened it and I plan to return it.

A:

This pad keeps my rug in place, even when I vacuum

A:

I don't think it would keep it from moving.

Read more

Read less

Q:

"After 6 months of use, when pulled up, the pad left a white rubber like material stuck to the floor. Soap and water, ammonia, alcohol, does not clean this material off the floor. Any suggestion on cleaning this rubbery substance off a painted concrete floor?"

A:

Try Laundry softener like downey or GOO-Gone.

A:

The same thing happened on my painted concrete floor. I used hot soapy water (not too much soap) with a little vinegar added and it came right off.

A:

Good Gone or furniture oil with lemon

A:

I am sorry, I have no idea.

A:

Try Goo Gone. It can be bought online, ***, almost anywhere.

A:

I have had no problems with this pad on wood floor but have not had six months. Currently soft and holds rug in place. Will keep checking.

Read more

Read less

Q:

"Will this pad leave marks on my polyurethane sealed hardwood floors?"

A:

I used it on laminate floors and on tile with no marks. I found it to be very comfortable, perform well, and there was no marking on any of my floors with about 18 months of use.

A:

I have oiled wood floors and no problem with pad, don't know about laminate.

A:

We have similar hardwoods and I am in the process of replacing it now because it did leave marks.

A:

I have the same great experience as the previous customer that answered this inquiry (pitsbrgher 6/23/2016).

A:

It has not left any marks on our hardwood floors, besides making the carpet non-slip, and although it is very thin, the pad actually makes the rug feel thicker. It's a good buy.

A:

I used it on laminate floors with no problems. I would certainly make sure your polyurethane is fully cured (hardened).

A:

Sorry I do not have hard wood floors, but I would think it would not. It is not sticky like tape.

A:

No, I have it in my dinning room and living room and I am very satisfied with its performance.

A:

I have had no problems with this item.

A:

Our. Hardwood floors are not finished with polyurethane so I cannot answer

A:

I had it down for over a year, with no marks.

A:

No marks On my way! my very expensive hardwood floor. Keeps rug in place,very happy with it.

A:

I have engineered hardwood floors. I haven't had any problems with staining from this rug pad. It's been in place about 1 year.

Read more

Read less

Q:

"will it work on wall to wall carpeting?"

A:

Hello ruth H., this item is designed for rugs, not wall to wall carpeting. It is designed to keep the rug from slipping, not so much as a padding for under carpet. Thank you for shopping with us!

A:

it works well on area rugs I have no idea on wall to wall carpeting.

Read more

Read less

Q:

"Will this pad leave marks on my polyurethane sealed floors?"

A:

Hello Ted, thank you for your inquiry. Unfortunately, the information you have requested is currently unavailable. You will receive an email notification once an answer is posted. Have a great day.

A:

I do not know I have it on laminate only

Read more

Read less

Q:

"Am I able to cut this to fit a 7/10" by 10 ft rug without it being damaged?"

A:

Hello dkpasttime, this item can be trimmed without being damaged.Thank you for shopping with us.

A:

I've cut it with a sharp pair of scissors with no problems.

A:

I have cut it down to fit the rugs I bought with no problems so far.

Read more

Read less

Q:

"Why did you choose this product?"

A:

no plese cancil this i want the rug

A:

Becaue I need a rug pad and it was cheap

A:

JUST BOUGHT A RUG FROM YOU AND NEEDED THIS TOO!

A:

Non slip pad recommended and previews appeared to be positive

A:

It goes with the rugs I'm buying here

A:

To go with rug as recommended

A:

needed a rug pad, reasonable price

A:

I already have something similar under my rugs and like it.

A:

trying it for the first time

A:

This was chosen to keep the new area rug from slipping and sliding as my other one has done.

Read more

Read less

Q:

"can this pad be used over a carpeted floor. My rug was delivered from Overstock last week and it keeps sliding as I have it over carpet - wrinkles still not all out."

A:

Hello awinm, this pad can be used on carpet. Thank you for your inquiry, and have a great day.

Q:

"Is this pad suitable or recommended for cement (indoor) floors?"

A:

Hello T1, these rugs were designed for flat, smooth surfaces. Based on the fact that we do not know how rough the concrete surface is, we cannot make any promises on how long the rug pad would last. Thanks for shopping with us!

Q:

"rated for heated floors?"

A:

Hello bonzon, these are not rated for heated floors, if the floors do not get to a burning heat the pad should be just fine. Thanks for shopping with us!

Q:

"This pad is indicated for "hardware" floors but is it specifically okay for laminate flooring? I have an 8 X 10 rubber back rug (similar to a bathroom rug) that's not supposed to go directly on top of laminate flooring as it won't breath and will therefore stain the flooring. I'm looking for a pad to put under the rug to prevent that."

A:

I put this pad directly on my laminate floor and a wool area rug over it...it works fine, no problems so far.

A:

I have this on my bamboo floors with a wool rug on top and it works great. It is made out of that rubbery waffle weave, the same as noskid rug pads.

A:

I have it under my rug on laminate floors and it works great.

Read more

Read less
Shopping Tips & Inspiration
Shipping & Returns
Contact Information
Shipping:
Usually leaves our warehouse in 1-2 business days. *
Shipping Information:
Our standard shipping method is ground shipping. We also offer expedited shipping for most items. Your final shipping cost and estimated delivery timeframe will be available at checkout.
Standard shipping details
Expedited shipping details
Standard Return Policy:
Items must be returned in new or unused condition and contain all original materials included with the shipment. For the return policy on a Marketplace item, please refer to the Seller's individual policy, located on the product page by clicking on the Seller name. More Details
FINAL SALE EXCLUSION: Items marked as FINAL SALE are not returnable unless the problem you experience is the result of our error.
For your protection, all orders are screened for security purposes. If your order is selected for review, our Loss Prevention Team may contact you by phone or email. There may be a two business day delay to process your order.
** Most Oversize orders are delivered within 1-4 weeks. Some orders may take 6 weeks to be delivered.