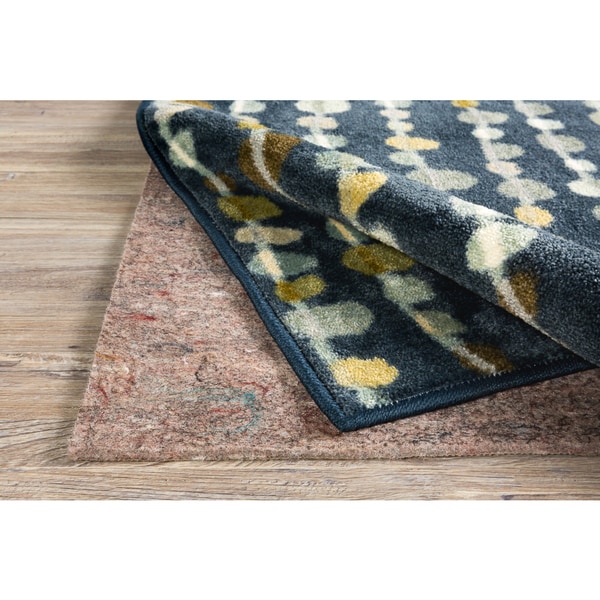 I would recommend this product
...
Details
ITEM#: 13457618
Add cushioning to your floors and protect yourself from slips with the Premium Felted Dual-surface Rug Pad. This pad features a 100-percent recycled fiber construction with rubber and latex for durability. It is easily trimmable with scissors to get the perfect size and shape for your rugs.

Features:

Soft underfoot
Trim with scissors to fit rug
Eco-friendly
100-percent recycled fiber build with rubber/latex
Weighs 27 ounces per square yard
8 feet x 10 feet x 0.25 inches thick
Surfaces for use include carpet, tile, hardwood, laminate, vinyl and other flooring types
Specs
Features
Material
Felt, Synthetic
Feature
Contains Latex
Product Features
Non Skid Backing
Rug Pad Type
Dual Surface, Non-Slip
Shape
Rectangle
| | |
| --- | --- |
| Dimensions | 8' x 10' |
| Model Number | DR002 999 EC 096120 |
| Country of Origin | United States |

Most Recent

Bought this to put under a high-quality rug and we are not disappointed. It stays in place and it gives the rug some cushioning which is on a hardwood surface so it will also protect my hardwoods

Read More

The right rug pad at the right price!

This rug pad was exactly what I needed. Adds some nice cushion to the rug, and does come a little bigger than the rug so will need to be cut to size. I will buy another the next time I buy a rug!

Read More

Quality rug that stands up to high traffic, isn't too thick so the desk chair can roll-on it, but thick enough that the rug is study to walk on.

Read More

I decided to purchase a rug pad because I really wanted extra padding and softness to the area rug in my living room, especially because my daughter was just learning to pull up on things and prone to falling! I had never purchased a rug pad before, and after doing a little Googling, I decided to by a larger rug pad and then cut it down to fit my 7x10 rug. I'm glad I decided to cut it down myself because I was able to cut it exactly how I wanted it. You'll definitely need to use sharp scissors, but I otherwise the rug was very manageable to cut myself. I'm so happy I bought a pad that was that had a rubber, non-slip side. Before I got this pad, my rug was slide on my hard wood floors, but since putting the pad under my rug, my rug no longer slides all over. Another plus about this pad is that it adds padding without being overly thick. I also cut the pad so that the dimensions were about an inch less that my area rug. This was my rug lays flat and doesn't present a tripping hazard. All in all I'm very happy with my purchase.

Read More
Most Helpful

I have now ordered 8 of these pads for various size rugs. They are really great for adding cushioning as well as for on top of hardwood floors. I have found that the pads are either an inch or two larger than the stated measurement OR the rugs have been an inch or two less than the stated measurement. So I have ended up needing to trim a little of the pad.

Read More

Good quality and support for your quality rugs.

This was a nice medium thickness pad recommend to make our area rugs soft and last longer. It was not too difficult to cut it to size, just a little smaller than the rug so it lays right. It makes for a nice cushion under without being so high you trip on the rug edges. Perfect in our great room.

Read More

Excellent rug pad, easy to cut to size

I have 3 of these felted rug pads from Overstock now - they provide a comfortable cushion for my area rugs, and prevent them from slipping. Easy to cut to size.

Read More

I love this rug! The colors are just as pictured on the site and the quality if the rug is great for the price. I would definitely purchase again.

Read More

Great rug pad. Not one of the cheap kind that sticks to the floor. Would purchase again. Nice and thick to accommodate the beautiful rug it supports. True to size. Actually had to cut a small amount off to keep it from showing under the rug.

Read More
Q:

"will this stain my wood floor over time"

A:

Mine has only been in use a short time, so I haven't had any problem. I placed the felt side down so it wouldn't stick to the floor.

A:

Mine has been down for 3 months and so far no problems.

A:

A dry pad would not stain your floor.

A:

I've had this around 6 months and have seen no issue with any type of staining or marking.

A:

just purchased, so really don't know...

A:

Mine has been there for 9 months on wood. No problem. It is a great pad and keeps the rug from slipping. I would buy it again.

A:

I have had mine for about 4 months with a wool rug on it. My new hardwood floors look like new underneath

A:

I have had this rug pad in place for over a year now and no staining issues! However, I have stained concrete floors not wood floors.

A:

I haven't had any issues with staining.

A:

It has not stained my floor.

A:

No it will not stain your floor.

A:

I did not have any problems with my wood floors. They were a mahogany color.

Read more Read less

Q:

"I am looking at this rug pad to go under an 8x10 oval braided rug. Braided rugs are usually a bit thicker and less flexible. Does anyone know how this pad does under a braided rug? Does it make it too tall? Thanks for the input."

A:

it's an extremely THIN rug pad so it shouldn't be a problem with a raided rug. It shouldn't matter what the material is of the rug, rug pads just incease the friction from

A:

This will add some thickness (and softness) under foot. If the rug needs to go under a door and it's already a tight fit, you need something else. If not, it will be fine if you cut the pad a few inches smaller in all dimensions, so there's a little bit of a "height transition area".

A:

it will not make it too tall. The a a little thin but works perfect under the rug. I have three of them under my rugs and you can cut it with a scissors to fit perfect under your rug.

A:

I put it under a VERY thick natural fiber rug. I had that same concern, that it would be too thick. It's not at all. I just trimmed it so that the pad is about 2" short of all edges of the rug and it works very well.

Read more Read less

Q:

"We have new dark engineered hardwood floors. Will this rug pad discolor the flooring ? "

A:

I've been using mine on a light hardwood for 6 months and have no discoloration

A:

I have had this rug pad on a light colored engineered floor for almost 2 years and I have no discoloration. I have been extremely happy with this pad under my braided rugs.

A:

Honestly, I think you should reach out to the manufacturer (Mohawk) and ask them. You probably should know that when a rug is left in place on any hardwood floor, upon removal, there will be a color difference between the exposed floor and the covered floor. That has nothing to do with the pad, simply the effects of time and UV exposure.

A:

It hasn't discolored my hardwood floors.

A:

This is the second or third time I have purchased this pad. While my floors are 1/2" oak, I have not experienced any discoloration over the last few years.

A:

I have had the pad under a large area rug on a medium tone hardwood floor for almost a year. Just checked and floor has not changed color. Very satisfied with the pad.

A:

I don't think the pad it's self will cause any discoloration or color transfer. However, if your flooring can be easily scratched...crumbs could build up around the edges and scratch the floor. Regularly vacuum around and under to prevent this.

A:

Yes It is a great carpet pad

A:

I have not had any poblems, but our floor is dark. I would stay away from the "rubber" type pads.

A:

No I have bought three of the pad, has been there for about a year and my wood floor has not changed color. I have a nailed down wood floor

Read more Read less

Q:

"This pad will work for jute rugs?"

A:

I used this pad under my jute rug and it works great!

A:

Yes it's thick but should work well for jute rugs. You may have to trim it so it's well away from the edges of your rug.

A:

This is a fairly thick pad. If you don't mind a bit of 'heft' under the jute, then by all means, it works very well. If you want a lower profile, I would use something thinner.

Read more Read less

Q:

"9x12. They're easily trimmed if it stick out a bit anywhere."

A:

I purchased the 9x12, but we did end up cutting it. It is a very plush, thick pad, so if you bring it to the edge of the carpet, the carpet will not lay on the floor and you will see the padding. But I am not sure that we cut it as small as 8x10

A:

You don't want a pad that is that much smaller than the rug. You want it as close to the rug size as possible then trim as needed (not a pleasant undertaking, I imagine but it's what is needed.) Previous answer is correct.

A:

I purchased a8x10 for my 9x 12 and it worked well

Read more Read less

Q:

"I purchased a 9x12 rug. Should I purchase a 9x12 rug pad or an 8x10?"

A:

I would get the 9x12. You can cut the pad easily enough if it's too big (I did this with a pair of plain kitchen scissors), but 8x10 would be too small.

A:

Purchase the same size as the rug. 9x12 purchase 9x12 pad. You can easily cut the pad underneath a little if it sticks out past the rug. Like another person commented, you don't want a smaller one, or it will not lay the rug flat on it.

A:

I wouldn't get a smaller pad. The pad I got was slightly larger and it is easy to cut if needed. Love the pad with my rug!!

A:

You should purchase the same size pad and trim as needed.

A:

You should purchase the 9 x 12. You want one closest to the rug size even if you need to cut a bit off.

A:

I would definitely get the 9x12 and trim if necessary; this is a much better pad than the old rubber type!

A:

I ordered the same size and it fit perfectly.

A:

Get the 9 x 12 or there'll be a "dip down" for the missing area. If for some reason it's a tad too big, you can use your kitchen shears to trim it, but ours was an exact measurement. (The pads are GREAT.)

A:

Agree, 9x12, but anticipate that you might have to trim the edges for a correct fit. Mine was not cut evenly.

A:

I would recommend getting a 9X12 rug pad and cutting it down two inches around the perimeter of the rug. That's what I did as this pad is fairly think and if you get the 8X10 pad for a 9X12 you will have a significant dip where there is no rug pad. You can always google what size rug pad to get for your area rug and see what others think.

A:

Yes you should buy the same size rug pad as your area rug. If the pad is too small, the rug won't lay right.

A:

Purchase the pad closest to the size of the rug. I did and it worked out perfect on my large rug.

A:

Definitely purchase the size to match your rug. I had to trim mine just a bit; I think because it was not square. But I wanted the pad to come to rug edge.

A:

You should always purchase the same size rug, it will be noticeable if you do not and you will feel the ledge under foot.

A:

I purchased an 8x10 for my 8x10 rug and had to cut it to fit right. But, I think a smaller one would make the rug uneven. I'd go with the 9x12.

A:

I would get bigger and cut to size. You want it to fit right to the edges. Love mine

A:

i purchased the same size. Once can always cut a bit off rather than have an uneven rug.

A:

It's probably better to buy the larger rug pad because it works well if the pad is about one inch shorter than the length or width of the rug. I originally bought a smaller rug pad and noticed the ridge of the pad showing through the top of the rug. I also went to Home Depot and bought a pair of Wiss 10 inch scissors which cut the rug pad to exactly the size I wanted. I tried using a utility knife and it didn't work well. I took along a piece of the rug pad and tried the scissors out in the store. I should mention that my rug is not a thick one, so experiences with rug pads will be slightly different. You can't go wrong buying the larger rug pad. Good luck.

A:

Get the 9x12. This pad can easily be trimmed with scissors.

Read more Read less

Q:

"Is the 8 x 10 rug pad the correct size for a 7'10 x 10'2 rug? If not, what is the correct rug pad?"

A:

This can be easily cut 1 foot, if it sticks out, which it might not do. You don't want a smaller one, or it will not lay the rug flat on it.

A:

When I was shopping for rug pads, I found info about sizing rug pads on the internet. They said: A rug pad should be slightly smaller in size than the actual size of the rug. If the rug pad is slightly smaller than the rug, then the edges of the rug will taper to the floor. This prevents any trip hazard by a heel of a shoe catching on the edge of the rug. This also prevents premature wear and curling at the edge of the rug as it is walked on. The final reason why the rug pad should be smaller than the rug is so that the edge of the pad is not seen. The way to determine what size your rug pad should be is simple. The rug pad should be about two inches less than your rug size on all four sides. So if the size of your rug size is 8'x10', then the rug pad size should be 7'10"x9'10", a total of two inches less in each dimension, which is the same as one inch less on all four sides. (Another company that custom cut pads said they cut between 1" - 1.5" smaller than the rug.)

A:

I purchased an 8 x 10 rug and an 8 x 10 pad. The rug was slightly smaller than the pad, which required several inches to be trimmed from the pad. Just lay your rug on the pad and use it as a guide for trimming. I trimmed the pad so it was approx. half to three quarter inch smaller than the rug, that way it won't show...

A:

You can always order a bigger rug pad and cut it to match the rug size. I cut my pad with kitchen utility scissors. It's okay if a small part of the rug doesn't have rug pad but not too much. 2 inches around will not have rug pad under it if you order the 8x10, depends on who will notice and what room it's in and if it bothers you.

A:

You will have to trim the padding slightly, but yes I wouldn't go any smaller.

A:

It is recommended that the mat be 1 inch less than the rug on all four sides. Most of the mats can be trimmed down with scissors as needed, but wait until you receive the rug (some rugs will vary a couple of inches from the stated size--sometimes larger and sometimes smaller) and then mark it by placing the rug on top of the mat. To make it easier, place the edge of one of the corners of the rug on one of the corners of the mat (with one inch less on each side of the corner). By doing that, you may only need to trim 2 sides rather than all four sides.

A:

the pad needs to be of the same size as the rug

A:

Yes but you will have to trim it for the 7'10' side so it doesn't stick out.

A:

Yes it can easily be trimmed to fit perfectly.

A:

yes the pad is very easy to trim with scissors to custom fit you needs. Pad is great quality.

A:

Yes, but you may have to cut it down a touch. I made the mistake of getting an 8 X 10 rug pad for my 9 X 12 rug. Don't do that. Get the correct size and cut it down if you need to. Otherwise, you will see the rug pad line under the rug.

A:

The 8x10 can be easily cu down and works well.

Read more Read less

Q:

"Will this keep my area rug which is on top of my wall to wall carpeting from bunching up or moving?"

A:

Exactly. Nice and thick, tho, so maybe too much height for on top of a carpet?

A:

I am sure it would keep a rug from sliding on another carpet. Mine is on hardwood floors and it keeps the rug from moving even when 2 150lb dogs decide to play and wrestle on in it.,

A:

not sure, mine is on hardwood.

Read more Read less

Q:

"Does this pad help resist spills from going through to a wooden floor?"

A:

The pad is so thick that spills would have a difficult time penetrating. I have used these pads for years as I have hardwood in my entire home...even in my bedrooms. They are the best pads.

A:

I have a wooden floor and with the thickness of the rug, plus the thickness of the rug, we have no issues with it not protecting the floor.

A:

yes, it has a rubber backing. i love these pads, excellent product.

A:

We haven't had any issues. And we have spills all the time

A:

I just did a little experiment. I put a towel underneath the pad and rolled my rug back. I poured a little water directly on the pad. It took a couple of minutes but the water did come through the gripper side of the pad. So I'd say it might buy you some extra time to grab a towel to clean a spill, but the pad won't block the spill from getting to the floor. So resist, yes somewhat. Waterproof, no. Hope that helps!

A:

They also have a rubber layer that is in contact with the floor. Which would prevent a small spill from getting to the floor.

A:

Never had a spill go through the carpet to the pad so can't answer but it's a thick dense pad so should help

A:

Yes it does! My husband spilled a FULL glass of milk on my rug within 2 weeks of buying it (and the pad)! I grabbed a towel and mopped up the rug, then rolled it to take to the cleaners. I went back to the mess. The pad had some milk on top of it, but it did not penetrate the pad or go down to the wood. This is a very good pad! Glad I spent the extra money on it!

A:

It has a layer of rubber (or some kind of a backing) under the batting that makes up the pad. I do not think a spill could make it to the floor. Good luck! I would recommend it.

A:

the spill will go through if not cleaned up quickly. Def. a good pad on hardwood floors

A:

It would resist spills but not block entirely.

A:

Excellent pad- very dense and thick. I actually spilled a drink on my rug, and it did not soak through this pad.

A:

I would say yes. I just laid it this week but I did spill some tea. I blotted it fairly quickly and the rug was on top but I did pick it up and there was NOTHING on the wood. I checked just to make sure there was no moisture. It sat just long enough for me to go to the utility room and get a towel but it's about 3 rooms away. Had it been a larger amount of liquid, I may have grabbed a bathroom towel quickly. Anyway....I think that with this pad and a rug, you should be fine. I also just checked again to ensure the pad didn't retain moisture and there is NOTHING in that spot. Hope that helps.

A:

Wooden floors and no problem with spills penetrating. The pads are great.

A:

I agree about spills not penetrating. The pad is super and despite some reviews, does NOT have an odor at all, right out of the package.

A:

Yes it helps because it is so thick, but a large spill would still seep through and need to be dried.

A:

Fortunately, I have not had anything spill on my rug, but I will say, unless it is a massive about of liquid, the pad is very thick and don't think a small spill of liquid would penetrate all the way to the hardwood floor. By the way, the pad does make my area rug feel nice and thick under foot.

A:

Yes, absolutely! One side is your standard course recycled looking fabric, the second side is rubberized for spills and grip (so no sliding area rugs, ughhh, i hate that!)

A:

The pad is thick enough to prevent minor spills from going thru and it has a rubber backing to make it non-sick. I think it would be safe unless a large amount of liquid or not cleaned up in appropriate amount of time.

A:

Yes, it worked for me. I have purchased 6 and they work perfectly.

Read more Read less

Q:

"i want to buy a natural woven carpet can you recommend the best pad to use we have hardwood floors ."

A:

Ditto, cheapette. This is hardly "rubber", This is the thinnest layer of a material that doesn't stick but holds the rug in place to prevent slipping, like the rubberized pads ae supposed to hold without sticking to anything. I have mine over a wood floor with no effect on the floor. I like this pad lots more than the rubberized pads which can actually stick a little over time though not intended to.

A:

Not sticky at all! Just eliminates any ability for the rug to move on an otherwise very clean surface, i.e. wood. A good purchase for your rug truly.

A:

Love the felt pads. They're thicker without being "squishy" and they're not rubberized, don't break down. The only thing I'll put under a rug!

A:

We have hardwood throughout the house and the felt rug pads work best.

A:

I love the felted rug pads. I now have them under all my rug except the dining room table. I too have hardwood floors.

A:

I'm not a fan of rug pads. I just purchased a rug for my living room I'm not a fan of rug pads. I just purchased a 6x9 rug for my living room and bought a roll of Roberts Rug Gripper which works so much better than the pads.

Read more Read less

Q:

"What is the product used to make it sticky? Does that sticky leave a residue in hard wood floors? Does the sticky material react or change the color of the wood?"

A:

The rubber side is not sticky and does not leave a residue or change the color of the wood - it just keeps the rug from slipping.

A:

One side is just sort of rubber-ish. I did not put the rubber side down on my new hardwood floors, as I used a rug so big, it did not matter. However, I really doubt it would affect the hardwood floor at all.

A:

The backing doesn't leave residue or discolor our bamboo hard wood floors. Doesn't completely stop thr rug from sliding, but the best I've found so far.

A:

I have hard wood floors, and I have not noticed any change due to the rubber backing on the pad.

A:

Agreed. Not sticky. I put it over bamboo laminate and it works wonderfully.

A:

It is just a rubbery material that does not slide easily on wood floors. No residue has been left on the floor and no discoloration and I have had mine down for months. I would not recommend placing the other side down as it would likely scratch your hardwood if it slipped.

A:

that is correct. Don't get it wet and you will be fine.

A:

No residue just makes it have more cushion on your feet.

A:

One side is rubber which stops it from sliding on hardwood floors. It hasn't left a residue or changed the color on my floors.

Read more Read less

Q:

"I bought 2 rugs one is 6'7" x 9'8" & 2'3" x 8' what size pad would you recommend? "

A:

The rug pad should be about one inch less than your rug size on all four sides.

A:

I would suggest getting a rug pad that is slightly smaller than the rug size if possible as these pads are quite thick and will be visible if they are the exact same size of the rug you are placing underneath. So, for the 6'7" x9'8" rug, a 6 x 9 pad would be perfect. If you cannot find a size that is slightly smaller, these are very easy to cut down to size - just use very sharp scissors and trim to your desired measurements.

A:

I agree with Joey. I have bought a couple of these pads. Both were a little long so I just cut them down to size. Very easy to cut a nice sharp edge and it does not shed/unravel at all.

Read more Read less

Q:

"Does this pad come in a larger size?"

A:

I'm not sure, I ordered this size to cut for smaller rugs.

A:

Yes, I know it at least comes in a 9 x 12.

Read more Read less

Q:

"does this pad stop the vinyl from changing color ?"

A:

The pad is designed to secure the rug, it should not have an effect on vinyl.

Q:

"is this product washable ?"

Q:

"Does it smell horribly bad?"

A:

I didn't notice any smell

A:

Yes it has a bad smell but if you put the rug on top it is not noticeable.

A:

Yes, mine smelled, to the point where I had a constant headache. It was most likely due to the recycled content. I laid mine out and lightly sprayed Febreeze on it and let it dry a few times. It seemed to do the trick.

A:

No it does not have any smell

A:

We could smell it the first day and then never gave it a thought after that.

A:

No, I did not notice any smell.

A:

I didn't notice any smell and I'm pretty sensitive to that stuff. Great quality too.

A:

No, It does not smell bad. There was a newness smell when opened - lasted a couple of hours. The next day didn't notice a smell at all.

A:

I've had the pad down for several months and don't notice any odor at all, nor did I when I originally unwrapped it. It's a great pad.

A:

I do not notice any odor.

A:

It had no smell at all ! I have ordered two of these over the last year and no problems with either one .

A:

No. I didn't have a problem

A:

Doesn't smell at all. Works great

A:

That was a while ago. If it had any odor it was not sufficiently bad that it was memorable. All is fine now and I am very happy with it.

A:

No I was not aware of any particular smell. It did not smell bad

A:

No. There was no noticeable smell.

A:

No smell at all! Nice quality rug pad!

Read more Read less

Q:

"What is the correct fit of a pad to a rug? That is, how much should the edges of the rug overhang the pad?"

A:

A rug pad should be slightly smaller in size than the actual rug to allow the edges of the rug to taper to the floor and so that the edge of the pad isn't seen. Our dual surface rug pad can be easily cut down to size, about 1-2 inches less than the rug on all four sides. We hope this information is helpful!

A:

No--but it was easily trimmed to fit my rug!

A:

I bought 3 of them and didn't think that they smelled at all. I know what you're talking about too....

A:

When purchasing a rug pad, the correct size to order is 2" shorter on all sides than your "Area Rug" so the rug will cascade off the pad prevent tripping, and looks well.

Read more Read less

Q:

"what side do you put down for over carpet"

A:

The felt side is directly underneath the carpet and the sticky side goes on the floor.

A:

The felt side goes on top to hold onto the back side of the rug and the rubber on the bottom grips the floor.

A:

Felt side up, sticky side down.

A:

I can't really remember what the two sides looked like, but whichever seemed a better "grip" went directly on our tile floor. The nice surprise for me was that the pad was exactly the right size and didn't have to be trimmed to fit the area rug I purchased from Overstock. This is a very good quality pad and much better than the thin pads that are available.

A:

If you are putting it on carpeting put the sticky side up to prevent slipping.

A:

This is a rug pad designed to be used on ceramic or wood floor. There are other rug pads for carpet that have a different grip system. You may be able to sue it depending on the type of carpet you have. Put the rubber grip side down and the felt side up.

A:

The rubber coated side is face down on the floor and the softer felt side is face up. This way it will grip the floor and prevent the rug from sliding.

A:

either side no differemce

A:

The felt side goes under your carpet. The rubber side faces the floor so that the carpet doesn't slip.

Read more Read less

Q:

"any time I see latex as a material component, I always worry about the smell - any issues with this rug mat smelling of rubber?"

A:

No smell at all. Glad we purchased this instead of a thin pad.

A:

No smell at all. Pad holds rug in place. It's not thick so minimal cushioning.

A:

We just purchased. Of course strong fumes when package initially opened, like almost all plastic products, but it quickly dissipated and was not noticeable at all after I put our rug over it. I'm very happy with it!

A:

No smell at all and I've had this for a few months now and all is good.

A:

There is no smell in this rug at all nice and pretty

A:

I have had this pad in place now for three weeks...no odor when we put it down and none today.

A:

Slight smell when you open the package, and after the carpet is put down on top no noticeable smell at all!

Read more Read less

Q:

"I have wall to wall carpet in our dining room and have an 9x11 area rug that is always wrinkled. Will this pad help keep the area rug straight?"

A:

It is not designed to do that. It will keep it from sliding.

A:

This will be perfect for your dining room, it will keep your rug straight.

A:

Per the description of the item: Surfaces for use include carpet, tile, hardwood, laminate, vinyl and other flooring types

Read more Read less
Shopping Tips & Inspiration
Shipping & Returns
Contact Information
Shipping:
Usually leaves our warehouse in 1-2 business days. *
Shipping Information:
Our standard shipping method is ground shipping. We also offer expedited shipping for most items. Your final shipping cost and estimated delivery timeframe will be available at checkout.
Standard shipping details
Expedited shipping details
Standard Return Policy:
Items must be returned in new or unused condition and contain all original materials included with the shipment. More Details
FINAL SALE EXCLUSION: Items marked as FINAL SALE are not returnable unless the problem you experience is the result of our error.
For your protection, all orders are screened for security purposes. If your order is selected for review, our Loss Prevention Team may contact you by phone or email. There may be a two business day delay to process your order.
** Most Oversize orders are delivered within 1-4 weeks. Some orders may take 6 weeks to be delivered.