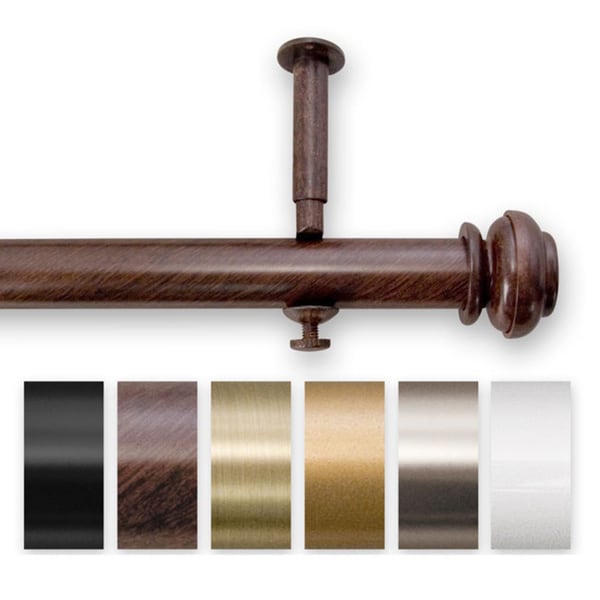 These rods were perfect for the two long sets of windows -20+ feet- in our living room. They are have a substantial look and feel to them so they do not look out of place in a large space with high ceilings.
...

This user earned Club O Rewards for this review.
Pinnacle Bold Pole Adjustable 144 to 240-inch Length Curtain Rod Set for Patio Doors
by Pinnacle
Details
ITEM#: 13129992
Elegant and sophisticated, this sleek adjustable curtain rod will add traditional flair to your patio. The sleek rod features rounded finials and mountain brackets that give the piece a vintage, industrial appeal. The robust metal construction provides long-lasting wear that will keep your space looking fresh. The set includes finials, mounting brackets and two 86 to 144-inch window rods that combine to adjust to 240 inches.
Details:
Rods measures 1.25 inches in diameter
Curtain rods projects 3.5 to 5.5 inches from the wall for convenience
Available in multiple colors finishes, including black and antique brown for versatility
Specs
Features
Style
Casual, Traditional
Material
Metal
Finish
Black Finish, Brown Finish, Gold, Metallic Finish, Pewter Finish, White Finish
Component
Curtain Rods, Single Rod
Assembly
Assembly Required
Color
Black, Brown, Gold, Grey, White
Product Features
Outdoor
| | |
| --- | --- |
| Dimensions | 1.25-inch diameter, 86- 144 inches long |
| Model Number | BB105 |
| Country of Origin | China |

Most Recent

These rods were perfect for the two long sets of windows -20+ feet- in our living room. They are have a substantial look and feel to them so they do not look out of place in a large space with high ceilings.

Read More

This rod is very sturdy and worked out perfectly for my patio doors. I had one piece left over and it was a perfect fit for the track of my sliding glass door as a safety door lock.

Read More

The are really great rods. Even extended out to 200", they are sturdy and look expensive. Very easy to install.

Read More

They are very little choices for curtain rods of this length but I am pleased with them-they are attractive. I am SO glad that I read other reviews that stated that Overstock sends you two curtain rods to make the necessary length; otherwise I would have been confused.....

Read More

Rod is very thick - measure your curtains

This rod is very sturdy and well made, 5 interlocking poles fit my long 240" windows. but unfortunately for me, the rods were too thick to fit through the grommits of my heavy bamboo curtains. Too bad, becase they were a great price and strong enough to hold these VERY VERY heavy curtains with no sagging, but I could not use them. Would recommend - but unlike me, please measure your curtain opening first, so you wont be disappointed.

Read More
Most Helpful

These aren't what you think

I was looking for a really long rod for my oversized patio doors. There are many rods out there but you have to piece them together which creates a catch each place the rods telescope together. I wanted to avoid the telescoping because I want the curtains to be pulled to only one side of the window. I thought this rod would be long enough with only 2 peices. This rod had SEVEN peices! I put it together and it bowed without support, as you would expect with all these peices. I sent it back and ended up ordering a 12 foot brass pole from another place.

Read More

It is very difficult to ind a rod this long and it is both perfect in length and sturdy as well. I was a little worried that it would bend and sag because I only wanted to use one bracket in the middle. There is no problem. The rod comes with many brackets in case you are interested in bracing the rod in several places for an extra heavy curtain. I highly recommend this product; it is a great buy!

Read More

Bold Pole curtain rod up to 240 inches . .Yeah

I have a 12' and 16' foot sliding glass doors and had two sets of cheap verticals on the 16 footer. I have never been able to afford a rod to fit either! These rods are beautiful and sturdy, could not be more pleased and the price is right! I have never written a review before, but realized how much I rely on others opinions, so felt I should let others know that this is a classy looking rod and and hubby had no problems with installation. Thanks Overstock!

Read More

If you are looking for a long thick heavy duty rod this is the curtain rod for you I am using this rod in my living rooms over three windows which span 195 inches. I ordered the antique brown and to my surprise the color was spot on with the color I saw on website. I was very picky about finding a rod with the shortest projection from the wall and this fit the bill to a T. As other reviewers stated the box was pretty banged up and the rod was a bit scratched and the inside of one of the connections was bent a bit. The scratches are not noticeable way up and no will ever know. All I had to do was get a hammer and bang out the flattened side on one of the poles. All of the wall mounts, wall anchors for sheet rock and screws were included which was a HUGE BONUS!! The instructions were clear and straight forward, however hanging a curtain rod is not rocket science. Over all if you are looking for a decorative rod with a short projection and a petite yet stylish finial this is the rod for you!

Read More

Very happy with the quality

After reading some of the negative reviews I was hesitant to order these rods but am glad that I took the chance. They were delivered promptly and in good shape. I needed the 240" rods and at first thought they made a mistake as they send 2 of the 90-144". You need them to make the longer rod and easy instructions are included as how to do so. Yes, 5 rods are used to make the longest length but believe me, it is very sturdy. I ordered these for 4 large expanse of windows and found the hardware was of good quality and the color a rich dark brown. No sagging in the middle on the patio door expanses although they send plenty of extra brackets if you need the added support. After shopping online for rods of this size I was pleasantly surprised with the quality. I would certainly order again.

Read More
Q:

"Is 144" the minimum size of the rod and 240" the max?"

A:

This pole is adjustable from 144 inches (minimum) to 240 inches (maximum).

A:

The set includes finials, mounting brackets and two 86 to 144-inch window rods that combine to adjust to 240 inches.

Read more Read less

Q:

"Can this rod be mounted to the ceiling? I only have a 4" space between the wall and the valance. Thanks"

A:

It should be able to.. The bracket mounts flush on the wall and the C piece holds the rod. so when mounting to ceiling make sure the piece that holds the rod in place is against the wall.. might have to add extra support so rod doesn't come out..

Q:

"Can the mounting brackets be attached to the wall, or to a ceiling?"

A:

Yes.'find a "stud" before attaching. Use the "stud" to hold bracket on wall.

A:

These can be mounted to walk or ceiling.They are very well made and sturdy.

Read more Read less

Q:

"Would the C ring curtain rings work to move over the brackets so that I could push the curtains all to one side? "

A:

We supported our very long curtain rod (almost 14 ft.) with 3 support brackets: one in the very center of the curtain rod and the other two at the ends of the rod. The C rings we had would not easily move over the brackets, but locating the 2 outside brackets at the very ends of the rod worked for us. Our curtains were two separate pieces of material that drew to the center so "no problem." If you are drawing one large curtain (one piece of fabric) to one side or the other, I think you will have a problem clearing the center bracket. The good news is that the rod and brackets are heavy duty, industrial strength and excellent quality.

A:

I don't know how C rings work, but the photos in the listings are from the top. The center bracket(s) are the same as the end brackets, and (I just looked) cover more than the bottom half of the rod, like at least 3/4ths maybe even level with the top of the pole, plus has the tightening screw on it (and the rod WILL move without the screw, from the sliding force). So I can't imagine any rings working to "jump" the bracket. The review on 22 April 2016 describes a fix for your situation. I don't exactly know what she did with the 1/2" pipe! and can't picture the hinged hook she describes either. I'm trying to think if a 1/2" pipe would go inside the rod to keep it from sagging... or did she use the 1/2" pipe as a support for hinged hook? IDK The review on 15 June 2011 tells of someone who sent her rod set back and bought a single piece 12" brass pole somewhere else. But even pipe can sag! Too bad you can't write to reviewers personally to find out more about Diane's hinged hook! like, where she got it and how exactly mounted.

Read more Read less

Q:

"Has anyone tried Gold vs Metallic Gold? I'm looking for an antique warm brushed brass finish that is showing up everywhere from high end furniture/home retailers. (NOT the shiny brass from the 80s.). Advice???"

A:

I don't have either of the Golds, but it appears that neither are the shiny brass of old! I considered the Metallic Gold to harmonize with gumball lights from ****, but wound up choosing white to fade into the wall (can change lamps easier than re-hanging rods and drapes). You could buy the holdbacks in both golds (about $** each, so less than a rod and less weight to return) ITEM#: 12217585 or you could just buy your best guess. This is a great rod for those LONG spaces!

A:

PS Now that I've seen the "new" brass in some articles, I would say the Gold (not the Metallic Gold) is going to be closer. These are GREAT poles!

A:

Thanks! I went with the Gold color and the finish is great and modern!

Read more Read less

Q:

"Since this rod uses separate telescoping rods to make one massive rod, do drapes on rings slide nicely when opening and closing, or do they get caught on the lip created where the rods meet?"

A:

No, mine do not get caught. It might depend on the type of drapes you have... mine are grommet.

A:

Yes mine do, but it is definitely worth it to have the long rod. I have a very tall husband who helps! They also make "grabbers" that can help scoot it across. I am also using plastic rings with clips since this is on an screened porch with windows and didn't want rust. A metal or heavy wood ring might slide better.

A:

We bought two sets to make one continuous rod across our huge expanse of living room windows. It worked great after we figured out which pole configuration worked best for the space!

A:

Our grommet curtains catch a little on the one spot, enough that it takes a pull from the half-way point, which gets the bulk over the notch, and then pulling the rest from there to the center for closing. I think a rounded "donut" ring would catch a lot less.

Read more Read less

Q:

"I have over 200" that I need to cover but I'd like to do it with a double rod. Any ideas? Can I somehow make this a double rod. UGH - I can't seem to find what I need."

A:

If you google the rod for a video, it will show you that there thinner rods that can go behind the main rod if you want to layer your drapes. They look really simple to use.

A:

No. I do not see how this could be a double rod as shipped.

Read more Read less

Q:

"We have 20 feet (240 inches) of continuous sliders. I would like to use this bracket to cover all 240 inches and only use 1 support in the middle. If I use light weight curtains, will this work? Or will we need to use more support brackets?"

A:

I have this and i think you'll definitely need brackets on each end and in the middle. The rod itself comes in sections; it's not one long rod. I personally used all the brackets but one but I think you could get away with only using 3 if they're light weight panels.

A:

Yes. But try to get the brackets into a stud. I strung mine over 120 inches.

A:

I only used one bracket on a very long wall of windows (but not 240"). It works, so I think it should work, especially with light weight curtains.

A:

We have about the same length with 3 windows and 12 inches of wall between each window. I only used one support in the middle. I hung double width panels at the ends and double panels in between each window. The panels are lightweight, but the rod could easily handle a heavier fabric.

A:

I think you will be all right. I used used this set with only a center bracket over about 14', so more of my rods are double (where they telescope), but they are very very sturdy even with 8' drapes! May I recommend Ultimate Blackout Curtains -- they are very light despite being at least three layers thick (two colored surfaces, the black light-stopper, and maybe something for insulation as well). They also 'stack' to about 10% of width, much lower than the usual 1/3 allowance, while looking rich and expensive. T#### of Cl### will even send you color/fabric samples!

A:

I have a 14-foot expanse with only one support in the middle. It has heavy velvet blackout curtains on it and it's doing just fine. So 20 feet of light curtains might work. But I'm not sure.

A:

We used this rod as an outdoor application with grommetted Sunbrella (heavy canvas) curtains. We spanned 16' using only the end brackets and one middle support. The rods have withstood STRONG whipping winds on our patio. In fact, I'm going to have to remove the drapes now, as the winds are too strong. But to answer your question, you should be absolutely fine with 3 brackets on an expanse of 20' and light draperies. Use strong sheetrock mounting applications if you are unable to mount into a stud. By the way, I had to play around with the telescoping sections to come up with the right "mix" for what I needed. The rod (mine is black) is lovely.

A:

I have 18 feet and only used the ends and a center. I have used white sheets for our outdoor room with rings with clamps and it is plenty sturdy.

Read more Read less

Q:

"I bought these rods for two wall to wall mounting. Does the support brackets come with it? Also I can not find the rings for a 1.25 " diameter rod? Which size rings please. Thanks."

A:

Support brackets are included. As I recall, there are 3 brackets/rod. So you have a bracket for each end, and one middle bracket. As for the "rings", you'd want at least a 1 1/2" ring, possibly even 2". I used a grommet-top drapery (outdoor drapes) and they worked fine. Here's a link to one example of a ring on Overstock: https://www.overstock.com/Home-Garden/10-Curtain-Clip-Rings-2-inch/10372671/product.html?refccid=BYOF7XEUQVVLAISHHVDON3ZN3A&searchidx=5

Read more Read less

Q:

"I am wondering about the mountain brackets that are included with this curtain rod. Are those for both ends of the rod or are the mountain brackets for support in the middle of the rod? Thank you"

A:

We received mounting brackets for both the ends and the middle

A:

I needed a rod for over 200" so I basically got 2 packages, and I have it hung with 2 end brackets and 3 inside.

A:

There are enough for the ends and center support

A:

Funny, we just installed these tonight even though I received them back in June! The rods are of great quality and went up very easily. There are brackets for each end as well as a package of 3 extra support brackets if needed for heavier curtains. We are very happy with these rods, especially for the cost. For me the most difficult part was finding a rod to fit my window that is 214 inches wide.

A:

The mounting brackets are for both ends of the rod, as well as any support you may need in between, depending on how wide your space is. I used the rod (putting together several different parts from two boxes, which was kind of tricky) for a span of about 13 feet. I used a bracket for each end and one in the middle for support there.

A:

I received the mounting brackets for the middle and the ends. Follow the instructions, they do specify how to use them.

Read more Read less

Q:

"The brackets look kind of odd for a wall mount. Are these meant to be hung from the ceiling or from the wall?"

A:

I wondered the same before I ordered them. I think these are better suited to wall mount - when mounted they look like normal wall-mount brackets.

A:

The beauty of these is, that they can be hung from wall OR the ceiling for a more modern look.

Read more Read less

Q:

"How do you put these together? The included instructions are confusing. Please help!"

A:

It came as two of the smaller one and you put them together. They look nice in person.

Q:

"I probably will buy and cut closetmaid brand 95" metal pipe to fit, since have used before. Will 7 foot runs of this rod hold up heavy drapes? Without support braket(s) in the middle?"

A:

No, it would sag like any rod system that involves 2 pieces (one sliding inside the other). For 7 ft, you would need a heavy duty one piece of rod to get by without any middle support.

A:

I have 13'8" with only the center bracket. So 6'10" and no sagging... but my grommet-drapes are not v.heavy, although they are black-out, insulated, and look rich! (Ultimate Black-Out Curtains) I differ with Lloyd in opinion. Because this set is intended to hold up to 20 feet of curtains or drapes, at 14' you will have two pieces of telescoping rod (one inside the other) over much of the length. Therefore sagging will be minimal. You can actually position the outer diameter pieces to be centered on the (half) run or side! Although I slid them together to touch the center bracket to minimize joints my grommets bumped over. Since you have a plan B with the metal pipe, you can just try it for your heavy drapes and see.

A:

we have a 15' span with 5 grommet curtains and one center support though our curtains are not heavy the rod and supports are very sturdy

Read more Read less

Q:

"What is the circumference of this rod?? What size grommets will go on it?"

A:

The circumference of the rod is 4", diameter 2". My drapes don't have grommets, but the rod would accommodate them nicely.

A:

1.75" grommets fit and slide very nicely, so the diameter is less than 2" even for the larger diameter pieces of rod. 2" grommets would probably also be fine although I can't vouch for it personally!

Read more Read less

Q:

"how many section for a 15 foot rod?"

A:

3 sections I love this rod worked out perfect great quality

A:

I love that it fits my triple extra long sliding glass doors, however the hardware that holds the pole also allows segmented curtains. You have to constantly pull them so they meet , anyone know how to fix this problem?

A:

There will be five sections. A smaller diameter section at each end, a larger diameter 'sleeve' over them, and a smaller diam. piece in the middle, joining the larger ones. You will have a large and a small diam piece left, plus two finials and probably a bracket or two or three left over, but they won't make a set you can use for anything else, sadly!

Read more Read less

Q:

"I need 200 inch rod to hang valance in indoors home . How many brackets I can get and how many I need ? Is this right product I am selecting? "

A:

Yes. Order two sets. I ordered two of these to cover living room windows. You just have to put the rods rogether ionce received My cuetains were light so brackets provided were sufficient.

A:

Order ONE 144-240" rod set. You will receive TWO 90-144" rod sets! and instructions about combining to reach your length. There will be plenty of brackets between the two sub-sets, at least six.

A:

Forgot to say, just use at least one center bracket; you won't NEED more, but if you have three sections of valance you might want put a bracket between piece, so that there isn't 2/3 unsupported. But not for the weight of the valance! just for the physics of the rod.

Read more Read less

Q:

"Any idea when the black finish will be available again?"

A:

If you are still following your own question, I see that Satin Black is available on 10/20/16.

Q:

"Can these rods be ceiling mounted- use as room divider- 12 foot span?? thank you"

A:

I would think so. You might want to reinforce the rod a bit if going 12 foot. I put gorilla two sided tape on the inside of rod. Worked great.

Q:

"Is this a telescoping rod, or do you screw the separate sections together. I'd like to avoid telescoping."

A:

Yes it does, and in my opinion doesn't look bad.

A:

It is 2short rods and they all slide together, it was confusing to put together but looks good.

Read more Read less

Q:

"I'm trying to figure out what size of curtain rings to get with this rod. When I look at what other customers purchased along with this rod, I see clips that don't seem to fit the diameter of this rod. I think I need atleast 2 inch curtain rings. Right?"

A:

The packaging states 1-1/4" diameter center rod. This item comes as two 86"-144" rod packages with directions on how to make them one rod.

A:

My drapes have 1.75" grommets and slide freely. Well, except for the bump where the telescoping rods nest. Someone reported taping there helped but I don't know what type of tape, maybe the colored electrician tape...

Read more Read less
Shopping Tips & Inspiration
Shipping & Returns
Contact Information
Shipping:
Usually leaves our warehouse in 1-2 business days. *
Shipping Information:
Our standard shipping method is ground shipping. We also offer expedited shipping for most items. Your final shipping cost and estimated delivery timeframe will be available at checkout.
Standard shipping details
Expedited shipping details
Standard Return Policy:
Items must be returned in new or unused condition and contain all original materials included with the shipment. More Details
FINAL SALE EXCLUSION: Items marked as FINAL SALE are not returnable unless the problem you experience is the result of our error.
NOTE:
This item cannot be shipped to Alaska or Hawaii. More details
For your protection, all orders are screened for security purposes. If your order is selected for review, our Loss Prevention Team may contact you by phone or email. There may be a two business day delay to process your order.
** Most Oversize orders are delivered within 1-4 weeks. Some orders may take 6 weeks to be delivered.