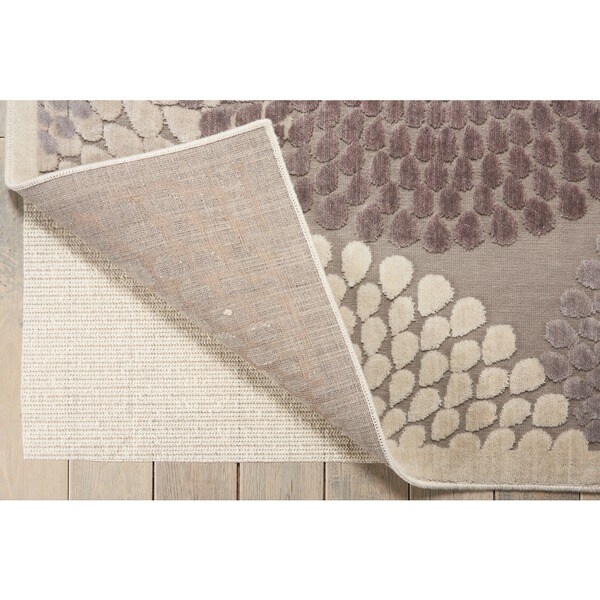 It's a rug pad, what more can I say.
...
Details
ITEM#: 15019910
Add extra safety and comfort to your area rugs with this plastic rug pad. Made from PVC and plastic to keep rugs securely in place, this pad features a thin design that adds subtle cushioning to your flooring without completely changing the texture and feel of your rugs. This easy-to-wash rug pad is designed to prevent bunching and slipping, and is ideal for use on all hard surfaces.

Features:
Non-slip rug pad
Made of PVC and plastic
Prevents bunching and slipping
Ideal for use on all hard surfaces
Cushioned design
Choose a rug pad that is slightly smaller than your rug
Pads are also easy to cut to size
Wash in warm soapy water
See options for available sizes
Option Dimensions:
1 foot 8 inches wide x 3 feet 4 inches long
1 feet 8 inches wide x 7 feet 6 inches long
2 feet 6 inches wide x 4 feet 2 inches long
3 feet 4 inches wide x 5 feet long
4 feet 8 inches wide x 7 feet 6 inches long
5 feet 5 inches wide x 7 feet 11 inches long
7 feet 6 inches wide x 9 feet 8 inches long
7 feet 6 inches wide x 10 feet 8 inches long
8 feet 6 inches wide x 11 feet 6 inches long
Nourison draws from over 35 years of craftsmanship knowledge to deliver bold, stylish area rugs and decor for your home. Click here to shop more.
Specs
Features

Feature
Latex Free
Product Features
Non Skid Backing
Rug Pad Type
Non-Slip
Shape
Rectangle
| | |
| --- | --- |
| Dimensions | See Size options |
| Model Number | PS21 |
| Country of Origin | China |

Most Recent

Great price. Nice item. Works well with an area rug. I appreciate that it is thin allowing the rug to lie very flatly. Holds the rug well and is easy to use.

Read More

I bought this non-slip rug pad for my new flip flop area rug in the foyer. I did have to trim it just a little but it does the job. Keeps the rug in place & prevents it from sliding around.

Read More
Most Helpful

Great Non Slip Rug Pad

Keeps carpet lasting longer-no issues with the pad. I bought four of them! You would need this for every one of your carpets and helps the carpet to last longer too!

Read More

Great

this is great - i can't even move my rug if i tried (and i did).

Read More

A MUST

Bought double sided tape to keep the rug on top of the pad as they slip apart.

Read More

so safe for kids and pets

the rugs don't slide anymore, the kids don't get hurt and the german shepherd does not get in trouble for buckling the rug when he runs through the room

Read More

Good

It does what it should ... non slip rug pad. Nothing too exciting but it does it's job. Seems to be a good enough quality. No issues or concerns and happy with purchase.

Read More
Q:

"what is the thickness of this pad by nourison"

A:

It is thin. Maybe 1/4 inch. It is designed just to hold the carpet in place.

A:

This pad is very thin, I would say maybe 1/8-1/4". It is not so much for padding as it is to prevent your rug from slipping on a smooth surface

A:

With this particular pad it is very thin but it is very well made... It seems to hold my rug more securely because it is thin and there is less material between my rug and hardwood floor so less likely to gather a lot of dust, dirt, pet hair, etc. It is the texture and it is extremely tacky. It is thin but very strong as far as keeping my rug in place and it does not slide. I have an older house with the original hardwood floors and this pad works great.

A:

Very thin, about 1/16 inch.

A:

very thin maybe an 1/8 to 1/4 inch

A:

It's very thin but does the job.

A:

Using a ruler as a guide, the thickness is goes from 1/16 to 1/8 inch. In my opinion, you would use this to prevent the carpet from sliding. It will not add much if any cushioning.

A:

Approximately an 1/8 inch

A:

The pad is not very thick. I have purchased similar ones at Lowes and other places to use under other area rugs but they have never kept the rugs in place. I was skeptical that this one would be different but is is great. The rug is thick and plush so I wouldn't want anything thicker under it. Hope thishelps

A:

If you are looking for a thick pad, this is not it. It is a thin pad but excellent at holding your carpet in place!

A:

It isn't even thick enough to measure how thin it is. It is extremely thin, easy to cut to fit up under rug, and it works perfectly to keep rug in place. It's the stickiness and texture that keeps the rug in place.

A:

Very thin but it works Fabulous! My rug doesn't move at all and it's in a high traffic area. Highly recommended

Read more

Read less

Q:

"My rig is on carpet and it moves and bunches up. Will this pad stop my rug from bunching and moving on carpet"

A:

It is supposed to. If not completely, it will help your rug stay put, better than if you didn't have the pad.

A:

Probably not enough if your rig is too heavy. It works from sliding when my kids are running over it. But not sure how that translates to a rig.

A:

I have never used it on carpet but I believe it will help some.

A:

I think that depends on your carpet but this will certainly help. I've got mine on hardwood floor and rug stays firmly in place.

A:

They're great! My rugs don't slip or bunch uo. Im going tobuy a couple more.

A:

yes, i am amazed. so nice to have my rug finally stay in the same place!

A:

I haven't had any problems with mine moving or bunching up except for the one time my 120lb Great Pyrenees dog got excited and ran in circles. It is very thin though but works great for me. I was afraid it would make the rug too thick and my mom would trip over it when she came over but it fits the rug great. I would recommend buying it.

A:

ours works well. no more slip or bunching up.

A:

My rug doesn't move or bunch up. I'm happy with the rug pad under my rug.

A:

I am using the non-slip under a rug on hardwood floors and it works. I don't know how it would be if using on carpet.

A:

I have this pad under the rug in my bedroom and nothing moves. I am very satisfied with this purchase and will probably get another as I replace other rugs in my house.

A:

no. you will need a rug pad that has a sticky side that will stick to your rug.

A:

I personally don't think so. This pad is thin and works best on wood or tile.

A:

This doesn't help much on carpet. I tried it on carpet and my rug would still move. I then transferred it to a rug in my laundry room that has linoleum and it works great. So for carpet I don't believe this is what you are looking for.

Read more

Read less

Q:

"Best if a few inches smaller than rug???"

A:

We recommend your rug pad be approximately 1 inch smaller on each side.

A:

I'd say an inch or less smaller

A:

Yes, a few inches smaller than the rug because you don't want the pad to show

A:

Yes, definitely. The pad Does not provide additional thickness or cushion under the rug. It protects floors and keeps the rug from slipping. It does what is designed to do. Would cause frustration if the pad stuck out around the perimeter of the rug. I hope this answers your question.

A:

Mine is 6" all the way around smaller.....I really don't think I need a pad for slippage. My furniture holds in in place, even with my husband and his wheeled walker. But I use it to insure the rug wear is minimized.

A:

Yes. And they are easy to cut and size

A:

Yes definitely as the rug will move when walked on and you never want the under pad to show so make sure it is a few inches smaller.

A:

I ordered same size as my rug it worked fine

A:

Yes, it should be an inch or so smaller than the rug all around.

A:

You want it smaller so that it doesn't show from the sides.... Just my opinion...

A:

Yes smaller than rug is best as it do s not stay in place

A:

Not to worry, the skids work effectively, even if it may be longer, just tuck it under, and it works great.

A:

If it is larger than rug you can always fold it under the rug.

A:

yes! i cut mine to be about an inch smaller all the way asround so I didnt have to mess with i.

A:

I ordered rye sa e size. They are simple to trim if needed

A:

Yes the rug pad needs to be 2-3 inches smaller than the rug and can be easily cut. Sticky side of the rug pad goes on the floor, smooth to the rug.

A:

I agree with that, I have had to cut all of the rug guards. But very pleased. Love Overstock

Read more

Read less

Q:

"Can it be cut. I need 3x5. Not 3.4x5"

A:

Yes, the pad can be easily cut.

A:

I didn't have to cut my pad. I'm sorry I can't help you

A:

I would think so, I would if I had too...

A:

Yes, it can be cut to fit the size of your rug. It is easy to do yourself , simply cut the sqares evenly to the size of the rug.

Read more

Read less

Q:

"I have hardwood floors, will this ensure that the rug does not move when we walk on it, additionally will this stick on to the floors and be difficult to take off after several years to the extent that I may have to scrape it off and damage my floor?"

A:

I have hardwood floors and use a wheel chair and my rugs stay put. Glad I found this product.

A:

That depends whether the rug u got is big or small . If it is big then it (the rug pad) will stay put and if it is small plus wet floors plus running children around then it might shake and slip a bit hither - thither. If your floors are with heat system then after years of usage it might stick (with elephants weight and lying continuously )on the the floor. Give it a pampered shake after few months of usage that will solve the [problem giving it years of longitivitiy. Hope my response helps you in making up your mind for this product.

A:

I have hardwood floors and have not had a problem With pad sticking to the floor when I moved the area rug & pad to another room (though I only had it down for seversl months-not seversl years.)And the rug did not move when walked on when using the right size pad. I did motive the edges moved at first because the initial pad was 8 inches narrowerr than thr area rug. After replacing with the proper size pad, I have had no problems with the rug moving. Terre G, Nov 27,2017

A:

It will stay put when you walk on it, and it does not stick to the floor, it sticks to the rug. It works ok, I have a dog and she can still move it around. Product is so-so.

A:

It will keep the rug from moving, but won't stick to the floor. When I vaccum I lift the edge and vaccum under the edge.

A:

You will have no problems removing the skids after years of usage.

A:

Larger rug wasn't moving but I had ordered this pad for it..(pad arrived 10 days after rug). Got runner rug. It was all over the place. So I cut a length of pad for the runner. Works great!

A:

Is it suitable for outside? I want it for my entry porch of brick. It is a covered entry.

Read more

Read less

Q:

"What is your return policies "

A:

I attached the link below to our return policy. https://help.overstock.com/app/answers/detail/a_id/1387

A:

The Non-slip Rug Pad has performed in the way that I expected , I purchased one of your silk shag rugs to go by my bed and to greet my feet as they hit my tile floor the first thing in the morning .The floor is cold and slippery when you first get up, so I am glad I have it ,It may keep me from breaking a leg one cold morning.

Read more

Read less

Q:

"Got my rug pad, which side goes on the floor and which side faces the carpet? Sticky side down or smooth side down?"

A:

I have the sticky side down and it works perfectly!

A:

I went and bought double face carpet tape and attached the pad to the rug sticky side down because the pad kept moving now it works perfectly

A:

Sticky side down - the rubber should protrude upward

A:

I put the textured side down. Hope this helps.

A:

Sticky side down is the way to go! It is actually easy to roll up with the rug and it easily rolls back out whenever you need to clean or move or store both together.

A:

I also put the sticky side down as did the previous user, but I will have to say my runner still "runs"....lol. Our wall to wall carpet is a very good quality and nothing seems to keep the runners in place......but this one worked the best so far....

A:

I put the sticky side up to hold the rug, especially while vacuuming and it works.

A:

rubber side touching floor if floor is a solid surface like wood or tile, fuzzy side touching floor if using over carpet.

A:

Sticky side down.... great value for the pad!

A:

I would use the sticky side...

A:

The sticky is the way to go, it sticks to the floor.

Read more

Read less

Q:

"What size pad do I need for an 8' x 10' area rug?"

A:

I would purchase a rug pad the same or close to the size of the rug I am using.

A:

You could purchase the 7 foot 6 inch x 10 foot 8 inch rug pad and trim the excess padding off.

Read more

Read less

Q:

"I'm getting a 8 x 11 rug. What size do I need? "

A:

An 8x10 will work. You probably will need to cut a little away from the width.

A:

As per *** / Choosing the Right Size Rug Pad: A rug pad should be slightly smaller in size than the actual size of the rug. If the rug pad is slightly smaller than the rug, then the edges of the rug will taper to the oor. This prevents any trip hazard by a heel of a shoe catching on the edge of the rug. This prevents premature wear and curling at the edge of the rug as it is walked on. The reason why the rug pad should be smaller than the rug is so that the edge of the pad is not seen. The way to determine what size your rug pad should be is simple. The rug pad should be about one inch less than your rug size on all four sides. So if the size of your rug size is 8'x10', then the rug pad size should be 7'10"x9'10", a total of two inches less in each dimension, which is the same as one inch less on all four sides.

Read more

Read less

Q:

"I'm getting a rug that's 2 feet by 2 and 7 ft x 7. I do not see a size that will fit it. What do you think I could do, can it be cut to size the the runner that is? Thank you"

A:

You could get a larger size and cut it to fit

A:

You might want to "Google" rug pads and see if another manufacturer makes a size for a 2 x 7 rug/runner, of course the rug pad should be a bit smaller than your rug, say 1'6" by 6'6", or something close to that. If not, you will need to purchase a larger rug pad that is at least 6'6" long, and then cut it to fit your rug. Most rug pads are easy to cut with regular scissors.

A:

I cut mine with scissors to fit. Easy.

A:

Yes you can cut the rug pad to the size that you desire. Keep in mind, the rug pad does not necessarily have to be the exact size of your rug in order to prevent the rug from moving or sliding. You could purchase the 1'8 X 7'6 if you prefer not to cut it yourself or you could purchase the 4'8 X 7'6 and trim off the extra padding.

A:

Yes, you can easily cut to size!!!

Read more

Read less

Q:

"Does it fit an 8 ft round rug"

A:

No. It is long and narrow

A:

No it wouldn't. I would suggest you call customer service where they can select the proper size. This is a great pad. You won't be disappointed

A:

I suppose it could but since it's rectangular, you'll have to cut it down. I'm pretty sure Overstock has round pads.

A:

It was very easy for us to cut it to fit. If you get the 9x12 you will be able to cut and fit 8ft round

A:

These pads are rectangular. But you could get a little larger size and cut it to fit. OR, you could find a different pad that comes in round sizes.

A:

It's rectangle shape can be cut very easily with pair scissors!!

A:

Actually you could make it work for your 8' round rug. It is 8' wide and 10' long. I have used this size for my 6' & 8' round rugs. The key is to # (1). FOLD THE PAD IN THE CENTER OF THE LONGEST WIDTH (the 10') # ( 2). FOLD THE PAD ACROSS THE CENTER FOLD IN THE DIRECTION OF THE SHORTEST WIDTH (the 8') #(3) (You should now have a point where you folds are and the pad should resemble a fan)

A:

As long as you get the 9x12 and make your pad by drawing a circle 8' in diameter, you're fine. The pad is easy to cut. And you can use the leftover bits for smaller rugs in bathroom and kitchen.

A:

the dimensions are 5 x 8 so yes I suppose it would in as much as a rectangular pad will fir under a round rug. I believe Id go with an 8 x 10 pad and then cut to fit the rug, but that's me.

A:

You can easily cut it with regular household scissors and make it fit. It doesn't have to fit perfectly to work. And, it works great.

A:

No, but you could trim to custom fit with some sturdy scissors

A:

you'll have to cut it. It's very easy to cut with good pair. Scissors,,

A:

I got a square one...my guess is you can cut it to fit a round rug.

A:

i used this for a rectangular rug, if u cut it it would work

A:

The dimensions provided did not include one for round rugs.

A:

If you are willing to trim it, it would probably work..... but potentially would be about three inches shy on one side. The other side would be way too long but you can always use that piece somewhere else after you trim it off, like under a door mat. I got the 7' square rug and had to trim both sides.( You want it slightly shorter than the rug so that it does not show but not too short so that you can see or feel a distinction.) If you get the 7' 6" by 9' 8" you would have it 3" short on 2 sides. But you could cut the long side to just short of 8'. OR get the bigger one and you can cut it just under 8' all the way around. I doubt you will be able to tell the difference, depending upon how thick the rug is, but the bigger one is the safe bet...just a lot of extra leftover after you trim it.

A:

In my opinion, you could purchase either the 7x10 or 8x11 and trim to fit, I had to trim slightly mine and it cut easily.

Read more

Read less

Q:

"The pad feels sticky to me. Will this stick to a wood floor over time and leave a mess on my floor?"

A:

I have not had a problem with it damaging my tile floors. The pad has enough stickiness to keep rug from sliding but moves easily when needed without leaving residue.

A:

I haven't had it long enough to see this happening.

A:

I'm not sure because I've only had it for a couple of weeks. I do have it on my hard wood floor right now. I guess I will have to wait and see. Fingers crossed.

A:

I have the non-slip rug pad on my bathroom and entryway floors and currently it is not sticking to my wood floors.

A:

It is sticky so that it does not slide. Unfortunately, it has been my experience that if the pad get wet it will stick to wood floor, due to drying.

A:

I haven't had any problem with mine being too sticky. it works really well.

A:

I just recieved it. Haven't had it long enough to answer, but went with previous answers that it would not. will see in time.

A:

I don't know but it seems fine on tile. I have only had this a few weeks

A:

I do not have it on wood floors. I believe that it would work. Try and see. Sunshine in Etowah:

A:

It has not left any marks on my wood floor.

A:

The pad is not adhesive, but rather "grippy" soft rubber. it doesn't stick to the floor and can be easily adjusted

A:

It does feel sticky and I have it on my tile floor. When I wash my throw rugs I also pick up this matt and it is stuck to the floor slightly. It does not leave a sticky feeling on the floor. I hope this helps. I have never used this product on wood flooring.

Read more

Read less

Q:

"Can we put this under an outdoor rug on a fiberglass deck?"

A:

I think it would be fine to do that since the material is a type of plastic so outdoors if it got damp, it would still be ok. It would dry out.

A:

I have this under our rug on our patio on the 15th floor and honestly I think it's crap. It doesn't stay down and is very flimsily made. I would highly suggest looking for something better.

A:

This material is very thin and like a vinyl (all though this is not the material), so my guess if that it would work in your setting.

A:

Works well on my Aztec floor.

A:

I think it would end up sticking to the deck material. Might be a pain to get it off.

A:

I have it under an outdoor rug on a wooden deck in a 3 season porch - holding up well so far but it doesn't get wet so I am not sure how it would hold up if it did.

Read more

Read less

Q:

"How thick is this rug pad"

A:

It is about 1/4 inch thick. I have it under a rug I purchased from Overstock on my laminate flooring and it works perfect. I love it and recommend it to anyone looking for a non slip product.

A:

Definitely just for non-slippage, not padding.

Read more

Read less

Q:

"Will this pad discolor vinyl lank flooring?"

A:

I don't think so. We've had it on our Travertine floors underneath an area rug for about six months with no problems.

A:

Mine has been on for over s months and I peeked under just for this review. So far it hasn't discolored mine, it simply keeps my carpet from sliding. A really, really, good product. Thomas

A:

I have mine on bamboo hardwood - no discoloration although it's only been down about 2 months.

A:

I don't think so. It really keeps rug in place.

A:

I have mine on stained and sealed hardwood and so far, so good.

A:

I am using this rug pad and have had no problem with it getting "glued" to the floor or discoloration.

A:

No, it has not done any damage to mine and keeps the rug in place well.

A:

I think you mean vinyl "plank" flooring... I doubt it. I have all kinds of rug pads - cheap like this and more expensive for large antique rugs. Have never had a problem other than disintegration of the very cheap pads after several years.

A:

I have the pad on a oak wood floor and I have not found it leaving residue or marks on the floor. I don't know how it will react to the vinyl tank flooring. There is no discoloration on my wood floors.

A:

I have mine on a vinyl plank floor and have not seen any sign of discoloration.

Read more

Read less

Q:

"can this be used on laminate flooring"

A:

Yes, and it works well . I had mine under my living room carpet for 5 years. When I lifted the carpet when I mo moved it was as if "nothing was there". A great product. Really!

A:

I would think so... it's pretty soft material, ours is on vinyl plank flooring. Good luck!

A:

it works indeed. great quality!

A:

Works great on hardwood floors so I would think so

A:

The short answer is "yes." I've had it under a 12' runner in a traffic area. It's locked down the rug perfectly.

A:

I would think so. I have it on our solid hard wood floors and it is working wonderfully.

A:

Yes, Ihave bamboo floors and no problems. My dogs play on the rug with no slippage.

Read more

Read less

Q:

"Can this be cut? I'm ordering a rug that's a few inches smaller in both length & width."

A:

Yes You can cut just like any material with ordinary scissors !its soft! Hope this helped!

A:

Yes, rug pad can be easily cut with ordinary scissors. Works perfectly underneath my rug.

A:

Yes, it's thin enough to cut. I cut mine with regular scissors.

A:

Directions say leave it down for a couple of days BEFORE you trim - and that's a very good suggestion. It will flatten out even more and when you trim it, you will be able to trim it exactly where you need it to be.

Read more

Read less

Q:

"I purchased an 8x10 indoor/outdoor rug for my outdoor patio. Does it need a pad if it is on cement? Marlena"

A:

I would because moisture does become an issue with concrete, and it would probably reduce the life of your rug.

A:

It depends on the backing. Try this: place the rug on the cement then shuffle your feet to see if the rug moves. If it does then put a pad underneath to prevent falls.

A:

I think it would depend on the smoothness of the cement and the amount of moisture around. I have a 6x9 indoor outdoor run at the front door. It has been there now several years without a pad. We live in FL and there is rain and sprinklers to deal with. Periodically the carpet needs to be cleaned with soap and water in the drive way but I do not have a pad under it.

A:

I wouldn't use this under a rug if moisture is involved. I don't know that this would stand up to outside use. I think the cement and rain might be hard on the pad.

Read more

Read less

Q:

"What size is this rug pad?"

A:

Above, under the price, select "Options". There are several size options available as of 5/8/2017.

A:

Label on package says pad is 6' x 9'. I have not opened yet as I was as waiting for rug to be delivered.

A:

The one I ordered was 1'8 x 3'4, but there are other sizes that were larger.

Read more

Read less

Q:

"I would like to use padding to give my carpet extra cushion. Does this pad provide this? If not, if I put carpet padding between this "pad" and the carpet will it be effective in preventing the carpet from moving?"

A:

I purchased several of these last summer. No, it would not provide "padding". It is very thin, but provides adequate grip to keep a carpet from sliding.

A:

I agree AA this provides very little extra padding. I suggest you Google "thick padding for hardwood floors." You will find a variety of thicker padding, but be careful: is you add too much padding, it will become a trip hazard.

A:

This does not provide padding. It does a decent job to prevent slipping though.

A:

Yes, it will keep it from slipping, but is very thin - it doesn't add padding.

A:

The pad is very thin and would not provide extra cushioning. Sorry, but I don't know if it would keep the carpet from moving if you placed carpet padding between it and the carpet. It does seem to have a pretty secure grip, so you might give it a try.

A:

No, this is an anti-slip pad, not a cushioning pad.

A:

It only provides rug from slipping.other pads provide cushion and anti slipping.

A:

This pad only helps to keep rug from slipping primarily on wood. etc. floors. It does not add extra cushioning. I do not know if it would work using carpet padding in addition to this pad. It might slip around as you would have 3 layers of items.

A:

It would provide no padding at all, and very little slip resistance. I bought several in different sizes, and I think they were a big waste of money.

A:

I purchased this to go under a very cushy area rug, and it provides some noticeable additional cushioning - and I wouldn't want anything more. However, under a VERY thin rug, you would want something more if you are looking for cushioning. I found that carpet padding does not stabilize a rug.

A:

It's not very cushioned. it's more so used to keep your rug from sliding around. I use it on my hardwood floor and it prevents the slide but doesn't give anymore cushion than the rug itself. You would need a thicker pad or rug for that effect.

A:

I have not used the carpet or the rug pad that I purchased from Overstock, at this time. We will be having our present bathroom gutted & rebuilt, so I cannot answer your questions. I'm sorry. I hope Overstock can answer your question for you.

Read more

Read less
Shopping Tips & Inspiration
Shipping & Returns
Contact Information
Shipping:
Usually leaves our warehouse in 1 business day. *
Shipping Information:
Our standard shipping method is ground shipping. We also offer expedited shipping for most items. Your final shipping cost and estimated delivery timeframe will be available at checkout.
Standard shipping details
Expedited shipping details
Standard Return Policy:
Items must be returned in new or unused condition and contain all original materials included with the shipment. More Details
FINAL SALE EXCLUSION: Items marked as FINAL SALE are not returnable unless the problem you experience is the result of our error.
For your protection, all orders are screened for security purposes. If your order is selected for review, our Loss Prevention Team may contact you by phone or email. There may be a two business day delay to process your order.
** Most Oversize orders are delivered within 1-4 weeks. Some orders may take 6 weeks to be delivered.