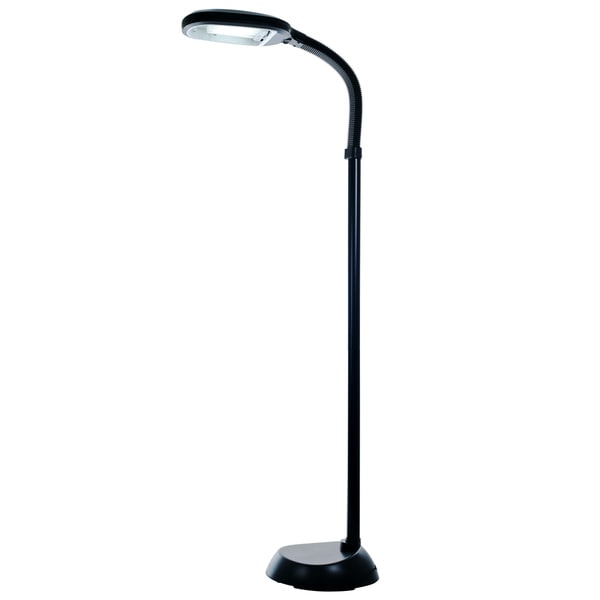 The lamp is at trace in any home. It performance is very good.i run it long time for my husband
...
Natural Full Spectrum Sunlight Reading Floor Lamp by Windsor Home 5 Feet
Details
ITEM#: 14485387
Lavish Home brings you form and function with the Natural Full Spectrum Sunlight Therapy Reading Floor Lamp that produces pure bright white illumination making colors appear more vibrant while reducing eye strain and fatigue. The supplied 27-Watt CFL Bulb gives as much light as an ordinary 150-Watt bulb, but uses far less energy. This bulb can last up to 5,000 hours, 5x longer than other bulbs. The flexible gooseneck design lets you adjust the lamp to any angle to direct light where you need it. Perfect for reading, working, or doing intricate craftwork. A must-have addition to your home or office, this lamp provides natural full spectrum daylight hues, brightening even rooms that have minimal sun exposure.

IMPORTANT: Avoid buying counterfeit products and transacting with unauthorized sellers. Look for our logo on the packaging for every one of our products.Lavish Home is committed to providing the consumer with the absolute best price and value on all our products, which we ensure by applying a rigorous Quality Control process.Lavish Home is a registered trademark protected by U.S. Trademark law and will be vigorously defended.

APPROXIMATES NATURAL LIGHT Sun lamp provides pure bright, natural light, making it easier to see while eliminating eye stress and fatigue. The energy-saving replaceable CFL-27W bulb included is 1300 Lumens, which is a light appearance of 6500K, equivalent to daylight and the natural sun. Perfect for working, reading, or intricate craftwork.

MULTI-DIRECTIONAL Adjustable gooseneck lets you pivot lamp head up, down or side-to-side over a variety of tasks, and gives you the control to direct light where you need it. Great for bedrooms, living rooms, or offices.

CONVENIENT Simple On/Off switch located on the adjustable tilting lamp head. Less than five minutes to assemble. Please consult easy-to-follow user manual, video, and installation steps for your reference.

PRODUCT DETAILS Color: Black, Lamp Dimensions: 60" x 10" x 9", Cord Length: 64"

100% CUSTOMER SATISFACTION GUARANTEE We are confident that the Lavish Home brand products are the highest quality and workmanship, however if you are not completely satisfied just return the item for a refund. NOTE: This is an exclusive product of Lavish Home and ONLY Natural Full Spectrum Sunlight Therapy Reading Floor Lamp by Lavish Home are GUARANTEED to be genuine.



Specs
Features

Material
Metal
Shade Material
Metal
Switch Type
Push Button Switch
Bulb Wattage
27 W
Color
Black, White
Country of Origin
China
Height
23 in or more
Lamp Type
Task
Light Bulb Type
Specialty
Light Direction
Downlight
Lighting Shade Color
White Shade
Lighting Style
Modern
Lighting Type
Floor Lamp
Number of Lights
1 Light
Product Features
Bulbs Included
Shade Shape
Oval
Width
16 in or less
| | |
| --- | --- |
| Dimensions | See Description |
| Warranty | 60 day Limited Distributor |
| Model Number | 72-0890 |
| Country of Origin | China |

Most Recent

The lamp is at trace in any home. It performance is very good.i run it long time for my husband

Read More

This light is fantastic for reading and crafting. I may purchase another one. Very satisfied!

Read More

Nicely attractive made, but quality not so great. It's put together in 3 piece screw on connectors, they come loose and wobbly often.

Read More
Most Helpful

OK, but....

This is a basic, black lamp that does what I wanted it to do -- provide enough light for me to read in my favorite easy chair. But I gave it three stars instead of four because if you ever need to get in touch with Lavish Homes, the company that supposedly makes this lamp, I guess you're SOL, which is short for -- well, you know. On the Overstock site, Lavish Homes says beware of counterfeit products, that every one of its products bears its logo. The product I received had no Lavish Homes name or logo on anything -- not the lamp nor the box nor the bulb nor the one-page sheet bearing assembly instructions. I called Overstock customer service and like always, the agent was gracious and helpful. He provided me with the web address for Lavish Homes and the Lavish Homes site contained a contact number. I called that number and was informed by the snooty female voice on the other end that I had reached a warehouse that had nothing to do with Lavish Homes. Thinking I had misdialed, I called again and got the same lady, who informed me she had no idea how to get in touch with Lavish Homes. I then clicked on their contact link and submitted my questions and concerns in writing, providing my email address so that they could respond. That was approximately a month ago and I have never gotten a response. At this point, I have no idea whether I have a Lavish Homes lamp or a knockoff. This lamp supposedly comes with a warranty, but good luck if you ever need to use it. I still think Overstock is terrific, but I doubt that I will ever buy another product by Lavish Homes, which appears to be in hiding somewhere in Ohio.

Read More

Sunlight Reading & Crafting Floor lamp

Love it... doesn't blind you, doesn't heat up area over your shoulder, and makes it so easy to see when working on crafting projects.

Read More

Love the brightness and how it looks but...

It is very hard to put together until you go to the gym, lift weights daily. Had you use my son's guns and even he had done issues. He had the muscle but not the delicate balance. Beware you need both but know that it's together...I love it!

Read More

Great value!

We are very happy with this floor light. The bulb is perfect for reading. The light all goes down toward whatever it is being read. It does not illuminate upwards. We've had "daylight" bulbs before and this bulb and floor lamp definitely outshine those. Quick delivery, good price. This lamp is only 5' tall and is not adjustable, just so one remembers.

Read More
Q:

"How many lux is it equivalent to?"

A:

Ihope this will help=it has 6500k equivalent to day light and natural sun,any thing else would only be a guess on my part.I don't want to speak on something iI am not sure of.Sorry,hope this will help.

A:

It was not a very bright light. Also It was junk! Stopped working within a week. Returned it!

Read more

Read less

Q:

"Does this bulb work for vitamin D deficiency and winter blues"

A:

No it is not a sun therapy lamp. it has a very nice bright light and resembles sunlight and it is cheery but not full spectrum

A:

no may help a bit but is not as strong or focused

A:

No. You have to go in the actual sun (or take pills) to get vitamin D. It is good for task lighting, but it is a fluorescent light. It doesn't throw off very much ambient light.

A:

No it's not a Sun lamp per say But it is a very bright and cheerful light. If you suffer from depression due to lake of sunshine this would make a good bright light to have to read by, or do your crafts by. Now I do better it being a bright soft light that it might help with that. Vitamins come from our food or a pill and the best natural vitamin D is just pure ole mr sunshine. Hope this helps

A:

The lamp does not. It is a matter of the bulb only. "Some full-spectrum fluorescent lamps are promoted as producing ultraviolet (UV) radiation. ... However, skin exposure to a fairly narrow band of UV radiation, UVB between 290 and 315 nm, can promote the synthesis of vitamin D, which is necessary for proper bone development and maintenance (Holick, 1985)." The advertising text points this out to those who already understand and may misdirect those who are not careful readers or don't understand the specifics of Vitamin D synthesis using light.

A:

I don't use it for that, but I can see how it would. It gives off really nice, bright light.

Read more

Read less

Q:

"Does the bulb come in the lamp? And what is the exact height."

A:

The bulb comes in a dedicated box. You're looking at 48 inches high when the goose neck is bent to hover over a desk surface.

A:

The bulb comes in a box packaged separately but yes, comes with the lamp. Can't really give you an exact height because of the gooseneck, it's adjustable. Ballpark 4.5 ft.

A:

YES the bulb does come in the lamp and my wife has very low vision it really is a lot of light for her to read

Read more

Read less

Q:

"What is the height of the bulb in this lamp when the goose neck is bent at a right angle? Thanks. Todd in Cleveland"

A:

If bent as shown, the lamp will measure approximately 4 feet tall.

Q:

"Under specs, it says height is 23 inches or more. If It's a floor lamp, how can it be just 23 inches high? Can anybody tell me the actual height?"

A:

This lamp measures approximately 10 inches wide x 9 inches deep x 55 inches high.

A:

As others have said, it is 48€ (4 feet) when gooseneck is bent at 90 degree angle to shine down at a work surface or book. Obviously it would be a few inches taller if bent at less of an angle.

Read more

Read less

Q:

"Does this lamp dim? (Have a dimmer function?)"

A:

No .It has 3 settings but No Dimmer !

A:

No dimmer. I use this lamp for reading or writing so I need bright light. If you want dim light get another lamp for that purpose.

A:

You can't dim it but I use it to put on my makeup and to help see how to place my hair. I had almost no light in the bathroom of my apartment. This light has proved to be versatile and able to supply both needs. I use a makeup mirror with this light. They work together well.

A:

No dimmer but if you move the gooseneck around you get the same effect as having a dimmer. Back it up from your workstation if you are using it over your right shoulder and you can control the amount of light provided. pull it closer and lower and you will get more light. I use it for sewing and don't know how I got along without it. I agree with Ostkuser its nothing to look at but it is serviceable.

A:

I have no idea. I have bad eyes and need more light at my computer and it is perfect good bright light. the light does not dim.

Read more

Read less

Q:

"I work with a large monitor. Would this lamp create more or eliminate glare?"

A:

The head is so adjustable I am sure you can find a place that will provide light you need. I have two of these lamps and while they are not exactly attractive, they provide better light than any of my others.

A:

I also have two of these which I use for crafting and sewing. They are bright but I find no glare problems at all. Glare is one of the reasons I got these. I use one over my machines and one for handwork when sitting in chair. Love, love them.

Read more

Read less

Q:

"Will this work for plants?"

A:

Yes. I get no direct sunlight in my condo and had issues with plants for years. I have this lamp and it does help and now am able to have plants that are thriving.

A:

I would think a plant light would be better. Love this for my personal sunshine!!

A:

absolutely, this light saved my plants at my dark apartment.

A:

I use this for my plants, mostly succulents. It works just great. I ordered additional bulbs so I do not run out.

A:

My Husband says it will we have not tried it yet Hope this helps Penny sorry did not get an email that you asked the question. Good luck It is a Great lamp for the price :-)

Read more

Read less

Q:

"Is this considered a light therapy floor lamps"

A:

The description indicates the light provides simulated sunlight. Very bright but cannot say it a true therapy light.

A:

Yes, it is, and I absolutely love it. I didn't buy it for that reason, but now that I have it I would love to have another!

A:

This light is not meant for light therapy. This description clearly says that it is for helping to see better. After researching a bit I found what I believe is the exact same product and here is the description given: Simulates sunlight FOR VIVID COLORS AND REDUCED EYESTRAIN. The **** simulates natural sunlight, which is balanced across the entire spectrum of color visible to the human eye. This results in clear, bright, & comfortable lighting, ideal for reading, working, or detailed hobbies. Colors appear true, black and white contrast is improved, & glare is eliminated. This 5-foot-tall floor lamp emits a soft, pure white light that is gentle on your eyes as it clearly illuminates your surroundings.

A:

I really don't know the answer to that - but it certainly is bright enough.

Read more

Read less

Q:

"Is the neck of the lamp adjustable?"

A:

yes very adjustable you can put at different angels

A:

The neck moves but you can not slide it up and down the main post. I have 2 and they are really a good solid lamp. I like that the lamp part can be moved to where you need lighting.

A:

Yes the neck is adjustable - it's a flexible "gooseneck" type.

A:

The upper part ( that is curved on the picture and ending with the bulb) is adjustable in all directions, but the hight of the foot itself is not.

A:

the head of the lamp can be positioned over your work if close, but the lamp stand itself can not be raised or lowered, If the head is angled straight up the light shines across room not on your work, hope that makes sense.

A:

no dimmer but great lamp.

Read more

Read less

Q:

"Does it happen to emit UV rays? I assume with a simulated sunlight lamp it has to emit some"

A:

I love this lamp! This is great, easy to use and practical sunlight lamp. The amount of light the bulb provides is extremely bright and was just what I needed as a cake decorator. I am not sure that I can answer your question about emitting UV rays, as it seems more technical, and I don't want to give you false information. I will recommend you to do more research, read more about sunlight info on Wikipedia or contact the manufacturer of the lamp. However, I can tell you that, one of the main reason for purchasing this lamp, was based on all the reviews ( thank you to all the reviewers!) and how bright the light is. I am extremely happy with it. The light is very bright and yet soft and easy on the eyes and that my experience. I wish I could me of more help. Good luck! From MASSweet33

A:

Why do people answer questions to which they admit they don't know the answer? You see it all the time!

Read more

Read less

Q:

"does this light work as a plant light for plants in darker locations in your home?"

A:

The Light is Quite Brite & Adjustable... The 4 Tube Bulb is Fluorescent... I don't know it that works well with Plants or Not !

Q:

"The bulb dropped and broke while setting up. Is there a way to get a replacement?"

A:

Unfortunately, I cannot help with that question as I have not had to replace it yet. Sorry I could not be of any assistance. I only respond because I was advised by Overstock a few times that someone wanted me to answer. Again, sorry!

A:

It takes a 27 watt sunlight bulb. You can get one here: (listed right on the product page) ITEM#: 15125495

A:

Replacement Bulbs are available. I ordered one when I Originally Ordered my Lamp, just to have an Extra One on hand !

A:

I ordered an additional bulb when I purchased my lamp. It is a 27 Watt bulb.

A:

I have ordered replacement bulbs from ****.

Read more

Read less

Q:

"Is this lamp suitable for main lighting in a bedroom, or is it more for reading and crafting? Thanks!"

A:

It is probably bright enough for a bedroom, although light will be concentrated more directly below, it should be sufficient in a smaller bedroom.

A:

I would not use it as main lighting for a bedroom. We use this lamp to light up a specific area in a room which has a main ceiling light.

A:

The light is bright, but focused on a small area. I just use it for reading and sewing.

A:

I love this light. light . I have it sitting behind my night stand. excellent for readingi but you can also adjust the rays of light to tell black from navy blue in the closet or turn it to any part of the room without moving the stand for more light. Excellent purchase for me. In fact I am going to see if I can get a small one to set up on top of the tallest chest in my bedroom so I can see everything in my drawers and door opening. Leslie M

Read more

Read less

Q:

"is the electric plug a 3 way plug or 2?"

A:

This item has a 2-way (2-prong) plug.

A:

LOVE this lamp, Sandyojo!!

A:

Lamp has 2-prong plug. It works great. We use it to light our tortoise table.

Read more

Read less

Q:

"To what height can this floor lamp adjust down to? Thank you."

A:

This lamp is approximately five feet tall and offers a flexible neck that can only be adjusted a few inches.

A:

It is meant for reading/writing, but if your room is not too large, I guess you can use it as a main lighting by have the light facing the wall or ceiling and have the light bounce of the wall/ceiling.

Read more

Read less

Q:

"Is this lamp a plug into a wall socket or is it a floor lamp that needs batteries? Dennis"

A:

Hello Denins, this lamp plugs into a standard outlet. Thanks for shopping with us!

Read more

Read less

Q:

"I need to fit this lamp in a tight space. Can you tell me the dimensions of the base? Thank you."

A:

Hello alpenagirl, the dimensions for the base are as follows: Length: 8.5 in. Width: 10 in. Depth: 2 in. Have a great day!

A:

about 8 inches round the vertical poll is off centered very stable

Read more

Read less

Q:

"Is it easy to assemble I am not at all handy"

A:

Hello Peggy, reviews of this lamp have mentioned that assembly is fairly simple (around 10 minutes). Please let us know if you have additional questions. Thanks for shopping with us!

A:

as I remember it was very easy

Read more

Read less
Shopping Tips & Inspiration
Shipping & Returns
Contact Information
Shipping:
Usually leaves our warehouse in 1 business day. *
Shipping Information:
Our standard shipping method is ground shipping. We also offer expedited shipping for most items. Your final shipping cost and estimated delivery timeframe will be available at checkout.
Standard shipping details
Expedited shipping details
Standard Return Policy:
Items must be returned in new or unused condition and contain all original materials included with the shipment. More Details
FINAL SALE EXCLUSION: Items marked as FINAL SALE are not returnable unless the problem you experience is the result of our error.
For your protection, all orders are screened for security purposes. If your order is selected for review, our Loss Prevention Team may contact you by phone or email. There may be a two business day delay to process your order.
** Most Oversize orders are delivered within 1-4 weeks. Some orders may take 6 weeks to be delivered.