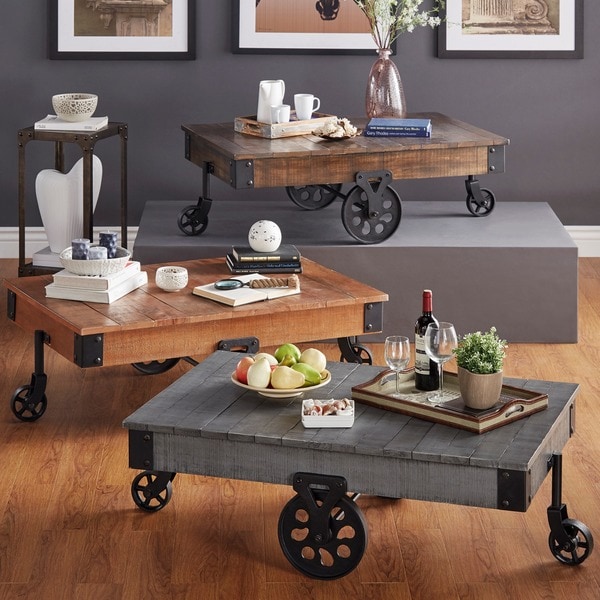 The item arrived with a big split in the wood face and the company IMMEDIATELY sent out another at no cost upon me emailing them. Great service and the table is amazing
...
Myra Vintage Industrial Modern Rustic 47-inch Coffee Table by TRIBECCA HOME
by Tribecca Home
Details
ITEM#: 14288171
Enjoy a drink with friends while sitting around this unique cocktail table from Tribecca Home. The Myra Cocktail Table is constructed with a pine top and features a weathered and timeworn patina, allowing traces of the original color and natural wood to show through. The vintage design draws from factory carts for a truly classic look. The table's corner hardware and wheels are made with black sanded metal, furthering the vintage feel. Ease of movement is accommodated with the working wheels.

Features:
Planked style table top
Finish options include brown, bistre brown, and grey
Pine wood and black sand metal construction
Measures 16.5 inches high x 47 inches wide x 31 inches deep

Rooted in traditional craftsmanship, TRIBECCA HOME encompasses timeless design and modern living while holding to standards of the highest quality and value. With an extensive collection of styles, ranging from classic favorites with a fresh twist to vintage and contemporary flairs, you'll find exactly what you need to achieve your dream living space.

Whether your taste is timeless traditional, vintage eclectic, rustic elegance or mid-century, TRIBECCA BRANDS offers beautifully distinct brands so you can find the style that reflects your unique personality. With the highest standards for design, quality and value, creating your perfect living space is effortless with TRIBECCA BRANDS.

Assembly required - see below for instructions
Specs
Features
Style
Industrial, Rustic, Urban, Vintage
Material
Iron, Metal, Pine, Wood
Type
Cocktail Tables, Coffee Tables
Finish
Brown Finish, Grey Finish
Shape
Rectangle
Assembly
Assembly Required
Base Type
3 and 4 Legs
Color
Brown, Grey
Furniture Frame Material
Wood
| | |
| --- | --- |
| Dimensions | 16.5 inches high x 47 inches wide x 31 inches deep |
| Warranty | 90 day Limited Manufacturer |
| Model Number | N/A |
| Country of Origin | China |

Most Recent

Great customer service!!!

The item arrived with a big split in the wood face and the company IMMEDIATELY sent out another at no cost upon me emailing them. Great service and the table is amazing

Read More

I had the table for 10 days and it cracked right down the middle. It is a composite material. Not solid wood. Overstock tried to send me 2 replacements - the first was already cracked before I took it out of the box and second one only lasted a week before it cracked down the middle. Save your money.

Read More

I have been waiting a few years to purchase this table but never pulled the trigger because of the cost. When I saw this on overstock I couldn't believe the discounted price. I went ahead and ordered and I'm so pleased! It came within a few days and assembling it was a breeze! Thanks again overstock for another great purchase!

Read More

Unfortunately the table cracked Day of purchase but overstocks customer service was great

Read More

This is a cheaply built table that is poorly engineered. It is beautiful on the surface and was exactly what I was looking for. Within 1 week of receiving and assembling the table, a large crack suddenly appeared thru the middle of the table for no apparent reason. I called Overstock customer service and they immediately sent out a replacement table (I was hoping that I had gotten the occasional defective table-Hey, it happens!). I can't say enough about how good the customer service people are. The new table arrived about a week or so ago and I assembled the new table. Everything seemed to be going well, when suddenly a couple of days ago I heard a loud "pop" while I was sitting in another area of my house. I heard another "pop" about 20 minutes later and I went to investigate. The new table had 3 cracks in it. This not a solid wood table. It appears to be some type of laminate over particle board. You will save yourself a lot of time and trouble if you look at the "specs" of any similar table and ensure that it is made with solid wood. This table is not worth ordering. One additional point, if despite this review you order this table, make sure to keep the package for a couple of weeks before you discard it. If you need to send it back, it is up to you to provide the packaging before they will accept it for return. It will not be easy to find a cardboard box that will accommodate the table and all of the metal pieces.

Read More
Most Helpful

I have been wanting this table for so long. At first I coudn't find it. Then I would find it from 600.00-900.00 dollars. Sorry I was not welling to pay that. So I finally found it on Overstock..great price even caught it with an additional 10% off. Great purchase I am very happy with my purchase..No shipping fees and arrived quickly of course it is overstock :) FYI I found it on Amazon for the same price but they wanted 120.00 for shipping....Yep` Never will I pay that!

Read More

I had to return to leave a review because i'm absolutely thrilled by how this turned out. Delivery was late, and packaging was filled with crummy styrofoam which disintegrates and messes up your floor with tiny bits, but overall the product made it halfway across to world to me in one piece. I was worried because this requires assembly and i have trouble assembling even the simplest Ikea furniture. We had to dig around to look for the instructions, which was also printed on a pretty crummy piece of paper. Everything from then on went great. The tabletop was made of solid pallet-looking wood, and to echo one of the other review -- The finishing is meant to be raw looking. You must be prepared for imperfections that are meant to enhance the "character" of the piece. The corners of the table top have been reinforced with heavy cast metal brackets. All you need to do is to fit the wheels on the axel, and fit the smaller wheels to the other 2 sides of the table. It was easy to drive in the screws with the supplied tools -- You do not need to have power tools or the likes of it. I was especially happy at how easy it was to turn the screws in. The holes were pre-drilled and filled with the metal screw holes. So you are turning the screws into a metal piece in the coffee table. It wasn't like Ikea furniture where you had to struggle to screw the screws into wood itself. Anyway, the entire installation took about 30 minutes, and the end result looked phenomenal. The metal pieces were really solid heavy. So glad i didn't buy the Restoration Hardware piece -- This is just as good at 1/2 the price!

Read More

I had been trying to get this table for a couple months. It kept selling our and out of stock. I finally was a ble to get one before they were all sold. Delivered promptly and with tons of packaging. It went together very easily and swiftly. I noticed one of the corners of the box had been dropped but it didn't matter to me because I was distressing it anyway. Took some chains to it and then stained it a little darker. It looks old, rustic and ABSOLUTELY beautiful! It is one piece that everyone talks about when they come into my living room! Thanks Overstock!

Read More

We got this within th epromised delivery time. The quality of the product is great..Just what we expected. the iron parts are heavy and have a rustic appeal . This is an ideal combination of modern and old school. The Table top is very smooth and looks great. The table is a great conversation starter. Try to assemble this where you intend to keep it and moving it later on may be a challenge.

Read More

Excellent price, I've seen similar tables for 3 times the price. The table is very sturdy, assembles quickly and looks great. It's rustic, so the table top surface is not level and the wood is flawed but I believe this adds character to the piece. Highly recommended.

Read More
Q:

"it is March 22nd when will the Bistre Brown be available??"

A:

The bistre brown option is expected to be back in stock before the end of March.

A:

The Bistre Brown is currently available.

Read more Read less

Q:

"I recently order this table. It hasn't been delivered yet but I'm growing concerned about the customer reviews that it cracks for no apparent reason. Is this problem associated with 1 finish/color or is it a problem with all 3 finish option?"

A:

I ordered the gray and both tables have cracked. The 1st table I thought was due to handling during delivery...but 2nd table was just sitting there and a huge crack formed in the middle of the table from one side to the other all the way through. Overstock has great customer service and they contacted the manufacturer and said it probably was a bad lot with possibly faulty wood. They are sending me the top only this time and I hope it stands the test of time. I love this table and it is difficult to find that style in that color.

A:

The one I ordered was the Bistre Brown one and it cracked. I didnt ask for my money back only to replace the top! I did a chat with overstock and the guy was helpful and addressed my concerns well!!! I havnt received the top yet though!!! I will keep posting.... Good luck!!

A:

I finally received the table today. It's defective. The one wood plank is warped and sits up above the other wood planks on the table top. They are picking it up either Monday or Tuesday. Customer service was very helpful and I'm getting a refund and ordering a different brand. I wrote a review and added a picture so you can see how the wood is messed up. It is a really beautiful table if it wasn't for bad wood. This was well packaged so I know it was due to the manufacturer. I was very disappointed.

A:

I want to return it looks fake

Read more Read less

Q:

"First of all, I love this coffee table. I looked at the reviews before purchasing so I actually was aware of a few reviews stating that the top cracked!!! Well, mine now has a crack in it!!! What do I do???? its quite large and very noticeable. Ive only had it put together since Feb 13, 2017!!! And the temperature of our home is steady at 70 so thats not a factor...."

A:

I purchased the brown and it has an antique look to it. I can't say that I noticed cracks..love the look

A:

I got mine last week (Brown Antique finish) and it just made the loudest scariest sound and cracked right down the middle! Tell me what they wanted to do about it please.......

A:

mine cracked also...call customer service...they will try to resolve this problem

Read more Read less

Q:

"I'd like to put a lateral file cabinet that's about 220 pounds. DO you think this will hold 220 pounds of metal and wood file cabinet ? Or will it crack it ?"

A:

This table has not been weight tested.

A:

the table can be a bit wobbly depending on how the wheels are positioned. I would not put something that weighs 220 lbs on top of it.

A:

Wait a second. So you wanted to put a 200 pound item on it. Then a week later you report in the questions that it's cracked?

Read more Read less

Q:

"Hi, I'm interested in the metal side table that's on the first picture (on the back left). What's the name/style? So I can look it up here. Thanks!"

A:

We have a similar end table available under item 17525538.

Q:

"Will you be more of the Bistre Brown in stock?"

A:

The bistre brown option is expected to be back in stock in late March.

Q:

"this table was 307. then went to 3 hundred twenty something. and now is 369. i have never done business with you folks. but i don't think every couple weeks prices go up like this. what type of operation are you running ?????????????????????? Please explain."

A:

Haven't had that problem ... watch for discounts and /or free shipping

A:

I can understand your confusion on the prices. I watched this piece for a while before purchasing. I can only guess that they are getting them from different sellers and the prices vary. I also agree with Vonnie, watch your item and hold on if you can for discounts and free shipping. Good luck.

A:

Prices on Overstock fluctuate as do prices on ****. The previous answer about different suppliers may well be the reason. My approach is to place the item(s) in my cart and then check the cart frequently. Also, if you receive discount coupons via email, be sure to click the link in the email which will apply the discount to eligible items in your cart. Sort of like a chess match, isn't it?

Read more Read less

Q:

"I received my table about 5 months ago and I absolutely love it however, I came home one day and found a crack right across the middle of the table. I was completely puzzled as to how this happened. About a week later I was sitting on the couch and I heard a loud pop. I looked down at the table and I saw another crack parallel to the first crack but this one was even longer. It goes almost from end to end. Have you heard of anyone else having this probelm? Is there anyway of having this replaced?"

A:

I am sorry to hear that happened to you. I have had my table for almost a year and have not had that issue.

A:

I had the same problem!! Had the table for two months and yesterday, a loud pop and the table split in half. This morning there are several more spots where the table is cracking...called customer service and they are taking the item back.

A:

I am not the Supplier of this product, however, it definitely should be replaced........Obviously it is defective. I have had mine for approximately a year in brown. It has been sat on and moved from here to there and I have NOT experienced any cracking. So sorry you have experienced this issue and hopefully the supplier addresses the issue promptly.

A:

We have had our table a little over a month and a long crack has also come up on our table. There must be some sort of defect with the top. I don't know if Overstock will replace or not. At this point, I no longer have the packaging to send the table back to them

A:

You will be contacted by Customer Care regarding a replacement.

A:

Thank you everyone for responding. I look forward to a call from customer care. I hope everyone else who had this problem is able to get it fixed and those of you who do not have a problem, it remains that way. It really is a beautiful table.

A:

Hi everyone I just want to let you know although Overstock was very nice and did try to help by offering to give me some money back on this table I would not recommend you purchase it. It cracked after six months and because it was under warranty for only 90 days they will not replace the table.

A:

I have had mine for about a year and i have actually stood on it to change a light bulb. I am not a small woman but never a problem with the table. I love mine

A:

My table has cracked as well after a few months. Not sure why it just cracked

A:

This exact thing happened to me. Overstock allowed me to return it but I had to pay $** for a box and padding from UPS in order for them to ship it back ( I had thrown the box away as it arrived just fine, except the top was not how it was pictured..) I'm still waiting for my refund even though it was approved ... all in all, not a great experience.

A:

I had the same issue with the table. Had it for a few months and suddenly one night it cracked in two places... I think the product is defective and should not be purchased....

A:

Are the wheels really mobile and functional to move this cofee table around by rolling it ? or are the wheels more for design ?

Read more Read less

Q:

"I'm very confused, I just received this table in grey, the top looks nothing like pictured. Its has a bunch of rigid lines. Is this a different table? Did I get the wrong order?"

A:

The top is not wood but rather a wood look. It's actually a polyresin type material

A:

They do have a rough surface with lines. But I like it. I think it adds to the industrial look.

A:

Hello......Sorry to hear you are confused with your new grey Myra cocktail table. It is meant to be 'rustic' 'industrial' or 'vintage'. Not smooth and manicured type furnishing. Give yourself time to digest another look and make sure you like it in your environment. I have brown and it is amazing.......I even sit on it at times. It is Sturdy and very easy to move. Sometimes it takes awhile to adjust to a new look and I am one for 'thinking 'out of the box' in my designing as it can get very boring being placid. Give yourself a bit of adjustment time......and if you don't really love it, by all means return.. You must LOVE your look or you will not be happy.

A:

I have this table in natural wood it is actuaaly beautiful, sturdy. Received many compliments. It is very artistic and goes very well with other pieces.

A:

Hi my name gisele same here table almost black I was disappointed I call told me cannot guarantee color in picture what they are selling 😢

A:

No. I ordered in brown and mine is the same. I like the look.

A:

It is the same one, it doesn't look like wood though. I hate I destroyed to box, I would send it back.

A:

The problem is, the photos show a table top with wood slats. It looks more rustic and natural. When you receive this piece of crap, it has a solid top with ridges, not wood slats. It looks extremely cheap and unattractive. Oh, well. I'm stuck with the mess now.

A:

Darrin, it was so awful, i had my husband go buy wood, paint it grey and glue it to the top of the ugly surface, for both the coffee table and side table. It looks like the picture now. Too bad we had to pay for wood and paint to get what we wanted after buying what we THOUGHT it was supposed to look like.

Read more Read less

Q:

"which is the brown and which is the bistro brown? (which one is the darker one?)"

A:

The darker one is bistro brown, for sure.

A:

This table in bistre brown is the darker finish.

A:

I purchased the Bistro Brown & it is the dark one. I love it and it is very true to color.

Read more Read less

Q:

"I am looking at the grey finish table.. anyone have this? "

A:

I have this table and love it. I did not however purchase it in the grey finish.

A:

I did not purchase the grey however, this is a sturdy piece of furniture and my brown color was exactly as pictured. If you like the grey look on line; my guess is you will love it in person. I even sit on mine at times. All the wheels move......they are not stationary. It is large.....be sure to measure your space. My house is done with retro vintage accent and this enhances my space immensely. LOVE IT! Hope this helps with your decision! Cheers

A:

I have the grey. I like it a lot. I was expecting it to be more like a painted wood but it has a highgloss finish.

A:

The one I bought is brown.

A:

I have the brown finish and it is absolutely wonderful, you won't be disappointed if you purchase in either finish.

A:

I just received the gray finish table. It looks nothing like pictured. I think they might have shipped the wrong one!

A:

It looks nothing like pictured!! It looks like plastic ridges. I would not get this table. I wanted to return it and they were going to charge me restocking fees! Instead I had my husband go out and buy wood, paint it grey and nail it to the top, so it looks like pictured. Awful that we had to do that!

Read more Read less

Q:

"Hi, any word on when the Bistre Brown finish will be back in stock? I would love to do an alert for when it is available, but it isn't an option. Are they being discontinued?"

A:

Unfortunately, we do not have an estimated restock date set. We welcome you to check back often as our inventory changes on a periodic basis.

Q:

"Hi Is this table all wood sides and top Thanks"

A:

Yes, this table is made from pine wood.

Q:

"Any update on the bistro brown color?"

A:

I have it and it's a beautiful color and absolutely love it. Dust does show quickly so dusting regularly is a must.

A:

This table in the bistro brown color option is expected to be back in stock in October.

Read more Read less

Q:

"is the bistre brown finish ever coming back in stock?? I keep checking back and waiting to order it."

A:

This table in the bistre brown is expected to be back in stock in October.

Q:

"When will the bistre brown be available"

A:

This table in the bistre brown option is expected to be back in stock in October.

Q:

"Are there matching end tables?"

A:

There aren't, but it's fun to tap into your creativity by visiting flea markets, etc., and creating your own rustic side tables. I wish I could post pics of what I did to create my side tables: an antique barrel with iron bands for one, and two stacked antique packing crates for dynamite for the other. I topped both with glass to pull them together. I'm not artsy; found the ideas on line. They go perfectly with the spirit of the coffee table with a total cost of about $***.

A:

Item number 14288172 is recommended as a matching end table.

Read more Read less

Q:

"Is there anyway someone that ordered this table in bistre brown could post pics of how the table looks and of the color? I'm a little skeptical about ordering mainly because you can't get a full refund if you order and don't like it and some of the reviews are saying the "bistre brown" looks black and is darker in person. If anyone has picture of the color and how rustic it is that would be amazing! Thank you"

A:

I am trying to send you a picture of it...,,doesn't seem possible to send it. I ordered the brown one because I feel that it looks like the factory antique that it is supposed to represent. It doesn't look black but goes with the hardware. The other two finishes are nice But I was purchasing it for a client and staying within a budget was a consideration as well.

A:

I ordered the one up at the top of the three in the pictures - Im not sure if that is the one you are referring to but it is a warm colored brown - not black at all. Hardware is black. I have a warm brown floor and it matches perfectly. I love this table!

A:

I took a photo for you, but don't know how to send it. I ordered the bistre brown and it is exactly as pictured on Overstock. Similar to Walnut. I wish I knew how to send you the photo.

A:

The TRIBECCA HOME Myra Vintage Industrial Modern Rustic 47-Inch Cocktail Table Bistre Brown color option is not black, it is similar to a dark brown finish.

A:

Like the others, I agree the bistre brown is a beautiful shade of dark brown...not black at all. I love this table - definitely worth the money spent.

Read more Read less

Q:

"Measurement of 47in. wide is from wheel to wheel or just end to end of table surface? Does any of the wheels have wheel stopper?"

A:

The measurements are wheel to wheel. This does not have a wheel stopper.

A:

It measures from the outer edge of the wheel to outer edge of the wheel. There is not a wheel stopper. This is a hefty table. It is not prone to moving.

Read more Read less
Shopping Tips & Inspiration
Shipping & Returns
Contact Information
Shipping:
Usually leaves our warehouse in 1-2 business days. *
Shipping Information:
Our standard shipping method is ground shipping. We also offer expedited shipping for most items. Your final shipping cost and estimated delivery timeframe will be available at checkout.
Standard shipping details
Expedited shipping details
Standard Return Policy:
Items must be returned in new or unused condition and contain all original materials included with the shipment. More Details
FINAL SALE EXCLUSION: Items marked as FINAL SALE are not returnable unless the problem you experience is the result of our error.
NOTE:
This item cannot be shipped to Alaska or Hawaii. More details
For your protection, all orders are screened for security purposes. If your order is selected for review, our Loss Prevention Team may contact you by phone or email. There may be a two business day delay to process your order.
** Most Oversize orders are delivered within 1-4 weeks. Some orders may take 6 weeks to be delivered.