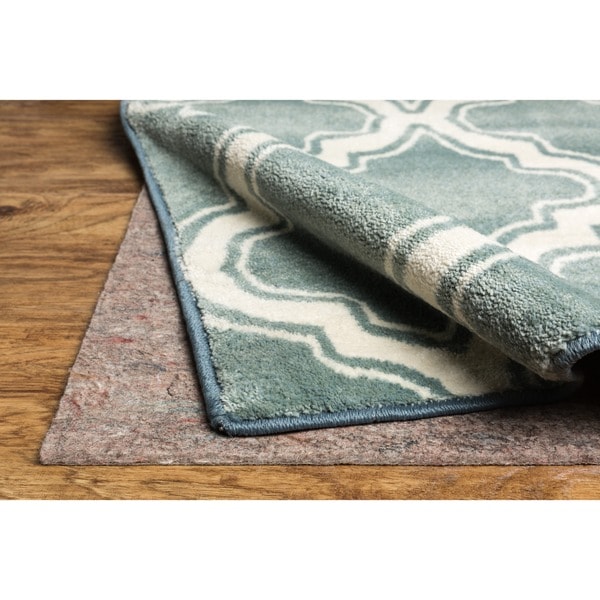 A must when purchasing area carpet to be used on hard wood floors. Quick delivery and a quality pad. I would recommend for others to purchase.
...
Mohawk Home Supreme Felted Dual Surface Rug Pad (8' x 10')
by Mohawk Home
Details
ITEM#: 13457618
This rug pad from Mohawk Home will keep your rug securely in place to prevent any slipping or tripping hazards. Constructed from recycled fibers and built with rubber and latex to prevent your rugs from bunching or sliding around. The rug pad will protect your hardwood floor and add extra cushion to your rugs.
Details:
Soft underfoot
Trim with scissors to fit rug
Eco-friendly
100-percent recycled fiber build with rubber/latex
Weighs 27 ounces per square yard
8 feet x 10 feet x 0.25 inches thick
Specs
Features
Material
Synthetic Fiber
Feature
Contains Latex
Shape
Rectangle
| | |
| --- | --- |
| Dimensions | 8' x 10' |
| Model Number | DR002 999 EC 096120 |
| Country of Origin | United States |
Most Recent

Added comfort for area rug.

A must when purchasing area carpet to be used on hard wood floors. Quick delivery and a quality pad. I would recommend for others to purchase.

Read More

Holds our 8×10 area rug in place and adds extra cushion. I'm glad we ordered it. It was delivered fast. It is slightly larger than the rug so trimmed about 2 inched off one side. I set it outside for.a couple hours to air out before use based on other reviews but really I didn't notice a smell.

Read More

Makes the rug very nice to walk on.

Read More

These rug pads are very good quality and easy to trim down with a sharp knife to the exact size you need. We allow 2-3 inches less than rug on all sides to allow the rug to settle down at edges. Won't trip on it this way. The grippy side is face down on hard wood floors and it won't damage the floor finish.

Read More

This Mohawk felted pad is all that I hoped for when shopping for a rug pad. I cannot say enough about how happy my feet are upon my new padded rug. This I would not hesitate to purchase this again!

Read More
Most Helpful

Supreme and Durable pads -- can't tell difference

I purchased the 8x10 Supreme Felted Dual Surface rug pad and also an 8x10 Durable Hard Surface and Carpet rug pad (which costs a little bit more than the Supreme). The main difference that I have seen was in how they were packaged. The Supreme was sent folded up in a big square, the Durable was sent rolled on a heavy cardboard tube. Both arrived in good condition, and both flattened out equally. I have had them both for about 3 weeks and really can't tell any difference between them except that the felt on the Supreme is perhaps a bit scratchier, and maybe a slight bit thicker than the Durable (which cost more). Save your pennies and get the Supreme, unless you have a desire to have an 8' heavy cardboard tube as well. ;-)

Read More

This pad is nice and thick, and it has rubber on one side to grip the floor. No complaints on its function. Oh, but it stinks. After we unwrapped it, I put it outside for the day. When we brought it back in, the smell was still strong enough to make me nauseated. Back outside it went for another day, and still no better. We finally just put it down. Now that the rug is over it, it doesn't smell anymore, but I don't ever want to pick up that rug, because that stench cannot be anything but harmful.

Read More

Because of the heavy traffic in my family room, I needed something that would really hold my area rug in place. I have hard wood floors and the area rug was always roaming. It was a little tough to cut, but the results were impressive. The rug has not moved an inch since I put it in place over a month ago. With the extra pieces, I put them under certain areas of my sectional sofa and they have not moved a bit! I was thrilled with the results. The only negative is that is is not as cushiony as regular carpet padding, but carpet padding will not hold the rug in place at all.

Read More

This pad is 1/4-inch thick and is everything that the description says it is. I like my knowing that my rug and floor are protected. The lifetime warranty helped me pick this pad over the others. This pad has added comfort to my beautiful, expensive rug. Overstock has always delivered great products and service, and has once again exceeded my expectations.

Read More

iI got this pad to put on top of carpeting with an area rug on this pad. I was having problems with the area rug wriinkling. This pad really fixed the problem. My area rug sits nice and smooth.

Read More
Q:

"what side do you put down for over carpet"

A:

The felt side is directly underneath the carpet and the sticky side goes on the floor.

A:

The felt side goes on top to hold onto the back side of the rug and the rubber on the bottom grips the floor.

A:

Felt side up, sticky side down.

A:

I can't really remember what the two sides looked like, but whichever seemed a better "grip" went directly on our tile floor. The nice surprise for me was that the pad was exactly the right size and didn't have to be trimmed to fit the area rug I purchased from Overstock. This is a very good quality pad and much better than the thin pads that are available.

A:

If you are putting it on carpeting put the sticky side up to prevent slipping.

A:

This is a rug pad designed to be used on ceramic or wood floor. There are other rug pads for carpet that have a different grip system. You may be able to sue it depending on the type of carpet you have. Put the rubber grip side down and the felt side up.

A:

The rubber coated side is face down on the floor and the softer felt side is face up. This way it will grip the floor and prevent the rug from sliding.

A:

either side no differemce

A:

The felt side goes under your carpet. The rubber side faces the floor so that the carpet doesn't slip.

Read more Read less

Q:

"any time I see latex as a material component, I always worry about the smell - any issues with this rug mat smelling of rubber?"

A:

No smell at all. Glad we purchased this instead of a thin pad.

A:

No smell at all. Pad holds rug in place. It's not thick so minimal cushioning.

A:

We just purchased. Of course strong fumes when package initially opened, like almost all plastic products, but it quickly dissipated and was not noticeable at all after I put our rug over it. I'm very happy with it!

A:

No smell at all and I've had this for a few months now and all is good.

A:

There is no smell in this rug at all nice and pretty

A:

I have had this pad in place now for three weeks...no odor when we put it down and none today.

Read more Read less

Q:

"I have wall to wall carpet in our dining room and have an 9x11 area rug that is always wrinkled. Will this pad help keep the area rug straight?"

A:

It is not designed to do that. It will keep it from sliding.

A:

This will be perfect for your dining room, it will keep your rug straight.

Read more Read less

Q:

"I am buy 2 pads today (amazing reviews!) and noticed a couple of people mentioned the pad is a bit hard to cut. What do you recommend to cut the pad? What are the best kind of scissors to use? Thank you!"

A:

My husband used a utility knife to cut the pad. He put a large piece of cardboard underneath the area he was cutting in order to protect the floor. You have to be careful.

A:

I just used a regular metal scissors. It wasn't that hard at all.

A:

I used a regular metal scissors, with no problems.

A:

Definitely not scissors unless you have fingers like the hulk. As Yolanda said maybe a utility knife. I used a carpet knife (for a clean cut) that I got from ****. I also used heavy cardboard under it but also cut in in my driveway to be on the safe side.

A:

I didn't find any difficulty cutting the pad with a regular scissor at all. It just took some time since I had to cut across an 8' distance of the pad. Absolutely, love the pad. My rug feels so soft with the pad and doesn't budge at all! The only thing I didn't like much about the pad was the odd smell to the pad initially, however, the smell is now gone.

A:

I bought two large pads to cut into smaller pieces for a total of six rugs. It was a LOT of cutting! For a small amount of trimming a sharp pair of scissors would have sufficed but my hand was wearing out. I ended up using a large rotary cutter with a self healing mat underneath. It was fast and easy. Can purchase on *****. Search for Fiskars Rotary cutter, look for 45 mm blade size or better yet 60 mm. Contour handle is the best.

A:

Adult sized multi-purpose scissors cut the pad. Regular 'paper scissors' would be difficult as the pad is textured (felt) with a rubbery coating.

A:

I used a pair of heavy duty sewing scissors. They were new, very sharp, and I didn't have to worry about accidentally slicing into the surface underneath.They worked well but I can see where someone with older hands or arthritis might find the pad hard to cut. In that case, a utility knife (as suggested below) would be the best.

A:

I used a utility Knife to cut it and I had no problems,

A:

I used regular household scissors. Took a little effort - but not too hard. Utility knife would probably go a little quicker.

A:

I didn't cut mine but I do know several people who used a "utility knife" to cut their pads.

A:

I actually used regular scissors and didn't have an issue at all. They're great rug pads!

A:

We used plain scissors too and they worked just fine.

A:

I used regular kitchen scissors, and had no problems at all. I cut 3 separate pads (8x10, 6x9, 5x8) approx. 1/2"- 3/4" off 2 sides of each. The pads are about 1/2" thick so you have to go slow but good scissors is all you need. The pads are fantastic, and worth the 5 min. of cutting time. I was glad they were generous with their product sizes, and not skimpy.

A:

I used kitchen shears. The cut was not even (read: zigzag) and I worked up a sweat.

Read more Read less

Q:

"Can this be put on Marble floors under a rug?"

A:

This is suitable for all floors.

A:

Yes. The pad has enough texture that it won'T slide.

Read more Read less

Q:

"Is the rubber/latex safe for all hardwood floors?"

A:

Hello Blu, this rug pad has been tested on Mohawk flooring (hardwood, laminate, carpet, tile) only. You should check with your flooring manufacturer to verify that this rug pad can be used if you do not have Mohawk flooring. Have a great day!

Q:

"I am very interested in this rug pad. It appears there are a lot of positive comments about the quality. I'm a little concerned; however, about some of the comments indicating this rug pad has a bad smell. Does it?"

A:

I now have 4 of these pads in my home. There was a barely discernible odor when I took it out of the bag which dissipated quickly once it was in place. Once my rugs were in place, there has been no problem with odor. This is an excellent rug pad. You won't go wrong with it.

A:

I bought 4 of these pads and none of them had a bad smell. I have a very sharp nose so I would definitely have noticed it if they had.

A:

I got one in mid-February despite seeing a review about the smell--and it had a terrible smell when I opened its package. Overstock was very good about sending me a return label quickly so I could return it but they sent out a replacement which also had a very bad smell. I'm not sure I want to go through the return process again so am airing mine out. It has been over a week now and the odor can still fill a room. Otherwise it is really is a great quality rug pad.

A:

I purchased 4 of these pads in various sizes over the course of 3 months. When the heavy plastic shipping cover was opened there was the typical odor of packaged product but it dissipated once the pad was rolled out. I could not beat the quality/price local or on-line.

A:

Good pad...I do not smell any thing...I would purchase another one.

Read more Read less

Q:

"My designer just told me not to put the rubber side down on my hardwood floors. She said it could damage my floors. Is this true? Should I put felt side down?"

A:

Hello AnnyAshb, this rug pad shouldn't harm hardwood floors. However, we do recommend that you occasionally re-position the pad to avoid any potential discoloration. We hope this information has been helpful. Thank you for shopping with us!

Q:

"Hi I am looking to buy this rug pad for a room that has a cold floor. Can you provide me with the density of this pad and and the thickness of this pad? Thanks!"

A:

Hello rverrone, thank you for your inquiry. Unfortunately, the information you have requested is currently unavailable. You will receive an email notification once an answer is posted. Have a great day.

Q:

"This pad is listed a "natural rubber" and " synthetic rubber." a very big difference between them. It's one or the other. What is it really? natural or synthetic rubber? Thanks."

A:

Hello sacredspace9, this is all-natural rubber/latex. Have a great day!

Q:

"What rug is shown in this photo?"

A:

Hello John D., we currently do not sell the rug shown. Thank you for shopping with us!

Q:

"we purchased an area rug from you and have it on hard wood floors, We like the rug but it is thin and isn't laying flat due to being rolled up for shipment. thinking of putting a pad under it for comfort and to smooth it out, your thoughts?"

A:

Hello Janis, we always recommend investing in a rug pad for any area rug that is sold. Depending on where you are putting the rug and what type of flooring you have, may determine the kind of rug pad you may need. So, do a little research, so you can enjoy your rug and maintain your floor or carpeting. Have a great day.

Q:

"I purchase a rug which turned out to be thinner than expected. It won't lay flat and has some wrinkles in it even though I've had it spread out for months. Will this pad help with the wrinkles and keep the rug flat? Will it add some comfort to the thin rug or should I think about buying a new rug?"

A:

Hello Libbyler, this will be perfect for keeping your rug smooth and making it softer underfoot. Thanks for shopping with us!

Q:

"I am looking for a rug that doesn't have rubber backing as cats will pee on it. I also have hardwood floors and don't want anything that will scratch them. Help please!"

A:

Hello 2091, we offer a great variety of cotton backing rugs. Please provide additional details so we may better assist you in searching. Thank you for shopping with us.

Q:

"We are looking for pads to go under new area rugs. Which do you recommend for use on polished concrete floors? Supreme felt dual surface rug pads or the Safavieh Ultra Non-Slip rug pads? Thanks in advance for your help. Marsha"

A:

Hello seeker, either item will create resistance for slipping. I personally prefer Safavieh Ultra Non-Slip rug pads. Thank you for shopping with us.

Q:

"I am confused on what material this pad is made of. I do not want the pad to damage the hardwood floor. See the description on Overstock below: Materials: 100-percent recycled synthetic fiber and all-natural rubber/latex Can be trimmed with scissors to fit your rug Materials: Polypropylene, synthetic rubber Prevents bunching and slipping Ideal for use on carpet and hard surfaces Cushioning adds comfort Dimensions: 8 feet wide x 10 feet long Pad is 27 ounces per square yard and .25 inches thick"

A:

Hello mlbfan, We apologize for the confusion. The pad is constructed of 100-percent recycled synthetic fiber with an all-natural rubber/latex backing. The rubber side should be placed down against the floor to prevent slipping on smooth surfaces. Thank you for shopping with us.

A:

Hello 11111111, yes this is odor free. Please let us know if you have any further questions.

Q:

"Hello we have just sent the carpet in for cleaning ( lots of dog pee!!!) How do we clean / wash the underpads Thanks , Judy"

A:

Hello toodles9819, the rug pad should be spot cleaned with a solution of mild detergent and water or cleaned professionally. Do not machine wash. Thank you for shopping with us!

Q:

"Will this rug pad discolor hardwood floors? We've used it on tile without any issue, but I'm nervous on newly finished floors."

A:

Hello cp1976, we appreciate your inquiry. This rug pad shouldn't discolor hardwood floors. However, we do recommend that you occasionally re-position the pad to avoid any potential discoloration. We hope this information has been helpful. Thank you for shopping with us!

Q:

"What is the difference between this product ( the supreme) and the superior rug pad? Both can be used on hard wood floors, prevents bunching and slippage. And both provide padding. Is one thicker?"

A:

Hello Jen101, I do apologize, I am not able to compare this item without an Item number to product you are referring to. Thank you for shopping with us.
Shopping Tips & Inspiration
Shipping & Returns
Shipping:
Usually leaves our warehouse in 1-2 business days. *
Standard Return Policy:
Items must be returned in new or unused condition and contain all original materials included with the shipment. More Details
FINAL SALE EXCLUSION: Items marked as FINAL SALE are not returnable unless the problem you experience is the result of our error.
Shipping Information:
Our standard shipping method is ground shipping. We also offer expedited shipping for most items. Your final shipping cost and estimated delivery timeframe will be available at checkout.
Standard shipping details
Expedited shipping details
For your protection, all orders are screened for security purposes. If your order is selected for review, our Loss Prevention Team may contact you by phone or email. There may be a two business day delay to process your order.
** Most Oversize orders are delivered within 1-4 weeks. Some orders may take 6 weeks to be delivered.