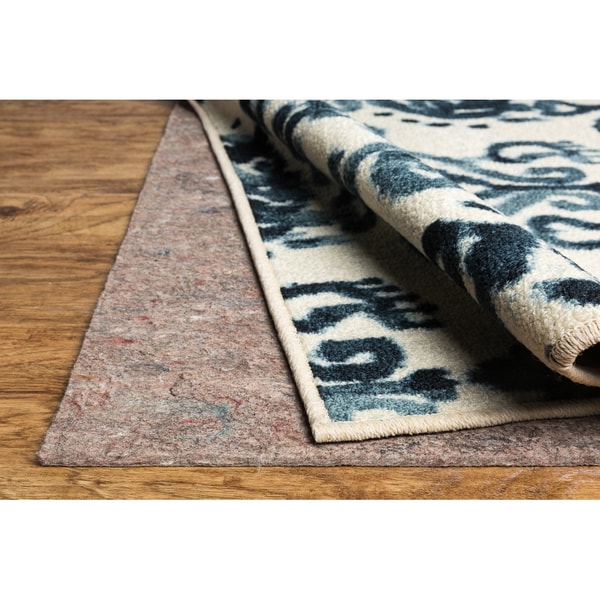 Easy to size and holds rug in place.
...
Mohawk Home Non-slip Dual Surface Felted Rug Pad (5' x 8')
by Mohawk Home
Details
ITEM#: 13457616
Protect floors and rugs alike with the utilization of this non-slip dual surface rug pad. The unique combination of synthetic fiber and natural rubber prevents against bunching, slipping, and scratching to keep your floors at top condition through years beneath your favorite rug.

Features:

Made of recycled synthetic fiber, natural rubber/latex
Dual-surface design: one side rubber, the other felt
Reduces bunching and slipping
Provides cushioning underfoot
Can be trimmed to fit your rug
Dimensions: 5 feet wide x 8 feet long
Specs
Features

Material
Felt, Synthetic
Feature
Contains Latex
Product Features
Non Skid Backing
Rug Pad Type
Dual Surface, Non-Slip
Shape
Rectangle
| | |
| --- | --- |
| Dimensions | 5 feet wide x 8 feet long |
| Warranty | Limited Lifetime |
| Model Number | DR002 999 EC 060096 |
| Country of Origin | United States |

Most Recent

I've been happy so far with this rug pad. I had purchased it to cover a light cord that has to run from the wall outlet to where the couch sits, about 5' away. I had hoped this was thick enough to hide the outline of the plug, but it doesn't quite do the trick. However, this isn't necessarily a flaw in the pad, since something like that isn't what it's made to do! It is soft and keeps my rug from slipping around. In fact, lying on that rug has become my dog's favorite place to nap!

Read More
Most Helpful

Perfect Rug Pad!

This rug pad is Exactly what I was looking for. The size is Perfect..it fits underneath my 5X7 rug with a 1 inch rug overlap. PERFECT! It keeps the rug solidly in place and gives it a wonderful extra cushion. This is a very old persian rug that has lost some cushion and this pad makes it a joy to my feet once again!

Read More

Superior versus Supreme rug pads

I had purchased both the superior and supreme rugs pads, both arrived about the same time and I was totally surprised at how thin the superior rug pad was compared to the Supreme. The Supreme it so much nicer and thicker and I would definitely rate this a 10! I will be ordering another Supreme and sending back the Superior pad. It gets so confusing with all the ratings but I have seen it for myself. Supreme outranks Superior!

Read More

A very good pad for my area rug.

The rug pad was rolled nicely for shipping and I had no trouble with it laying flat on the floor. The thickness of it makes the area rug very soft to walk on, but it would be too thick near a door. I bought a second one to put under the matching runner in the entry hall and the door doesn't clear the height. I wanted the area rug to overlap the pad so it needed to be trimmed a little and that was easy. I used a yardstick to measure and mark the cut line; then put a 2x4 under the pad so I wouldn't accidently "cut" my hardwood floor. A carpet knife made quick work of the edge that had to be cut. I would not recommend scissors for the job.

Read More

Buy This Rug Pad

We recently had all our hardwood floors restored and bought these rug pads for our existing rugs. The pads are thick and non slip. Slightly oversized and easy to cut down with household scissors. We are very pleased with our purchase.

Read More

great pad

This is definitly the best pad for hardwood or tile flooring. I have tried others and they were too thin or would slide. This pad stays where put & has a nice depth too it. It can make an indoor/outdoor rug feel more expensive.

Read More
Q:

"Is this safe for laminate floors?"

A:

I have it on a tile floor. One side is rubberized and other is felt feeling. I don't see why you would have any problem.

A:

Yes I've had this type of rug pad for years on hardwood floors should work equally as well on laminate as they both have a polyurethane finish

A:

Absolutely. I have mine on a laminate floor.

A:

I have no idea. This item went all the way from the East coast to the West coast and came within miles from where I live and then got returned to the sender because Overstock told the sender that I changed my address and did not have another one to provide. The customer service I received while trying to resolve this was so bad that I decided never to do business with Overstock again.

A:

I use this rug pad on laminate floors and have not had any issues with it.

A:

I've had it down on my Pergo laminate for 6-7 months with no issues at all. Just remember, if something liquid spills on rug, check the pad underneath as it is not waterproof. If there is a spill, I suggest putting something waterproof under the pad to protect the laminate while rug and pad dry.

A:

I have it on a laminate floor for about 6 months is doing good

A:

I used this pad on laminate over 2 years with no issues.

A:

It has a rubberized mesh on one side, so it will grip. Depending on the type of laminate (textured, etc) it could be slightly more slippery than hardwood, but not a hazard by any means. I have mine on textured laminate, and it is fine.

A:

I use the rug on laminate floors in my family room with a non slip rug pad. Looks great and is definitely safe with the rug pad.

A:

Should be fine on laminate floors. Our pad is on smooth tile and it stays put when walking on it or vacuuming the rug.

A:

I've had this on my laminate bedroom floor for about a month. I have absolutely no problem with it...no discoloration , no residue, no stickiness etc. .It does make the area rug feel more plush and luxurious underfoot.

A:

I've used these for years without problem on laminate floors.

Read more

Read less

Q:

"Will this pad work between your carpeting & a throw rug? It seems like most people have laminate, hardwood or tile. "

A:

No smell for mine. Works great too!

A:

Yes! I have it under a 5' x 8' throw rug over carpeting in my family room. Since putting the pad under the rug it hasn't moved at all. Great product!

A:

Yes, it will easily work on carpet.

A:

We used this on hardwood. If you have carpeting under with good padding, you may not need this thick of a pad.

A:

I think that it would work great at keeping the rug in place on your carpet and make it softer. My pad is over a laminate flooring and the pad keeps the rug in place and makes it feel even softer with this item while protecting your floor. So I would imagine that it would keep your carpet cleaner and have less wear. I would highly recommend this product!!

A:

Yes, you can use it between carpeting and the rug. It helps keep it in place, makes it much more soft to walk on and extends the life of the rug.

Read more

Read less

Q:

"Does the latex give off a rubber smell?"

A:

tHERE IS NO SMELL AND IT KEEPS MY Overstock carpet in place on hardwood floor.

A:

Had a slightly unusual smell when first opened, that dissipated within hours and no other smell since. You

A:

No latex smell from the pad I received. Very nice feel under rug.

A:

No the pad doesn't have a smell. It's a very good quality pad you won't be disappointed.

A:

No latex smell from the pad we received. Made our area rug soft under our feed and helped absorb noise. Janine

A:

No. It did not. smell like rubber.

A:

No. We have not experienced any issues with the latex material having an unpleasant scent.

Read more

Read less

Q:

"Is this safe for hardwood floors?"

A:

I've used it for a year on my hardwood with no problems or damage.

A:

Yes, I use it and ti is great on my hardwood.

A:

I have had this item on my hardwood floors for several months. No problems whatsoever. Does not stick to the point that it leaves any residue or markings. Very happy with the pad and have purchased it for my daughter to use in her apartment.

A:

Yes! I have it on my hardwood and have had no issues.

A:

Oh yes....I have several of these throughout my home...all hardwood.

A:

I have mine on tile but I can't see any reason why not. I think it'd work just great on hardwood.

A:

Yes. We would suggest using with a rug pad.

A:

We have had the pad for about six months now and have had no problems and like the feel f the carpet over the pad. Nice and comfortable to walk on. DJ

A:

yes l have had it on my hard wood floors for over a year and they are fine.

A:

Yes! I use this on hardwood floors, and it doesn't stick or peel.

A:

Yes. Leaves no marks. However, I used this product for 3X11 foot runners and they did not keep either the rug in place on the padding or on the flooring. I had to purchase the non felt type, which is also safe for hardwood floors but, was an added expense that I wasn't prepared for. So, before cutting you may want to first check to see if you have the same problem with slipping.

Read more

Read less

Q:

"I don't really know, but the bottom side is a rubbery finish and the top side is a very rough felt like material. I use it on tile."

A:

About the luxury plank flooring, my pad with rug is on bamboo hardwood floor and been there for several months. Everything about it seems to be doing well. It's my family room and so happy it no longer slips.

A:

I'm afraid I can't speak to plank flooring as I have mind on engineered hardwood floors. Can't imagine they would be a problem with the protective coating on the luxury planks I looked at but can't say for sure. It is a great carpet pad! I have two, one for living room and one for rug under piano. No problems.

A:

My pad is on wood flooring. I love the way it holds on to my rug and adds extra padding as well. I shift the rug with the padding every month to ensure even wear and tear. No problem at all with the pad sticking to my floors, discoloration, etc. its a lovely pad.

A:

felt side goes under your rug with the rubbery side to the floor

Read more

Read less

Q:

"Is this pad safe for luxury vinyl plank flooring?"

A:

That's what we have our multiple pads on and haven't noticed any issues.

A:

Not appropriate for vinyl plank made to pad and keep rugs from slipping.

A:

I have 3 of them on my floors and they leave no marks, scratches, scuffs, etc. There a fantastic purchase.

A:

Yes. I have one on hardwood flooring and a parquet flooring

A:

Using on laminate with no issues whatsoever - great pad!

A:

I have mine on bamboo flooring.

A:

I have no idea, my pad is on hardwood floors. C.M.

Read more

Read less

A:

It is approximately 1/4 " thick. It performs perfectly and does a great job of keeping area rug in place and adding cushioning to it as well ! I found it to be slightly larger than 5' x 8' (by about an inch or so), but it is very easy to trim with decent scissors. You won't regret this purchase!

Q:

"If used under a runner, does the runner slide around over the top of the pad? I currently have a pad that is smaller than the runner using it on hardwood and I have to constantly re-position the runner as it moves over the pad."

A:

Sorry but I don't know how this would work under a runner. Mine is under a large rug and it doesn't move around.

A:

I find some slippage with this pad and in general, I just don't like it. It is not a true "no move" pad, and the side that goes on the floor is a rubbery material. I would not have purchased it had I known the floor side was rubbery. I had the backing come off another rug and stick to my hardwood flooring like concrete.

A:

My runner moves less on the pad then it did on the wood alone but it still moves more than I would like. I'm looking for a solution to try and make the rug slip even less or not st all.

A:

It does not move, I have this pad under a runner on ceramic tile & it stays in place perfectly. Cindy

A:

I have this pad under my hallway runner and it stays put despite the heavy foot traffic.

A:

I am very frustrated about this purchase. This pad does not work for me. I use it, t rubber side down, over hardwood floors, under an 8X10 carpet and over two 3X11 runners and they DO NOT prevent slipping either on the floor or from the carpet. It's been a constant battle. I would have returned them but I cut them to size before trying them. ( a very expensive mistake) I've now bought just a flat rubber padding to try. I hope I can give it a better recommendation.

A:

I have not used it with a runner but I have 2 rugs in my kitchen on top of hardwood floors. I put the pad rubber side down. The pad stays in place but the rug moves around on top of the pad like crazy. It is very annoying as I am constantly straightening it out. This weekend I am going to flip the pad over and see if it helps. :-)

A:

I have not had that problem. Perhaps you could try to reverse the side facing down? That might work.

A:

Yes, the runners move around on top of the pads. I even turned them over so the "sticky side" was under the runner and this worked better, but they still don't stay in place, I think these will work best under heavy carpets and when heavy furniture is also on top of them. They feel good, but I do wish they would stay in place. We're thinking of perhaps sewing the carpet and pad together in some way. They'll probably still move but at least the pad will not show under the runner.

Read more

Read less

Q:

"Is the felted side supposed to feel scratchy to the touch?"

A:

yes, the scratchy part helps the rugs adhere to the pad so they don't slip.

A:

The rubber side should be on the hardwood the scratch side up the runner or carpet on top of that. Tha scratchy side will grip the backing of the rug keeping it from sliding around.

A:

Yes it needs to be that way so the rug will stay in place.

A:

Yes, a bit. I have the rubber side down (on the floor) and the felted side is top with the rug on it. I do think it helps to hold the rug in place but some people switch the sides out depending on the flooring. I have carpet in one room and polished cement in another and I use the pad the same way.

Read more

Read less

Q:

"Having just read a review à bout the rubber layer being on top, please, since the pics show wool like side up, which is it? My rugs just arrived and I want to have them down the correct way. I will mention, although not sure of which, either my rugs or my padding is cauding my eyes to water and burn although they did not affect my husband at all. So, do like I am, air out, because if using in a little one's room or in some geriatrics, the may not be able to tell you. This appears to he a very substantial rug pad"

A:

I believe it depends on whether you're putting the rug down on hard floors or carpet. I put mine rubber side down on hardwood floors (as shown in the pics) and it worked great. Flip it over rubber side up on carpet.

A:

I have this pad under two rugs from Overstock. It's a great, thick, substantial pad. I have rubber side down and felt side up on a vinyl floor surface. I've had no slippage, no rolling of rug edges. The rugs lay perfectly flat. I had to cut both rug pads to size and that was a big job but worth it in the end. I have my pads between 1 and 2 inches smaller all around the edges of the rug. I think this helps my rugs stay flat.

Read more

Read less

Q:

"Does it have a rubber backing?"

A:

Hi Sharon The base of this pad is rubber. I purchased several for my home for use over hardwood floors.

A:

Yes. The pad has rubber backing. I love mine. I have it on hardwood flooring. It gives a lot of cushioning to my rug.

A:

Yes, the backing is rubber.

A:

Yes - it is a great pad. I have it on hardwood and it is very protective/thick/nonslip.

Read more

Read less

Q:

"Can this pad be used on a vinyl floor? I want to cover my old vinyl tile floor with area rugs, but want to ensure that the rugs won't slip. Apparently some rug pads shouldn't be used on top of vinyl. Thank you!"

A:

I am using it on ceramic tile floor and it does not slip. I am not sure of vinyl though. It works great on the ceramic tile.

A:

I'm using it on tile...doesn't seem like it would slip but I don't have vinyl.

A:

Works great on a hardwood floor but can't answer for a vinyl floor

A:

Yes it can be used on vinyl as well as on another rug or ceramic tile. I love mine and haven't needed to adjust the rug at all. The pad is thick enough to make the rug feel luxurious. I did have to trim the pad about 2 inches on two sides to fit perfectly without showing.

A:

I have this pad under two different rugs on a vinyl floor. Works perfect. No slipping at all. I have the rubber side down.

A:

Yes, it can be used on vinyl. The details section for this pad lists the floor surfaces, including vinyl. A good section to read is the Tips & Inspiration. Very informative re. sizing, trimming, floor surfaces, and more. Elaine R.

Read more

Read less

Q:

"Is this rug available in 8 x 10 or 9 x 11? Thank you. Dianne D."

Q:

"I have 2 runners, 2.3'x6' in size. You don't offer anything that size so I purchased a 5x8 which I was going to cut down the middle. Will the pad still be effective if I do this? I dont see why not since the entire pad is made the same. Thank you!"

A:

Yes you can cut this to any size you like.

Q:

"Will this rug pad damage hardwood floors?"

A:

I have had the pad for several months and there is no problem so far.

A:

I have oak parquet floors and it looks fine, and feels soooo good.

Read more

Read less

Q:

"I have berber carpet- ( ugly)I purchased an area rug for color and variety. Will this pad hold the area rug to the berber carpet? There will not be heavy furniture anchoring it. Thank you"

A:

Hello deanna, this rug pad is a great option. You may also consider ITEM#: 16685917 or ITEM#: 925705 for added grip. I hope this info helps. Thanks for shopping with us!

Q:

"How thick is the pile on this rug pad?"

A:

Hello happy shopper, it sits at an approximate 0.35 inches. Thank you for shopping with us!

Q:

"My husband is paralyzed but transfers himself out of bed onto the floor. I need a pad that will not slip under his feet.. It would be throw rug over carpet."

A:

Hello youswim, this pad will work well for you. Thanks for shopping with us!

Q:

"Is this rug pad appropriate for use on concrete floors?"

A:

Hello seeker, yes, this will work on concrete floors. Thank you for shopping with us!

Q:

"Sorry if the question is not product related. How can I find the rug in the picture?"

A:

Hello Maryam, I'm sorry this is just a photo prop. We do not have any information on this. Have a great day.
Shopping Tips & Inspiration
Shipping & Returns
Contact Information
Shipping:
Usually leaves our warehouse in 1-2 business days. *
Shipping Information:
Our standard shipping method is ground shipping. We also offer expedited shipping for most items. Your final shipping cost and estimated delivery timeframe will be available at checkout.
Standard shipping details
Expedited shipping details
Standard Return Policy:
Items must be returned in new or unused condition and contain all original materials included with the shipment. More Details
FINAL SALE EXCLUSION: Items marked as FINAL SALE are not returnable unless the problem you experience is the result of our error.
For your protection, all orders are screened for security purposes. If your order is selected for review, our Loss Prevention Team may contact you by phone or email. There may be a two business day delay to process your order.
** Most Oversize orders are delivered within 1-4 weeks. Some orders may take 6 weeks to be delivered.