Milliard Folding Bed Ottoman Single Size with Grey Suede Cover, Guest Hideaway 30x78" Bed, Dual Use, No Assembly Required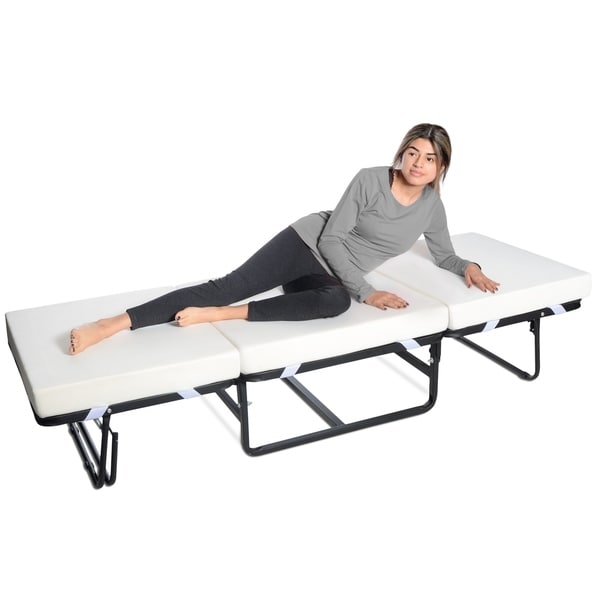 Product Information
Details
<b>Dual Use<br></b>
Short on storage space? Designed to be used while being stored, the Milliard Ottoman Folding Bed is never in the way. A comfortable place to rest your legs transforms into a restful bed to host your guests in a matter of seconds. Simply remove the cover and unfold. At 16 inches, the ottoman is an ideal coffee table height and the grey, suede-look cover compliments almost any décor so you can keep this bed handy in anywhere in your home.
<p>
<b>Durable Construction</b><br>
The Milliard Ottoman Folding Bed is constructed of high quality materials from bottom up, beginning with a durable frame made of steel tubing that lasts. Our unique wire-latticed platform has minimal flex to keep your back well supported and eliminate that sinking feeling. The mattress is made of CertiPUR-US® certified foam with an IFD of 32 for longevity, and each section is encased in a washable and removable zippered cover. The entire construction is overbuilt and counter-weighted to support a 200 lb. weight capacity and a much longer service life than comparable designs.
<p><b>
Comfort and Support<br></b>
Too many folding beds have flimsy, uncomfortable mattresses that provide no support. We understand that you are looking for more. That's why we designed the Milliard Folding Bed with a medium-firm foam mattress that is soft enough to feel airy and light under heavy points of contact, but firm enough to maintain a straight sleeping posture for back or side-sleepers. The bed's head easily lifts into a chaise lounge position for reading, watching TV or to ease congestion. As an ottoman, its super comfortable as an extra seat or under your feet.
<p><b>
Packaging<br></b>
Nothing sours a purchase like receiving a damaged product right out of the box. That's why we use sturdy boxes with reinforced corners for the Milliard Ottoman Folding Beds. We also added a disposable protective slip cover over the zippered covers on each mattress to protect them from getting dirty in transit. We can't adjust your package handler, but we can make our packaging more durable. Each folding bed arrives in a 30 x 30 x 17.75" durable box. The folding bed is ready for use right of the box, no assembly required!
Assembly Required
Country of Origin: China
Item #: 30804637
Specifications
Assembly
Assembly Required