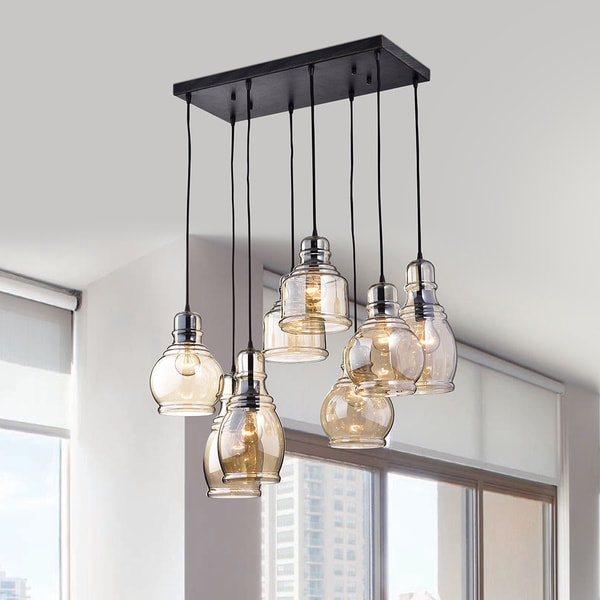 What an awesome makeover to my kitchen by adding this awesome light!! You can hang at any length you want making it super flexible too!
...
Mariana 8-Light Cognac Glass Cluster Pendant in Antique Black Finish
by The Lighting Store
Details
ITEM#: 18050467
Dangling a handsome cluster of eight lights in light brown cognac glass shades, this stylish pendant from The Lighting Store is a thoroughly modern method for illuminating your home. The shades are mismatched shapes and sizes for a charmingly eccentric effect, and the metal features an antique black finish that will match virtually any decor.
Features:
8 hanging cluster lights
Antique black fixture finish
Light brown cognac glass shades
Made of iron and glass
For indoor settings
Requires hardwired assembly
Takes eight E26 100 Watt bulbs (not included)
Dimensions:
Fixture is 24.6 inches long x 13.4 inches wide x 26.5 inches high
Shade type 1 is 5.9 inches wide x 7.5 inches high
Shade type 2 is 5.9 inches wide x 11.8 inches high
Shade type 3 is 6.5 inches wide x 9.1 inches high
Ceiling cap is 20.3 inches long x 9 inches wide x 1 inch high
This fixture does need to be hard wired. Assembly is required. Professional installation is recommended.
Specs
Features
Style
Modern
Material
Glass, Iron, Metal
Finish
Antique, Black Finish
Shade Material
Colored Glass
Switch Type
Hardwired
Bulb Wattage
100 W
Ceiling Light Fixture Type
Pendant
Height
23 in or more
Light Bulb Type
Halogen
Light Direction
Downlight
Lighting Finish
Black
Lighting Style
Contemporary
Lighting Type
Chandeliers
Number of Lights
8 Lights
Product Features
UL Listed
Width
18 in to 36 in
| | |
| --- | --- |
| Dimensions | See description |
| Model Number | L369-KL-654 |
| Country of Origin | China |



Most Recent

What an awesome makeover to my kitchen by adding this awesome light!! You can hang at any length you want making it super flexible too!

Read More

Stunningly beautiful drop lights

These Stunningly beautiful drop lights have added so much warmth and new look to my dining room. They are so awesome over my new pub table that I also ordered from overstock.com.

Read More

This chandelier is so pretty and it is dimable so great for cost dinner parties. I have had so many tell me how much they like it!

Read More

Needs a diagram of how to attached lights in the order shown. Also bulbs requested are impossible to find

Read More
Most Helpful

Nice, but presents challanges

Nice looking fixture. Sort of an industrial look that has some elegance. Glad it's up. Glad we picked this style. As far as getting it up...you decide. Some say it is a little large. Didn't they notice there are 8 bulbs, each in their own globe? Some say it is too bright. Did I mention 8 bulbs? Expect to use a dimmer. Some say it is difficult to install. If only some said that, then the others must have used an electrician (and pity the poor electrician!). Help is definitely recommended. Best with two people on two ladders. So much for opinion, here are some facts (and yet more opinions): My first shipment did have a couple of globes damaged even though the packing was very well done. The replacement was fine and once out of the packing the globes had an additional padding around them to help from damage when putting up (the first were just plastic wrapped inside their styrofoam holder. Globes are cross between being lightly smoke tinted and iridescent, not crystal clear. Globes have sockets and wires attached, but you will have to route the 8 sets of wires into the base and then make all the globe electrical connections together to a supplied pigtail leader. Each globe's pair of wires (black and white) is set inside another thicker insulator. This insulator then has a woven decorative fabric sheathing over it. Wires/sheathing are long, great for setting long heights of the globes, but the sheathing on the wires is very difficult to remove without risking damage to the embedded black/white wires, so you really should avoid attempting to trim the overall wire length. This means you will have quite a bit of extra wiring to hide under the base plate. You will need to have adjacent globes at varying heights (as they show in pictures). Globes adjacent to each other at the same height would not have enough spacing between them. They said it can be mounted on a slope ceiling, but that makes the spacing even closer and varied heights between each globe would have to be more than shown in the pictures (if even possible with the length of cord) BEFORE THREADING THE WIRES INTO THE BASE...I recommend having someone hold a globe by its wire next to the ceiling to determine your desired max length of the lowest globe(s) (bottom edge) and highest max height. If at all possible I would place the base length wise on top of something like a 2x4 that is supported across the top of two high back chairs (I used a window sill and table of equal height) and clamp the base to the board (protecting the base with cloth). I would then determine arrangement of globes in the base and route only a little length of each wire into the base first. With the elevated base on the board you can now easily adjust the height of the lowest globe(s) and then the others, without everything swinging around and hitting each other, before lifting anything in place. You do NOT want to have to adjust once the base is mounted to ceiling. Since it is likely that you will have an abundance of excess wiring to be hidden under the base, you might want to consider zip-tie/tape the wires in a coil. I grouped the 4 at one together and wired them together to a pigtail, and then the 4 at the other end. This would require you having suitable wire on hand to make an extra pigtail. Worked ok, maybe grouping and looping all of them together might have been better, don't know, but grouping and zip-tie better than all loose wires sneaking out all over. Two people would be best raising, making final electrical connection, find the mounting holes, tucking the wires under the base and keeping things from swinging. CAUTIONARY NOTES: * The inserts in the base have a metal core. Mine had a few with a metal burr that snagged the sheathing enough to rough up the weave, not a problem going in the base, but would be seen if pulled back out to lower the globe. * The mounting plate, that mounts to the electrical box, is quite long. As others point out, the end of plate may sag and cause the base to not fit flush against ceiling when tightened (make sure all wires are tucked under base!). Because of this, note where your joists are. If the plate covers a joist, pre-mark their location on the plate before anything else. Should your base sag when mounting and it's near a joist/plate junction, remove and hold base (careful not to stress the wire connections) while your helper drills/screws in a sheetrock screw into the joist (don't over tighten and distort the base plate). If there is no joist near the sag, drill in a screw and then remove the screw and then remove base plate. Install one of the sheetrock E-Z Ancor Self Drilling Drywall Anchors into the screw hole you created, put plate back up and attached a screw at the sagging end through hole you created into the E-Z Ancor. Or just do it before even trying. In my experience, the socket/globe assembly (socket, extension bar running through top of globe with the wire in it, and conical nut on top of globe) are not sufficiently tight. As a result, when screwing in a bulb things will get twisted up (but be tightening somewhat…a good thing somewhat). If you try removing a bulb, things will untwist/unscrew…NOT a good thing). There is little space for fingers inside globe to try and hold socket and unscrew bulb. I am looking for a bulb thread "grease" to prevent stiction before screwing in my bulbs.

Read More

Absolutely love this light. Unique and beautiful. I gave it 4 stars because it had some missing parts, but other than that it was packed well. Keep the wrapping on until after install to keep the pendants from hitting each other.

Read More

We added this lighting to complete the modern look of our dining room and love it. We placed Edison light bulbs to complete the look as you can see the bulbs. It took 3 people 2 hours to put together. We had no idea what we were doing. If you have experience it should be easier.

Read More

Difficult to install. Need more than one person to hold fixture while wiring and securing it to the ceiling. The included wire nuts are difficult to attach, so I went up a size. I also used some tie wraps to organize the wires inside of the fixture, which hopefully also provide done stress relief on the connections.

Read More

Love the look of this pendant fixture, hard to put up but it is beautiful.. puts off a lot of heat so we ended up putting our light fixture on a dimmer switch.

Read More
Q:

"What is the longest the cords will go? We have 14' ceilings"

A:

We have 10' ceilings. The longest one only went 51" and the shortest one was 38 1/2" Had to add wiring because all wiring did not meet in center of cap. They really look nice but would not want them any shorter. We put these lights over the bar with 38 1/2" from longest light to counter and that was stretching to the max.

Q:

"The pictures makes the glass look more clear than brown - is the glass darker than it looks in the picture?"

A:

Yes, the glass is darker than it looks in the pictures.

A:

It's clear and amber in tone. It is not dark, although the picture makes it look almost clear.

A:

Yes, darker and a little more warm. If that make sense? I love this lighting fixture- I haven't had one person come through the home and not comment on how cool it was.

A:

I think Cognac is a good description of the color. It's a yellow brown. Not dark, but not as see through as the photo.

A:

I don't think it's much darker. Maybe an amber tone. The color of the bulbs will effect how dark they appear. I put iridescent candelabra bulbs instead of the Edison and it's lighter. This is a great fixture and the price is even better now. I would recommend but installation is a little tedious.

A:

Amber color (slightly yellow hue). Not clear

A:

Yes, the glass definitely has kind of a smokey hue to it.

A:

Depends on the picture. Look at picture, where it looks the lightest- this is it. Once you hang it , it will depend on how dark is your room, time of the day.

A:

Have an amber hue to them.

A:

The glass has a slight tint.

A:

No, it's not much darker! It IS a light brown.

A:

Yes, the glass is darker than it looks in the picture. It is golden in color. That, combined with using the filament lights, creates a very yellow/golden lighting effect. When I bought it, I was repainting the room. I didn't realize how "yellow" things would look, or I would have painted the walls in a different color. It's pretty, and muted, but definitely gives off a golden glow.

A:

Yes but I wouldn't say it dark, more like a tint but certainly not clear.

A:

The glass has a very faint amber tint and there is something in it that makes it look extra shiny. It is definitely not regular glass at any rate, but dark?, no not really. It think all the promotion photos are using real Edison bulbs, which have a very amber glow. We got LED Edison bulbs, which have their own issues and probably vary a lot from brand to brand. Think carefully about your choice of bulb. The bulb in a fixture like this is a big part of the ultimate effect.

A:

Yes, it's darker than its appears on the website. It's a beautiful amber tone.

A:

It almost has a yellowish smoked tint to it. I especially like it because it isn't opaque and it it's not clear which many scientists are saying clear blue light is not good for you.

Read more Read less

Q:

"How long are the adjustable rods? I have 12 ft ceilings and my current light fixture over my dining table is about 5 ft chain/rod with a 1.5ft tall fixture. Will this one work?"

A:

They are cables I don't know what length they are but if I had to guess more 3 foot length and the glass part 6- 10 inches

A:

they aren't rods they are heavy cords and you adjust them how you want them. I have 12 foot ceilings as well and it turned out great. we staggered them to different lengths

A:

They are electric wires not rods. The adjustable wires are 2.8 ft. Yes, this one will work.

A:

Mine is now installed (Beautiful fixture by the way) so I do not remember how long the cables were. They are not "rods" but electric cable that is easily trimmable. If you want to get back to your exact 5 feet, you will have to get the raw, untrimmed, cable length from the manufacturer. We have 9 foot ceilings and I had to trim quite a lot off to make them fit over our dining room table. As Julia K. wrote, the glass globes are quite long as well. And they throw a lot of light down. You may find that you can go even higher up than your current 5 feet, but I think it would look very nice on a taller ceiling. But that's just my opinion.

A:

They aren't rods, but cords. You won't have a problem the length. They are very long. You decide how long you want each globe to hang. Its a bit of a challenge, but definitely worth the effort!

A:

They are about 3 feet long. Adjustable.

A:

I think the cords were about 36" maybe a little longer. Some will need to be shorter since the lights hang at different lengths. I wouldn't recommend this for 12' ceilings. Our living room ceiling is 12' and I don't think the light will have long enough cords to look right. I would say 8'-10' ceiling height is best for this light fixture. We hung this on our 8' kitchen ceiling above an island (so it's higher than it would be hung over a table). The longest cord length we have one of our lights on is about 16", which means you would need a cord length of over 66" to hang at a reasonable height over your table. I'm quite sure they are not that long. Sorry, wish I could give you better news.

A:

I have vaulted celing - hung perfectly over table which is to one side of room [between 9-10 foot]. My electrician actually took apart another one and made three pendants for over my island. I had to buy longer cords for the vaulted area [14-16 feet]

Read more Read less

Q:

"can I use 25 watt bulbs in this light"

A:

25watt should be fine. I am using 40 watt just because I like more light. I've had no problem with 40watt.

A:

25 watt should work just fine, but I used the Edison retro LED bulbs in mine and the fixture looks stunning, really pops, and we receive constant compliments.

A:

yes, I think we have 25 in ours and it seems just right.

Read more Read less

Q:

"is it possible to use a lower wattage bulb? 100W seems to be very bright"

A:

If u r asking if 100w 4 each bulb and it takes 8 bulbs,YES! IT WILL BE REDICULOUS TO USE 100W!! I BOUGHT THIS AND USED EDISON ANTIQUE BULBS, 40W each....perfect lighting and the most awesome light fixture..everyone has said they r going to do this too and wished they had bought the same fixture! I am NOT easy to please..this product is the BOMB!!! I AM 65 YRS OLD...

A:

We installed a dimmer. Sometimes it is nice to have the brighter light

A:

You can use up to 100 watt but I put 25 and 40 watts in the fixture

A:

I put a mixture of 40w and 60 edison bulbs with the squirrel cage inside. Love this results!

A:

I used 60w but it is very bright. We have it on a dimmer.

A:

I installed 60W edison LED bulbs. Then I added a dimmer switch. Very nice effect and I can get BRIGHT or Low light. Best way to go.

Read more Read less

Q:

"Are the cords adjustable and can be installed at any height shorter than the cord?"

A:

Yes, they are adjustable to any desired length.

A:

Yes, adjust to any length. This light fixture is a show stopper. Take your time to adjust globes to your liking. If not done correctly it could look like a hot mess. I have mine on a dimmer switch and had an electrician install under my supervision.

A:

We have an older home and had to shorten them quite a bit due to our ceiling height. It still looks fantastic! The tricky part is dealing with the extra cord lengths because the plate is very shallow. We had to carefully remove the cord's casing (without cutting the wiring) to get it all to fit and have the plate fit flush with the ceiling. It's well worth the effort.

A:

I have not installed theone we bought, but the cord material seems compatible with that. I love the lightt A chandalier that does not look fussy.

A:

The cords are adjustable. You can make them any length. I varied the lengths of each light.

A:

To adjust you must cut and trim the cords to your desired length. I set the panel that attaches to the ceiling between two chairs. Then I used string to get the measurements from my ceiling to where I wanted the lights (I chose to go with various lengths so the globes are offset from each other. It took time to do it myself, but very happy with the results.

Read more Read less

Q:

"Can I order just one of the glass bulbs for replacement?"

A:

I had to call Overstock with a similar question as one of the individual lights in our fixture had something wrong with it and it kept blowing our breaker. Overstock replied after checking with the manufacturer that a replacement is being sent but it's been two weeks and per the tracking record nothing has left China yet. Not sure if you can order one, you may have to call as well but be prepared to wait!

Q:

"Can this be used on a vaulted ceiling?"

A:

No, this can't be used on a vaulted ceiling.

A:

I have mine installed on a vaulted ceiling and it's beautiful. I guess it depends on the angle.

Read more Read less

Q:

"Is there a trick to screwing and unscrewing the light bulbs? The whole globe unscrews every time I try to change the light bulb."

A:

I have to grip the base above the globe and screw in the lightbulb. I would recommend a 40 watt bulb or less because all the lights together is very bright.

A:

Hold the base of the light from the outside and above where the black cord enters the light and it will work. Use a gentle hand.

A:

These other answers are correct. We lowered all our wattages too because the light it very bright when finished. This is not an installation job for beginners, but the finished light is beautiful. Additionally, my husband installed a dimmer switch on wall.

A:

Yes, there is a trick to screwing and unscrewing the light bulbs. Please take the glass globe in your left hand, the bulbs will be unscrewed after screwing the light bulbs in a counterclockwise direction with your right hand.

A:

This is also a big problem with mine. I suggest using bulbs with brass threads as I think they "stick" less. If you can find LED bulbs you like, even better, so you don't have to unscrew so soon. I would then put a little WD40 on a rag and wipe the threads. As someone else mentioned, try holding the cord and cone shape nut on top of the globe while carefully screwing in the bulb until it just makes contact. Good luck when unscrewing

Read more Read less

Q:

"What are the lengths that each cord needs to be cut to match the picture?"

A:

The lengths of the eight pendants (from the ceiling to the bottom of the glass shade) that each cord needs to be cut to match the picture are 45 inches, 45 inches, 43.5 inches, 43.5 inches, 42.5 inches, 42.5 inches, 40.5 inches and 40.5 inches.

A:

I read another question that the cord is only 36''. I need to make sure the glass shades hang at least 48" from the ceiling i have 10' ceilings. Can you please confirm the maximum length on each cord?

Read more Read less

Q:

"What is the maximum possible length from the ceiling? Is it only the 24 inches it states or does it go lower?"

A:

The height from the top of the base to the bottom of the lowest glove is 36 inches. Hope this helps.

A:

The lengths of the eight pendants (from the ceiling to the bottom of the glass shade) are 45 inches, 45 inches, 43.5 inches, 43.5 inches, 42.5 inches, 42.5 inches, 40.5 inches and 40.5 inches. It's not only the 24 inches it states, it goes lower. The maximum length from the ceiling that it can go lower is 45 inches.

Read more Read less

Q:

"I have vaulted ceilings in both dining and foyer. Are they able to be adjusted?"

Q:

"Can LED lights be used with this light (Mariana 8-Light Cognac glass cluster)? I'd ideally prefer a light that takes LED Edison bulbs. Thank you."

A:

Yes we used LED bulbs, and you can also use dimmable if you're set up for it.

Q:

"I love the way the lamp looks in Overstock pictures, but in some of the other pictures the cords looked crooked, is there a way to make them look straight?, I know it sounds dumb but that really bothers me. Thank you!"

A:

The cords was packed as circle in the box, so it takes time to become straight, we can't make sure it will be straight immediately after hang.

A:

Mine are not crooked. They may not be perfect when hung but gravity pulls out any imperfections.

A:

The cords will straighten out shortly after hanging

A:

We hung it 2-3 months ago, and the cords are still not completely straight, but it doesn't take away from the fixture.

Read more Read less

Q:

"Can the glass globes be purchased separately?"

Q:

"Has anyone tried to adjust the cord length for the globes post install?"

A:

Yes but it has to be done before attaching the base plate to the screws. There are adjustment tightness on the inside of the base plate it isn't easy and it is a 2 person job

A:

Yes - by loosening the top plate - you can then pull the cord lengths and adjust

A:

I would not recommend going into the project with the thought that you can adjust it post installation. Make the effort to simulate it being hung (maybe supported across the back of 2 chairs) or held up by a couple of people. Once up, I would not want to attempt resizing lengths. Any need to adjust length properly would require the fixture to be removed.

Read more Read less

Q:

"Is this a 90 degree c supply conductor or a 60 degree c supply conductor? I can't seem to find the information and my house was wired pre-1985. Thank you!"

A:

This is a 105 degree c supply conductor, not 90 or 60.

Q:

"Could or would this fixture look good, and work on a cathedral (slanted) ceiling? "

A:

Yes, but it might not look the best. You would really need to plan out the lengths of each globe taking the slant into consideration

A:

This fixture would not look good and could not work on a cathedral (slanted) ceiling because the glass globes would easily hit each other.

Read more Read less

Q:

"Has anyone hung this lamp over a round dining table? How does it look?"

A:

This can be hung over a round dining table, but it would not look great. It would look nice if hanging it over a rectangular table.

A:

The base is just a metal pan with 8 holes. That's it, you you can recreate the base plate and make it round which would look fantastic. For instance get a metal round serving try at a discount store and drill the eight holes and the two extra to secure it.

Read more Read less

Q:

"Can this be used over an Island with an 8ft ceiling?? Can the cords be shortened?"

A:

The cords can be shortened, you'll just need to roll them up flat up against the ceiling compartment.

A:

Yes it can. Cords can be shortened.

A:

Probably. You can make the cords any length you want.

A:

Yes I put it over my island and I have 8 ft ceilings it looks amazing

A:

Do the glass shades come off as we broke ours installing them with glass on

Read more Read less
Shopping Tips & Inspiration
Shipping & Returns
Contact Information
Shipping:
Usually leaves our warehouse in 1-2 business days. *
Shipping Information:
Our standard shipping method is ground shipping. We also offer expedited shipping for most items. Your final shipping cost and estimated delivery timeframe will be available at checkout.
Standard shipping details
Expedited shipping details
Standard Return Policy:
Items must be returned in new or unused condition and contain all original materials included with the shipment. More Details
FINAL SALE EXCLUSION: Items marked as FINAL SALE are not returnable unless the problem you experience is the result of our error.
For your protection, all orders are screened for security purposes. If your order is selected for review, our Loss Prevention Team may contact you by phone or email. There may be a two business day delay to process your order.
** Most Oversize orders are delivered within 1-4 weeks. Some orders may take 6 weeks to be delivered.