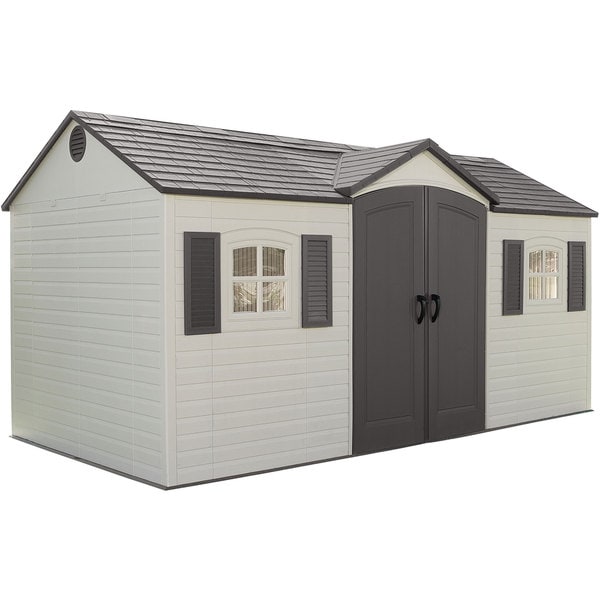 We love our new shed! Tons of room and looks great. It was a little time consuming putting it together but my husband finished it in a weekend.
...
This user earned $2.00 in rewards for writing this review.Learn More
Details
ITEM#: 12596279
Store outdoor items safely in this Lifetime shed. The side entry door makes accessing items in the shed simple and allows you to save space when aligning it against a fence. The traditional roof and window designs evoke classic home motifs and add charm to your yard, and skylights and windows provide the light you need to find items inside.

Features:
Safely store your garden items in this handsome shed from Lifetime
Give your property a clean look with the function of a side-entry shed
Reinforced with powdercoated steel, this shed will stand up to the weather year after year
Classic styling features faux slate shingles and faux wood siding
Gable vents
Two windows
Non-slip flooring and shelving
High-density plastic construction
Requires no annual maintenance
No painting
Shed measures 15 feet long x 8 feet wide

Sturdy, weather-resistant plastic meet old-world cottage charm in this adorable and functional garden shed. Add loads of useful storage to your outdoor spaces without sacrificing beauty. This large, lovely shed looks almost like a little guest house with windows on either side of the generous double doors, providing plenty of natural sunlight.

Click here to download the assembly instructions this item

Please note:Orders of 151 pounds or more will be shipped via Freight carrier and our Oversized Item Delivery/Return policy will apply.Please click here for more information.

Specs
Features
Material
Plastic
Color
Grey
Condition
New
Set Includes
1 Piece
| | |
| --- | --- |
| Dimensions | 96.0x180.0x96.0 |
| Warranty | 10 year Limited Manufacturer |
| Model Number | 6446 |
| Country of Origin | United States |

Most Recent

We love our new shed! Tons of room and looks great. It was a little time consuming putting it together but my husband finished it in a weekend.

Read More

Reviewed at http://www.lifetime.com/

Roof support over doors is to weak and sags on to the doors so the doors can not be opened. I notified Lifetime with no responce!!!

Read More

These two sheds had been a God send. If one has the space for sheds these are the ones to choose.First: I had to choose ones that were up to city code with all of the measurements;area speculations according to the yard and house size; and then we had to purchase the wood foundation, plus other materials to place the shed upon. My brother built these sheds and they took 3 days to totally install them by himself.They are very nice and very durable for our needs; they are much better than the ones that are rented from a rental unit if you have the space. We are very pleased with this purchase!

Read More

Made it through Hurricane Irma

Reviewed at http://www.lifetime.com/

We bought this shed maybe 5-7 years ago and love it. It actually just went though Hurricane Irma in the Florida Keys with no damage and we had a surge of over 4 ft. We lost many of our tools inside due to water damage but the shed stood strong!! We even had other peoples sheds and shed parts float onto our property, but ours did not budge. The winds in our area were around 100-120 mph....we were both amazed. Great product!!!

Read More

Good Product - Instruction Manual should be Improved

Reviewed at http://www.lifetime.com/

I bought this product in 2012. The only hiccup I ran into putting it together was the fact that the floor panel for the right door did not have a hole in it for the door hinge. The instruction manual should have had a better illustration for this particular panel. Other than that this is a Great product that hasn't given me any heartache since the beginning.

Read More
Most Helpful

Lifetime 8x15 Side-entry Shed

I must say I am very pleased with both the actual purchasing of this shed and its construction . . . the shipping was about 5 times faster than quoted- mere days from order placement! . . . there's lots of pieces and mostly all are well labeled, but do keep the construction manual handy justm in case . . . took about 2 hours to check the inventory and group the pieces prior to construction; a MUST-DO if you are to have a frustration-free and smooth construction . . . all told, it took about 8 hours, not counting the two prep hours, to completely finish construction including the shelves inside . . . this was over two days time as we lost the light on the first day . . . my 11yr old daughter and I laid the floor down easily-the sections interlock like flooring . . . by the time we finished the floor and got it as square to the foundation as possible, my 22 & 19 yrold sons were awake (finally!!) and joined us in the yard . . . the next step was to install the wall panels starting from the left of the door opening and continuing around until you reach the righthand side of the door opening. . . each panel has tabs on the bottom that correspond to openings along the floor perimeter and these tabs snap into said openings; at first it was a bit difficult to do , but by the 4-5th panel you should get the technique down and from then on you're only limited by how fast you can get wall panels to the worksite! . . . also, the panels overlap each other and are secured by 5 screws top to bottom, so even without the roof in place, the structure at that point ( once all panels are in place) is very sturdy . . . regarding the foundation and concerns about it being level, I hafta say that unless yours is so far outta level that you can see it from a short distance, minor unevenness can be overcome with little effort and no compromise to the structure . . . we used a modified slab style; an outer perimeter of concrete 2 feet wide, 18 inches deep, with a central 'spine' also 2 feet wide, running lengthwise . . . the voids were then filled with half-inch gravel . . . in hindsight I coulda used a bit more as the floor flexed a bit too much for my liking . . . I covered the floor, made of plastic, with half-inch plywood sheathing to combat the flex and to protect the surface as lawn/snow equipment is being stored in the shed . . . if you go with a solid slab you should not have any issue . . . roof construction went off without a hitch and proved to be very well executed as we've had some very hard, wind-driven rainfalls and nary a drop of water made it inside!! . . . the only 'problem' area here is when you are securing the roof peak sections, it was sometime hard to get the screw to 'catch', so make sure whoever is helping you with the rook peak is a) tall enough to reach em (yes we used a sladder but still!), b) have good arm/upper body strentgh as they hafta push down on the sections as you are driving the screws from underneath . . . in fact, I need to get a longer scre for one side of a peak sectionas I just couldnt get the supplied screw to reach thru and grab it; even without that screw- no water!! . . . the 'skylights' are merely somehat thinner pieces of plastic that, in comparison to the wall and roof sections, do let in a bit of 'light', but even on a full-sun day, you ain't readin' no books in there! . . . nice touch but I wonder if they can be improved/redesigned a bit too allow a useful amount of light in; plexi would be too brittle should a branch fall on it and Lexan may be too costly . . . the kit comes with shims to place under the floor should the doors not align to each other properly, but they are made of wood, not resin, so there may be a durabilty issue later on; strange they didnt make some solid plastic ones . . . . . I lucked out and did not need to use them; my doors are just a wee bit off but they swing free and you can't notice from a distance that the right is ever so slightlky higher than the left . . . all in all, fom order placement to delivery to construction, I give this a 5 star rating all the way; if you buy this, take the time to prep your site properly, inventory your parts, read thru the directions BEFORE you start . . . you'll have no problem and you'll have a great shed at at great price . . . remember - TAKE YOUR TIME and FOLLOW THE ORDER OF CONSTRUCTION . . . one last thing- this comes in 4 boxes of equal length strapped to a wooden pallett so make sure you have a place to drop them ready before the truck gets to your house . . .

Read More

Beautiful shed with pros and cons

The shed is beautiful. I even attached some flower boxes in front of each window. My neighbors keep asking me who's moving into it. The instructions are excellent in some places and could be better in others. I write instructions for HP, so this comment is from my professional as well as anecdotal experience. Once, I had to call about a procedure and was told that the figure of the door attachment was incorrect. However, with perseverance, you will figure things out. I built a foundation using ten foundation slabs (four along the front and back and two on each side). The instructions include examples and parts list of lumber needed for this type of foundation. I handed the list to the guy at Home Depot, and he gathered it all up for me and even cut the heavy top boards to size there at the store. I rented one of their trucks for $19 and took it all home and assembled the foundation pretty quickly. Leveling the slabs took longer than building the foundation. The shed doesn't seem water tight. After a rain, there's water drops on the floor. I think if I had it assembled perfectly, it wouldn't leak; however, it's not designed to allow perfect assembly very easily (in my opinion). Everything I'm storing is in 20 or 30 gallon plastic totes, so this shouldn't be too much of an issue.

Read More

Doors not design correctly

Reviewed at http://www.lifetime.com/

Purchased 18 months ago, door hardware sticks and frame sags above doors making it very hard to close doors.

Read More

Took a long time to assemble but I'm done!

Reviewed at http://www.lifetime.com/

So far I am happy with the shed. I built a wood base elevated off of the ground and then assembled the shed on top of that. If I could so anything differently, I would have had a concrete slab poured instead of constructing the wood base. Even though I leveled the base, I think it began to settle after a few days and the shed wasn't assembled on a perfectly level surface. One thing I will say is that if you try and put this shed together on a slightly non-level base, it will be a beast to get all of the panels and screws to lineup. It took me about 18 hours to put this together and that's with my 16 year old daughter helping me. But once completed, it really is nice. I do have concerns about the strength of the screws as many of them do not seem snug.

Read More

Reviewed at http://www.lifetime.com/

I've had this shed two years now, had it at a rental house first and now at my own home, I love the durability of it! We had a serious wind storm come thru recently, it tore up our gazebo ,put holes into our siding and our window screens due to the inch size hail...this shed stood tall thru it all without any damage whatsoever.... I have a riding lawn mower , push mower, snowblower, a set of tires , wheelbarrow, and a quite a few other things in this shed!!! It has ROOM still! I love it!!

Read More
Q:

"can you put in electrical power and a work bench?"

A:

We do not recommend altering our sheds, if the shed is damaged from alterations the warranty will be void.

A:

Yes it would be possible, for both ! I have mine on 3/4 plywood on a 2x6 , 16inch on center frame

A:

Yes I ran power into mine by drilling a 3/4" hole in one of the side walls to bring in the conduit. After that it's simple to run your wiring for lights and outlets.

Read more Read less

Q:

"What is the minimum height of the internal wall?"

A:

The interior dimensions are approximately 90 inches wide x 174 inches deep x 70-94 inches high. The interior headroom (truss to floor) meaures approximately 80 inches.

A:

The interior height is 70 - 94 inches.

Read more Read less

Q:

"I just received the shed today! The invoice said 4 cartions! Mine had 3! Marked 1of 3 , 2 of 3, 3 of 3 am I missing a box? Thanks VK"

A:

I just finished putting mine up. Received only 3 boxes; everything was there that was needed! Have fun!

Q:

"Does this model hold plenty of storage space for riding mower, snow blower, three bicycles and lawn tools & grill?"

A:

Sure! The interior measures 7' 11'' H x 14' 6'' W x 7' 6'' D.

Q:

"Through some research on the internet, I see that the 15 x 8 Shed w/Double Doors Lifetime Model # 60079 is the one that has double doors both on the center/side of it, and a second set of doors that can be installed on which ever end of the shed the owner prefers. One of your photos that displays on Overstock's website for ITEM # 12596279 shows both the center/side doors and the end doors. Is that picture true to what you're selling as ITEM # 12596279? Or should I be looking at a different Item #? When I order this, will I be receiving Model # 60079 WITH both sets of doors (as shown in your photo), or Model # 6446 that does NOT have the end doors. I see in a couple of reviews that some have been dismayed about their missing end doors. I too need the model that has both the end and side/center doors. I sure hope you sell Model # 60079, Do you?"

A:

This listing is for model number 6446.

A:

No that does not help at all. This is upsetting. I did an online chat with your Customer Service representative before I placed my order and he assured me I would be receiving a garden shed with both sets of doors - just like the photo on your website shows. I saved the transcript of our online chat. I placed my order for this based on the photos on your website which DO SHOW the end doors AND based on his assurance. Now you tell me that you're shipping me Model # 6446. It does not have end doors. You are not presenting the product properly on your website; and your Customer Service Representive I chatted with was not aware that your website photo is showing the WRONG model #. I need my order filled with the one that has both end doors and center/side doors. What can I do, now?

Read more Read less

Q:

"If I wanted to work in this as a shop, writer's cottage, or better yet make it into a "She Shed," does it fit together well enough that I could caulk all of the conntecting walls to the floor and roof to make it basically air tight? I have a portable airconditioner on wheels and a great oscillating upright space heater with a remote. Could it be inhabitable for short periods of time?"

A:

The one I bougot only had one set of doors, not two.

Q:

"The pictures and description show a front and side door. Why does my shed only have one set of doors? I bought this shed because I need the doors at the end of the shed."

A:

Contact us at 1 (800) 843-2446 for help with your order.

Q:

"how many shipping boxes does it come in? the boxes say 1 of 3,2 of 3 and 3 of 3. the packing says 4 cartons? could you help me with this? thank you! steve ayer"

A:

Hello sayer, this item does arrive with a total of four boxes. Please feel free to contact us again with any further questions. Thank you for shopping with us!

Q:

"Can you do installation and foundation for me if I purchase from your web?"

A:

Hello accusa, unfortunately we do not provide assembly services at this time. Thank you for shopping with us.

Q:

"so this 15x8 plastic shed has no floor in it is this correct, I saw 1 post that said it did and 1 say it did not. I would like to know if it has a floor what is the thickness of this floor, also is the plastic for the walls double thickness with a dead air space. what is the total thickness of one of the walls or roof. What is the warranty of this item. I am looking into this for a dog kennel and would eventually make doggie doors in the backside and placing against the kennels themselves."

A:

Hello kimarshrose, thank you for your inquiry. Unfortunately, the information you have requested is currently unavailable. You will receive an email notification once an answer is posted. Have a great day.

Q:

"Can the lifetime sheds be wired for electrical lighting?"

A:

Hello terriswill, yes you can wire this for lighting. Once this item has been altered it is non returnable. Have a great day!

Q:

"I purchased a lifetime shed 8'vx15'.Waiting for delivery.I would like to know what size should my base for this shed be.It will be a concrete slab. Thanks Lou"

A:

Hello loutude1, the manual states the base is slightly smaller than the actual dimensions of the shed. Your base will need to be 178 L x 93.5 W. Thank you for shopping with us.

Q:

"Hi, What are the dimensions and weight of packed shed? I am asking because I need it on an island and a boat is only transportation."

A:

Hello Georgiy, the shipping weight of the Lifetime Side-entry Shed is approximately 751 pounds. The dimensions are approximately, 15 x 8 ft., total square feet is 108.75, total cubic feet is 749.5. It has two 90 x 9 inch shelves, four corner shelves and two 16 inch peg strips with tool hooks. And, six small skylights and two screened vents. Have a great day.

A:

Hello Lynettebarry, this shed is waterproof. Thank you for shopping with us!

Q:

"Why did you choose this product?"

A:

Size, price, other customer ratings and looks.

A:

I liked the appearance and size of the product but wish it were on sale.

A:

We looked for a mid sized storage shed that will withstand the elements & time.

A:

Previous purchase of Lifetime products.

A:

I gave this shed a 4 star review. It would have been a 5 if the doors had a lock and key. It does however have a place for a padlock.

A:

Price, location of door entry, resin material.

A:

Looks good and appears durable

A:

Good reviews on the product. i purchased it thru Overstock because of the 10% discount and no sales tax for this order. That saved me almost $240.00

A:

lifetime has a great customer support department just like overstock.

A:

I have done much research on materials and design, this product and the reviews have sold me on this item.

A:

Love overstock 12% first reason, second really neeed a good shed, good reviews, just afraid to put together...))people saying that its hard and poor instructions...)))) so will give to professionals to build up...still love the look and size.

A:

We are moving to this location and need the extra storage space. Hopefully it will serve us well.

A:

Because I need a shed and price is good

A:

I chose this product mainly because I am a female homeowner and I don't want the task of having to re-treat a wooden shed every 5-10 years. I am hopeful that this lifetime product will hold up to its claim.

A:

it met our needs, was a good price with good references

A:

To storage our members belongings and event props.

A:

It looked sturdy and had a majority of 5 star ratings.

Read more Read less

Q:

"Hello. On other websites where this shed is shown (Lifetime model 6446) , the description indicates that it comes with !. Two 90"W x 9"D shelves 2. Four corner shelves 3. Two pegstrips with tool hooks The description on Overstock does not mention these 3 items. Are they included? In addition, the description says that the shed is white, but in one of the Q&A, you indicated it was khaki with brown shutters and brown roof. Please confirm if the main structure is white or khaki. Thank you!"

A:

Hello alysak1, this includes; six small skylights, two 90 inch shelves, four corner shelves, and two peg strips. The color is desert tan with a dark brown roof and doors. Have a great day!

A:

mine is light gray walls (not white) and very dark gray shutters, roof and other trim. On other Q & A it says that you need to build this on a wood or cement platform...This is not included in the description or specs.I thought because it had a floor (it does have a floor) that I wouldn't need the extra cost of a platform. I found out too late..I did not read all of the Q & A I thought I did, but somehow I missed that one. All in all, except for the unexpected cost on my part for a platform... it's a nice shed so far

A:

It must have been a very bright day when we unpacked the shed...It really looked grayish...but it is Khaki and dark brown

Read more Read less

Q:

"I thought this was grayish, but now I see that it's white, what is the dark color? and can it be painted? I need the roof, shutters and doors to be gray."

A:

Hello adeck600, the darker color is brown, it is not recommended that this be painted. Thanks for shopping with us!

Q:

"will it hold a riding lawnmower? And does it lock?"

A:

Hello adeck600, yes this will hold a riding lawn mower. This also has locks on the door. Have a great day!

A:

To clarify: one door has latches that allow the door to stay closed or be open as needed; the other door has a latch operated by the handle, not a lock. There is a hasp-like fixture for the installation of a padlock.

Read more Read less

Q:

"Do the windows on this model open?"

A:

Hello dougie1234, I hope your day is going well. The shatterproof glass windows do not open, but do provide extra light for the interior of the shed. Thank you for shopping with us.

A:

The shatterproof clear plexi-glass is made to slide up for airflow. This shed comes with sliding window locks to keep the plexi-glass in locked in the down position to prevent access from the outside.

A:

My windows open....the plexi-glass will slide up and down if you'd like.

Read more Read less

Q:

"what is the door opening size exactly?"

A:

Hello Ken, the door opening size is 56 inches wide 76 inches high. Have a great day!
Shopping Tips & Inspiration
Shipping & Returns
Contact Information
Shipping:
Leaves our warehouse in 1-5 business days. * *
1-4 week delivery after the item ships:**
Delivered by freight carrier. See Oversized Item Delivery Policy.
Oversized-Item Return Policy:
Upon delivery, if you notice any damage or defects, you must note them on the shipping receipt and refuse delivery. Notify Overstock.com immediately in the unlikely event of damage. More Details
NOTE:
This item cannot be shipped to Alaska or Hawaii. More details
Oversized Item Delivery Policy:
This item will be shipped via freight carrier to your home, excluding rural routes, remote areas not in close proximity to areas commonly serviced by freight carriers, islands, APO/FPO addresses, P.O. Boxes, Alaska and Hawaii. Please provide your daytime and evening phone numbers during check out so our carrier can contact you to schedule delivery. Refer to our Oversized Item Delivery Policy for additional information.
More details
For your protection, all orders are screened for security purposes. If your order is selected for review, our Loss Prevention Team may contact you by phone or email. There may be a two business day delay to process your order.
** Most Oversize orders are delivered within 1-4 weeks. Some orders may take 6 weeks to be delivered.