Kyocera KBLOCK5PCSET 4-Slot Bamboo Block Set: w/4 FK-series WH Blade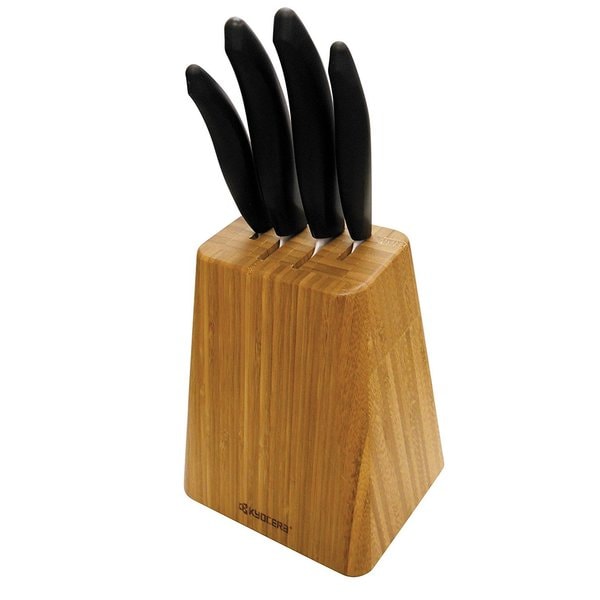 Pricing and Options
Kyocera KBLOCK5PCSET 4-Slot Bamboo Block Set: w/4 FK-series WH Blade
Product Information
Details
Kyocera 5-Piece Block Set / 4 Ceramic Knives + Bamboo Block - KBLOCK5PCSET
Kyocera has created the perfect cutlery collection for any cooking enthusiast. This handsome bamboo knife block securely contains 4 essential Kyocera advanced ceramic knife sizes: 3-inch Paring, 4.5-inch Utility, 5.5-inch Santoku, and 6-inch Chef's Knives.
For everyday use on fruits, vegetables and boneless meats, use these handy knives for: chopping, slicing, dicing, mincing, julienning, cutting, trimming, seeding and peeling.
Set Includes:
3-inch paring knife
4.5-inch utility knife
5.5-inch Santoku knife
6-inch Chef's knife
Bamboo knife block
Practical and Compact
The solid bamboo knife block has (4) rubber feet to protect counters and prevent slipping. The compact design and small footprint is ideal for kitchens with limited space, solving a common storage problem and keeping the knives easily accessible.
Unrelenting Sharpness
Razor-sharp blades stay sharper longer. Kyocera advanced ceramic blades offer superior edge retention, holding their edge at least 10 times longer than other professional cutlery, including high carbon steel.
Unparalleled Purity
These advanced ceramic knives will never brown foods. There's no metallic ions to transfer so they won't alter the taste, smell or appearance of food and will never rust.
Ultra Lightweight
Kyocera advanced ceramic knives are perfectly balanced and light. This helps reduce fatigue during repetitive cutting tasks.
Zirconia Z206 Advanced Ceramic
Zirconia Z206 is Kyocera's proprietary advanced ceramic. This translates to a stronger, denser blade that holds an edge longer than other ceramic knives.
IN THE BOX

Kyocera 5-Piece Block Set / 4 Ceramic Knives + Bamboo Block
PRODUCT HIGHLIGHTS

Includes 3'paring, 4.5' utility, 5.5' santoku, and 6' chef's knife
Sleek, compact design to securely store Kyocera advanced ceramic knives
4 rubber feet secures block from slipping and protects counters
Block made of solid bamboo, a durable and renewable resource
High quality construction designed for years of daily use
Country of Origin: Japan
Specifications
Dimensions
10 in. H x 9 in. W x 9 in. L
Product Features
Dishwasher Safe
Warranty
Lifetime Manufacturer