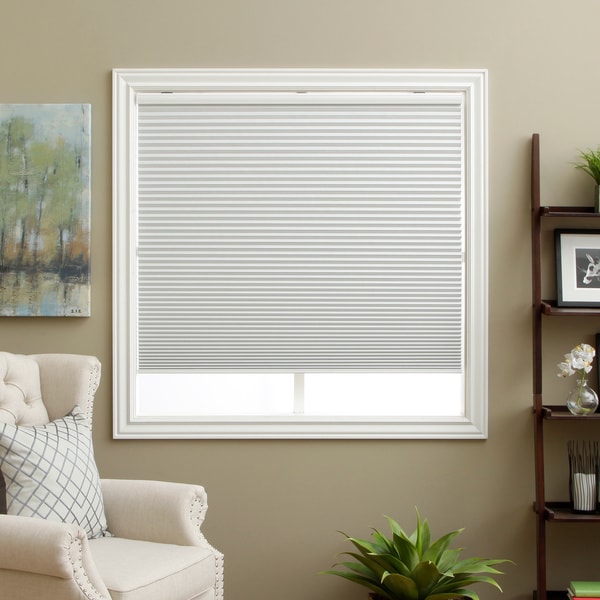 easy to install, looks clean and easy up and down with no cords to worry about
...
Honeycomb White Cell Blackout Cordless Cellular Shades
by Arlo Blinds
Details
ITEM#: 13608329
Stylish and functional, these cordless cellular shades help you create the perfect ambiance in your room. The cellular shades feature a honeycomb design with blackout backing that diffuses the light while saving energy. The cordless operation makes these shades safe for children and pets. These shades are easy to clean with a vacuum hose attachment.

Features:
White blackout shades
Cordless design
Easily raise/lower with clear tab on bottom
Energy-saving
Clean with vacuum
Made of high-quality point bond fabric
Mylar blackout layer
Easy to install
Includes inside/ outside mounting hardware
Dimensions:
Shade Lengths: 48 inches, 60 inches, 72 inches, 84 inches
Shade Widths: 18 to 72 inches (see Options for exact widths)
Honeycomb Cells: 0.562 inches wide
Top Housing Depth: 2 inches

Please note: For an inside mount, it is recommended that you choose a width that is at least 1/4-inch smaller than the inside width of your window frame, as the mounting hardware adds slightly to the overall width.
Assembly required - see below for instructions
Specs
Features
Material
Polyester
Type
Cellular Shades
Blind Width
16 - 29 Inches, 30 - 39 Inches, 40 - 49 Inches, 50 - 59 Inches, 60 - 69 Inches, 70 - 79 Inches
Blinds Length
48 Inches, 60 Inches, 72 Inches, 84 Inches
Color
White
Condition
New
Light Filtration
Blackout
Product Features
Cordless, Includes Hardware
Set Includes
1 Piece
| | |
| --- | --- |
| Dimensions | See Options for available sizes |
| Model Number | 04HCA520720 |
| Country of Origin | China |

Most Recent

easy to install, looks clean and easy up and down with no cords to worry about

Read More

These cordless shades extend & retract perfectly. They are great in our bedroom. Easy to clean, just dust off.

Read More

These shades are amazing! They really do block out all the light and fit the window perfectly! Love them! Highly recommend

Read More

Exceptional quality and performance in a shade

I was looking for shades for my living room and I didn't want conventional shades. I family member recommended the black honeycomb blackout as they had them in their home. I order 3 of the shades for the windows and could not be happier. They were extremely easy to install, go up and down very easily, look great and are very functional. The service from Overstock was exceptional, the quality of the shades are superb and I would highly recommend these shades to anyone looking for a functional quality shade.

Read More

Husband figured out how to install and they look and work wonderfully

Read More
Most Helpful

Wrong size, terrible installation

These are EXACTLY the same width they say they are. Unfortunately, in order to mount them, you need an extra 1/4 in on each side for the mounting brackets that come with them. It would have been nice if they had incorporated that into their measurements (or if they would chance their mounting hardware so the edges can still block out the light). If you want them to fit, you need to order 1/2" smaller than your window. Installation of these blinds was miserable. There were NO instructions! They didn't fit in the window. It wasn't even clear how they were supposed to fit in the window! There weren't enough screws and were too many weird plastic parts. My husband and I both have graduate degrees in mechanical engineering and product design from a top university and we spent hours trying to figure this out to no avail... I had to return them, which is too bad, because they are nice quality other than the size/mounting.

Read More

Nice shades - beware of the sizes!

Nice shades, as advertised, no complaints. EXCEPT for the size. The description doesn't warn you that they don't take off the usual 1/8th inch from your measurements like most other blinds/shades retailers. Thankfully, my windows are old and not a true 36 inches and I was able to take the end caps off of the blinds to get them to fit.

Read More

I'll try and make this quick...I purchased my fathers house while he moved up north. In the office...the sun came in so bright that he actually had aluminium foil on the window and then a cheap blind in front of it to keep the sun out. I wanted to be able to use the window when the sun was not blazing though....and this blind turned out to be absolutely perfect. I have some so called "Black out" curtains in my bedroom that do NOT blackout the sun. This blind does. I really like this blind. You simply use your hand to lightly lift up on the blind to raise it...and lower it. Doesn't take much pressure...doesn't make much of a sound. Super super easy to install. No taxes...shipping was quick...and right to my door. Perfect. Couldn't hardly ask for more.

Read More

Really does darken the room

I ordered two of these for a toddler's bedroom plus another for a guest bedroom.I have used actual "blackout" curtains in the past and although these are definitely not "blackout" by definition, they significantly darken the room and are much better than a previous set of non-blackout cellular shades I had purchased. The color is really not a bright white. Instead it is at the cool end of the white spectrum and appears almost silver or gray. I did not find this to be a problem because I am not using bright white in the drapery panels flanking these windows and the walls are a cool shade of a pale sage greenish-gray color so they go very nicely. The plastic handle that comes with these cheapens the overall look, but it is of course optional to install since you can raise or lower them just by gently pushing or pulling on the base. These were extremely easy to install and the price was great! I am ordering another one for a bathroom.

Read More

We bought these blinds for our bedroom, which faces west. The size is exactly as advertised. The fabric of the blinds themselves is very similar to higher-priced brands, and the metallic lining does an excellent job of blocking the light. I took a star off because they were a little difficult to install (there is a "right side" to face out although the directions don't say so. The flat side needs to face the back of the clips.) The clips to install the blinds are also slightly less substantial than more expensive brands, and the metal clip part is harder to disengage if you need to move them (or if you put them up wrong initially). But I would recommend them because the price is REALLY GOOD.

Read More
Q:

"What is the hardware like?"

A:

The hardware is very simple. An L bracket that the blind headrail will click into is all.

A:

The hardware mounts to the top of the window, not the side. It's perfect & sturdy! Easy install for this chica!

A:

Well, it took a while to figure out. Instructions were a bit off. But the pictures were enough for him. The written instructions were not good. The hardware was some clips, screws and completely adequate. He had to play with the clips which were placed at the bottom to pull the shade up or down.

Read more Read less

Q:

"Are these 9/16th" honeycomb size?"

Q:

"I need a 22"x 30" of this product. Do you have it available?"

A:

No, this is not a size that we have.

Q:

" Can these blinds be purchased with push bottom contro for raising and lowering the blinds"

A:

No these blinds are not equipped with that. The have to be done manually

A:

No...they must be raised & lowered by hand...but it's very simple.

Read more Read less

Q:

"Can the width be cut for this blackout cellular shade? I need to cut the 72" wide to 70.5"."

A:

No, I don't believer that would work.

A:

I don't think it can be cut

A:

Good morning - I would not recommend cutting them since there are support frames on both ends.

Read more Read less

Q:

"I have old blinds up that need to be replaced. The width of the vinyl blind is 21 3/4 inch but the width including mounting brackets is 22 inch. Should I order the 22 inch shades?"

A:

Your only size option is 22". It should work. Very happy with mine.

A:

I would recommend measuring the window opening. Hopefully, you have a smudge over 22 inches there. As the blinds mount from the top of the window...but you need a bit of space on either side of the blind for it to move up & down. We love our blinds, so I hope these will work for you.

Read more Read less

Q:

"I'd like to buy these honeycomb blackout cell shades and my window is 32.5 inches wide and 39.25 inches high/tall. The closes size on this website seems to be 32.5 W x 60 Ht. So there will be 20 extra inches at the bottom unused as it rests on the window sill. Is this the correct size to buy or can you buy these tailored exactly to your window size? I mean they tell you to measure exactly but it seems like you choose from a standard size. Or is it that you start with that size and then you all cut it down from there?. From the drop down menu it seems like you just need to buy one that's close. Thanks for the help."

A:

The length doesn't matter as the unused portion compresses really tightly so you won't be bothered by it at all. It is not noticeable at all.

A:

I have odd shaped windows also and have several windows where there are a lot of inches at the bottom. It just rests on the window sill. No problem.

A:

Hello, yes for the height of them, there are only standard sizes. We have several extra inches at the bottom of ours as well. However I think that is the way it is supposed to be. They look and work great, we did not have to cut them down at all.

Read more Read less

Q:

"my window is 95" W x 25" H; any suggestion on which dimensions to buy to fit that window?"

A:

These shades range from approximately 22 to 72 inches wide. Unfortunately, that would be too small for a 95-inch wide window.

Q:

"Can the length be cut down ?"

A:

No, it cannot be altered or cut down.

A:

Although if they are too long it's not a big problem, the extra length can just stay folded at the bottom.

Read more Read less

Q:

"Seems obvious, but is there anything special I need to know about measuring the window? I'd like to install them within the frame."

A:

Just measure VERY carefully. Make sure you're looking at your tape measure at a 90 degree angle (so that you don't over or under-estimate length). Also, measure top, middle and bottom of window as the size of your window frame may differ in an older home. Finally: account for any obstructions (for example, my window trim had slightly raised screws that--believe it or not--bumped me down one measurement. Overall they are pretty easy to install and look great. I've now purchased these for two bedrooms, a living room and hallway. (Not sure what color you're looking at, but beware the cream color has yellow undertones. It's still nice, but more yellow than I imagined.)

A:

I've bought two of these shades at different times after being impressed with the quality and ease of use of these shades (love the DARK bedrooms). Measuring carefully is definitely the key. Took us 5 minutes to install. My windows are 70" wide and squarely built, and the actual shade itself measures slightly over 68" so we have approximately 7/8" either side of the shade where there is some light filtration but the frame window itself blocks most of the incoming light. We solved by installing white "L" shaped wood around the frame of the window so it resembles the way these are installed in motor homes and trailers and blocks all light. A lot of windows actually are 69" in size so you'd have less space either side of the installed shade as the shade is downsized slightly to fit within the window frame. Smaller windows than 69" could use external mounting.

A:

All excellent advice! See this link (also found beneath the Details box) for advice from the manufacturer: https://www.overstock.com/downloads/pdf/33829288.2-13-17.WindowTreatmentGuide.pdf

Read more Read less

Q:

"I bought 2 shades, one is weak when pushed up to the top. The left side sags the worst, but both sides will not stay up tight. The center seems okay.. It seems like the outer two cords may be a little longer than the center one, but I am not sure. I don't fully understand the inner workings of these blinds so I have no idea what is actually causing the problem. Is there something that can be adjusted or tightened? Thank you, Donna"

A:

I was looking for an answer similar to your problem and I searched the internet. What I found was that if you hold the shade out from the window at a 45 degree angle and push up and then pull down it rewinds the mechanism. It worked for me. If that doesn't work. Look online there are many really good sites with videos for fixing many different shades.

Q:

"What width must the border have to allow the installation of the brackets outside the window? "

A:

the installation brackets mount on the top of shade, I mounted 6 of these shades all outside mount, they work great and very simple to install.

A:

Because the brackets go behind the blind, and aren't on the ends of the blinds, the width of the blind itself should be the size of the blind once it's installed. I think I saw a comment that said that the blinds are the exact size stated, so you may need to get it sized about 1/4" smaller than your window to allow it to open and close freely.

A:

2 inches on each side so 4 inches wider than your window opening.

A:

Mine are installed inside, but a normal window jamb would be wide enough for outside installation; just be sure to measure correctly from where you want the brackets.

Read more Read less

Q:

"We have Arlo Cordless Cellular Shade TDBU 3/8" single cell blind. The directions were not included. Can you give us instructions on how to mount the shade? Thank you"

A:

You will be contacted by Customer Care.

Q:

"How deep is the actual shade? 1 inch? more? less?"

A:

Top housing is 2 inches shade itself is 1 3/4 inches.

Q:

"How long do they take to ship"

A:

My memory is that it was extremely quick. I believe I ordered early in the week and had them by Friday, making a weekend installation a piece of cake!

A:

They were very quick in shipping and best price compared to in store pricing

A:

I made the order on 12/2/2016. They were shipped on 12/5/2016. They were delivered to my door on 12/8/2016. So from ordering to delivery, that was 6 days.

Read more Read less

Q:

"I have a 139.5 window. If I get 2 69" will it for or is the outside dimensions of the hardware longer than the 69"?"

A:

we used 34.5 for 35 inch windows so only .25 on each side if you are leaving 1.5 inches I would think you would be okay.

Q:

"Does the length take the entire blind (including mount/blind top) in account when mounting inside window? I have a 61in length and am wondering if the 60in would still work or best to go with the 72. Thanks "

A:

I would get the 72". They have a lot of spring to them and doubt they would even be 60". They want to rollback up, so you would constantly be pulling them down to cover the whole window.

A:

I agree. You should order the 72 inch length. I ordered the 60 inch length and it springs back to 54inches. Works fine for my windows since I only have a 45 inch length window. However, it would not be long enough for yours.

A:

I would get the longer. They do pull up some past their full length.

A:

I have the 72" on all my windows and it insures the whole length is covered, since you pull them to the desired stopping point it is not a problem

A:

These blinds keep out so much heat (and cold), I find it is best to be able to pull it lower than the window casing.

A:

If you want to be able to completely cover the window, I'd get the longer size. If you don't mind having an inch or so open at the bottom, the shorter one will work but it might stress the shade to try to pull it completely down to it's fullest length.

Read more Read less

Q:

"Are there any cellular honeycomb shades in white in Blackout that are available longer than 72". For instance 82"-84"?"

A:

The longest length we have in stock is an 82-inch length which can be found here: https://www.overstock.com/Honeycomb-White-Cell-Blackout-Cordless-Cellular-Shades,82-Inches,/k,blinds-length,/results.html

Q:

"I have a 28 inch wide by 41 inch length for 3 windows. Your honey comb white block out shade is 28.5 inch width by 42 inch. long . Length is fine but not sure what to do with the extra 1/2 inch on the width. Suggestions? "

A:

Well, if the blind is 1/2 inch larger than the window, then that's going to be a problem. The blinds fit fairly tight in the space. However, if you wouldn't mind attaching the blind on the outside of the window frame, then it wouldn't matter.

Q:

"What is depth of mounting header? My windows are 1.25 inch deep, will the hardware for header fit for inside mount?"

A:

This can be mounted in as little as 0.75 inch. The depth required for a flush mount is about 2 inches.
Shopping Tips & Inspiration
Shipping & Returns
Contact Information
Shipping:
3-5 Business Days *
Shipping Information:
Our standard shipping method is ground shipping. We also offer expedited shipping for most items. Your final shipping cost and estimated delivery timeframe will be available at checkout.
Standard shipping details
Expedited shipping details
Standard Return Policy:
Items must be returned in new or unused condition and contain all original materials included with the shipment. More Details
FINAL SALE EXCLUSION: Items marked as FINAL SALE are not returnable unless the problem you experience is the result of our error.
For your protection, all orders are screened for security purposes. If your order is selected for review, our Loss Prevention Team may contact you by phone or email. There may be a two business day delay to process your order.
** Most Oversize orders are delivered within 1-4 weeks. Some orders may take 6 weeks to be delivered.