Similar Items in Dinnerware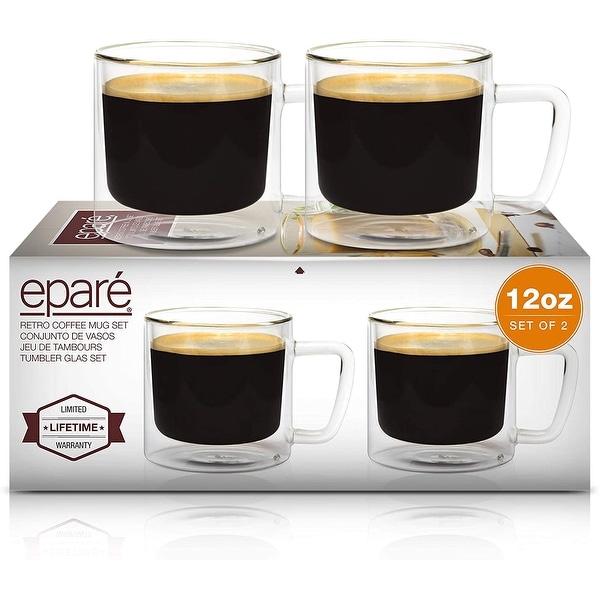 Epare Retro Coffee Mugs 12oz Clear Glass Double Wall Cups Set of 2
Out of Stock: This item is currently unavailable.
Description
Details:
A UNIQUE DOUBLE WALLED MUG: Why settle for an ordinary mug when you can enjoy your coffee or tea drink in beautiful modern cups that maintain the temperature - and your enjoyment - longer. And they create a floating optical effect at the same time!
MADE OF HAND-BLOWN BOROSILICATE GLASS: Just because they're pretty doesn't mean they're not tough. While lighter and thinner than other mugs, they are made from hand-blown borosilicate glass, so the glass is stronger and has far fewer defects.
CONDENSATION RESISTANT DESIGN: The insulation effect of the double-walled design keeps your iced coffee cold longer, and the thermal properties of this design virtually eliminate condensation on the outside glass. Far better for your tabletop!
DISHWASHER AND MICROWAVE SAFE: Made of premium quality materials, these attractive hand-blown coffee and teacups have been designed and manufactured for regular everyday use. They are fine in the dishwasher, microwave - and in even the freezer.
EPARÉ TRUSTED QUALITY: You will receive two (2) Retro Coffee Mugs measuring 3.8 inches across, 3.6 inches tall and 5.3 inches wide (with handle), with a 7.4 oz weight and a 12-ounce capacity. We stand behind our quality.
A set of two elegant double-walled coffee or tea mugs. Made from chemistry-grade borosilicate glass. The double-walled design insulates the mug, keeping your beverages hot or cold longer. You'll love the pleasing optical effect of the liquid floating in the air inside the cups. They are made from durable hand-blown glass and present far fewer defects, if any, compared to other glass mugs. And they are backed by a lifetime warranty, so you'll receive high-quality mugs you'll enjoy for years to come.
1. Double-Walled Design
The elegant double-walled design of these mugs performs both practical and aesthetic functions. The insulation effect it creates keeps beverages hot or cold longer than regular ceramic mugs. And it provides a delightful presentation element, giving the illusion that the liquid inside is floating in the air.
2. Hand-Blown Borosilicate Glass
These attractive mugs are hand-blown artisanal glassware you'll be proud to serve coffee to friends in. They're made from premium quality chemistry-grade borosilicate glass, allowing them to be made thinner and lighter. This glass is scratch and break resistant and is built for everyday service.
3. Condensation Resistant
Nothing spoils an enjoyable cold drink more than a water ring on a wooden table. The insulation effect of the double-walled design keeps the exterior of the glass at a steady room temperature. So don't sweat cold drinks, these elegant mugs resist condensation. Coasters not required!
Country of Origin: China
Specifications
Dimensions
3.8 In. L X 5.3 In. W X 3.6 In. H
Product Features
Dishwasher Safe
Care Instruction
Dishwasher Safe