Epare Large Ice Cube Trays w/ Silicone Lids, 2 Stackable Covered Molds
Similar Items in Glasses & Barware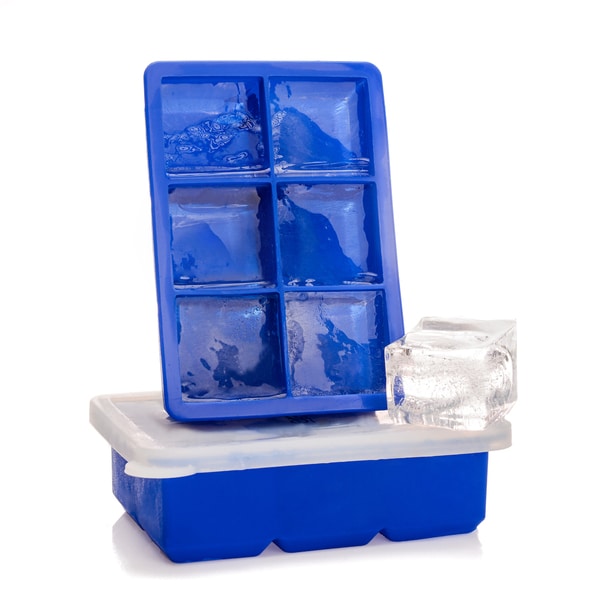 Pricing and Options
Epare Large Ice Cube Trays w/ Silicone Lids, 2 Stackable Covered Molds
Product Information
Details
EASY TO RELEASE: Each tray contains 6- 2 square inch ice cubes. The perfect silicone shape makes for easy removal of ice cubes from molds from the template, the formed ice cubes are large enough so they melt slowly, and cool your drink fast. Enjoy every cold drink with minimal dilution!


STACKABLE LIDS: The lids help to avoid common spills and mess from carrying, make the trays easy to stack to organize better in your freezer, and protect against freezer odors.


BPA FREE FDA GRADE SILICONE: Made from food grade silicone so you do not have to worry about contaminates. Produce the same results as old fashioned rocks, spheres, metal stones, and ball molds.


ALTERNATE BENEFITS: Not only are these the perfect shape for your rocks glass, allowing you to enjoy your favorite scotch, whiskey, or cocktail without dilution. They are also perfect for meal prep, baby food, portion control, freezing sauces, or making fun infused ice cubes.


LIMITED LIFETIME WARRANTY: You will receive two 2 6 compartment ice cube trays measuring 6 1/2 long 4 1/2 wide and 2 tall and two 2 tray covers measuring 6 3/4 by 4 3/4. Dishwasher safe; FDA approved; BPA free; Backed by Epare Limited Lifetime Warranty.
Epare Ice Cube Trays make for the perfect enjoyment of a chilled non-diluted beverage. Food grade silicone makes for easy removal of the cubes from the trays and eliminates the worry of leaks and cracks. The tray covers prevent spills and make easier stacking without having to worry about the trays sticking. Large ice cubes are the best from enjoyment of a properly crafted cocktail and the Epare Ice Cube Molds will make preparation of these cubes hassle free.
1. Convenient Lid for Easy Stacking and Spill Prevention
Tired of spilling half of the water out of your ice cube trays before them making it to the freezer? So were we, that's why our ice cube trays feature lids. Great for big parties when you need to make a large number of ice cubes and stack your trays in the freezer. Also convenient for keeping foul odors out of your ice when keeping the freezer for extended periods of time. If you are freezing your ice cubes while your party is going on you will also find that there will be spills as the freezer is consistently opened, yet another great benefit to easy to use lids.
2. Impress your Guests with a Proper Old Fashioned
The Epare Ice Cube Trays are great for cocktail hobbyists, easily add another dimensions to your at home cocktail bar. Large ice cubes will melt a lot slower than typical cubes which give you more time to enjoy your undiluted cocktail. Great for hot summer days. Get creative use these square molds for baking breads, muffins, Jell-O, and even making soap! Our customers also use trays as baby food freezer storage, snack containers, portioned food for diet control, freezing herbs, buttermilk, fruit, popsicles, pesto, smoothie, yogurt, juice, blended greens, sauce, broth, chili, wine, coffee and more! Each cavity holds 4 oz or 1/2 cup of liquid.
Country of Origin: China
Specifications
Dimensions
7.0 In. X 5.0 In. X 2.0 In.
Type
Universal Wine Glasses
Care Instruction
Dishwasher Safe