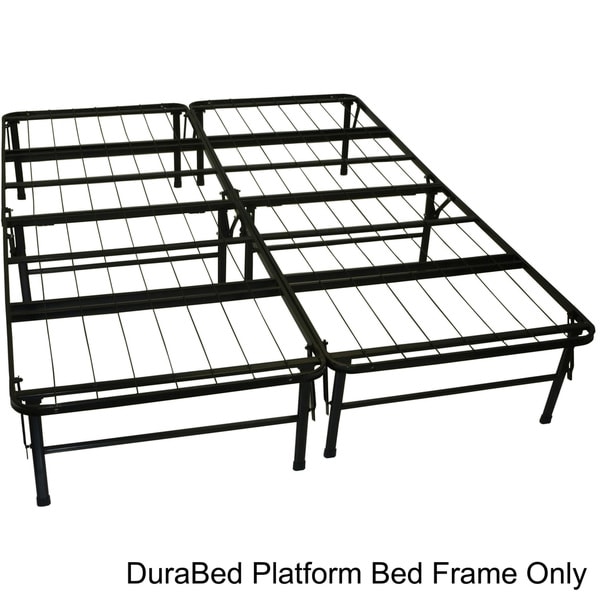 Excellent support. Mattress stays firm and flat. I had a full size bed with a frame that had the support on the sides, head and foot of the bed. The center had no support and the mattress in time sunk down and I woke every day with back pain. Now I awake refreshed with a good night's sleep.
...
DuraBed Queen-size Heavy-duty Steel Foundation and Frame-in-One Mattress Support System
by EpicFurnishings
Details
ITEM#: 13032676
Give your mattress a firm foundation with this heavy-duty steel bed foundation and frame-in-one support. Electronically welded steel and crossbars ensure this metal bed frame can hold up to 3000 pounds of distributable weight. The queen-size frame can be separated into two smaller frames to accomidate changing needs. The height of this bed frame allows for storage with the optional storage boxes or use your own to make the most of under bed storage space.
Features
Queen size platform bed
Optional steel headboard bracket available to attach headboard
Steel construction ensures long-lasting durability
Measures 14' H x 60' W x 80' L
Black finish
No box spring foundation needed
Electronically welded for superior strength
Sleeps two adults
Two separate units are placed side by side
Useable with conventional and futon Queen-size mattresses as well as memory foam mattresses
Optional bed skirt available
No Assembly Required
Specs
Features
Material
Metal, Steel
Finish
Black Finish
Bed Style
Box Spring, Platform Bed
Assembly
Assembled
Color
Black, Brown, Off-White
Furniture Pattern
Solid
Product Features
Includes Hardware, No Tools Assembly
Size
Queen
| | |
| --- | --- |
| Dimensions | 60 Wide x 80 Deep x 14 High in inches |
| Model Number | DuraQn |
| Country of Origin | China |

Most Recent

Sadly the squeaking ruined this

I originally liked this bed frame. It was easy to set up and created a lot of storage room. Now every time I roll over there's a high-pitched squeak.

Read More

Excellent support. Mattress stays firm and flat. I had a full size bed with a frame that had the support on the sides, head and foot of the bed. The center had no support and the mattress in time sunk down and I woke every day with back pain. Now I awake refreshed with a good night's sleep.

Read More

It was easy to put together it came to us on time. We are not giving it 5 stars because the frame squeaks after the 3rd day. It is extremely heavy and will require 2 people to move it.

Read More

Just what I needed for the guest room and very easy to put together. Have had it for about 2 years and it's held up well so far.

Read More

doesnt fit well in the frame

really don't a good fit for my queen size bed frame its too big

Read More
Most Helpful

Receiving the bed, I put off setting it up until the next day thinking I didn't have the time. I laughed at that after the ten minutes it took to set up. Each side of the bed comes folded in half and the legs pivot out as you unfold it. The two halves are held together with bolts and wing nuts making it truly tool free. The bed solid. Both my wife and I are big people and it only squeaks under the, er, most active of situations and then barely at all. My son took a flying leap onto it and it made neither a sound nor shifted in any way. The only negative would be that there is no way to attach a headboard without modification. I knew that when purchasing so I wouldn't take a star away or anything, but thought it should be pointed out.

Read More

I was really looking for something inexpensive for my son on a temporary basis, so when I came across this bedframe and all the wonderful reviews (over 250 of them), I decided to make the purchase. I didn't want to leave a review immediately after receiving it b/c I wanted to see what kind of issues it had, if any. It arrived in excellent condition, nothing bent or missing. I put it together in about 10 mins. It would have been less than that if I didn't have to position everything the way I wanted. It is good on space, but ugly. It just kinda remind me of a military bed for some reason. If your interested in dressing it up, you will need to purchase a 14inch drop bedskirt to cover up all those legs. Ok. The bad news. The first few days of my son using this frame, he had no issues. He is 5'6 130lbs, so he's not that heavy. After the first full week, it began to squeak. We have now had the bed for two weeks, and it only appears to be getting louder. The noise is currently only on one side of the bed, but I expect over time for the problem to increase. I thought if I tightened up some bolts along the legs, I could stop the problem--negative. It appears that the screws are mounted on,so your just stuck dealing with the problem. My suggestion to potential buyers, if you choose to purchase this frame, use the bed for a few weeks before leaving the review. This way people can get a better idea of what to "possibly" expect. I'm not saying that over 250 people weren't satisfied, but it is my opinion that they might be leaving reviews far too soon.

Read More

This frame is awful. I don't know what you other reviewers are talking about, it's unbelievably squeaky. I've had it for a few months and the squeaking has gotten worse and worse. Now I'm in a horrible situation because I can't keep the frame, it squeaks so loud that it wakes up my roommate. STEER CLEAR

Read More

I waited until I had the product a while versus when I immediately received it. Over time, this frame becomes REALLY squeaky (and I haven't had it a full year). If my husband turns over, it wakes me up because it shakes and squeaks something horrible!

Read More

First bed received w/ missing parts, second great

The bed arrived very quickly. It folds up very small and is simple to put together in a matter of minutes. However, mine arrived missing 1 of 6 leg assemblies. I called, emailed and chatted Overstock.com staff and they were all brainless robots who repeatedly messed things up claiming it was damaged in shipping for example (like the assembly unhooked itself and magically moved through the cardboard box). I eventually received a new bed and was told to keep the defective one, which is nice. So basically, the bed when received in working condition is great, but Overstock.com employees need to stop reading their scripts and actually provide one on one customer service to help customers.

Read More
Q:

"How are the two halves of the queen platform held together "

A:

There are four bolts that come with the kit and these bolts attach the two side together.

Q:

"i have a queen slay bed and the inside removable slats are wooden and do not provide enough support in my queen. could i place this inside my queen for better support?"

A:

It would be a miracle. I bought from O a platform box and the top was a very secure "roll"of slats . I don't know the details but look for that. Joke of the day - the queen was murdered in her sleigh bef

A:

I would check the dimensions to make sure it fits inside the frame otherwise you would get the support you should need

A:

Yes. I used the foundation frame to replace the slat support on my rice bed. Wired out great!

A:

I purchased this item for that exact application. I have an older queen sleigh bed that needed new supports for a memory foam mattress. This platform was a perfect replacement for the supports and the box spring. It was very easy to set up; we just unfolded and locked it in place. Love this product!

Read more Read less

Q:

"what is the weight capacity"

A:

Up to 3000lbs of distributed weight

Q:

"Can this frame be used with a box spring and mattress?"

A:

Yes, it will be ok. I have used mine with a box spring. I hope this helps.

A:

the frame is 14" high already - we have a foam memory mattress (on 8 beds to date) and they are just the right height - if you like REALLY high beds then you might want a box spring. If you already have one you want to use you could set it up that way and see if you can work with the height - if not just remove the springs. Hope all works well for you - we couldn't be happier with our extra storage beneath these beds!!

A:

Yes you can use this with both mattress and box spring but check the height of the frame. It's higher than other frames and will raise the height of your bed.

A:

Yes it can but I didn't use the box spring and I sleep better.

A:

I couldn't do it and on all three of these that I have purchased, I am only using a mattress. There isn't an adequate rim to contain a set of mattress and boxsprings, and so I was constantly adjusting. But, as you can see others here have had better luck. It would be a high bed, that's for sure if you had a total 24" above the frame. There's lots of room under the frame for storage.

A:

Yes, I've used it both ways. Currently I have a split queen box spring with a reg queen mattress.

A:

Even though the frame is not designed for both box spring and mattress, there should be any reason why you can't use both besides the height to get onto bed.

Read more Read less

Q:

"I would want to separate the two beds, what size mattress would fit? It seems the twin would be too short for it and these twin too narrow? Any suggestions"

A:

Buy the twin size this is really designed as a queen

A:

A king size bed is the exact size of 2 extra long twins. There is no mattress the size of half a queen. If you separate the queen platform a standard twin will be 6 inches too short and 4 inches to wide for the resulting platform.

A:

I'm not sure the Queen frame is meant to be used for two twins, it's probably better to just order the Twin size for the correct size and stability.

Read more Read less

Q:

"Can I separate this for two singles if need be?"

A:

Yes, you can. They come as two pieces and are only attached by a few plastic pieces.

A:

If you order a king size, yes

A:

You can separate them. However, they are narrower than the normal twin sized mattress. The edges will overhang side to side. Mine are attached together with wing nuts.

A:

I would worry about support if you separate them

A:

A twin mattress is all you can use but they are narrower. If a small child is sleeping in it it is ok but I don't know about a tall person. It's perfect for our great granddaughter when she spends the night.

A:

Measurements on each piece is roughly 28.5x80". Hope that is helpful. :)

Read more Read less

Q:

"Will I be able to use bed risers with the queen bed frame?"

A:

I think that "technically" you could but I would not recommend it. It might put undo stress on the legs.

A:

No. The legs slide off the risers.

A:

Yes, you can use risers with the queen frame. I looked at several brands/types, and all I found would work.

A:

If it has double center legs not at all.

A:

I think you chould but I wouldn't be too sure about the stability after adding the risers.

Read more Read less

Q:

"How far apart are the support slats?"

A:

I'm not sure how far apart the support slats are but this is a very sturdy frame. Not even a a creak out of it and I'm over 6" tall and this bed supports very well.

A:

Not sure in exact measurements how far apart they are, but they are fairly close together. I was able to purchase 2 of these--queen size frames only, with coupons, etc for about the price shown for one. This is a fantastic frame that I purchased to hold a foam mattress for my college and I think it was a great deal.

A:

I'd say about 8 inches but that's an estimate.

Read more Read less

Q:

"Can I get this in a full with head board attachments?"

A:

Look at ITEM# 13032675 to see if this works.

Q:

"I have had no issues with the frame. I want to get a king size mattress rather than my queen. Is there anyway that I can make the frame hold a king size mattress?"

A:

The frame would be to small and the mattress would hang over...you could however add planking or box springs across the top to accommodate the king size bed...

A:

The two bases are fairly stable on their own, though they are "stabilized" by brackets. I believe you could make it work simply by spreading the two bases out to fit the King mattress (or box spring), then secure them at that distance...?

Read more Read less

Q:

"When I attach the 2 pieces together, how do I keep the screws tight??? I've had it for only 2 months now and I have to keep tightening the screws to keep them together and they are very squeaky."

A:

I've had mine about 6 months and have moved it around the room several times. It does not squeak and the screws have not been tightened since I originally set up the bed frame. If you haven't already, I would suggest tightening them with a wrench instead of hand tightening. At least that's what I did.

A:

I had star washers in my toolbox (lock washers), and installed them first day. Tighten with a wrench and you're done. Maybe 10cents invested? Otherwise purchase LOCKTITE

Read more Read less

Q:

"Will ITEM# 13032676 fit inside the Epic ITEM# 12924303 platform bed? I would like to use a handcrafted head board. Or can Headboard be directly drilled into the bed itself? Thank you"

A:

With the headboard attachments you can directly connect the headboard.

A:

my headboard would not fit but i screwed one side i just love the frame or just lean headboard on wall

A:

That is exactly what I did. I use a handcrafted headboard. Can install either way. Good quality and you will love it.

Read more Read less

Q:

"The predriiled holes on my headboard are 7 and 11 inches off the floor. I was wondering if the headboard attachment could accommodate these holes? "

A:

You would probably need to drill into the legs, could be done with the right drill bit. We used rubber gaskets held in place with zip ties between the two pieces to prevent squeaks & are very pleased with this product.

Q:

"Can I add my own storage bin with the durabed with bed skirt? Can I raise the bed skirt?"

A:

Yes you can raise the bed skirt and use your own storage boxes.

Q:

"I want to use the is with a headboard by Hillsdale, the Morris. do you know if this headboard is comparable with the brackets. I saw a similar question asked in this collum but you just gave her a access to a list of compatible headboards or that is what it was I think. Made no sense to me. "

A:

Hi: I do not know if it will fit that headboard exactly, but I do know that there is a corner piece that fits onto the bed frame and allows to add the headboard. I would think it is universal.

A:

I purchased this frame with the Molly Headboard from Hillsdale and it fits perfectly. I did have to use the corner brackets.

A:

This headboard did NOT fit with the headboard we had chosen despite Overstock's saying it would. With that said, it is a very sturdy bed frame. It is a hit and miss.

A:

I have never been asked this question before but with the hardware that can be ordered with the bed you should be able to attach the headboard to the bed. You may have to drill holes to connect the bed if the headboard does not already have them.

Read more Read less

Q:

"When ordering a queen, do the two sides lock/ connect together?"

A:

Yes very secure very easy to do. Very satisfied with the product.

A:

I agree with Carol A. Very secure and very happy with this product. Will not buy a conventional box spring again.

A:

Yes. It is bolted together with large screws at the center. We live in a 3br apt and I bought storage containers to go underneath. We have so much stuff and husband is disabled so I keep the floor as clear as possible. This also raised our bed a lot (8") and it's easier to get in and out of bed. Can also store more underneath.

A:

This is a very sturdy frame and boxsprings combine. The two sides screw together. The only thing I might suggest is that you get the attachments for a headboard if you plan to use one. Sharon B.

A:

yes and it is very secure

A:

yes very easy and stable.

Read more Read less

Q:

"Can the bedskirt be bought separately like the brackets?"

A:

Hello Jacqueline B., unfortunately no, the bed skirt is not available separately at this time. Have a great day!

Q:

"Hello there what head board fits the full and queen size bed"

A:

Hello whitaker, here is a list of queen/full size headboards that will accommodate the frame with brackets: http://www.overstock.com/Home-Garden/Headboards/Full~Queen,/size,/22395/subcat.html - Thanks for shopping with us!

Q:

"Is it possible to use a low profile box spring with this frame?"

A:

Hello shar620, this can be used with a box spring if you'd like, although this acts a box spring, so one is not necessary. Thanks for shopping with us!

Q:

"Can you stack these frames, and use as a single when needed and snap together to make a queen bed?"

A:

Hello gillybean45, this bedframe separates into two twin size pieces and then those pieces fold smaller to make it easy to store away. You are welcome to only use one half of the frame at a time. Thanks for shopping with us!
Shopping Tips & Inspiration
Shipping & Returns
Contact Information
Shipping:
Usually leaves our warehouse in 1-2 business days. *
Shipping Information:
Our standard shipping method is ground shipping. We also offer expedited shipping for most items. Your final shipping cost and estimated delivery timeframe will be available at checkout.
Standard shipping details
Expedited shipping details
Standard Return Policy:
Items must be returned in new or unused condition and contain all original materials included with the shipment. More Details
FINAL SALE EXCLUSION: Items marked as FINAL SALE are not returnable unless the problem you experience is the result of our error.
NOTE:
This item cannot be shipped to Alaska or Hawaii. More details
For your protection, all orders are screened for security purposes. If your order is selected for review, our Loss Prevention Team may contact you by phone or email. There may be a two business day delay to process your order.
** Most Oversize orders are delivered within 1-4 weeks. Some orders may take 6 weeks to be delivered.