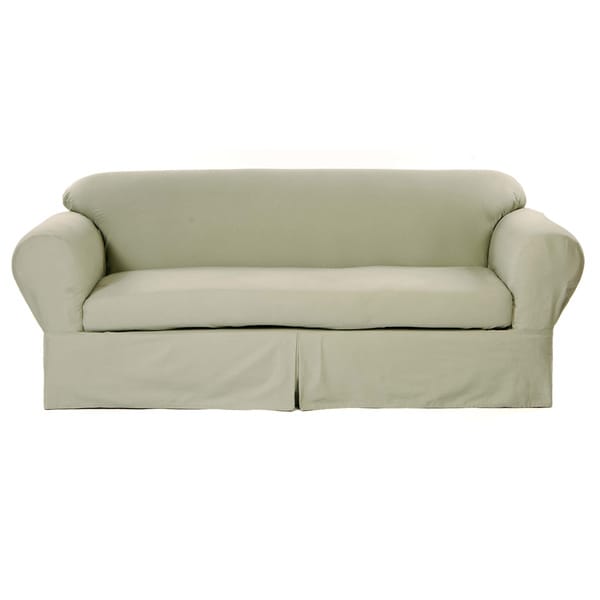 Gave some new life to my old sofa. It's not a custom slipcover, it's most likely not going to be a perfect fit. Be a realist and expect to do some tucking and maybe some ironing (it's a bit wrinkled out of the package but smooths out after a while). I like it. I got the white and it's a pure bright white. I put it on by myself but an extra set of hands would have made it easier.
...

This user earned Club O Rewards for this review.
Details
ITEM#: 14820682
Rehabilitate a sofa easily with this classic two-piece twill sofa slip cover. This sofa slip cover features two individual pieces to ensure sufficient protection and coverage. Made from 100-percent cotton material, this slip cover is machine washable and will accommodate sofas 78 to 96 inches wide.
Details:
100-percent cotton
Machine wash
Dimensions:
Fits sofas from 78 inches wide up to 96 inches wide



The digital images we display have the most accurate color possible. However, due to differences in computer monitors, we cannot be responsible for variations in color between the actual product and your screen.

Specs
Features
Style
Two Piece
Pattern
Solid
Fabric
Cotton
Color
Brown, Green, Off-White, Red, White
Fabric Care
Machine Wash
| | |
| --- | --- |
| Dimensions | See description |
| Model Number | BT102PSLWHT |
| Country of Origin | China |

Most Recent

Gave some new life to my old sofa. It's not a custom slipcover, it's most likely not going to be a perfect fit. Be a realist and expect to do some tucking and maybe some ironing (it's a bit wrinkled out of the package but smooths out after a while). I like it. I got the white and it's a pure bright white. I put it on by myself but an extra set of hands would have made it easier.

Read More

I purchased these for an old sofa that I have been dreading replacing. I purchased them hoping to find fabric that was a similar color to cover the pillows on my sofa and could not find anything close. On a positive note, it is a great cover for an oversize sofa.

Read More

I purchased this slipcover in white for a bright red sofa. It hides the red completely. The fit is a bit off in spots but for the price you can't beat it. I have washed the slipcover several times and it still looks great. If you are looking for an inexpensive way to revive your furniture you can't go wrong with this.

Read More

Material is nice and soft. Very wrinkled. I am waiting for it to straighten out while on the couch. Putting it in the dryer didn't take out the wrinkles. Looks nothing like the picture. Too much material and hard to tuck in. Time to look for a new couch.

Read More

This was as expected even though I did return it. It just didn't give me the look I wanted.

Read More
Most Helpful

The only reason I am back on this site is to buy this sofa and love seat cover in another color! It arrived today and I couldn't wait to try it and I was a few minutes late to work because I was so excited to put them on my couches! My husband and I have been looking for the perfect couch for two years now....Pottery Barn, Restoration Hardware and Arhaus are our style. When I saw this on O.co I jumped at it because I love the "Natural Slip Cover Look". A little background, our couches are big and over-sized with big round arms. The love seat is 72 inches the couch 86 inches. These fit perfectly!!!!! We paid $2,500 for our "flower pattern" couches in 1998 and after two puppies in the last five years and the wear and tear on them....they were worn out and dated. Our sofa is a sofa bed and I didn't want to give it up, because it is our Heaven on a cold winters night, cuddled up watching, TV in front of the fire. I am over the MOON that our outdated couches look shaggy chic "Pottery Barn" style now . Nice material! Yes they were a little wrinkled when they arrived...but nothing a steamer didn't take care of in 1/2 an hour. I would also like to mention we have seven throw pillows for the back of the couch and loveseat and I did go to another website and had covers made for those pillows in a matching color with a subdued stripe because I like to have them on top of the slipcovers, not underneath. So, in closing, (sorry this is so long), I highly recommend these slipcovers....I have been looking for something like this for YEARS....if your couches are oversized and have big round arms like mine you can save a lot of money and be very happy with these for a lot less money then buying a new couch!!!

Read More

I ordered this slipcovered to replace one that I had gotten from JCPenney. My previous slipcover was flimsy and not very white. This slipcover is heavy durable twill material like you would find in Pottery Barn slipcovers. It fits the sofa beautifully and looks like a custom tailored slipcover I am very pleased! I have a beach cottage theme for my home and this really Sofa look beautiful!

Read More

Loved it at first until it shrank.

I loved this slipcover at first. The weight of the material is good and while it wasn't a perfect fit it never looked slouchy like other slipcovers. I had 4 cushions on the couch and had custom slips made for them to match the one I bought from Overstock. I thought it was perfect until I washed it. It shrank so badly it is not usable. You would think that the manufacturer would pre-wash the material if the care instructions indicate that it is washable. I washed in cold water and dried it on a low almost no heat cycle. So disappointed.

Read More

Finally! A high quality, affordable slipcover. We acquired an older, yet excellently made couch that unfortunately, had a horrendous, dark floral print on it. The couch was 94" to 96" from arm to arm depending on how you held the tape measure and what angle you hovered over it to a get a reading.The shoulders are big and rounded and there's a camel hump in the center of the back. The arms were also broad and rounded. Needless to say, it's a special couch with special dimensions. We wanted the couch, but not the print. After searching the entire World Wide Web for something updated, affordable, and unique like our couch, and even after trying one slipcover that stretched to a pantyhose sheer that was stuffed back in the box it came in before the mailman jumped back in his truck, we found this one. In a word, perfect. Bright white. Canvas/denim-like, thick material. Bye-bye scary floral print. Snugly, cuddly fit on our massive couch. The separate piece for our two, oversized, rectangular seat cushions worked great and it completes that "That's a slipcover? Wow." look. Add it all up and you have very happy shoppers who are able to keep a gem of a couch and are able to invite friends to sit on the revitalized, now chic couch with colorful pillows. The only possible objection, which is not a true objection for us because we're not lazy, is that it comes wrinkly. That's understandable because, duh, it was packaged. Over time, most wrinkles fell out after covering our couch with it. For the remaining few wrinkles, you can iron them out while the slipcover is on your couch—imagine that. Ta da! Very pleased. Happy with Overstock's process and shipping, too. We highly recommend this product. Hope this helps!

Read More

I purchased this for my oversized couch - it has large rolled arms and is on the larger side of the measurement specs. It fits great. I did not even need to iron it. Simply pulling it on the couch (it is a good tight fit but again, my couch is quite large) smoothed out the wrinkles. The separate zippered case for the seat cushions is very nice, however it is smaller than the overall width of my existing pillows so it squishes them in a bit and leaves a few inches of gap on either side. Not a huge deal, but hopefully it will stretch out a little more with time. Very happy with the look (very pottery barn ish). Our couch is sort of yellow/beige solid color but I could see how a patterned fabric might show through. The fabric is pretty heavy though so who knows. Would purchase again.

Read More
Q:

"I'm looking for this in WHITE. It shows a picture of it in white yet it's not an option when it gets "added to cart." Can you tell me when you will be getting WHITE back in stock? Thanks."

A:

The white is not available at this time. We do not know if it will be restocked.

Q:

"Will this fit a camel back sofa?"

A:

It did NOT fit mine. I had to send it back.

Q:

"Will this fit a t cushion sofa?"

A:

I don't know what a t-cushion is. It didn't fit our large couch - the one for which this was purchased, even though the couch's measurements were within the product specs. We ended up putting the cover on a smaller couch that does have individual cushions on both the seat & the back. It's a bit of a pain to put on but does work well.

A:

You need to get a cover made for a t shaped cushion. All the tucking in the world won't make it fit.

Read more Read less

Q:

"what is the depth of the cushion cover ?"

A:

Hi! I hope I understand your question. The width of the slip cover is 45". It doesn't exactly have depth because there is no piping to fit around corners or stitches to fit. It is fine for my cushions which are each 35" long totally 70", and 24" wide. The depth of the cushions is 5". This cushion cover covers well over both cushions with room to spare. I hope this helps. Please ask more if I didn't answer your question.

Q:

"Is the natural a cream color or off white or ivory?"

A:

I ordered the khaki and it was a very true, as expected color. I would judge by the color shown as it is close to the expected color. The fit is perfect btw.

A:

It was an off-white color--fairly consistent with the picture. Nice thick twill.

A:

I ordered the white...and it's a very clean, bright white. I love it as it's against a grey wall.

A:

the natural is cream colored

Read more Read less

Q:

"Will the cushion cover work for "T" shaped?"

A:

The cushion over is one entire piece...it has 3 "straps" that you tighten to the width of your cushions...I think if you have a t-shaped cushions, you will lose the t-shape as the cover is more of a giant rectangle-rounded. Not sure if this explains it well. I put all 3 of my cushions, which are square-shaped in the cover, then pull it tight with the straps. The cover is very well made, not flimsy, and has been through several washings and holds up well. It is not the stretch fabric where you could mold to the t-shape. Hope this helps. I love this cover. I have 3 cats and 2 dogs and all get on it, and I got the "white" cover. Have had it for a while now and it still looks brand new

A:

The short answer is no. This is great on my rectangular cushion sofa but I've had a hard time findimg something for my t-cushion loveseat! Sorry this won't work for you, it's great. I have it in 2 colors.

A:

Yes. I use it on my T corner sofa and am very happy with it.

Read more Read less

Q:

"My sofa is 88" long outside, but inside seat cushions arm to arm is 76" (narrow arms). Will this slipcover fit ok?"

A:

It might fit as it shrunk after washing. You have to have a lot of patience to cope with the apparatus(rings) and I hope your sofa's back is to the wall as it doesn't cover the height very well after washing. I would not recommend this slipcover to anyone. I finally gave up looking for slipcovers and had some made.

A:

I have a different take. The slipcover is my 3rd on this smaller couch so I have extra fabric. I have washed it 3 times and it comes out perfectly with no shrinkage. It is a heavy duck cloth. I have 3 cats and 2 dogs (pit and dobie). All sleep on this at various times or together. I bought the white one, and worried about how it would wash and keep its shape. It is the best I have found. The cushion cover gets washed on a weekly basis as all of my animals shed. All the stains wash out, and I set the dry on wrinkle free and it comes out smooth with no wrinkles. When I first put it on, I used a steam iron over it to take out the wrinkles, and it looks brand new after months of wear. I would recommend it to anyone - I am someone who cleans daily and am very picky about what goes in my house, and after looking for so long, I would recommend this to anyone.

Read more Read less

Q:

"Will this work on a camelback sofa"

A:

It did not fit my sofa, but I passed it on to someone else who loved it.

A:

Yes, I believe it will fit. There is plenty of room to accommodate a variety of styles. I have a long, three cushion sofa bed and it fits great with room to spare.

Read more Read less

Q:

"Hi I am on the verge of buying this slip cover but after reading the reviews I am skeptical about it fitting nicely. I have a rolled arm sofa with two cushions. The sofa is about 78" long. It isn't what I call "huge" It is a regular size. I want it to fit nicely without a bunch of fabric needing tucked. Also it will not be against a wall. I need to know if this will work.. Thanks"

A:

Your sofa sounds just like mine. This cover is very generous in size which is the look I was going for it is very adjustable and washes beautifully. I love it there is no problem covering the back completely

A:

I love this. It's very durable and fits beautiful

A:

It's a pretty good cover, full back coverage, say to tuck where it should be, cushion coverage sufficient. Rolled arms covered well. Size is right.

A:

My sofa is larger than yours and there is a lot of fabric to be tucked in by me, I wonder you would have much more tucking. I believe it can work with safety pins to make it fit (I haven't tried it yet, as I have a small baby crawling and putting everything at her mouth). Mine stays in middle of a room and the back is completely covered, looks nice and stretch. Actually, where it looks saggy is on the sides as the arms of my sofa are not the largest type.

A:

I have the same sized sofa as your's and I love this cover. You will need to tuck it in to have a "tight" fit but looks so nice. Mine covers the back, side, and front well. There is a pleat in the center on the front, and it stays in place. I have said in other places that I have 3 cats and 2 dogs and all sleep on this at one time or another or in pairs; they also shed. The cover washes well, is made of good duck cloth, and since mine is white, it is washed a lot and has not shrunk nor does it have any stains. I love it.

Read more Read less

Q:

"Do you offer the pillow covers to match the white sofa cover? I have 18 x 18 pillows on my sofa"

A:

Unfortunately this does not come with pillow covers.

A:

Yes. (Lisa Loopner, Pete Dionasopolis (the Hambugger, Hambugger Guy), Mrs. Sloppy Joe (Lunchlady), Gene Frenkel ( More Cow Bell Guy), Father Guido Sarducci, Velvet Jones, Matt Foley (Down By The River Guy), Nick Winters (Lounge Singer), Garth Algar (of Wayne and Garth), Stuart Smiley. I tried to type just "Yes" but then it said I needed to have 10 characters. Thank you SNL!

A:

Yes, it has D rings and I love them. I guess I have not been updated for a good while because these are new to me and if I knew about them sooner I would have everything covered. These covers do not move, come out all over and have to be redone every time someone sits down. They're great!

Read more Read less

Q:

"Is there any chance that the love seat size will fit a 74 inch sofa with smaller arms?"

A:

The covers are cut generously, however, I would check dimensions of the loveseat on Overstock website and measure your loveseat to be certain of the fit.

Read more Read less

Q:

"How does this slip cover fasten in the back? And how does it do with 4 separate back seat cushions? It also has 4 bottom cushions but I assume they will fit in the "bag"."

A:

It slides over the back. As far as the four separate seat cushions, it may take a little effort but should work if you measured the length, I only have two. It is not an actual bag but a slip cover with elastic and straps to keep in place. Good luck !

A:

As previously said it slips over the back and then buckles with a slide through clasp like a on children's belt on both sides. I can't recall exactly the look but feel they were visible after completed. If your couch is away from the way, it would be something to think about. We didn't mind it too much. We have an oversized arm couch and though the measurements fit within the description, in real life not so much. It was beautiful for the price and a bummer it didn't fit.

A:

It has a belt buckle like fastener. Limited flexibility on adjustments. I had to add pins. I simply could not recommend buying this slip cover. It looks so much worse over time.

Read more Read less

Q:

"Do you know when the natural color will be back in stock?"

A:

At this time, we do not have an estimated restock date set. We welcome you to check back often as our inventory changes on a periodic basis.

Q:

"My sofa is 73" arm to arm. The seat cushion is 62" wide and 24" deep. I am not sure if I should buy the sofa slipcover or the loveseat one to fit. Any recommendations?"

A:

First of all I love this cover! Looks very expensive. Your sofa is about the same size as mine. I did purchase the sofa size it is baggy and loose but that is the look I wanted. Either size will work for you but I feel that the love seat size may be snug.

Q:

"My sofa is 38" deep-- will this fit? thank you"

A:

Yes, my sofa and loveseat are very large. The depth wasn't a problem, however, the length was. The arms of my sofa are large overstuffed. It was a very tight fit

Q:

"My couch is 84 inches. Will this slip cover be a good fit?"

A:

My sleeper sofa is about that size and I have the send the cover back. If your sofa's arms are not overstuffed, the excess fabric can not be effectively tucked into the available crevasses. A shame since the product quality seemed good.

Q:

"Hi! I have a checkered green and white sofa that I want to cover up. Will the white fabric of the slip cover be thick enough so the pattern underneath won't show through? Thank you!"

A:

Yes. It is heavy material about the weight of jeans. I ordered white.

Q:

"Any ideas how to cover T shaped seat cushions with this sofa cover?"

A:

That is what I have and it fits okay, definitely not as clean as the photo, but I did recently wash them and they seem to fit better. You just tuck the extra fabric into the sides of the couch, but there are still bunches of fabric there.
Shopping Tips & Inspiration
Shipping & Returns
Contact Information
Shipping:
Usually leaves our warehouse in 1-2 business days. *
Shipping Information:
Our standard shipping method is ground shipping. We also offer expedited shipping for most items. Your final shipping cost and estimated delivery timeframe will be available at checkout.
Standard shipping details
Expedited shipping details
Standard Return Policy:
Items must be returned in new or unused condition and contain all original materials included with the shipment. More Details
FINAL SALE EXCLUSION: Items marked as FINAL SALE are not returnable unless the problem you experience is the result of our error.
For your protection, all orders are screened for security purposes. If your order is selected for review, our Loss Prevention Team may contact you by phone or email. There may be a two business day delay to process your order.
** Most Oversize orders are delivered within 1-4 weeks. Some orders may take 6 weeks to be delivered.