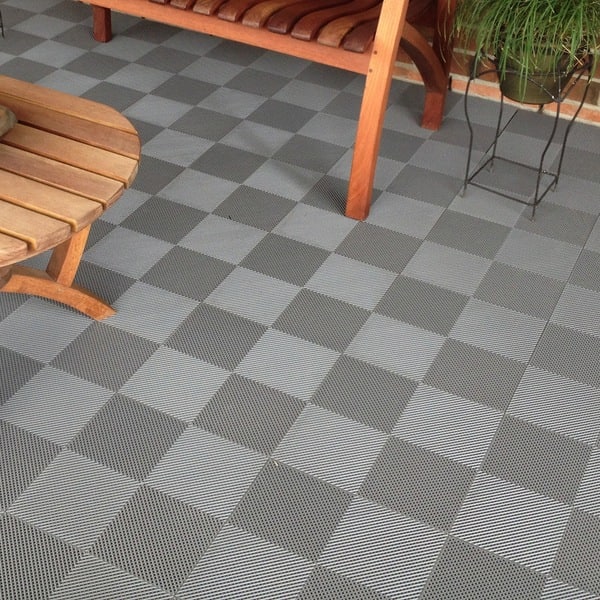 A great addition to my backyard project
...
BlockTile Deck and Patio Flooring Interlocking Perforated Tiles (Pack of 30)
Details
ITEM#: 14982460
Give your outdoor space some personality by installing these interlocking tiles over your patio flooring. These nonslip polypropylene tiles provides your guests with a safe place to walk, and the dual-grid perforated design with UV protection offers quick drainage during rainstorms, providing long-lasting durability against the harshest outdoor elements.

Features:

Case of 30 patio floor tiles
Made of high-impact polypropylene
Loop-to-peg interlocking installation
Non-slip perforated surface
Perforated design allows for drainage
High weight capacity for deck and patio furniture
Can easily be cut to fit
UV stable for weather resistance
Cannot be used over gravel or stone; needs a flat, rigid surface for support
Okay to install over slightly uneven surface
Grey, beige, and brown color options
30 tiles covers approximately 30 square feet
Each tile measures 12 inches long x 12 inches wide x 0.5 inches thick
Set weighs about 20 pounds altogether
Assembly Required
BlockTile is a U.S. manufacturer of modular floor tiles for garage flooring, basement flooring, deck and patio flooring, and other portable flooring solutions. BlockTile interlocking flooring is made of high impact polypropylene, so it is strong and durable. The tiles are available in a variety of appealing colors and styles, so they can be used to turn any unsightly floor into an attractive yet very practical focal point, whether the space is used for working, sales purposes, or enjoying with friends and family. Multiple colors of tiles can be combined for creating designs like checkerboards, stripes, borders, and more.

Specs
Features
Material
Plastic
Color
Brown, Grey
Condition
New
Product Features
UV Protected, Water Resistant
Set Includes
3 Piece
| | |
| --- | --- |
| Dimensions | 12 inches long x 12 inches wide x 0.5 inches thick (each) |
| Model Number | B2US |
| Country of Origin | United States |

Most Recent

A great addition to my backyard project

Read More

Not as easy to put together...

Little more Difficult To put together & stay together than I thought

Read More

We purchased several boxes of these tiles for our enclosed outside covered patio. We put them down over the concrete slab without any trouble. Since used in a semi enclosed area it works well in case it rains since the tile raises the floor a little bit enabling any water to escape. The only slight downfall to these tiles are they are slightly uncomfortable on bare feet. I placed a large indoor/outdoor colorful area rug under the patio table and it works beautifully. Would highly recommend these tiles.

Read More

This patio tile lasts and lasts. Excellent quality

When my husband and I bought our home, we had an unsightly concrete patio. It was cost prohibitive to put in a new deck, so we shopped around for different types of outdoor flooring. We settled on these tiles - mainly due to price. They are FANTASTIC. We have cold winters here and the tiles are still perfect after almost 3 years. They look great and were just an excellent buy!

Read More
Most Helpful

I have used only a few of these to make a mat outside the garage door onto my lanai. They were easy to put together, and are a great dirt catcher. With two dogs and a sandy yard, there is still tracking into the house, but it's much less now. The rough surface of the lanai has kept the 3ft. by 4ft. section in place - no slipping around, which is great for safety. The surface is not slippery to walk on, either, even after a rain. I am planning to use the rest to make a shower "floor" for an outdoor shower, also on the lanai. I may order more as I come up with uses for them. I like them that much. One suggestion - having some strips to finish the edges would make it look more completed. As it is, two sides look like I still have more to be added on.

Read More

Economical, Easy to Install, Looks/Works Great

Installed this over my entire ~1800 sq/ft concrete in-ground pool deck. It stretches fence-to-house-to-pool edge (with some space for heat expansion) as one completely uniform floating floor. Made my pool edge cuts (complex curve) and fence cuts (straight) with a scroll saw. Covered the rough edge pool cuts with slit soaker hose and secured with small plastic tie wraps through the tile drainage holes. Pros: 1. Cheaper than stripping and resurfacing per my estimates 2. Really nice uniform look over a varied surface slope. Space looks larger. Drains are covered, but still work. 3. Easy DIY install/maintenance/replacement 4. Great Non-slip Surface, especially in rain. 5. Dirt/Mud stays under tiles away from feet until flushed to drains by rain or hose. (No mud tracking during pool use). 6. Cooler on the feet. Can get real hot here. 7. Easy to cut and shape. Cons: 1. Picking a starting row for a continuously connected install is critical to the look you will get and the amount and types of cuts you will need to make - take care planning it and trialing it before committing with cuts. 2. Heat expansion can cause initially unpredictable temporary binding leading to temporary buckling. Can solve this by finding binding locations on edges of completed install when hot and relieving pressure by trimming with an electric multi-tool. 3. Plan for scrap when ordering. 4. I found the edge trim that goes with this to be useless for my application (few of my boundaries were square)

Read More

Durable and easy on the eyes

Overstock has hands down the best price for these block tiles, given the manufacture could price this product slightly lower. I recently covered my entire screen in patio and it took 6 box at 30 pieces per box to complete. It really stands out verse just painting, and that you would have to do as often as every year. I plan on doing my garage next in the gray rather than the brown I've used on my patio. It rained a few times since and within an hour the water drains or settles below making it a solid safety product.

Read More

I don't understand how anyone could give this tile a bad review. It's so easy to install...just make sure you keep your male/female edges consistent and turned in the same direction. It's much easier to leave the hook ends exposed so you can just drop the next piece and click in place with a rubber mallet and not have to fit the loops underneath the laid tile. You get an amazing checkerboard effect finished look. I had to trim mine to fit, and it cuts easily with a razor knife. The cut next to my house is covered with trim, so that side was cut with a diamond blade on a circular saw since the cut side would be covered. The side edges of my project had to be trimmed as well and, since exposed, required a bit more precision to make a clean, straight edge. If you're using the ramp edges, this can be tricky since once cut, there's no way to connect the ramp pieces to the tile. I left one solid row of tile at the outside edge to connect the ramp pieces to, then alternated my trimmed pieces for the next row on each side of a solid piece. If you don't alternate them, you'll end up with a full row of trimmed pieces with nothing to attach them to. I know this is hard to visualize if you haven't worked with the tile, but this way, you'll have 3 sides of every trimmed piece attached with a loop or eye. The ramp edges give my porch a nice finished look so I totally recommend adding these. Once laid, the tiles stay in place and look fantastic. I blow them off with the leaf blower to clean them, and occasionally wash them down with the water hose to flush out any sand that has collected underneath. Mine have been down for about a year now, and the color hasn't faded one bit. I absolutely love the finished result.

Read More

Great product. I purchased two boxes of these tiles to cover a condo balcony. Per our HOA rules we cannot put anything permanent (i.e. real tiles or paint) on the balcony so this product provided a great solution. Having holes allows water to drain when raining. The color is true to the picture. It is a bit brittle and pretty hard to walk on with bare feet. Overall, this is an inexpensive solution to nicely covering a patio, balcony, or garage floor. I especially like the option to taking apart the tiles if a future tenant requests.

Read More
Q:

"HOW WELL DO THEY WORK ON A PONTOON BOAT?"

A:

Would dress up your flooring just fine, however, uncomfortable to walk on with bare feet.

Q:

"I can't quite tell how many 12" x 12" tiles I get with an order. At one place it says there are 30 tiles in a case, but at another place it says "3 pieces." So would I get 30 tiles, or 90 tiles, or something else? Thank you."

Read more Read less

Q:

"Would zi be able to use this on my cement basement floor?"

A:

I believe you can I am using it on my cement floor on the porch

Read more Read less

Q:

"what size are the squares?"

A:

12" x 12" is the size of each square

Q:

"How do these hold up in extreme cold and heat?? We live in Utah and the weather really has extreme temps."

A:

We live in Utah and just put some down over our rather unsightly uncovered wooden deck in June. The tiles have been wonderful because we did not want to paint or stain the deck anymore. They have been comfortable to walk on in 90-to-100-degree weather. None have popped up as they are connected very well to each other. The rain went right through the tile holes to the ground with no puddling. Don't know about the winter weather yet but think they will be fine.

Q:

"I want to put this on my condo outdoor patio. My dog goes to the bathroom on pet grass out there at night as it is not safe to walk around at night here. I have seen some comments about it being rough on feet, but then also saw where someone used it next to a pool which people would obviously have bare feet... my question is, how rough is it really... is my small dog going to not want to walk on it?"

A:

My dog has no problem walking on it.

A:

My dogs are fine with it! I walk barefoot on it all the time...

A:

We actually purchased these tiles because our puppy was chewing the wooden deck so it'll be fine for your dog and I personally think it feels good to walk on it barefoot.

A:

My dogs have absolutely no problem with the flooring. I walk on it all the time with bare feet and it doesn't bother me at all. Of the countless people who have walked on it barefoot, only once did someone say that they thought it was a "little rough." They seem to have sensitive feet I suppose.

A:

The flooring is perfect for a deck or patio. It is a little uncomfortable to walk on but so was the wood that I was getting splinters from. My dog walks on it ok, has slept on it ok and If I think she looks uncomfortable sleeping on it I put a small throw or dog bed down and she loves it.

Read more Read less

Q:

"Ho easy is to clean them? I am planning to use them for my apartment's balcony where I occasionally barbecue meat. Is it dangerous if a burning charcoal falls on them?"

A:

Having now had it for 10 months I have no problem with just sweeping and or using the hose. Only once did I have to use a cleaning product and a scrub brush and that was after someone had spilled wine on it. But it cleaned up nicely. I don't know the answer to the burning coals since my barbecue is gas. Good luck!

A:

Its hard plastic, so could burn, but you can always easily replace a tile.

A:

The tiles are made of a durable plastic! If burning charcoal falls on them they will melt unless you get the burning charcoal off immediately...come on now, you really asked that question?

Read more Read less

Q:

"what kind of tool has anyone used to cut these to fit? hacksaw? something better to keep a clean edge? I don't have any power tools unfortunately."

A:

Hack saw should work, they are not that hard or thick.

A:

A friend of mine used a Sawzall reciprocating saw to cut the tiles. They came out pretty good.

A:

I used a razor knife and it was a little difficult!

A:

We used table saw. Any hand saw will work. We have had the tile down for 2 winters and a summer to date no problems. Still looks great, no breakage and no loss of color. Drains well in our wet climate.

Read more Read less

Q:

"what dose the bottom surface look like"

A:

There are closely spaced cross bars in a grid pattern and it is an open surface. There's no solid covering on the bottom.

Q:

"Can I lay these over mowed grass. The plan is to kill the grass. Thank you."

A:

This needs to be used on a flat surface for best results according to reviewers.

A:

Just buy spray grass and weed killer, it's cheaper!

Read more Read less

Q:

"I just picked up my deteriorated wood deck; can I place these directly on the dirt? The ground is slanted somewhat."

A:

If you place this in the dirt I think mud would come up through this. This would need to be on a solid flat surface.

Q:

"Are there ramp and corner pieces available for this product?"

A:

Yes, in each color option. If overstock does not carry them, walmart does.

Q:

"Can the interlocking ramp edges be installed AFTER the tile is?"

A:

Absolutely...that is how we did ours in fact.

Q:

"DOES IT SMELL ? I bought once similar locking from Costco and they smell like a burned rubber, had to return those."

A:

We just laid ours yesterday and it does not smell at all.

Q:

"Do these need to be glued down?"

A:

No. We just laid them on top of a pre-existing outdoor carpet on an outside deck.

A:

No, these tiles interlock together to form a floating floor. No glue is required.

Read more Read less

Q:

"If these can be placed over an existing wood deck, how can the wood below be protected from rotting out?"

A:

They can be placed over any solid service such as decking. They do allow for drainage to prevent any type of water from pooling underneath.

Q:

"Hello Again. Regarding railings for my wood deck. Should the railings be screwed in first directly to the wood deck or can the railing be screwed over the deck tile after all the deck tile is installed. Thank you. Tom"

A:

When installing the tiles, it is important to leave a 1/2-inch gap minimum around permanent objects to prevent buckling.

Q:

"Is it possible to get a sample of the beige deck tile? Do I need to do anything to my wood deck before installing the deck tile over it? Thank you. Tom"

A:

We do apologize, we do not currently offer samples for this item. This item is easily installed onto your deck, additional prep work is not required. The tiles interlock together by aligning the peg to the loop and pressing down with your fingers or a small rubber mallet.

Q:

"Can you put this on grass to create a patio? Very flat yard."

A:

The tiles can be placed directly over grass. The area should be flat and rigid.

A:

These are perforated, thus grass can grow through. If you use these, I'd suggest using that black weed barrier fabric first, and maybe spraying a grass killer before putting the fabric down. These will work great! They make them in solid form, no screen type openings, but I prefer openings for water flow through and clean look.

A:

Once you snap them together, I would think you could. It would work better, however, if you cleared the grass away first.

Read more Read less

Q:

"How heavy is a package? concerned about added weight on my deck."

A:

Hello busterbrown95, the tiles have an overall weight of 20 pounds. Thanks for shopping with us!

A:

I have them on several different decks, one is off of the third floor, and I don't notice any issues with weight.

Read more Read less
Shopping Tips & Inspiration
Shipping & Returns
Contact Information
Shipping:
Leaves our warehouse in 1-10 business days. *
Standard Return Policy:
Items must be returned in new or unused condition and contain all original materials included with the shipment. More Details
FINAL SALE EXCLUSION: Items marked as FINAL SALE are not returnable unless the problem you experience is the result of our error.
For your protection, all orders are screened for security purposes. If your order is selected for review, our Loss Prevention Team may contact you by phone or email. There may be a two business day delay to process your order.
** Most Oversize orders are delivered within 1-4 weeks. Some orders may take 6 weeks to be delivered.