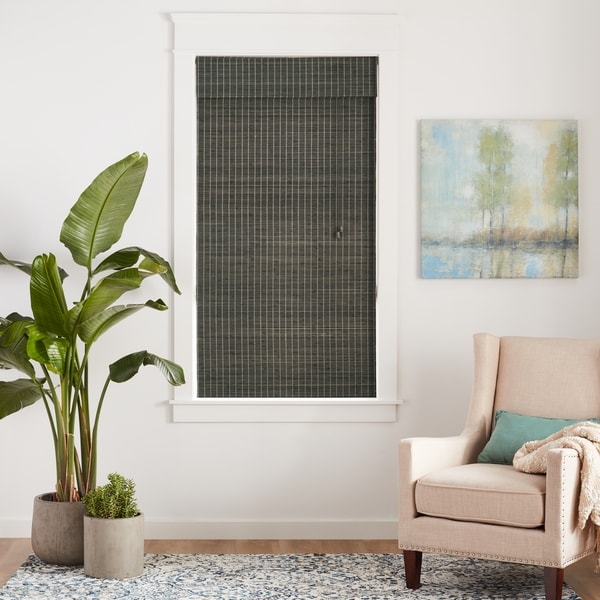 Pretty shades, unfortunately had to return them. I ended up needing a custom shade due to size of window.
...
Arlo Blinds Privacy Grey Wash Bamboo Shade
by Arlo Blinds
Details
ITEM#: 18416813
Featuring woven bamboo with shades of grey and natural brown, this Roman-style roll offers a beachy, environmentally friendly touch to any decor. The blind provides privacy, while still allowing light to filter through to create a warm, inviting glow.

Features:

One indoor bamboo shade with a Roman-style roll
Grey wash stain over natural brown coloring
Includes mounting hardware, which may add slightly to the width
Made of bamboo
Spot clean
All in-stock options are listed near the Add to Cart button. for available dimensions
For an inside mount, we recommend ordering a shade that is at least 1/4 inch smaller than the inside width of your window frame.
Specs
Features
Material
Bamboo, Wood
Type
Bamboo Shades, Roman Shades
Blind Width
16 - 29 Inches, 30 - 39 Inches, 40 - 49 Inches, 50 - 59 Inches, 60 - 69 Inches, 70 - 79 Inches
Blinds Length
54 Inches, 62 Inches, 74 Inches, 98 Inches
Color
Grey
Light Filtration
Privacy
Product Features
Includes Hardware
Set Includes
1 Piece
| | |
| --- | --- |
| Dimensions | See option drop down. |
| Model Number | 04TBP |
| Country of Origin | China |



Most Recent

more brown looking than gray

Pretty on the window but the color was not what I expected. I should have bought a darker shade of gray.

Read More

Pretty shades, unfortunately had to return them. I ended up needing a custom shade due to size of window.

Read More

Very functional and good quality

I have drapes everywhere in my living room and breakfast area, these go perfectly on kitchen window. Width wise size was perfect. They are little long but doesn't matter as I can roll them down to length I want. easy to install and use. Color is great too with hint of grays. They are thick enough to block direct sunlight and not make room dark which works for me.

Read More

Beautiful but sizing information unsatisfactory

Love the blinds and needed the 35" width advertised. Dimensions noted it could be a half inch more or less. but when it came it was a full inch inch less. This is not good for an inside measurement. Where is the quality control for the manufacture?

Read More

Just what I wanted, they look beautiful and are great to block sun in the morning. Afterwards I can lift up and the perfect amount of light comes in room. Very nice quality as well

Read More
Most Helpful

I had spent a long time searching for window treatments that were affordable but didn't look or feel "cheap." These bamboo shades are perfect! They look even better than I expected. The grey wash is a really nice neutral that goes with everything and the texture adds a nice element to the living room decor. We have an older home with different odd-sized windows, so I really appreciate the fact that these blinds were offered in many sizes. They're also easy to trim in case you need to make slight adjustments in the width. Thinking about purchasing these for all the bedrooms too!

Read More

It sure is that before I put these babies up my kitchen was a very bright, lighted room. I love that it gives us the privacy we wanted since our kitchen is at the front of the house, but I would like a little more light to filter through. They look great though, have received many compliments! Mounting measurement is 1.5 inches deep, and in the width you might want to buy slightly smaller, the beauty of having each shade to be unique also means that the measurements may not be totally accurate...we found out at install thankfully we shaved off part of the drywall and made it work.

Read More

These blinds are nice looking but i found them extremely difficult to install!! The largest one is standing up in a corner of my den, uninstalled!! Since I got them lowered I haven't even tried to roll them up!! They are very room darkening!!!

Read More

They fit perfectly and pretty easy to intsall...I love that they block out light for my bedroom.. Remember to buy 1 inch Less than actual size of inside of your window or they will be too big.

Read More

Blinds Arlo grey wash bamboos

Not what pictured, I ordered grey wash and got beige ☹️

Read More
Q:

"The measurements seem to be displayed as a range. How do you read the measurements? "

A:

No. Just use the first measurement listed as the width of your window and the second measurement as the length you want. I would not recommend cutting these. This is how I ordered them and it was exactly what I needed. Just note, When day light is on them, they actually look brown but look gray at night without any sunlight

Q:

"The blind size says 16-29 width, does that mean the blinds can be cut to a width of say 24"?"

A:

I would not recommend cutting these

Q:

"Can this be mounted to a door?"

A:

Yes. You just have to mount the hardware first. Measure the window width and length and order based on that.

Q:

"Are the measurements options shown actual dimensions of the shades?"

A:

They were for me. They fit perfectly.

A:

Sorry, I have not had a chance to put them up yet.

Read more Read less

Q:

"I'm interested in Arlo Blinds Privacy Grey Wash Bamboo Shade. What size do I need for the sliding door size 78" high x 94" wide?"

A:

I ordered two for two windows. Liked how they looked but they were too wide to use on windows. customer service great to return

A:

47 x 98 is the closest we have.

A:

There isn't one that is 94 wide, so with these you would have to use two. For a sliding door, these would need to be rolled up every time you wanted to go through it. There may be other styles better suited for that space.

A:

there is no one item listed that would go that size width, so you would need to measure for two side-by-side - note that this would need to be rolled all the way up to use the door - there may be other items better suited or that space

Read more Read less

Q:

"Hello, when will you have the 23" X 54" shade in stock?"

A:

Likely more will be listed for sale by mid-October.

Q:

"I am needing the Grey Wash Bamboo Shade in the actual 33"x64" or 33"x74",but don't see that it is an option.Can I get a couple that size?"

A:

If you do not see your size, that means it's out of stock, check back in a day or so, thats what I had to do to get my size.

A:

Not sure about the sizes, you should be able to check on the sizes. I will say they are great blinds. I put mine on my screened porch very large window 74 inches wide. They are opaque, you cannot see through them. They are a dark gray color with tan undertones. Well worth the money I paid for them.

Read more Read less

Q:

"If I have a double window 64 1/2 inch wide would it be better to put one up that covers up both windows or can I put 2 up?"

A:

You could do either, as the bracket goes on top, but one would probably look a lot better, in my opinion.

A:

The widest one I purchased was 47, if you have a divider between the two windows I would go with two, that is what I did, if not 1 would work. I had double Windows and you have to use two if you want them on the inside. These are beautiful blinds, I have had so many compliments on them.

Read more Read less

Q:

"If the width of my window is 35" wide do I need to go an inch shorter?"

Q:

"I wanted blackout shades but I love these. How much light do they allow in?"

A:

Not much, but not blackout type darkness.

A:

pretty dark however you can see light around the strings...we love them

A:

They were purchased as a gift and they appear after receipt through the plastic to be sturdy and would block out a lot of light; they are excellent shades and a beautiful color and a spectacular value for the price Just measure area right to get the appropriate size and you will love them Hope this helps you

A:

Not much, I absolutely love them.

A:

I found that they do a really good job of blocking out light. They aren't blackout but I put curtains over these blinds and now I have blackout in my windows. I live in the desert so this is awesome! Great blind.

A:

I would consider these blackout. They let in very little light... I installed them on my front door facing west and they block out all the afternoon sun. I love them... they look amazing and work great.

A:

Hi Theresa, These blinds are great. They definitely darken the room when down and block out any light from the outside in as we tried at night to see if one could see in and you cannot. They look great up, very modern and classy! A suggestion as we got ours to install on the outside of the casing and hang them high was they are long. They also have the fabricy type flaps to add on the sides to block the wood and hardware, of which my carpenter boyfriend who hung then said they weren't a great way to do this, so he attached them to cut wooden boards and nailed them with a brad gun to hide any nailing and make them look almost box like topper, looks amazing but was a lot of work to customize them for our preference and look we were trying to achieve. Good luck!

A:

Theresa- They let in a lot of light, especially if they are exposed to direct sunlight. I am in the process of putting a backing on them to make them true blackouts. I would suggest looking at something else that doesn't have voids, allowing light through.

A:

They are not completely blackout shades but do keep out a lot of light.

A:

I don't think they let much light in, the rooms are petty dark but not black but you will love them!

A:

These are pretty dark...much darker than the picture. They could definitely be used as a black out shade as very little, if any, light comes through them. Very nice blinds. I think you will be pleased

A:

They do a really decent job of blocking out light, they're so dark. But because they're bamboo, they're not totally uniform, so in between some of the slits, some light comes in.

A:

The room in which I installed them is on shaded side of the house with large oak trees.They provide quite a bit of light blockage. I had them shortened. I would guess at least 75% They are very pretty would purchase again

Read more Read less

Q:

"And the shades mount from the top? "

A:

These come with a universal L-shaped bracket that can be used in inside and outside mount applications to back, top, or side mount.

Q:

"If I want an inside mount. How do I measure? "

A:

Measure and order the exact size of your opening.

A:

Since we sell exact size, you will want to measure the inside recess and then subtract off about ½" from the width to account for clearance of the frame and hardware.

Read more Read less

Q:

"I am looking to order more of these blinds, but my size is no longer listed (34 X 74). Will they be restocked? Thanks "

A:

In our experience, yes. We had the same issue & the size we needed came back in stock within a couple weeks. This happened twice on us & both times it came back in stock.

Q:

"How big is the inside mount hardware? The sides of my windows are only an inch deep, and I am not sure if it will be big enough. Thanks!"

A:

We mounted our hardware from the top of the window, not the sides. Maybe this will help.

A:

I only had about 1" to mount the shade and was able to do it from the sides. It was hard and I was only able to mount 1 screw (out of 3) on each side, but it's holding. Of course, I don't open and close the shade much. It's pretty much fixed in the same position as when I installed it 4 months ago. It looks great! Just don't tug on it. Maybe you'll get lucky.

A:

I bought 2 blinds and mounted them on the outside of my patio slider doors. Love them.

A:

We mounted on the inside with about the same space. It just fits, and looks great.

A:

It's maybe an inch and a quarter or so, but the balance on top should cover it for you:)

Read more Read less

Q:

"I have two windows that are 49 1/2 x 64 the closet you have is 48x93 - do you think that will work?"

A:

the length should be fine.........you'll just have a lot of extra when they are down.The with all depends on your windows........can you mount them inside,they might be ok.

Read more Read less

Q:

"Do I have to unroll the shade to find the mounting hardware and instructions? They are not in the box"

A:

It's been awhile since we put ours up but I don't remember having to unroll them to get to the hardware. We actually put up 8 of the shades and I lined them up on a big table so I could sort & match the colors for each set of adjacent windows we were working on. I'd call and ask for them to send the hardware!

A:

We had to unroll ours and the mounting is already attached. The hardware was inside the rolled up shade.

A:

Yes. I just opened them to check. It's in there!

A:

Yes. They are are inside the shades that are rolled up.

A:

I think mine were rolled into the shade. Also, I was about to send these back because I needed outside mounts but I realized I could easily unscrew the mounting hardware and orient it towards the back of the blind so that I could mount it to the top of the window frame. Problem solved.

A:

Please reach out to our Customer Care team if you need further assistance. https://help.overstock.com/app/contact_page

A:

Yes. Mine were inside the rolled up shades.

A:

The mounting brackets are often attached to the headrail, which usually is rolled to the inside of the shade. Hope this helps.

A:

Yes, All of the hardware is rolled up in the shade.

A:

i do not remember the hardware being rolled up in the shades

Read more Read less

Q:

"My window measures 36 inches wide from the inside. Can you mount these outside? If yes, how much wider would I need to buy? An inch? two?"

A:

You can mount them either way, outside or inside, we mounted them inside, and they look phenomenal

A:

Yes, you can outside mount them. We recommend adding anywhere from 2" to 6" for both the width and height.

Read more Read less

Q:

"How far apart should I space the mounting brackets for outside top mount? The instructions don't say?tly."

A:

I would leave at least a ½" of space between the shades when mounting side by side.

Q:

"Do these shades have loops at the top so that you can hang them from hooks?"

A:

not that I recall. They have the L mounts that are a 90 degree and can be mounted outside or inside a window or outside a door, etc.

A:

I don't recall loops for any hook mount.. But you may could make it happen.. They seem to be a very good blind that it pretty good an knocking out all or most of any view or light..

A:

They do not, however you probably could install some hook eyes on them. The top/header is made of wood.

A:

no, these are installed with "L" brackets.

Read more Read less

Q:

"Can it be mounted on a window that already has wooden blinds without taking the blinds off?. I want to use it as a curtain but wonder if I can mount it to stay simultaneously with the original blinds which I don't want to take off."

A:

As long as there is room in front the original blinds bracket, you should be able to mount the blinds in front of it.
Shopping Tips & Inspiration
Shipping & Returns
Contact Information
Shipping:
Usually leaves our warehouse in 1-2 business days. *
Shipping Information:
Our standard shipping method is ground shipping. We also offer expedited shipping for most items. Your final shipping cost and estimated delivery timeframe will be available at checkout.
Standard shipping details
Expedited shipping details
Standard Return Policy:
Items must be returned in new or unused condition and contain all original materials included with the shipment. More Details
FINAL SALE EXCLUSION: Items marked as FINAL SALE are not returnable unless the problem you experience is the result of our error.
NOTE:
This item cannot be shipped to Alaska or Hawaii. More details
For your protection, all orders are screened for security purposes. If your order is selected for review, our Loss Prevention Team may contact you by phone or email. There may be a two business day delay to process your order.
** Most Oversize orders are delivered within 1-4 weeks. Some orders may take 6 weeks to be delivered.