Adjustable Pot, Lid and Pan Organizer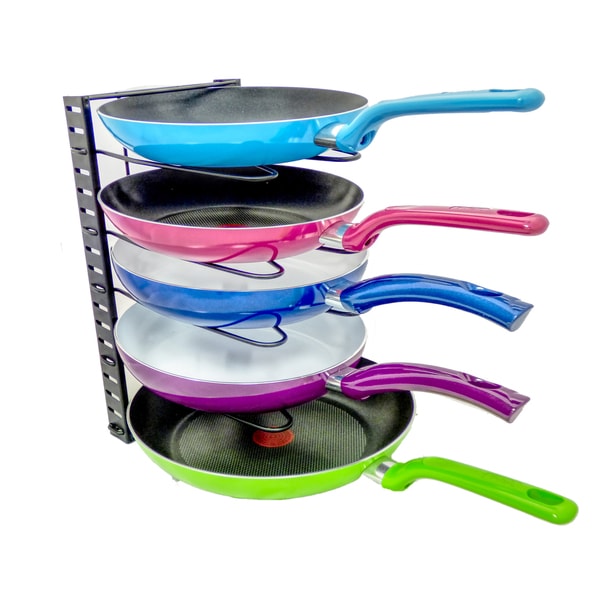 Pricing and Options
Adjustable Pot, Lid and Pan Organizer
Product Information
Details
The Perfect Cookware Pan & Lid Rack Organizer - Foldable & Adjustable
Ever wonder how to organize, store, and hold your pots, pans and lids? The Perfect Adjustable Pan Rack Organizer has 5 distance-adjustable shelves that can be calibrated to accommodate cookware like pans, pots, saucepans, griddles of different sizes. Keep pots and pans organized in your kitchen easily and holds pots, pans and their lids securely. Its designed to be used in a in multiple different orientations and is perfect for your kitchen counter top, base cabinet or pantry. This sturdy steel pan organizer can hold 5 pots or pans with lids at once. TheU-shape frame design provides a reinforced metal structure, built of heavy duty metal with diameter 4.5mm which suits all pans at home! Great organization solution for shelfless cabinets, disorderly counter top & areas under the sink.

Steps for usage: 1.Remove all of the packing material from the organizer rack. 2.Separate the shelves from the base.3.Insert the ends of the shelf into the slots of the base by squeezing the sides, Place the shelves apart according to the desired pan/lid size.4.Make sure to install the shelf with "feet" on the end of the base. 5.The rack is designed to hold 5 pans or lids. 6.You can either lay it flat or place the rack upringht(best for base cabinet or pantry). 7.If placing upright, mske sure that the bottom shelf is suing the slot closest to the edge and has to be in contact with the surface.

Foldable pan rack that can be placed vertically or horizontally free standing or mounting on wall, saving a lot of cabinet/countertop pan storage space.
Pots And Pans Organizer prevent's pans, pots, and pot lids from getting scratched
Multi-Purpose pot organizing rack is perfect for kitchen pots, pans, lids, chopping boards, griddles, splatter screens, and other cooking utensils
Durable sturdy metal, U-shape frame design fits almost any pot, pan or lid and holds them securely
Pot lid organizer rack can also be used as a kitchen drying rack.
Adjustable Pot Organizer Lid and Pan Organizer - Cookware Bakeware Organizer for Cabinet Countertop Storage
Assembly Required
Country of Origin: China
Specifications
Dimensions
15 x 8 x 10 inches
Assembly
Assembly Required