Holiday Gift Guide: Stocking Stuffers
Posted at Nov. 16, 2011 at 1:23 PM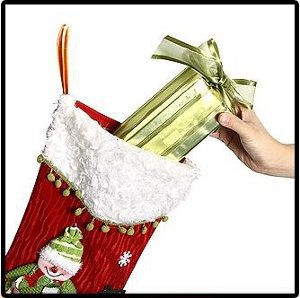 Stuffing stockings is a holiday tradition in many families, and while it's fun to create memorable stockings and be on the receiving end of a carefully crafted collection of small gifts, the pressure to produce a worthy stocking can be intense.
I'll break down some stocking stuffer ideas by age group, but remember that everyone likes to act like a kid on Christmas morning, so feel free to mix and match from each group to put together the perfect package to hang from your mantle.
Kids:
Kids can be both the harshest critics and the easiest of all age groups to please. Don't be insincere; they'll see right through you, but they'll also be pleased with small gifts and intriguing trinkets.

Chalk: Drawing on sidewalks is a fun, non-destructive way to get some energy out. Even if you live in an area where outdoor activities and Christmas aren't compatible, chalk is still fun to use on paper or chalkboards. Go traditional, or look for newer, brighter colors designed specifically for art projects instead of chalkboard use.
Crayons, pencils and markers: More permanent than chalk, but still relatively low-impact, crayons and other colorful writing implements encourage creativity. No one can resist the lure of a fresh box of perfectly sharpened crayons, and scented markers will form unforgettable childhood memories; scent has been proven to trigger memories even after years have passed.
Trading cards: Trading cards are a fun, easy way to stay up-to-date on who's who in your child's favorite sport. Slip a pack of trading cards into the stocking; then go through them together so you know who to keep an eye on during games.
Hair accessories: Every little girl loves a little sparkle on Christmas morning. A cute new hair accessory will make for cute photos of the day and be a reminder of the fun whenever it's worn.
High School and College Students:
Students starting to explore their independence or ones living away from home for the first time will appreciate gifts that acknowledge their adulthood but still offer the comforts of home.

Key chains: A nice keychain with a personal set of keys to the house or the car is a great way to show you trust the young adult in your life, or, if your child already has keys, give them a photo key ring so they can carry a favorite photo with them at all times.
Nail polish and makeup: Nail polish is a great way to express yourself and explore new looks without much of a commitment. Try giving a color that's a different shade or color family than what your teen usually wears. For those already experienced with makeup, a fresh tube of mascara or an on-trend eye shadow will always be welcome.
Recipe cards: For young adults suffering from homesickness, a collection of favorite family recipes is just the cure. Compile some recipes from each side of the family and in every category (desserts, salads, main dishes) and send the kids off to add their own twist to your family classics. They might surprise you with what they bring to the table next year.
Batteries: This might seem like a silly gift, but lots of gadgets still require batteries to operate. It's great to have some batteries on hand when you need new ones.
Adults:
Most adults will enjoy the very ritual of getting gifts in a stocking; the actual presents are icing on the cake.

Music: Everyone has music they love and many people love to discover new music, so slide a CD into a stocking and get ready to rock. Or choose an iPod and get it loaded with music, so it's ready to go on Christmas morning.
Pain killers: A little tongue in cheek, this gift acknowledges the rigors of the holiday season. If you normally buy generic, splurge on a brand-name bottle of ibuprofen or get a head start on your New Year's resolutions with some vitamins.
Knitting needles: Take a minute and think about the hobbies of the person you're shopping for. Knitting needles and a ball of yarn for a knitter, a paperback book for a reader, a book of Sudoku for a lover of puzzles: While simple, these gifts show you've been paying attention and are sure to be a hit.
Jewelry: Always a classic, there are few people who don't appreciate some sparkle in their stocking. Shop for jewelry by birthstone, look for charms that mark momentous occasions or simply pick a piece you like: She's going to love it.
What's the best gift you ever pulled from a stocking? And the best one you ever gave?
Posted by Jessica Gezon