Holiday Gift Guide: Pet Gifts
Posted at Nov. 7, 2011 at 11:27 AM

The holidays are fast approaching, and that means it's time to start thinking about gifts for your family -- pets included. Since over 75 percent of Americans consider their pets to be a part of the family, and roughly 50 percent of pet owners buy gifts for their furry family members, I think it's safe to say that Fido and Fluffy will be getting a visit from Santa this year.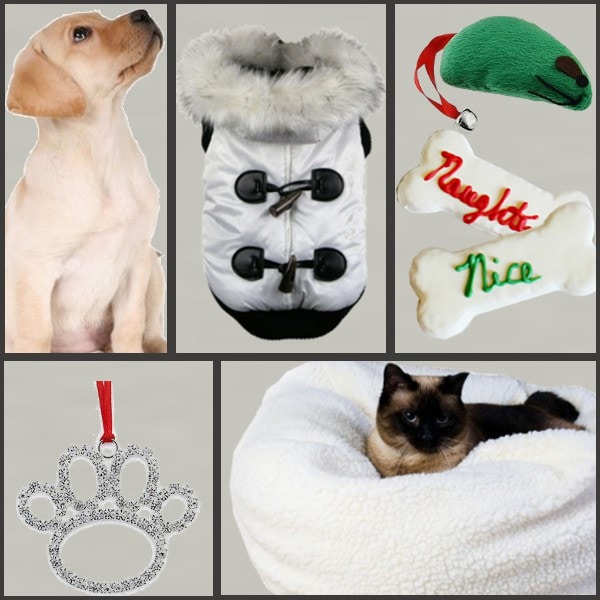 There is one thing that any pet, furry or scaly, will love this year, and that's food. If your dog or cat could write a wish list to Santa, pet treats would undoubtedly be at the top of the list. These cute holiday-themed dog treats are the perfect stocking stuffer for your pooch, and a little bit of catnip in some cat toys make ideal stocking stuffers for kitties. Luckily, treats are better for your pets than cookies, and most are even good for them, so you don't have to feel bad about spoiling your pets. Most cat and dog treats have nutrients in them that your pets need to stay healthy, and dog bones and crunchy cat treats actually clean your pets' teeth while they chomp away.
Sometimes pet gifts are just as much for you as they are for your pet. What pet owner doesn't want their fluffy little pooch or kitty to look cute in the family Christmas photo? That's where pet clothes and pet jewelry come in. They're part of your family, too, so you may as well pamper them with a sparkly holiday collar they can wear all season long or a cute little sweater for the family photo. I especially love this fluffy dog parka. I can just imagine a cute puppy wearing it, and since the parka has thermal heat-retention technology, it'll keep him plenty warm for the winter, too. It's hard not to love a fluffy little guy dressed to the nines. If you just can't pamper your pet enough, pick up a matching pet carrier to tote your furry little guy around town.
With pets, you need to learn to take the naughty with the nice. A little cuddle time always makes up for chewed shoes and scratched curtains. Caring for a pet isn't easy, and maybe that's why their owners learn to love them so much. If you know a pet lover who just can't get enough of their furry companions, a pet-themed gift may be the easiest way to please them this year. I love this paw-shaped Austrian crystal ornament. It's simple, pretty and perfect for both dog and cat owners. Keep an eye on our pet holiday page to find more gifts for pets and pet lovers alike.
If you're a pet owner, are you planning on spoiling your pets this holiday season? What about the rest of your holiday shopping? Are you getting a head start or waiting for all those Black Friday and Cyber Monday deals?
Posted by Andrea Sparks