Holiday Gift Guide 2012: Gifts for Teens
Posted at Dec. 12, 2012 at 5:15 PM

Your tweens and teens may sometimes act like they are too cool to get excited about holiday gifts, but underneath it all, they're as excited as they were when they were little. If you're not sure which toys, books, and video games will live up to their expectations, then start with this gift guide.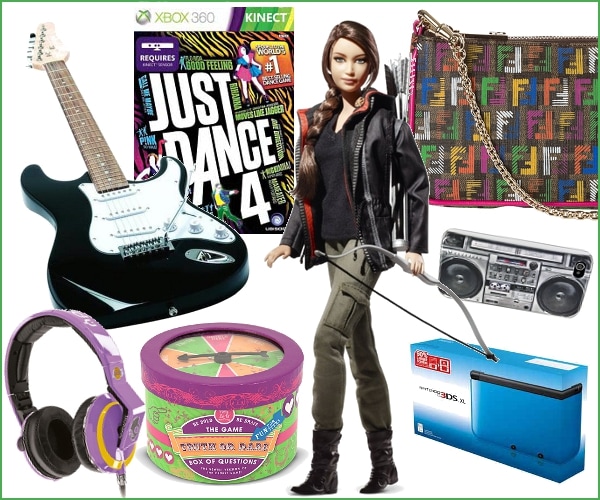 Tweens (kids ages 8 to 12) want the latest update in handheld video games: the new Nintendo 3DS XL in blue or in red (it may be worth doing a little reconnaissance to make sure you get the right color). Include a game or two, so they can start playing immediately; the LEGO games are popular this year, especially LEGO Batman 2, LEGO Star Wars, and LEGO Battles Ninjago.
Kids this age would love a gift that lets them get creative. Don't be surprised if your 11-year-old wants to start a band or design her own clothes. Just get them a beginning guitar or a fashion design book. You may be amazed at what they can create.
What about toys for this age group? Tween girls still like dolls, especially if they are of the collectible variety. This Katniss Barbie is perfect for the tween who loves The Hunger Games. Angry Birds are also popular with tweens right now. The Angry Birds/Star Wars Death Star game takes the bird-flinging of the app game and combines it with the block-stacking of Jenga for a game that will be hours of fun.
So, what about those mysterious teenagers? Teens love gifts that let them socialize, and that's why they're going to love Just Dance 4. This latest edition of the dance game is perfect for getting all their friends together and hanging out, and it's available for Xbox 360, Wii, Wii U, and PS3. Another great way to get the party started is with the Melissa & Doug Truth or Dare box of questions, a fun approach to the old game that is perfect for slumber parties; and something that also works for older tweens.
Teenagers also love things that let them personalize their world and express their individuality. Some teen bedding will help them update their bedrooms, so they can create their personal sanctuaries. If they have a cell phone, a new cell phone case is perfect for letting them show off their style; I love this iPhone case that looks like a boom box, and I think a music-loving teen would, too.
One sure way to choose a gift a teenager will love is to give something that is just a bit more grown up and a bit more fancy than they are expecting, like a nice watch or a designer handbag. Really, if you got your 16-year-old daughter a pair of diamond stud earrings or a small Fendi bag, or if you got your son a pair of Skull Candy Mix Master Lakers headphones, you could also give them the cheapest candy and an ugly sweater, and they would still remember 2012 as the best Christmas ever.
What gifts are you getting for your tweens and teens this year?
Posted by Stephanie Petersen