Holiday Gift Guide 2012: Gifts for Kids
Posted at Dec. 10, 2012 at 11:23 AM

Are your kids being strangely nice to each other? Are they unexpectedly making their beds, eating all their vegetables, and vacuuming the family room? If so, they may have a case of Santaclausia Expectia, a medical condition that can only be cured with a healthy dose of the latest toys, books, and video games on December 25th. But you don't need to be worried about them. I have the prescription right here.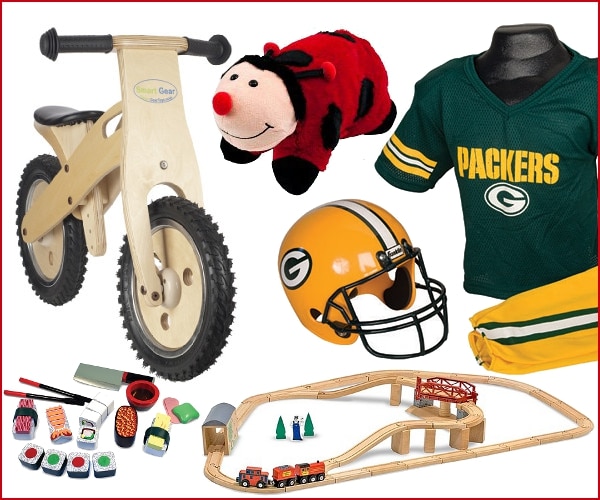 For the preschool set, the best toys are a little bit classic and a little bit modern. For a twist on the traditional stuffed animal, give a pet pillow, a critter that turns into a pillow when the Velcro straps are undone. I remember getting my first bicycle -- complete with training wheels -- for Christmas when I was a kid. These days, balance bikes are the gift to give; they feel a lot more like big bikes will feel, so little kids learn how to balance better than they would with training wheels.
A train set is as classic of a gift as it gets, and Melissa & Doug has the modern update in this train set with a swivel bridge, a feature that is sure to please. Kids still love to add hardcover books to their libraries, but the way to do it now is with a set, like this Dr. Seuss beginner book collection which includes I Can Read with My Eyes Shut, my son's current favorite bedtime story (so, yes, I have it memorized).
School-age kids this age can read that Dr. Seuss set on their own now, but the real present is something that you will read with them. A chapter a night from The Chronicles of Narnia, Anne of Green Gables, or Diary of a Wimpy Kid is the gift that keeps on giving. Video games for school-age children are the best when they teach cooperation, and Epic Mickey 2: The Power of 2 does just that; it's available for the Wii, Wii U, PS3, and Xbox 360.
Toys that will spark their imaginations are necessary at this age. I died when I saw this adorable play sushi set, but for kids who maybe aren't so into raw fish, any pretend food is a lot of fun right now. These pint-sized NFL uniforms may not be regulation, but they would make a game of catch in the backyard so fun for your child. Action figures are another gift that's sure to please at this age.
Their cases of Santaclausia Expectia should be cleared up for at least 11 months with a few of these. Are there any gifts you're excited to give your kids this year?
Posted by Stephanie Petersen